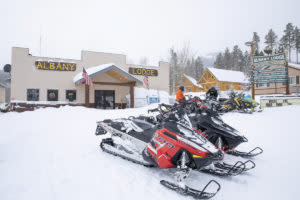 Some of the country's best snowmobile territory can be found in the Snowy Range Mountains in southeastern Wyoming near Laramie. The Snowy Range is a superb destination for all levels of snowmobilers and boasts return visits from riders who rave about the area's wide-open and wild country, scenic beauty, and amenities without all the crowds.
Especially if you are new to the sport or just new to the area, going on a guided snowmobile tour is an excellent way to take advantage of your time spent out on the snow. Below, we offer some insights on how to plan and make the most of your guided snowmobile tour in the Snowy Range.

Available Guiding Services
Snowmobiling guiding services to the Snowy Range are offered by Albany Lodge and 3C Guiding, both excellent choices. 3C Guiding is located in Laramie while Albany Lodge lies at the base of the Snowy Range in Albany.  

3C Guiding
3C Guiding is a fully permitted and licensed guide service. While they are able to guide throughout Wyoming, the Snowy Range is their back yard and deep backcountry riding is their specialization. They only use the trail systems for leaving the parking lot. Therefore, this guide service is more suited towards those who have some experience and are looking to improve their skills.
3C Guiding offers full-day tours from 8 am to 5 pm, and the price of your tour depends on whether or not you have your own snowmobile or choose to rent. With your own snowmobile, tours cost $150 per person. If you rent a snowmobile from 3C, you enjoy a discount on your tour ($120 per person). Snowmobile rentals cost $250 per day.
3C Guiding offers two tour packages: The Backcountry Guide Package and the Rasmussen Style Guide Package. The Backcountry Package gives riders the thrill of exploring the remote backcountry with some instruction on technique, while the Rasmussen package focuses entirely on technique training on the snow to help riders safely navigate more extreme territory.
You can schedule a tour directly on their website or by calling (307) 690-9953.

Albany Lodge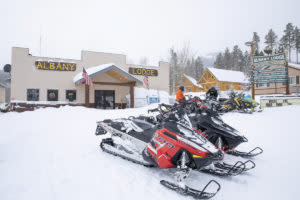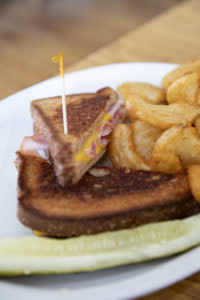 Albany Lodge's professional guides are certified through Polaris Adventures, a world-renowned company that prides itself on offering safe, memorable adventures. Guided tours are offered in the form of either on-trail or off-trail tours. On-trail tours follow groomed trails while off-trail tours venture into the backcountry. Backcountry tours do require riders to have some off-trail riding experience.
Both types of tours max out at six people and are based on the participants' skill level and what they wish to experience. On-trail tours cost $195 for a half-day and $295 for a full day. Off-trail tours cost $295 and $349, respectively. Sack lunches are available upon request, but be sure to bring plenty of water. Note that tours do not include rental fees.
You can schedule a tour directly on their website or by calling (307) 745-5782.

How to Prepare for Your Guided Tour

What to Wear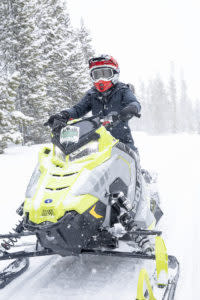 This is an important question because it's difficult to enjoy your day if you're constantly freezing. Snowmobiling guiding services, including 3C Guiding and Albany Lodge, will typically only outfit you with goggles and a helmet—the rest is up to you.
The basic advice: layer it on! Start with a well-fitting base layer, such as thermal underwear, that will pull moisture away from your body and keep you dry. From there, you'll want snow pants or similarly water-resistant, insulated pants. A fleece jacket is a great mid layer, followed by a quality outerwear jacket that is both wind and water-resistant. Warm, insulated snow boots, thick gloves, and a baklava face covering are also a must. Air-activated hand and toe warmers might also come in very useful. Finally, a backpack can be a great addition for carrying your water, a few snacks or a sack lunch, and any extra layers. Properly attired, you can more fully enjoy your experience. 

When to Book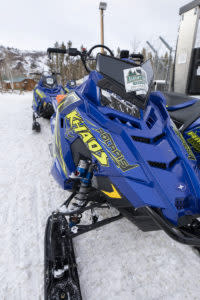 Picking a date for your trip is dependent on snowfall. Consistently good riding (and the busiest part of the season) is typically during the months of January and February, so this is your safest bet. However, unbelievably good riding can be had well into May, depending on the weather.

Where to Ride
The Snowy Range boasts a wide variety and astonishingly vast amount of trails and backcountry territory, making it accessible to riders of all levels, from the very beginner to the advanced. The best thing you can do to ensure a worthwhile experience is to simply talk to your guide. Let them know about your experience level and the type of riding you'd like to do. Even if you do your research ahead of time online, guides have up-to-date information on specific locations that may not appear on the internet and might be just what you're looking for.
For our first ever snowmobiling experience, my wife and I did a tour with a guide from Albany Lodge. We informed him about our experience level (or lack thereof), how much time we had in our schedule, and what kind of adventure we had in mind. With a few questions, he knew exactly where to take us. We ended up going on a half-day, on-trail, very scenic tour that took us to the historic mining town of Keystone, now a cabin community.

Final Thoughts
The Snowy Range offers an incredible variety of snowmobiling experiences, including epic hill climbing on the peaks, rides over wide open meadows of fresh powder, deep backcountry exploration, and rides on groomed trails of different skill levels. Fortunately, a guide can walk you through all of this, and they can also help you gain the confidence and techniques to push yourself into the next level of riding.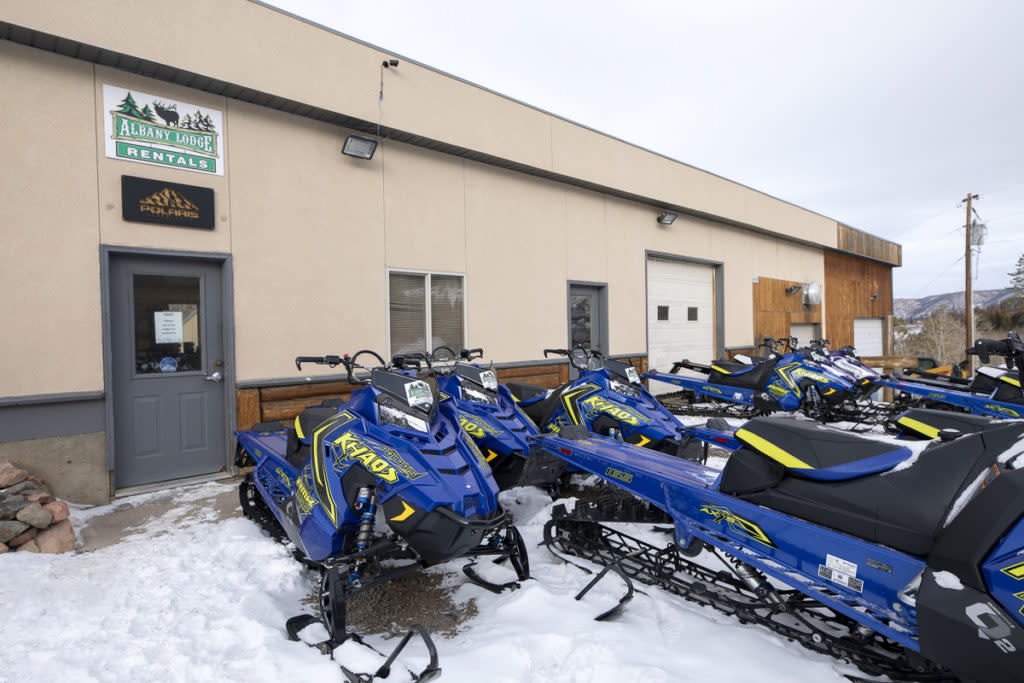 You may also be interested in our other blogs: Top Snowmobile Trails in Wyoming's Snowy Range, What to Expect Your First Snowmobiling Trip, and Top 5 Reasons to Try Snowmobiling this Winter. 
Note: Brian and Dani Harrington are independent writers contracted by Visit Laramie. Views and opinions expressed here are their own and do not reflect those of the Albany County Tourism Board.