The chill of fall is in the air. Everywhere there are apples, corn cobs, and pumpkin spice. If you are looking for fun Halloween and Fall activities, look no further than Laramie, Wyoming. Most of these events are free and many are located inside (a cozy alternative to outdoor events as the weather starts to turn). Check out these great fall activities and events; you are sure to find something to put you in the mood for autumn.
---
Fall Fun for Families and Kids
---
Laramie has oodles of fun fall family activities. From carnivals and harvest festivals to "safe trick-or-treat," there are plenty of great options for entertainment.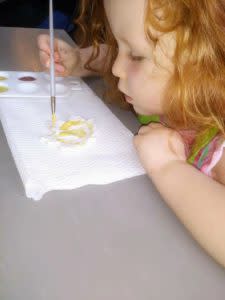 Painting a fall leaf at Art & Soul: Paint Your Own Pottery
Art and Soul: Paint Your Own Pottery
While not exclusively a fall activity, painting your own pottery is a great way to spend a chilly fall day. At Art and Soul, you choose from a variety of pottery pieces--many of which are fall-themed. Pick your glaze colors and then enjoy relaxing and painting. Art and Soul will fire your painted piece and call you when it is ready to pick up. This is a great experience for kids and adults alike.
Pumpkin Dunkin'
You can float with the pumpkins at Laramie Recreation Center on October 18th from 6:00 to 8:00 p.m. There will also be pumpkin decorating, a cupcake walk, free popcorn and tons of fun at the Pumpkin Dunkin'. Free to members or with the purchase of a day pass.
3D Build-a-Beast
Hosted by University of Wyoming's Microbestiary, Science Loves Art and 4th Street Studios, 3D Build-a-Beast will merge art and science. Learn about microbes while creating a silly or scary Halloween beast on October 19th at 1:00 p.m. This event is open to kids ages 9 and up. Reservations are required and a $10 donation is suggested.
Harvest Fest
Snowy Range Baptist Church is hosting a free, fall-themed Harvest Fest on October 19th at 1:00 p.m. They will have games, snacks, crafts, and faith-based activities. You can pre-register on their Facebook page to take home a free pumpkin!
Hocus Pocus Interactive Movie 
Albany County Public Library will be showing the Halloween classic movie Hocus Pocus on October 25th from 6:00 to 8:00 p.m. This will be an entertaining "interactive" experience. Feel free to wear your costumes and enjoy free pizza and other refreshments.
A Ghost's Tale

Rehearsing for A Ghost's Tale (photo courtesy of The Unexpected Company)
The Unexpected Company is putting on what is sure to be another fabulous production, a ghostly play at the Alice Hardie Stevens Center. The production runs from October 25th through November 3rd and will have several matinee and evening performances. The A Ghost's Tale tells the story of strange happenings at Laramie High School in 1952 and features actual historical characters from Laramie. Don't miss this fun production. For more information, see our events page.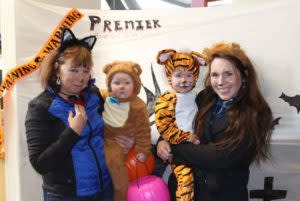 Fun at Premier Bone & Joint Safe Treat
Premier Bone & Joint Safe Treat 
Premier Bone & Joint Clinic puts on a great pre-Halloween Safe Treat on October 26th. From 8:00 a.to 10:00 a.m. the clinic will be transformed, with a haunted hallway, games, candy, and more. This is a fun and free event to get into the Halloween mood. For more information, see our events page.
Scaramie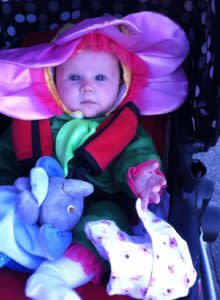 Never too young for Scaramie fun
Always a favorite, Scaramie will turn downtown Laramie into a parade of witches, ghosts, princesses, pirates, and any character you can imagine! Come trick-or-treat at downtown businesses on October 26th from 10:00 a.m. to noon. There will also be a "Historical Haunted House" for bigger kids. The trick-or-treating and haunted house are free, but donations of non-perishable food items to Interfaith Good Samaritan are appreciated.
Trick-or-Treat Halloween Carnival 
Edgewood Spring Wind Laramie will add to the fall festivities with their annual free Trick-or-Treat Halloween Carnival. October 27th from 2:00 to 4:00 p.m. there will be a carnival with prizes and trick-or-treating. For more information, see our events page.
Light the Night
New Life Church is putting on a fall carnival called Light the Night on October 27th from 4:00 to 6:00 p.m. The free event will feature inflatables, carnival games, candy, prizes, and more. This is sure to be a great fall activity for families.
---
Halloween "Safe Treat" Options
---
What about Halloween itself? Besides the pre-Halloween safe-treat events mentioned above, there are several fantastic alternatives to classic trick-or-treating. Avoid the cold and come to one of these free, spooky and safe events, all held on October 31st.
Candy Break in the elevator at Ivinson Boo Fest
---
Fun Fall Activities for Adults
---
The kids shouldn't have all the fun! There are plenty of great fall activities for adults as well. Downtown Laramie has wonderful nightlife any day of the year, but there are some awesome fall-themed events coming. Be sure to check these out.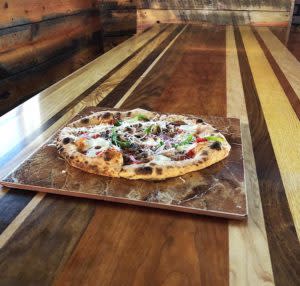 Yum! (photo courtesy of Alibi Wood Fire Pizzaria)
A Boooozy Halloween Party 
Alibi Wood Fire Pizzaria will be hosting A Boooozy Halloween Party on October 31st, starting at 7:00 p.m. The party will feature live music by Moral Panic, amazing drink specials, and a costume contest with prizes. The fantastic pizzas, artisan sandwiches, and craft cocktails at Alibi are a perfect treat to indulge in on Halloween (or any night).
The Spirits Among Us 
On October 31st, the University of Wyoming Collegiate Chorale will be performing The Spirits Among Us. The mystical performance begins at 7:30 p.m. Tickets are $12 for the general public and can be purchased through the UW Fine Arts Box Office. Of course, this event is not exclusive to adults, many older kids and teenagers are sure to enjoy this spectacular concert as well.
Pumpkin Day and Fall Sign Class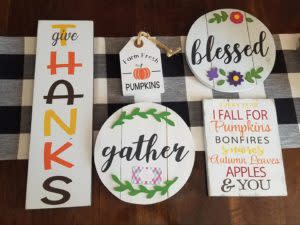 Make a fun fall sign at Bond's (photo courtesy of Bond's Brewing Company and Fae's Family Creations)
Bond's Brewing is hosting not just one, but two fall events. Pumpkin Day will be on October 22nd from 2:00 to 10:00 p.m. Bond's newest brew, Jack O'Lantern Ale, will debut. There will also be a Pumpkin Carving event (bring your own pumpkin and tools), and pumpkin-themed snacks. Join them again on November 4th for a Fall Sign Class. Fae's Family Creations will be partnering with Bond's for this event. Signs (supplies included) range in price from $12.50 to $35.00. Bring snacks and enjoy some delicious brews while you create cute fall decor.
Indeed, regardless of age or interest, there is something for everyone in Laramie this fall. Get in the spirit of the season with these wonderful fall activities. Didn't find something that appeals to you? Don't worry, there is plenty to do in Laramie. Check out these posts for some more great ideas: Things to Do in Laramie and Easy Hikes for Beginners in Laramie.
Note: Leah Veinbergs is an independent writer and the author of the blog Two Little Time. She is contracted by Visit Laramie. Views and opinions expressed here are her own and do not reflect those of the Albany County Tourism Board.