The surrounding areas of Laramie, Wyoming boast some of the country's best snowmobile destinations. Thirty-two miles west of Laramie, Albany Lodge lies at the base of the Snowy Range and offers easy access to hundreds of miles of groomed and marked snowmobile trails and backcountry territory that allows riders to experience Wyoming's breathtaking Snowy Range and Medicine Bow Mountains. Notably, snowmobilers who depart from Albany Lodge enjoy the dual advantage of more affordable prices and fewer crowds when compared to similar resorts in the Rocky Mountains.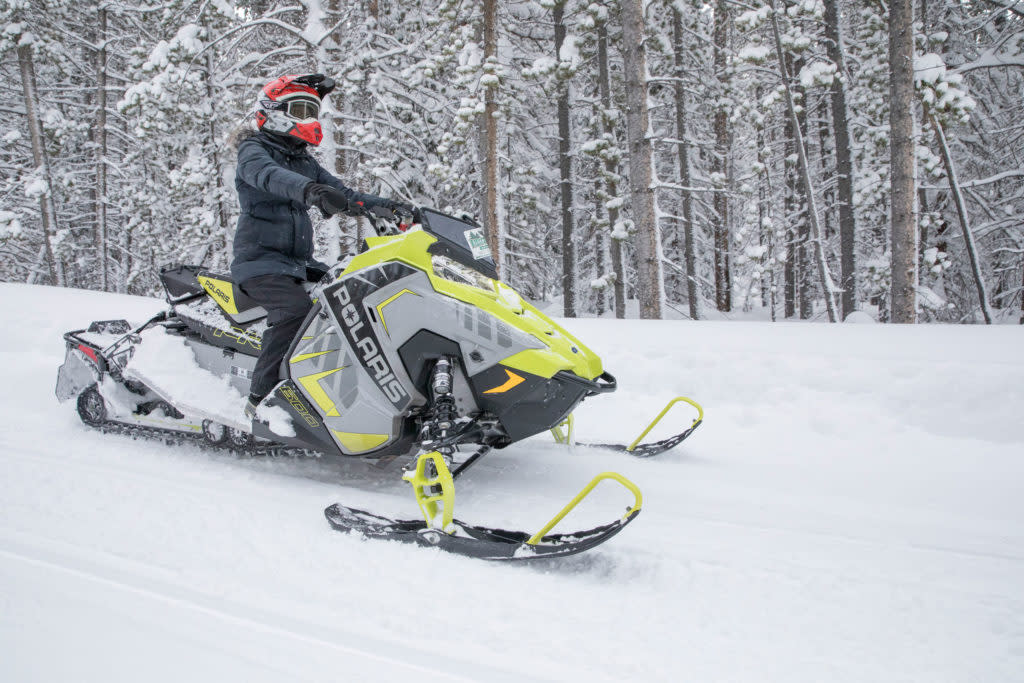 My wife and I recently visited Albany Lodge and had a blast snowmobiling for the first time.
Below, we share the information and insights we gained from our visit to help you plan what's sure to be a memorable snowmobiling vacation.
---
1. Getting There
---
Head west out of Laramie on Highway 130 and continue for 25 miles. Turn Left on to Road 11 and follow the road directly to Albany Lodge.
---
2. Amenities
---
Albany Lodge is packed full of amenities that make snowmobiling from this location both convenient and enjoyable. Their restaurant features a large, varied menu for all three meals of the day, and Saturday nights bring in the special option of prime rib. Having an on-site option for breakfast, lunch and dinner means riders can spend as much time as they want out on the trails and come back for food as they please.
If you choose to stay at the Lodge, you'll have access to all the comforts of home without ever having to leave the beautiful foothills of the Snowies. It's no surprise that many groups make Albany Lodge a consistent destination for their snowmobile vacations.
Last but not least, the restaurant features a full bar with a wide variety of craft beers—arguably an important feature for any good getaway!
---

3. Rentals
---
If you don't own your own snowmobile, you'll want to stop in at the rental shop, located directly across from the restaurant. The staff are knowledgeable and friendly and can help you determine which snowmobile is right based on your needs. Rental prices are determined by the type of snowmobile and range from $195 to $235 for a half day and $275 to $320 for a full day. Most models are for single riders, but those hoping to ride double can also find what they need.
---
4. Guided Tours & Classes
---
One of the best things about snowmobiling at Albany Lodge is the option for guided tours and classes, especially for those who are newer to the sport. The lodge's professional guides are certified through Polaris Adventures, a world-renowned company that prides itself on offering safe, memorable adventures.
Adventures can be had either in the form of on-trail or off-trail tours. On-trail tours follow groomed trails only while off-trail tours venture into the backcountry and require that riders possess some off-trail riding experience.
Both types of tours max out at six people and are based on the participants' skill level and what they wish to experience. Tours do not include rental fees but are competitively priced, with on-trail tours costing $195 for a half day and $295 for a full day and off-trail tours costing $295 and $349 respectively. Sack lunches are available upon request, but be sure to bring plenty of water.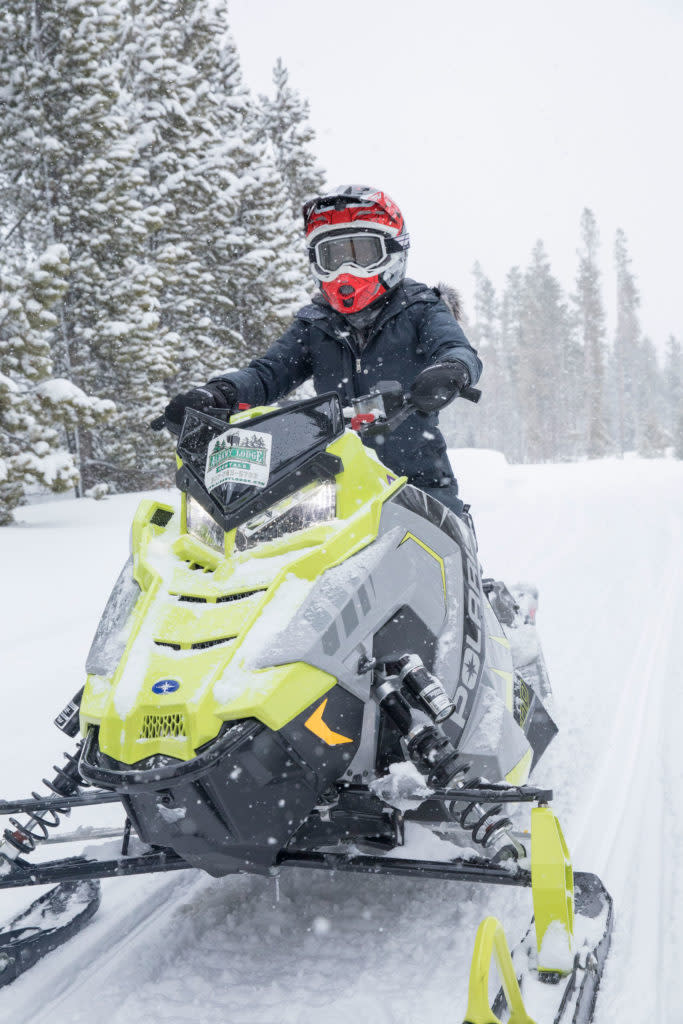 My wife and I went on a half-day, on-trail (and very scenic) tour that took us to the historic mining town of Keystone, now a cabin community. Travelling with a guide put our minds at ease. As inexperienced riders, we knew that we would be safe and wouldn't end up lost.
Albany Lodge also offers a backcountry riding school. The school is a great option for both the inexperienced who want to learn to snowmobile and the experienced who would like to improve their skills. The classes, which run from 8am to 5pm, are grouped by beginner ($199), intermediate ($229), and advanced ($249). Class sizes are deliberately small (maximum of 3 people per instructor) to allow students to receive individualized instruction.
---
5. Escape the Crowds
---
One of the main things that makes Albany Lodge a particularly special snowmobile destination is the vast amount of space and scenic beauty that riders can experience without having to fight through crowds. Sure, you will encounter other snowmobilers, but with two million acres of land rendered accessible by winter conditions, 300 miles of groomed trails and 200 miles of marked trails, the area offers plenty of unspoiled vistas and a sense of freedom as you ride through the mountains largely unhindered.
Ready to hop on a snowmobile and give Laramie a visit? Learn more about the best snowmobiling on our website where we provide more information on snowmobile trails, how to get a permit, other rental options, trail maps, and more. Learn more here.
Note: Brian and Dani Harrington are independent writers contracted by Visit Laramie. Views and opinions expressed here are their own and do not reflect those of the Albany County Tourism Board.