Updated for 2019 Holiday Season! It is that magical time of year again! Time for Christmas carols, egg nog, and Santa Claus! Laramie has a multitude of events and activities to get in the holiday spirit—both for kids and adults. It's truly hard to narrow it down to just a few, but there are some holiday activities and events in Laramie that just can't be missed.
1. 27th Annual Happy Holidays Laramie Festival of Trees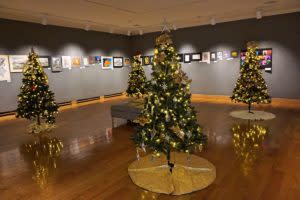 Laramie Happy Holidays Festival of Trees (photo courtesy of UW Art Museum)
First of all, it could hardly be Christmas in Laramie without this magical holiday event. On December 5th through the 7th, the University of Wyoming Art Museum will be transformed into a holiday wonderland. The lighting of the trees will take place on the evening of December 5th. There will be musical performances, student art exhibitions, and a silent auction during this three-day event. What's more, on Saturday, the 7th enjoy kid-friendly art-making for the whole family. As always, the UW Art Museum has free admission. For more information, see the UW Art Museum event page
2. Viewing Christmas Lights
Downtown Holiday Parade and Mayor's Tree Lighting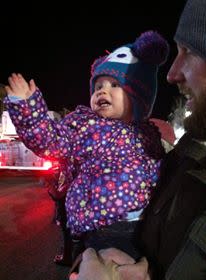 Laramie Events Waving to Santa at the Holiday Parade
Also a "can't miss" holiday event, the Laramie Holiday Parade and Mayor's Tree Lighting are sure to get everyone into the spirit of the season. Bundle up and come downtown on December 6th for tons of holiday fun. Get pictures with Santa at Corthell & King Law Office starting at 4:00 PM. Don't miss the Mayor's Tree Lighting at 5:30 PM at First Street Plaza followed by the Beitel Elementary Bulldog Choir performance.
The actual parade—a spectacle of Christmas lights and holiday cheer—begins at 6:00 PM. Round out the evening with hot cocoa and goodies at the Laramie Dance Center Holiday Showcase, or a sneak peek of crafts and goodies from the Snowy Mountain Christmas Bazaar at the Train Depot. Several downtown businesses will also be accepting donations of toys and winter wear. See the Downtown Holiday Parade and Mayor's Tree Lighting Facebook page for more details.
Christmas Lights at the Wyoming Territorial Prison
Need even more Christmas lights and holiday inspiration? You can get your holiday fix at the Wyoming Territorial Prison. They will be decked out in amazing Christmas lights set to music, every evening after 5:30 PM beginning the day after Thanksgiving. Additionally, the prison's Holiday Light Trail will be open on December 14th only at 5:30 PM.
3. Breakfast and Pictures With Santa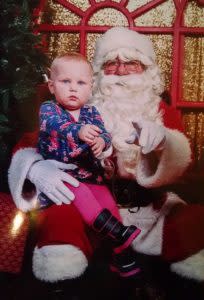 First Photo With Santa at Breakfast with Santa at the Laramie Civic Center
There are many opportunities to see Santa in Laramie. A community favorite is the annual "Breakfast with Santa" at the Laramie Civic Center. Join Santa for a pancake breakfast on December 14th, beginning at 8:00 am. Stay to have your picture taken with Santa and join in some fun Christmas crafts. Tickets can be purchased on the event Facebook page. This year all ticket proceeds will go to benefit Laramie Foster Closet and the Laramie Soup Kitchen.
In addition to Breakfast with Santa at the Civic Center, there are plenty of chances to see jolly old St. Nicholas. 
Pictures with Santa at Corthell and King Law Office, December 6th at 4:00 pm (right before the holiday parade)
Breakfast with Santa at the Fairgrounds, December 7th at 9:00 am (before the Christmas Bazaar)
Pictures and Cookies with Santa at Uniwyo, December 10th at 3:00 pm
Santa's Holiday Workshop at Premier Bone and Joint, December 10th at 6:00 pm
4. Christmas Shopping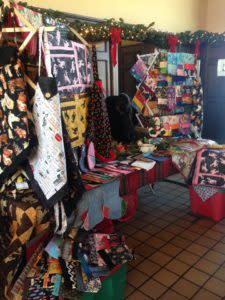 Snowy Mountain Christmas Bazaar (photo courtesy of Ashlyn Courtwright)
Not only does Laramie have terrific stores (see our post on Spectacular Shopping in Laramie), but there will be several holiday markets on the weekends leading up to Christmas. Take care of your holiday shopping at one of Laramie's fantastic Christmas Bazaars. These events feature many local artisans, hand-crafted goods, and delicious food. You are sure to find that perfect, unique gift for even the hardest to shop for person on your list. Enjoy shopping at these festive events with food, activities, music, and more.
4th Annual Snowy Mountain Christmas Bazaar at the Train Depot, December 6th (sneak peek after the Holiday Parade) or December 7th, 8:00 - 3:30
8th Annual Holiday Bazaar at the Fairgrounds, December 7th, 9:00 - 4:00
17th Annual Christmas in Centennial at Centennial Elementary School, December 7th, 9:00 - 3:30
Holiday Market at the Buchanan Center for the Performing Arts Recital Hall, December 13th, 9:00 - 4:00
5. Holiday Performances
Finally, there are several incredible holiday performances happening in Laramie. Local dance studios, the University of Wyoming music department and theater department, and traveling dance troupes will be providing holiday entertainment. It is difficult to narrow down the "must-see" performances, but here are some highlights below.
The Deepening Light UW Collegiate Chorale by Candlelight
The Deepening Light UW Collegiate Chorale by Candlelight at St. Matthews Cathedral. Enjoy the beautiful and talented singing of the accomplished Collegiate Chorale as they perform music from a "variety of spiritual traditions." But, get your tickets early, the holiday concert is almost always a sell-out! Performances will begin at 7:30 on December 6th and 7th. See the Fine Arts Box Office webpage for details and ticket information.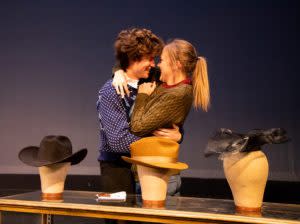 How to Survive Your Family at Christmas (photo courtesy of Donald P. Turner)
How to Survive Your Family at Christmas
Alternatively, enjoy some comedic relief to the holiday rush. Wyoming Theater and Dance will be putting on a holiday production entitled, "How to Survive Your Family at Christmas." This heart-warming musical comedy runs December 5th-7th and 12th-14th. Add some laughter to your season with a story most of us can probably relate to and support UW's theater department. Details and ticket information can be found on the Fine Arts Box Office webpage.
The Celtic Gift
Last but not least, on December 6th, the Irish Dance Theater brings a special treat to The Gryphon Theater. The Celtic Gift—"where Riverdance meets the Nutcracker"—is sure to bring the magic of the holidays. The Irish Dance Theater, based in Denver, is an accomplished troupe of performers dedicated to sharing their love of traditional Irish dance. For more information see The Gryphon Theater webpage.
Without a doubt, Laramie is the place to get in the holiday mood. Make memories and have fun in Laramie this holiday season. For additional events and activities, be sure to check out our Events Calendar.
Note: Leah Veinbergs is an independent writer and the author of the blog Two Little Time. She is contracted by Visit Laramie. Views and opinions expressed here are her own and do not reflect those of the Albany County Tourism Board.