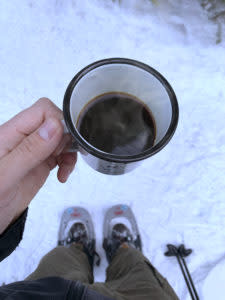 Snowshoeing around Laramie is a great way to get outdoors in the winter. It provides a solid workout and is a wonderful means for experiencing nature, enabling you to traverse snowy terrain that would otherwise be difficult to explore.
Laramie, Wyoming, is a magnificent home base for snowshoeing: trail systems and recreation areas offering spectacular snowshoeing opportunities surround the town on nearly all sides. 
One of the highest appeals of snowshoeing is that it's easier to pick up than just about any other winter sport. Indeed, if you can walk, you can snowshoe. Still, it always pays to be prepared, especially if you're a snowshoe newbie. Below is a list of five things you won't want to forget before you head out on your next adventure.
---
1. The Right Kind of Snowshoes
---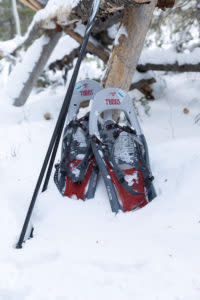 As you consider the kind of gear you'll need for snowshoeing, you'll want to think about where you're headed and what kind of activities you'll be engaged in. If you're planning a more advanced expedition off the beaten path with icy, steep terrain and deeper snow, then backcountry snowshoes are your answer. If you are a serious fitness buff and want to do some winter trail running, then you'll require running snowshoes.
Hiking snowshoes are the most common and popular type of snowshoe. While they do vary in design, all hiking snowshoes share features that allow you to explore terrain from flat land to rolling hills. They have simpler bindings and less robust traction systems, meaning they are also less expensive and are typically the best option for beginners.
As with all outdoor recreation, gear that is either poor quality or ill-fitting can make or break your experience. For snowshoeing, that means finding snowshoes that are properly sized for your weight, and appropriate for the terrain and activities you're trekking. For this reason, we recommend that beginners stop by Laramie's Basecamp or Westgate Sports to rent or purchase equipment with the help of an expert.
Pair your snowshoes with insulated, waterproof snow boots and a set of snowshoe poles. Snowshoe poles, unlike cross country skiing poles, are generally adjustable and can be customized on the trail to fit the conditions.
---
2. A Planned Route
---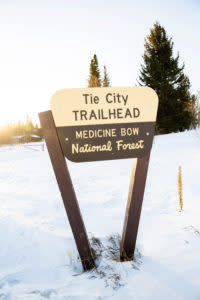 Hiking snowshoes work beautifully for snowshoeing around the Laramie area, and the options for where to go are plentiful.
The Tie City Trailhead (a short 15-minute drive from Laramie) and the nearby Happy Jack Recreation Area offer expansive snowshoeing trails. Be sure to keep to the multi-use trails only. These trails are specifically reserved for snowshoers, fat-bikers, and runners. Snowshoeing over the groomed cross country skiing trails is poor etiquette as it damages the trails. 
Located about 35 miles from Laramie off Wyoming Highway 230, the Chimney Park area is another option. This area features a visually stunning lodgepole forest with fairly flat trails. 
Conversely, the Green Rock Trail in the Snowy Range Mountains (about 45 miles west of Laramie on Wyoming Highway 130) is a six-mile loop that consists of more hilly terrain. This trail feels more remote and offers some seriously refreshing high alpine solitude and beautiful views.
Also in the Snowy Range, the 2.5-miles of trails at the Snowy Range Ski Area are a mellow option. You can access them from the overflow parking lot of the ski area itself.
No matter where you choose to go, it's a good idea to bring a map of the trail system and some sort of navigation tool, such as a compass or a phone app (we like AllTrails).
---
3. Layered, Athletic Clothing
---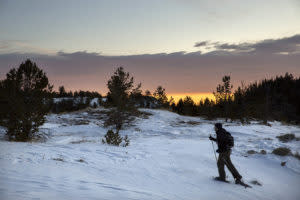 Once you've got your basic gear and planned route in mind, the next thing to consider is clothing. While it's fairly obvious that you'll want to take care to dress warmly while snowshoeing, what may be less obvious is knowing what kind of material your clothing should be made of and how many layers to wear.
Athletic clothing composed of wool or other moisture-wicking fabrics is your best bet. Avoid cotton as it tends to hold moisture. A hat and gloves are both necessities, and if conditions are extra cold, air-activated hand and toe warmers are more than worth the few extra bucks.
When considering how warm to dress, keep in mind that snowshoeing generates some heat, so overdressing will result in sweating. Still, underdressing could be dangerous. Weather conditions also come into play and can change from hour to hour.
For all these reasons, adding and subtracting layers is the best way to ensure that you maintain a comfortable temperature. Long underwear is a great base layer, and from there you can add a warm fleece, a light-to-medium-weight down jacket, and a wind-resistant, waterproof top layer.
With this set-up, you'll likely want to shed a layer or two at some point, but you can rest assured that you'll stay warm enough should temperatures drop or you stop moving for whatever reason. But, what to do with those extra layers?
---
4. A Well-Stocked Backpack
---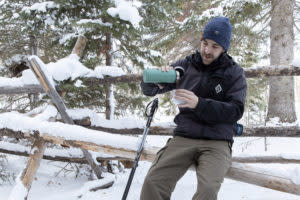 Pack your shed layers in a backpack along with water and snacks (more than you think you'll need), sunscreen, sunglasses, and an emergency kit. Anytime you adventure outdoors, whether to hike, ski, or snowshoe, it's smart to carry a few emergency supplies. Our emergency kit consists of a lighter, a fire-starter (such as a candle), a headlamp, a pocket knife, water treatment tablets, a small first-aid kit, and a whistle. It's not much extra to carry, and although you are unlikely to need any of these items, they could save your life if something goes wrong.
---
Tip #5: Safety First
---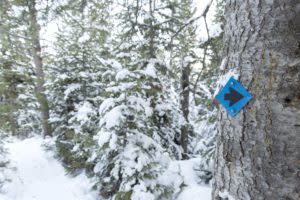 Especially if you're a beginner, are headed into more remote areas, or plan to cross tricky terrain, be sure to bring a friend. A friend will not only make your time more enjoyable—they will also be of great comfort and assistance in the event that you sustain an injury or lose your way.
Now that you're prepared, it's time to get outside and explore!
Click to visit our sports and recreation page.
Note: Brian and Dani Harrington are independent writers contracted by Visit Laramie. Views and opinions expressed here are their own and do not reflect those of the Albany County Tourism Board.