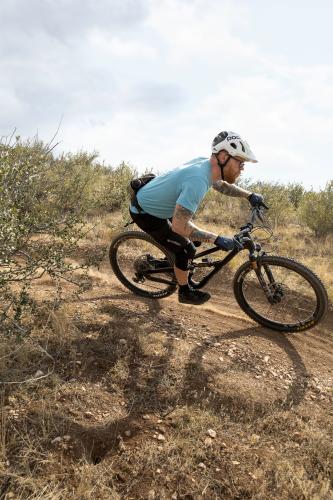 We've all had those days of mountain biking that feel more like sitting in traffic than being out in the woods. The more popular mountain biking becomes, the more congested the trailheads get, and the further you have to go to escape the crowds. 
Fortunately, places like Laramie, Wyoming still exist. Mountain biking trails around Laramie are known for variety, quantity, and quality, and yet crowds remain thinner than in many other areas in the Rocky Mountain West. 
Why come to Laramie for mountain biking? Simply put, it's an exceptional home base for the sport, and the town itself offers plenty to do while you're taking a break from the trails. Speaking of trails, they are not only incredibly close to town (with some departing from the city itself!)—they are also rich in beautiful and diverse scenery. 
All of this makes Laramie an excellent destination for your next weekend mountain biking getaway. As a resident of Laramie for over 10 years and an enthusiastic mountain biker, I feel well-equipped to offer up a sample itinerary to help you plan your next trip. 
The trails I point you towards contain some challenging and technical sections, and overall they are aimed at the average mountain biker. With a few modifications to trail selection, each of the areas I cover can be tailored to your riding level, whether you are a beginner or a seasoned rider. This itinerary is also a jam-packed three days, but there are so many excellent trails around Laramie, you could easily make a week-long trip of the ordeal. 
\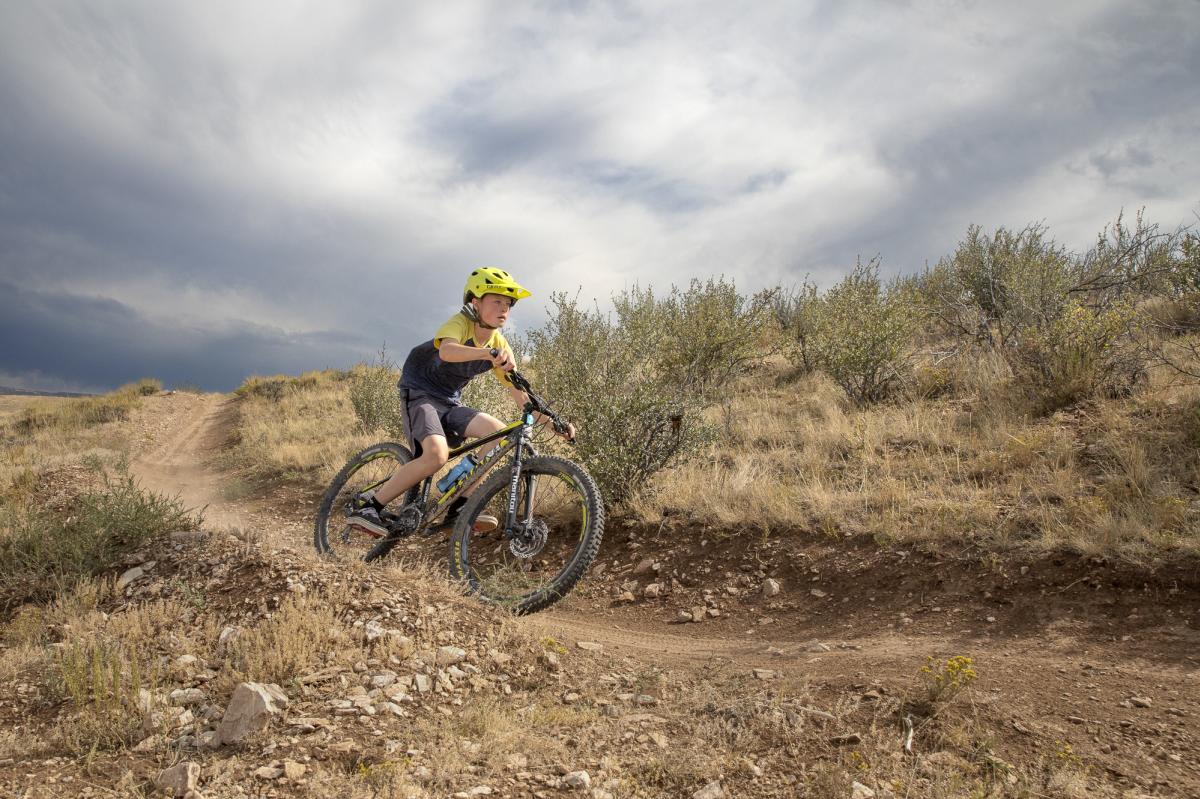 Day 1: Pilot Hill Trail System in Laramie
After arriving in Laramie and getting yourself settled, on day one take advantage of the most convenient mountain biking location: The Pilot Hill Trailhead. Pilot Hill trails literally depart from the City of Laramie! Formerly operated by Laramie BikeNet, Pilot Hill trails have since been adopted as part of Albany County's recent Pilot Hill land purchase. The trail map for this area is still found on the Laramie BikeNet website.
The Pilot Hill trail system offers riders a variety of trails at all levels. My go-to after-work ride is Lunch Lady. Lunch Lady is a quick 3.5-mile loop with a healthy amount of climbing. I really enjoy cutting off on Bluebird for a rocky and flowing downhill section. If you have a bit more time, take the top-to-bottom trail that starts on the western end of Willet Drive. The views of the unique prairie landscape of the Laramie valley get better and better as you climb.

After your ride, head to historic Downtown Laramie to refuel with delicious food and drinks. Here's a look at some of Laramie's best restaurants.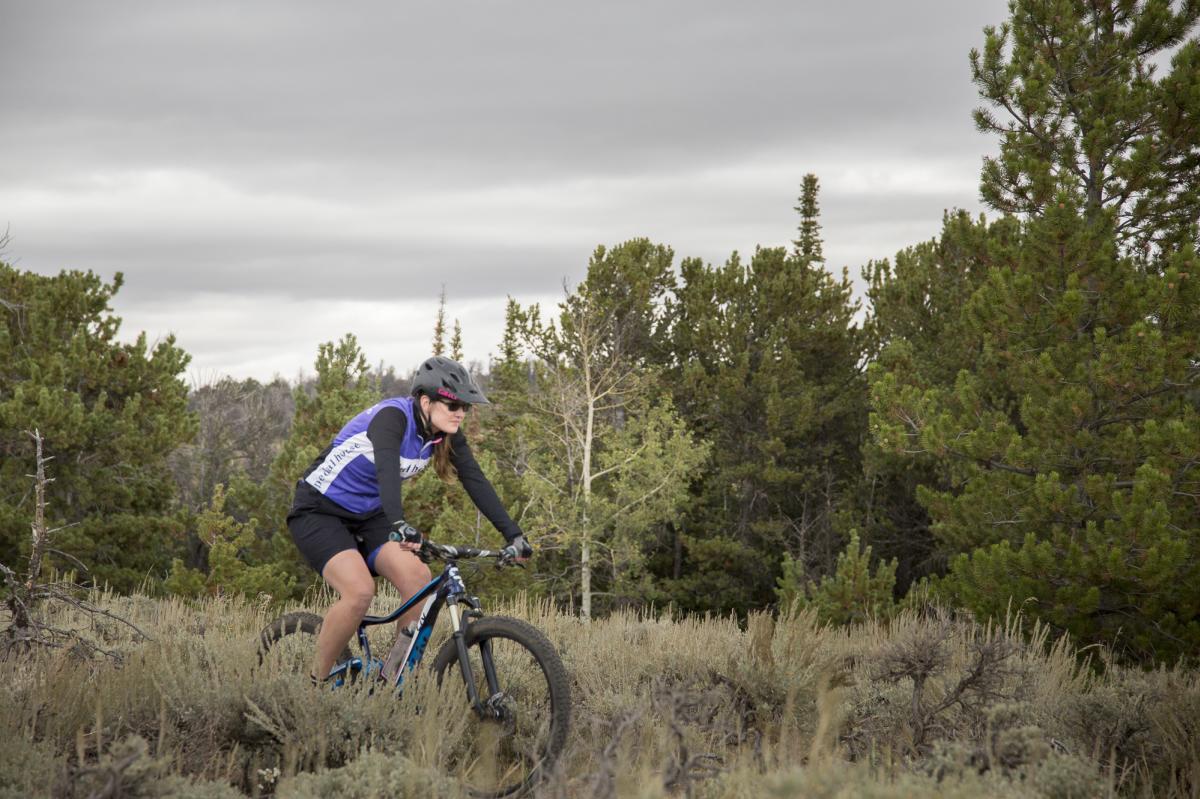 Day 2: Tie City and Curt Gowdy State park 
Rise and shine for an early morning ride at the Tie-City / Happy Jack Trailhead just 12 miles east of Laramie. While this trailhead is incredibly close to town, I still suggest packing a lunch in order to maximize your time. If you don't feel like dealing with any food prep (you're on vacation, after all), the Big Hollow Food Co-op offers grab-and-go sandwiches that are perfect for this purpose.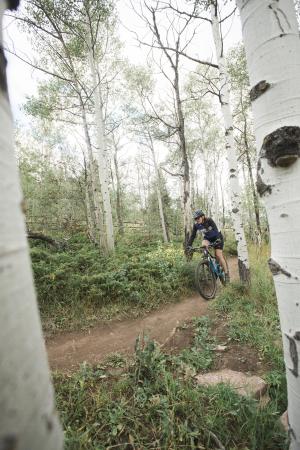 The Tie City / Happy Jack trail systems are notable for flowy, at times technical rides through dense and beautiful pine and aspen forests. You can access a trail map here. A favorite of mine is the Middle Aspen trail. This trail is rated moderate and is an exceptionally fun ride, and significant work has gone into it over the past few seasons to ensure its continued safety and quality. Another trail I'd suggest is the Haunted Forest Trail. This longtime local favorite has gotten even better recently due to significant work over the past year that has created new routes. 
After enjoying your lunch, make your next stop Curt Gowdy State Park, just a little over 10 miles from the Tie City Trailhead. As a location known to mountain bikers throughout the country, this is a must-visit. The extensive singletrack trail system at Curt Gowdy has earned this State Park an 'epic' designation by the International Mountain Biking Association (IMBA). As you ride, you'll enjoy the diversity of Curt Gowdy's landscapes, which aptly represent the uniqueness of this area, where the mountains meet the plains. 
Let me be clear: you could easily spend your entire weekend at Curt Gowdy without getting bored. But in order to enjoy all the different mountain biking that the Laramie area has to offer, we suggest focusing on a few choice trails here. I am a big fan of the 3.6-mile Stone Temple Circuit. This loop stands out for its smooth, well-packed tracks and its sections where riders get to enjoy traversing huge, rolling boulders. Stone Temple is also a great place from which to explore additional areas in Curt Gowdy because directly from it you can access other "detour" trails and "play areas" in the park. My favorite detour from Stone Temple is the Gold Watch Trail, which is all about large, rolling boulders. 
You can find the trail map for Curt Gowdy here.
Day 3: Barber Lake in the Snowy Range Mountains
Grab breakfast in town (try The Crowbar & Grill's stellar weekend brunch, Prairie Rose Cafe for a classic greasy spoon, or Night Heron Books & Coffeehouse for a tasty breakfast burrito to go). Then, hit the road for the stunning Snowy Range Mountains, located about 35 miles west of Laramie. You're aimed at the Barber Lake Trail, which departs from the Green Rock Trailhead and descends for more than six miles. My preferred method is to shuttle to the top and enjoy the endless downhill, but a more intrepid rider might choose to brave the ascent for an awesome workout. If you run a shuttle, drop a car off at the Forest Service Welcome Center on your way up. The Snowy Range is truly beautiful, so don't forget to savor the views. 
Celebrate the last night of your trip by enjoying dinner in town and a beer (or two) at one of Laramie's many local breweries.