Looking for a fun Denver getaway? Grab your keys and your camera and explore the Historic Laramie to Steamboat Loop this fall. Leave the interstate and the crowds behind as you visit several historic towns that share deep Western heritages, outdoor recreation opportunities and breathtaking views. Choose multiple ways to experience Southeastern Wyoming's and Northwest Colorado's wide-open spaces and pack a full adventure into just a few days.
Begin your Denver getaway fall road trip by driving north from Denver on I-25 before turning off onto Hwy 287 near Fort Collins. This scenic route from Fort Collins to Laramie offers expansive views of the high plains beneath the mountains before you wind down into the small town of Laramie.
---
Laramie
Explore the Laramie area, offering a unique blend of college town vibrancy and culture, western history, and outdoor recreation on your Denver getaway.
---
DAY ONE
---
ACTIVITY: Go for a Hike at Vedauwoo
The Laramie area is a hiker's haven full of trails, so your first stop on your adventure is Vedauwoo Recreation Area. Stretch your legs on the Turtle Rock Trail, a short loop through the hoodoos and Sherman Granite crags. Be sure to keep an eye out on your hike as you take in the fall colors that abound – this area is a favorite for wildlife including moose and marmots. This Denver getaway has loads of surprises!
LUNCH: Taste Local Cuisine
Next, head to the University area to fill up on local fare. Turtle Rock Café is a favorite with locals and students alike, offering soups and sandwiches to warm you up and satisfy your post-hike hunger. Located across the street from the University of Wyoming campus, you'll get a glimpse into campus life and the college town vibrancy found in Laramie.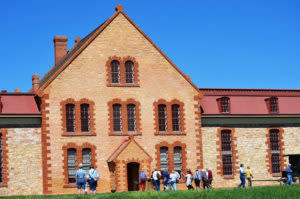 ACTIVITY: Travel Back in Time
Not to be missed, a visit to the Wyoming Territorial Prison State Historic Site is a favorite for history buffs and museum-goers alike. Today's museum once housed infamous outlaws like Butch Cassidy and his gang in between train robberies. Take a trip to the Wild West past and hell-on-wheels history of Laramie with a stop here.
DINNER: Dine Downtown in the Historic District
Discover the vibrant arts and culture scene with dinner in Laramie's historic downtown district at Altitude Chophouse and Brewery. Here you'll find tender steaks and bison burgers perfectly paired with beers brewed in house. Sample award-winning beers like the Altitude Alt-bier, on tap year-round, or trying one of the rotating micro beers, only available locally until they're gone.
ACTIVITY: Discover Laramie's Cultural Side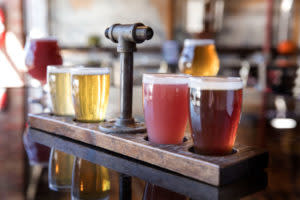 Walk off your steak dinner and discover Laramie's downtown culture with the best of both worlds when you walk the mural tour and follow the Brewery Tour. Laramie's downtown district offers over 20 murals painted by local artists, and you'll find five microbreweries located within a walkable 3 block radius. If you're craving something sweet for dessert, don't miss a stop at the Chocolate Cellar for homemade chocolate truffles, located next door to Cask 307 who offers wine on tap, an equally worthwhile stop.
LODGING: Stay at the Mountain View Historic Hotel and Café
Cap off an incredible day exploring the Laramie area with a stay at the quaint and historic Mountain View Hotel and Café in Centennial, located west of town. This 6 room bed and breakfast offers western charm and cozy accommodations for the night.
Insider's Tip: Ask for the Mountain Sage Room. Located on the second floor of the hotel, you'll enjoy sweeping views and a bathroom that features a claw foot tub, offering a truly relaxing escape.
---
DAY TWO
---
BREAKFAST: Fuel Up
Start day two of your Denver getaway fall road trip with a breakfast made from scratch by locals and owners of the Mountain View Hotel, Kathleen and Mike. You'll wake up to the smell of breakfast in the café below, and each meal pairs perfectly with coffee blends roasted in-house that you won't find anywhere else.
ACTIVITY: Horseback Riding at Vee Bar Guest Ranch
Get your western on with a trip to the Vee Bar Guest Ranch located along the Little Laramie River. With buildings dating back to 1891, this family-owned ranch is rich in history and full of activities from horseback riding to fly fishing. Horseback rides here are second to none, including tours that will take you through lush meadows, onto plateaus overlooking the valley, and mountain trail rides up into the high country of the Snowy Range Mountains.
---
DRIVE TO STEAMBOAT
---

Laramie to Steamboat
From Centennial, drive west on Wyoming Hwy 130 on the Snowy Range Scenic Byway. Topping out at 11,000 feet, this scenic drive takes you through the towering granite peaks of the Snowy Range and is perfect for wildlife viewing in the fall. Continue on towards Walden before climbing over Rabbit Ears Pass and into Steamboat Springs. This is the most scenic route from Laramie to Steamboat and is open Memorial Day through mid-November, weather permitting. You'll wonder why you never did this for a Denver Getaway before!
---
Steamboat Springs
Welcome to Steamboat Springs, Colorado! Nestled in the Rocky Mountains, Steamboat Springs is known for its Western heritage and abundant outdoor adventure.
---
Insider's Tip - Be the Early Bird: Start your day early for the best peaceful and relaxing experiences. Don't forget some activities need reservations and to book in advance!
Sustainable Activity: Help take care of our trails by checking out the trail meters dubbed donation stations at many of our trailheads! These go to the Train Maintenance Endowment Fund which preserves trails for future generations.

---
DAY ONE
---
ACTIVITY: F.M Light & Sons
F.M. Light & Sons is Steamboat Springs' historic clothing store and a special place where customers enjoy a step back into the old west while browsing among many original fixtures from one hundred years ago.
LUNCH: Johnny B. Good's Diner
Johnny B. Good's Diner is the real thing! Step back in time as you enjoy a 50's themed diner full of nostalgia. They have an extensive and classic breakfast menu, a full bar, and baked goods that are mouth-watering.
ACTIVITY: Afternoon Hiking

Choose between the Mad Creek Trail of Hahns Peak trail for beautiful hikes where you can see a historical barn or lookout post. Mad Creek is more moderate that winds through aspen groves, wide-open meadows filled with wildflowers, steep canyons, and lush fern forests. Hahns Peak is a steep, two-mile hike to the 10,839-foot summit offering stunning 360-degree views.
DINNER: E3 Chophouse
E3 Chophouse is located on the beautiful Yampa River and features seasonal, all-natural products. Enjoy daily specials, fresh fish 24 hours sea-to-table, amazing desserts from the pastry chef, wild game cooked to perfection and, of course, our steaks and chops. Their ranch-to-table concept starts with cattle being raised humanely and their steaks and chops are cut daily in house. Vegetarian and gluten free options available.
ACTIVITY: Old Town Hot Springs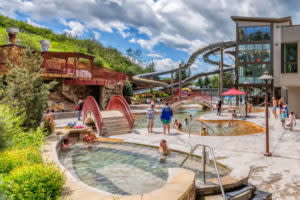 Need to relax after hiking and a tasty dinner? Colorado's original natural hot springs spa resort, Old Town Hot Springs has served visitors and locals since the 1880s. Located in downtown Steamboat Springs, visitors can relax in one of four 98-103-degree spring-fed pools.
LODGING: Hotel Bristol
The Hotel Bristol is located in downtown Steamboat Springs, Colorado, and is an intimate, full-service hotel 'the way it used to be' with a restaurant and saloon right on the premises serving up pasta and pizza and the finest libations a trail dry throat can imagine. On Lincoln Ave, Hotel Bristol is within walking distance to almost everything and a short drive away from a myriad of activities.
---
DAY TWO
---
BREAKFAST: Grab a Hearty Breakfast
Creekside Café is located in the historic Soda Creek building. The setting on the patio beside the creek is serene in the summertime, and warm and cozy inside during the winter months. Locally famous for their egg's benedicts and bloody mary's, they use locally sourced ingredients in their dishes sure to leave you both satisfied and wanting more.
ACTIVITY: Western Heritage Horseback Riding
For a unique way to take in the fall colors, saddle up and experience Steamboat's western culture firsthand on a horseback ride. Ranches are accustomed to accompanying all riding levels on all types of adventurous trail rides. Reservations are required.
LUNCH: Snow Bowl BBQ
Snow Bowl Steamboat has three pieces to your summertime happiness - BBQ, friends, and a great patio. Their mouth-watering recipes will satisfy your BBQ cravings and their selection of local draft beers are the perfect thing to beat the heat.
ACTIVITY: Tread of Pioneers
Learn about the history of Steamboat Springs by taking one of the many tours offered by the Tread of Pioneers. Choose from a historical downtown walking tour, to More and Arnold Barn Talks, and even learn about our rich Olympic history!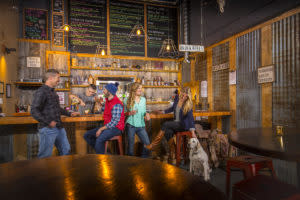 DINNER: Laundry
The Laundry specializes in smoking and curing of natural foods and a shared plate concept with a refreshingly creative menu that utilizes seasonally and locally grown products. The contemporary urban atmosphere is comfortable and inviting and the comprehensive wine selection is complemented with whiskeys, tequilas, and many tantalizing house-infused spirits.
ACTIVITY: Steamboat Whiskey Distillery
Steamboat Whiskey Company is Steamboat's first and only craft distillery and cocktail bar. They make high quality spirits by hand, batch by batch, right in the heart of Old Town and have over 20 cocktails to enjoy.
ALTERNATIVE LODGING OPTIONS:
---
DAY THREE
---
BREAKFAST: Coffee Shop Eats
Visit Off the Beaten Path for a cozy bookstore and coffeehouse in one experience. They have a full espresso bar, soups, paninis, and a variety of pastries and breakfast sandwiches.
ACTIVITY: Explore the Outdoors Western Style
If you are looking to reconnect with nature and breathe in the crisp mountain air, Steamboat has plenty of outdoor activities to bring you back to basics. Visit one of our local outfitters to experience hunting and fishing in Steamboat Springs.
LUNCH: Yampa Valley Kitchen   
Serving local, organic, and sustainable foods, Yampa Valley Kitchen has a sustainable garden outside you can enjoy your lunch in.
---
Drive to the Front Range
When it's time to head back down to the Front Range, choose your own adventure. Our main intent was to leave I-70 for a Denver getaway as much as possible and we think you'll enjoy it too!
---
Route options:
Option 1: Take U.S. 40 over Rabbit Ears Pass through Kremmling then follow U.S. 40 as it winds along the Colorado River. Stop in Hot Sulphur Springs for a soak in the springs or stretch your legs on the trails around Winter Park. Follow U.S. 40 until it meets back up with 1-70 and you are on your final stretch home.
Option 2: For a less traveled route, take highway 131 south of Steamboat Springs to Gore Pass (Highway 134). Enjoy views of vast ranchlands, the Flat Tops Wilderness and wildlife viewing opportunities along the way. Then take U.S. 40 and follow the route above.
You might be surprised how much you see when you ditch the highway and enjoy historic backroads and byways through the Rocky Mountains. Along the way, you'll find stunning, photo-worthy landscapes, delicious local eats and plenty of wildlife. Your off the beaten path adventure begins here.
Click here to learn more about Visit Laramie and Steamboat Springs.