Fall Colors Sightseeing Tours
by Dani and Brian Harrington, photos courtesy of Brian Harrington
Fall in Laramie, Wyoming is a special time of year. Given its status as a university town, the pace and feel of the area change during this season as much for the influx of students as for the onset of crisper temperatures and rustier pallets.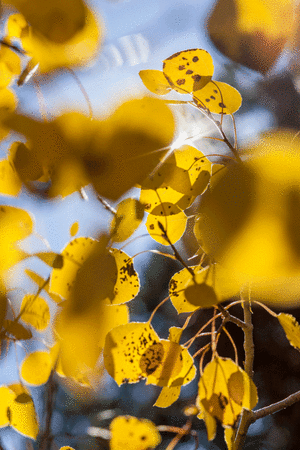 While autumn forces all cooler-climate dwellers to face the reality of impending winter, it could be said that in Laramie – a city that rises above 7,000 feet atop the windswept plains of Wyoming – the thought of winter looming around the corner inspires one all the more to get outside and soak up every last ounce of warmth.
It's a bit of a cliche to claim a love for fall colors. But love them I do, and so I shamelessly embrace a seasonal tradition of a weekend outing (or two) with the specific intent of visiting areas where I can most enjoy the changing hues.
Luckily, my husband is a photographer, which means that over the years he has pinpointed some lovely locations for fall foliage sight-seeing tours. In this post we share some of our favorite places to bask in the glory of the harvest season.
Exactly when to start your fall tours will vary from year to year, but you can typically begin to see changes at higher elevations around mid-September.
Scenic Fall Drive from Laramie to Aspen Alley via the Snowy Range Scenic Byway
This is a fantastic trajectory for those looking for scenic views from the car, though it also offers ample opportunity to get out and stretch your legs. Laramie to Aspen Alley is about a 2 hour and 15-minute drive, meaning you should plan a total of about 4.5 hours in the car if you aim to make it back to Laramie within the same day. Of course, you can always shorten this itinerary to suit your needs.
Stop #1: Centennial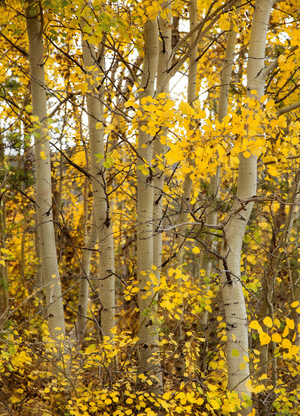 From Laramie, take exit 311 for Snowy Range Road / Highway 130 until you reach Centennial. Consider stopping in at the Bear Bottom, where you can relax among the colorful aspen groves that dot their outdoor patio area while enjoying a drink or some food.
Stop #2: Barber Lake Road
Next, continue onto Highway 130 and up into the Snowy Range, taking a short detour onto Barber Lake Road. This scenic road parallels Highway 130 and begins two miles west of Centennial. Lined by thick aspen groves, Barber Lake Road is a gorgeous drive in the fall.  Simply turn left right after you pass the Forest Service Welcome Center. You will reconnect with the Scenic Byway about 4.5 miles later.
As you advance through the Snowy Range Scenic Byway, you will be treated to some truly spectacular views.  In the fall, the bright oranges, yellows, and reds of the aspens and willows contrast beautifully with the stark granite peaks.
Stop #3: Treasure Island
Once you descend the mountain and find yourself in the Platte River Valley, you will eventually reach a junction where you turn left onto WY-230 E. Treasure Island is one of our favorite places to get out and stretch and is conveniently located just a half-mile south of this junction. Take a left on Cow Creek Road to arrive at the Treasure Island Access parking lot. From here, hike just a short way to reach the footbridge that will take you onto the island itself. Smack in the middle of the North Platte River, Treasure Island is full of large cottonwoods and is a wondrous place in the fall. The leaves turn vibrant colors and the surrounding water reflects them, magnifying the effect.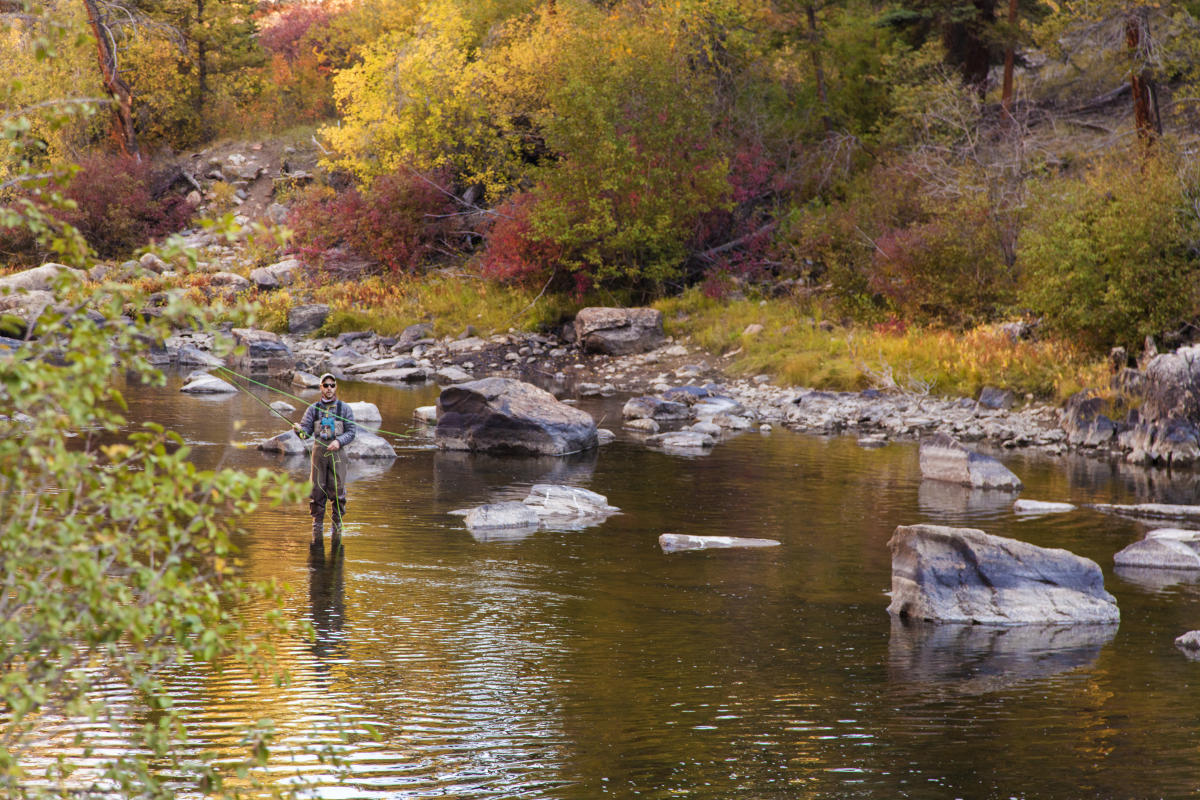 After you've sufficiently stretched your legs and are back on the road, head south towards the town of Riverside, where WY-230 E turns into WY-70 W, which takes you all the way to Aspen Alley. Aspen Alley resides in the Sierra Madre Mountains and is a must-see in the fall. Here, you can saunter down a dirt road that is idyllically lined on both sides with impressively large, straight aspens that rise high into the sky to form a canopy of fall colors.
Vedauwoo Campground & Happy Jack Road
Vedauwoo is a magical area of rocky formations located just 15 miles east of Laramie, off I-80 via exit 329. This expanse of public land is best known for its world-class rock climbing, and for a few weeks out of the year, it also plays host to some of the most beautiful and easily-accessed fall foliage colors near Laramie.
There are three main areas from which you can enjoy Vedauwoo: The Vedauwoo Campground, The Vedauwoo Climbing Area, and the Vedauwoo Picnic Site. From the picnic site you can access Turtle Rock Trailhead, which makes for a lovely and casual walk in the woods among orange, red, and yellow aspen groves. Regardless of exactly where you go, from Vedauwoo you can enjoy stunning views of gravity-defying rock sculptures set against colorful forests.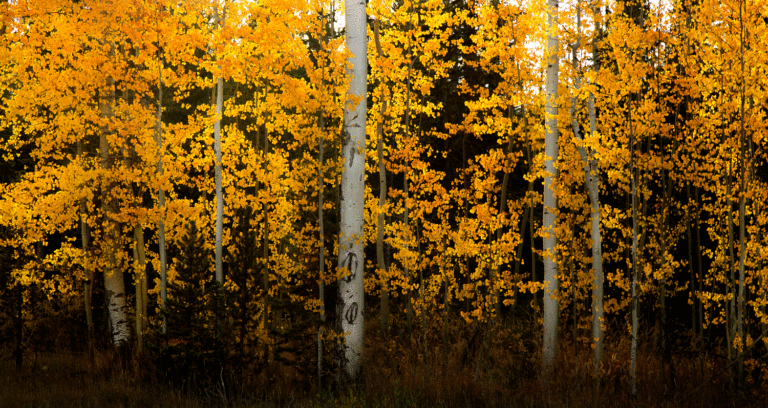 From the Vedauwoo Campground, we recommend taking a scenic drive on Forest Service Road 700 / Vedauwoo Glen Road.  This mountain dirt road passes through aspen forests and drops you down about 5.5 miles later onto the merrily-named Happy Jack Road. You can Happy Jack all the way back to Laramie.
The Laramie River Greenbelt Trail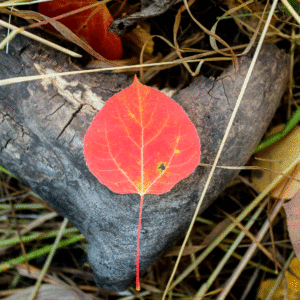 Getting access to beautiful fall colors doesn't have to be more complicated than taking a walk in town. Laramie's Greenbelt Trail System is comprised of 6 miles of paved trails along the Laramie River. When the cottonwoods and willows that line the river transform into their autumn iterations, the fall color scheme here is impressive.
End your walk with dinner and a fall-themed beer at one of Laramie's four local breweries. Fall in Laramie is a truly magical time for those seeking out fall color viewing opportunities with few crowds and amazing views. Don't miss this special time and visit us in Laramie today.
Note: Brian and Dani Harrington are independent writers contracted by Visit Laramie. Views and opinions expressed here are their own and do not reflect those of the Albany County Tourism Board.