Wyomingites have long known that Laramie has something extraordinary when it comes to dining. We have an abundance of cozy brewpubs for the University sports fans, bold international flavors for the curious palate, unique bistros to satisfy the culinary, and of course, the classic Wyoming steakhouse with all the quality beef you'd expect to enjoy in our state. We have long thought that Laramie's local eateries belonged among the ranks of Guy Fieri's "Diners, Drive-Ins, and Dives," and in 2022, that reputation became a reality with six fantastic features in Season 35.
It's official – Laramie has finally been welcomed to its new rank as a Flavortown on the Wyoming Diners Drive-Ins and Dives scene.
Follow along as we round up Guy's favorites in Laramie for Season 35, along with some of our own staff favorites along the way.
7220 Breakfast Burrito Photo Courtesy Lyndee Gurnham.
J's Prairie Rose sets the high standard as Laramie's homestyle breakfast staple and is luckily first on our list in Season 35, Episode 4. J's 7220 Breakfast Burrito got rave reviews from Guy, and is a top-reviewed dish by the Laramie community as well. The burrito comes smothered in homemade green chili and is stuffed with shredded smoked pork, eggs, cheese, and hash browns.
Diners Drive-Ins and Dives loved their homemade Strawberry Rhubarb Pie, done in the classic Wyoming style. The pies and crusts at Prairie Rose are made from scratch for a flaky, buttery flavor. Combined with the sweetness of strawberries, this tart pie brings through all the flavors of home.
We love the Prairie Rose with its classic diner seating and local breakfast favorites. It's especially popular Sunday mornings in fall to celebrate a Cowboys win.
Visit Laramie Staff Also Loves: Chicken fried steak and eggs, fresh baked cinnamon rolls, the Dan-wich, and Friday steak dinners.

Try the Strawberry Rhubarb Pie Recipe via Food Network.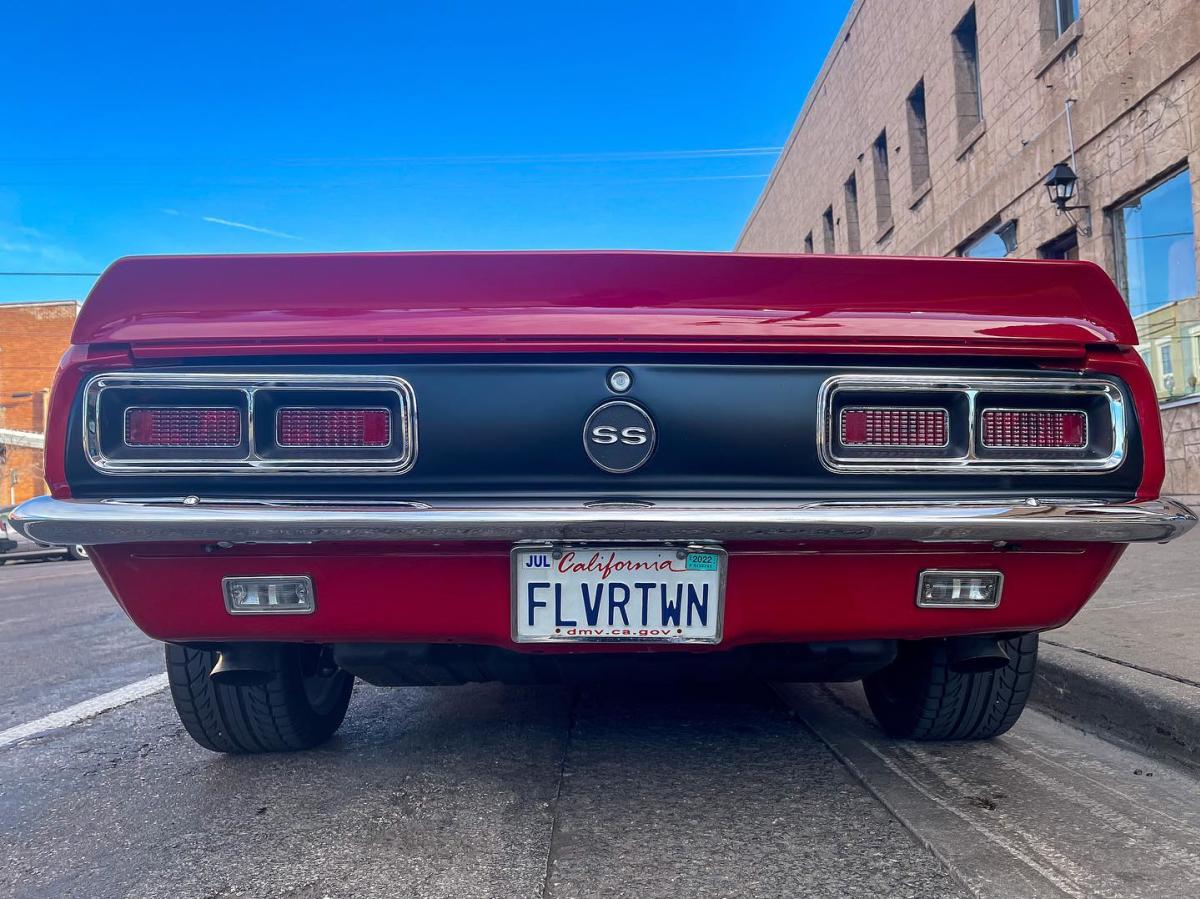 Photo Credit Born in a Barn Laramie
If Laramie excels in any category, it is for sure the homestyle brewpub. Born in a Barn is a standout in the category, with flavorful takes on burgers, wings, and fries, with the quality local ingredients to put them over-the-top. In Season 35, Episode 5, Guy Fieri is amazed at the quality coming out of the small kitchen on the corner of 1st and Ivinson. He starts with The Popper Burger, loving the flavors in the raspberry pepper jelly and breaded jalapeños.
A winner in Guy's eyes is clearly the Barnchos, with smoked pork and a queso sauce over housemade potato chips. This dish definitely fits the bill for some of the best bar food anywhere.
Born in a Barn exceeds in the burger and wing categories, making it one of our top lunch recommendations for visitors.
Visit Laramie Staff Also Loves: Barncho tots, bleu burger, classic burger, regular burger specials, honey BBQ wings, and loaded chicken mac.
Try the Popper Burger Recipe via Food Network.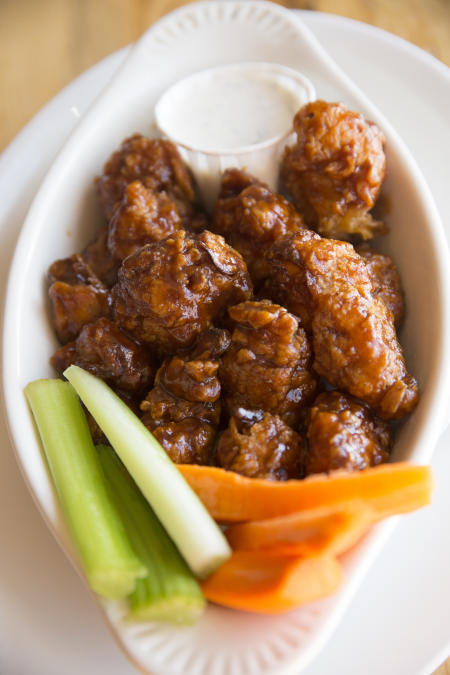 Sweet Melissa Cauliflower Wings Photo via Brian Harrington - BHP Imaging
Without fail, Sweet Melissa Café is one of our top Wyoming restaurant recommendations here at the visitor center for lunch and dinner, with plenty of filling favorites for us carnivores and omnivores. In Season 35, Episode 5, Diners Drive-Ins and Dives digs into Melissa's Banh Mi Sandwich. Made with house-made seitan, pickled vegetables, and sriracha mayo, the vegan dish packs a punch for delicious Vietnamese flavors.
In his review, Guy Fieri goes on to rave about Melissa's vegan mashed potatoes and mushroom gravy, which are hard to pull off without dairy. He has them alongside a vegetarian Lentil Loaf, Melissa's take on a hearty, homestyle meatloaf sliced and served hot off the grill with a house-made tomato sauce.
We can't help but recommend Sweet Melissa for consistent fantastic flavors and fresh quality ingredients, vegetarian options from all over the globe, and perhaps the best desserts in town.
Visit Laramie Staff Also Loves: Smothered sweet potato & black bean burrito, daily lasagna special, falafel pita, and gorgonzola leek mac & cheese. In winter, try Melissa's heartwarming cheese ravioli dishes, or their quiche specials in summer.
Try the Vegetarian Lentil Loaf Recipe via Food Network.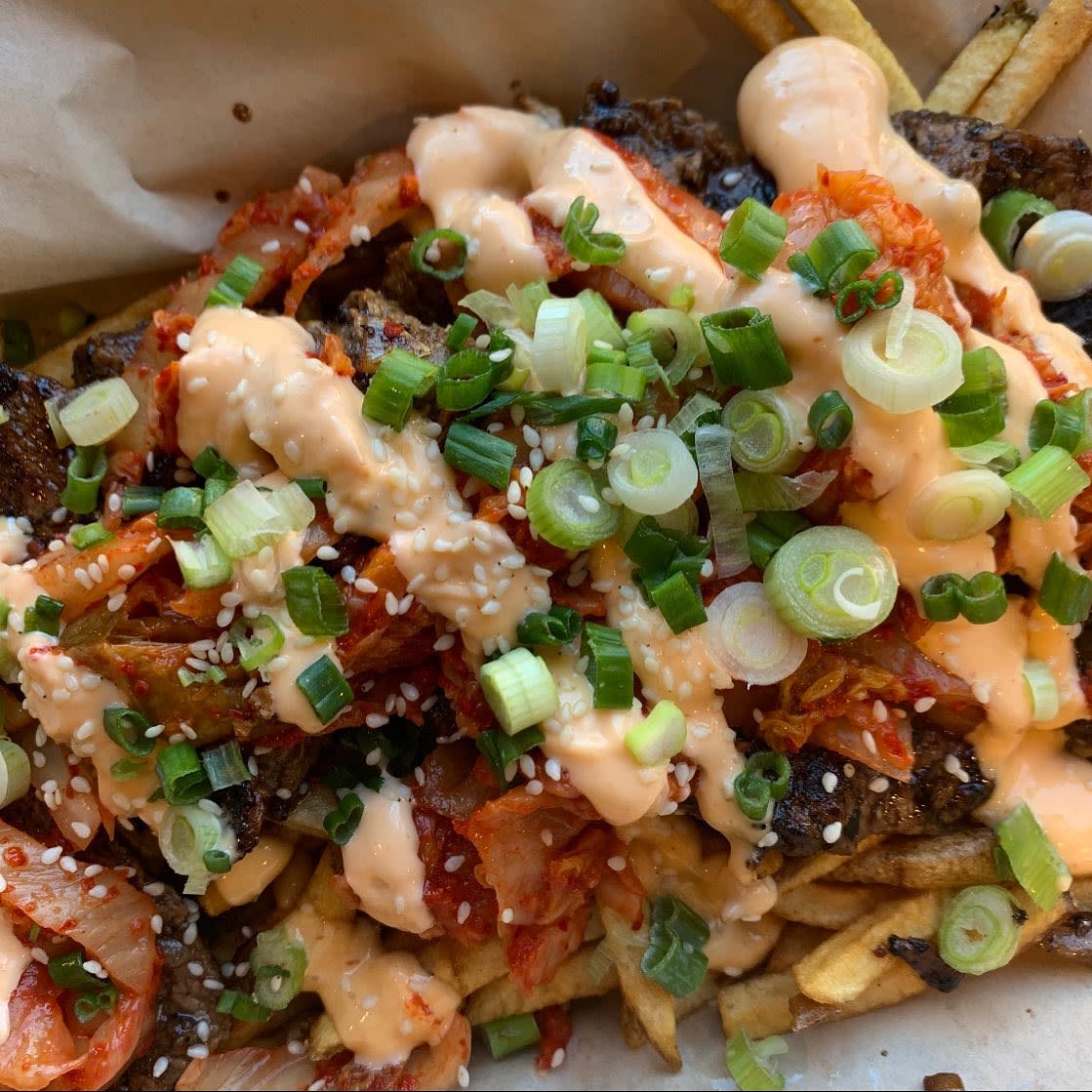 Beef Bulgogi Fries Photo Credit Crowbar & Grill
Quirky and unforgettable, the Crowbar & Grill fits the bill for a university hangout whose funky dishes owner Andy Glines says were inspired by Guy Fieri's show. In Season 35, Episode 6, Guy dives into the amazing international flavors of the Bulgogi Fries. Made with Korean spiced steak and kimchi sriracha mayonnaise, this dish is a highlight of the thin string-style fries that Laramie locals love.
A hidden secret of Laramie, Guy raves about the Billhook Pizza, with a Middle Eastern flair you may have never tried before. The pizza is topped with ground lamb, tomatoes, and onions over a base of tzatziki sauce. The combination is mouthwatering.
The Crowbar wins "Locals Favorite" for fries every year, with loaded fries in many styles. Their fries along with their fresh takes on burgers and pizza will have you wishing you lived here in "Laradise" with us to eat here on the regular.
Visit Laramie Staff Also Loves: The Sledgehammer pizza, pad Thai fries, poutine fries, and raven burger. Did we mention fries? Fries.
Try the Bulgogi Fries Recipe via Food Network.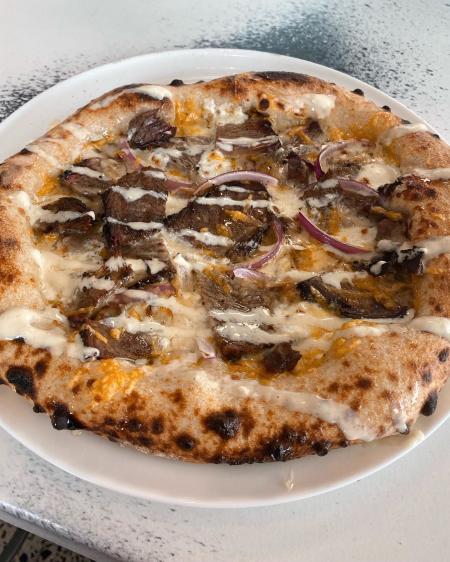 Cowboy Beef Brisket Pizza Photo Credit Alibi Pizzaria
The Alibi is a story of transformation, as the bar owners took it from a tiny package liquor, added an outdoor stove, and eventually built their way up to a fantastic bakery with woodfire pizza oven. In Season 35, Episode 7 of Diners Drive-Ins and Dives, Guy explores the creativity of one of Laramie's favorite hangouts, starting with the Cowboy Beef Brisket Pizza. The pizza boasts a house-smoked brisket and red onion on top of a béchamel sauce base, along with a horseradish cream with honey. The tender, juicy brisket complements the horseradish cream for a fantastic pizza with all the extra flavor and unmatched crispiness of the wood fire crust.
Next, Guy raves about the sandwiches made on the Alibi's homemade breads. The Russian dressing and house sauerkraut on the Ruben Sandwich put it a notch above, especially on the rye bread made in-house daily.
We love the Alibi for its laid-back atmosphere, outdoor patio, and its summertime live music venue. It's about time this eatery got the credit it deserves for the effort put into its flavors.
Visit Laramie Staff Also Loves: The Tuscan sandwich, prosciutto and fig jam burrata plate, cream cheese bacon jalapeños, the Rocket pizza, the pulled pork pizza, and the Best Ever pizza.
Try the Ruben Sandwich Recipe via Food Network.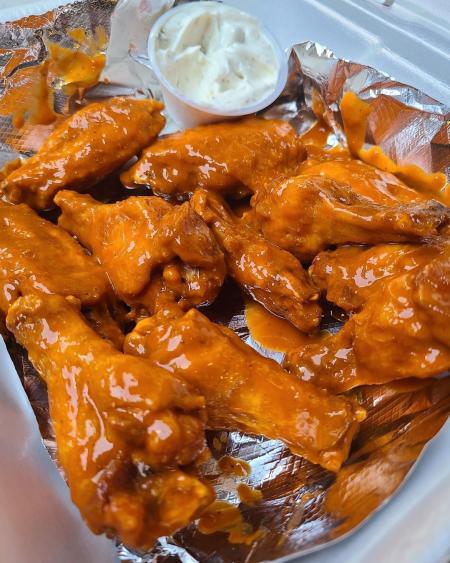 Wings Photo Credit Double Dub's
Since 2018, Wyoming football fans have been jumping to become Buffalo Bills football fans. Why? For the love of University of Wyoming quarterback Josh Allen, who was selected seventh overall by the Bills in the 2018 NFL Draft and has since become one of the top players in the league. In Laramie, Josh was a big fan of wings, making him a perfect fit for his future in Buffalo, New York, home of the Buffalo Wing. Specifically, Josh loves Double Dub's, a Laramie food truck and staple that has lines stretching around the block and is expanding its locations elsewhere in Wyoming.
Guy Fieri rolled up to Double Dub's at the Historic Laramie Train Depot to partake in Josh Allen's favorites for Season 35, Episode 10. He dug into Wings with Spicy Bleu 17, aptly given its number after Josh.
Double Dub's has won wing awards travelling to Buffalo as well, so the clout is more than earned. We love Double Dubs for crispy, tender, and moist wings with high-quality chicken, as well as sauces that are a great mix of heat without missing out on the flavor.
Visit Laramie Staff Also Loves: Wings with spicy vegetable sauce, kickin' ranch dry rub, WW2, and BBQ wings in both mild and spicy.
Try the Wings with Spicy Bleu 17 Recipe via Food Network.
We hope you take the opportunity to explore Laramie's Guy-Fieri-Approved dishes, as well as the wide range of taste-bud-busting flavors Laramie has to offer. Explore our Foodie Tour for more of our favorite local eateries.

Blog header photo features pastries from the Alibi Woodfire Pizzaria and Bakery. Photo by Brian Harrington - BHP Imaging.