Laramie, Wyoming is full of wild-west history—enough, in fact, to have landed its downtown on the National Register of Historic Places. While the town deserves some definite bragging rights on this basis, it may surprise you to learn that Laramie has more to offer than cowboy history and (delicious) steakhouses and burger joints. This post will take you on a breakfast, lunch, and dinner tour through downtown Laramie with suggested stops at local shops in between your meals in order to showcase the less-expected side of this western plains town.

Breakfast / Brunch at Alibi Woodfire Pizzaria and Bakery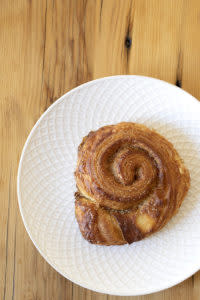 Brunch at the Alibi
If you're in town during the weekend, Alibi Woodfire Pizzaria & Bakery features a delicious brunch on Saturdays and Sundays from 9:00am - 1:00pm that's sure to satisfy your inner foodie. The brunch menu changes somewhat from week to week. Examples of what you might find on the menu include sourdough pancakes, the English Muffin Stack and Scramble served on toast with pepper jam, avocado toast, and Cranberry Walnut French Toast. Enjoy with a hot cup of joe or a craft breakfast cocktail.
In addition to their brunch menu, Alibi's bakery is chock full of tasty options for your first meal of the day. For those of you who prefer to do your research ahead of time, they post their schedule of fresh bakery items (offered Wednesday - Sunday) on their website. A few of our favorites include their ham, swiss, and fig jam croissant, cardamom bun, and pain au chocolat.
Of note, the Alibi takes a traditional approach when it comes to its breads, pastries, and doughs, specializing in a slow fermentation and leavening process that the owners learned during a crash course in San Francisco. This attention to quality ingredients and methods is what makes the Alibi stand out.

Stop #1: The Herb House
The Herb House is a well-established Laramie business that specializes in products made from Rocky Mountain medicinal herbs. The shop is beloved for its offering of products that you simply can't find anywhere else in town, such as specialty teas, tinctures, supplements, and other body and health care products made from the stuff of the earth harvested from the close-by Snowy Range Mountains and Elk Mountain, as well as other parts of the world.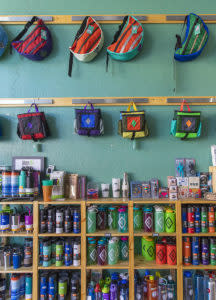 Colors at Atmosphere Mountainworks

Stop #2: Atmosphere Mountainworks
Atmosphere Mountainworks has a variety of name brand mountain gear, but it's particularly special for its offering of colorful, handmade jackets, backpacks, and other outdoor clothing and gear. These pieces are made on-site and are both unique and high in quality.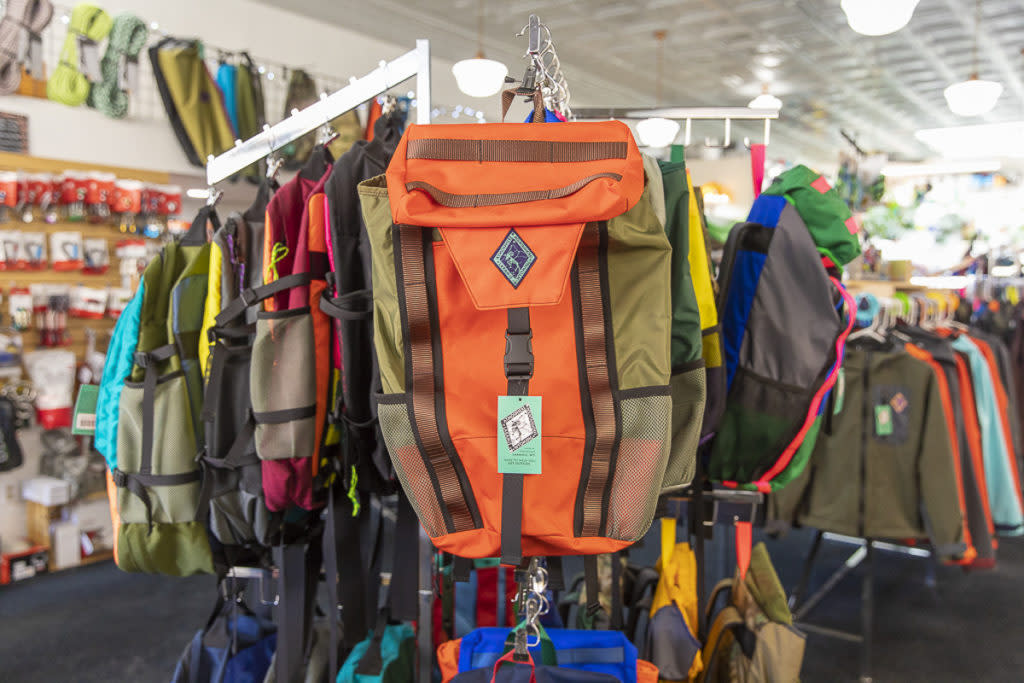 Backpacks at Atmosphere Mountainworks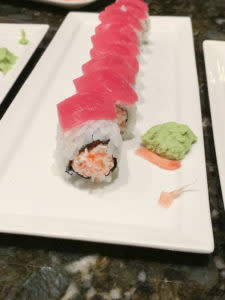 Mizu Sushi Roll

Lunch at Mizu Sushi
Yes, it is possible to find great sushi in Wyoming! The menu at Mizu Sushi oozes with fresh flavors, and their polished, zen interior creates a peaceful atmosphere that is sure to relax and re-energize you. Mizu specializes in sushi rolls and Japanese and Vietnamese dishes such as pho noodle soups and chicken teriyaki. Overall, the menu is incredibly refreshing and contributes a welcome dose of diversity to Laramie's food scene.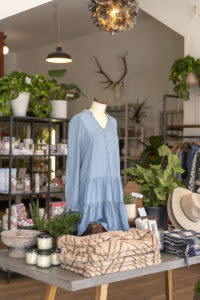 Poppy's

Stop #1: Poppy's
Poppy's is a beautiful, curated-to-perfection shop in downtown Laramie. In addition to offering stunning, modern flower arrangements, boutique-style clothing and apparel is carefully displayed throughout the floor along with plants, candles, fragrances, lotions, greeting cards, handmade jewelry, and miscellaneous home decor. The moment you walk through the doors it is apparent that the owner of this shop has a particularly gifted eye for contemporary style and beauty.

Stop #2: NU2U Consignment Shop
Teeming with variety, the NU2U Consignment Shop opened its doors in 2004. The love this business enjoys from the Laramie community and its visitors recently led the current owners to expand to a larger space. NU2U offers the full spectrum and adult and children's clothing, accessories,  jewelry, and costume party clothing. The shop does a particularly outstanding job of curating a fine selection of vintage clothing and other treasure pieces.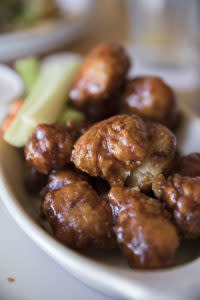 Sweet Melissa Cauliflower Hot Wings

Dinner at Sweet Melissa's Cafe
What kind of restaurant might you least expect to find in Laramie? Many visitors are surprised by the fact that Sweet Melissa Cafe, a 100% vegetarian restaurant, is frequently cited by locals as one of their favorite places to eat. Pulling off a vegetarian restaurant in cowboy country is no small feat, and Sweet Melissa's Cafe has done more than simply survive—it has positively thrived. A staple of the Laramie restaurant scene for over twenty years, Sweet Melissa's is a delightful surprise for out-of-towners and boasts a loyal customer base among locals.
In addition to an eclectic array of vegetarian comfort food and fresh salads, the menu features plenty of gluten-sensitive and vegan options as well. Cheddar or cashew queso with those nachos? I'm a cheese fanatic, and yet I find myself ordering the cashew queso about half the time. It's that good.
The cozy atmosphere of Front Street Tavern, which is directly connected to the restaurant, is the perfect spot for a night cap to end your Laramie food and shopping tour.
You may also be interested in our other blogs: Local Favorites - Downtown Shopping, Best Places to Eat Lunch in Laramie, and Best Restaurants for Kids in Laramie.
Note: Brian and Dani Harrington are independent writers contracted by Visit Laramie. Views and opinions expressed here are their own and do not reflect those of the Albany County Tourism Board.