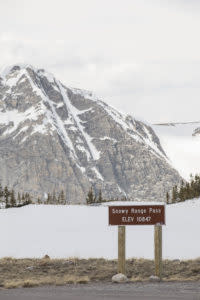 As the saying goes, the journey is the destination. This is never more true than when it comes to driving through the vast state of Wyoming. With long expanses of wide-open spaces, few crowds, and unbelievable landscapes, taking the scenic route is never a mistake.
Wyoming Scenic Drives: The Snowy Range Scenic Byway traverses the Snowy Range Mountains just west of Laramie and is a route not to be missed. The byway, also known as Wyoming Highway 130, passes through the Medicine Bow Mountain Range and is a stunning alternative to I-80. The views along the byway are truly stunning, and they become increasingly dramatic as you near Medicine Bow Peak, the highest point in the Medicine Bow Forest. For dramatic effect, Med Bow Peak butts up right against the byway.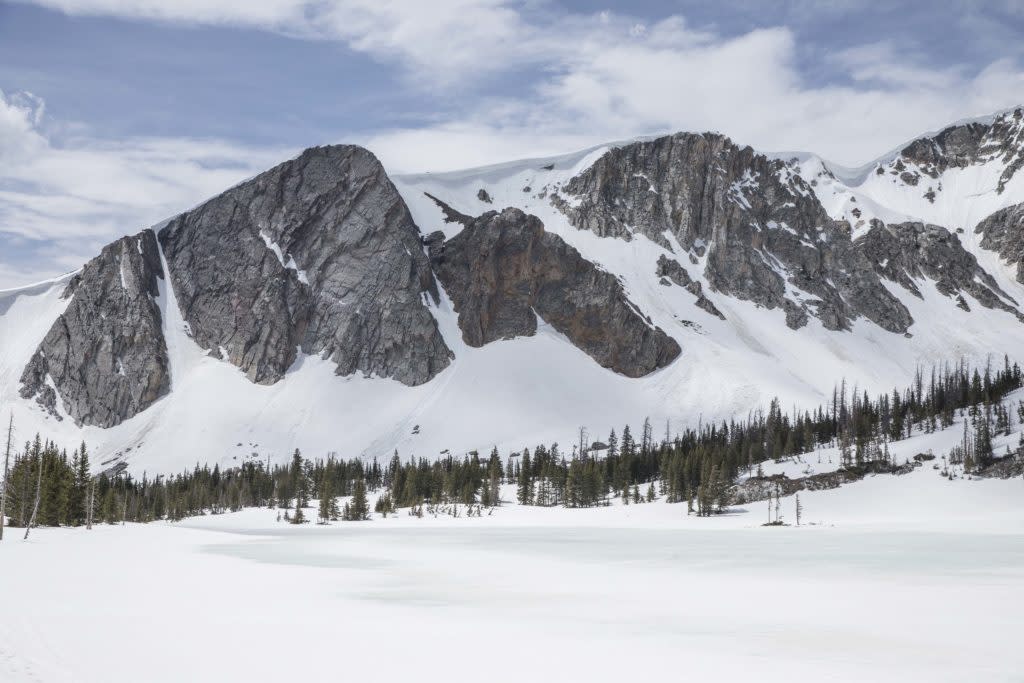 If you are traveling on I-80 through southeastern Wyoming, you can reach this Wyoming scenic drive by exiting at Laramie or at Walcott Junction, 20 miles east of Rawlins (follow signs for Saratoga). Or, if accessing the byway from Laramie, you'll take Exit 311 for Snowy Range Road. This route treats you to more than 25 miles of prairie views as you approach the scenic byway itself. In my opinion, this section could easily be included in the byway as well as it is remarkably beautiful in and of itself.
About 15 miles from Laramie, a great stop along this prairie section commemorates the location of the overland trail, indicated by a small marker. This trail rose to prominence during the 1860's as an alternative route to the California and Oregon trails, and was most notably used as the route for the Overland Stage Company to transport mail and passengers between Salt Lake City, Utah, and Atchinson, Kansas. If traveling west, you'll have a chance to fuel up both your vehicle and yourself in the small historic mining town of Centennial just before the byway begins its ascent into peaks. This quiet mountain town is known for its rich history, tasty food, and local characters. If you're in need of a snack or a meal, all of Centennial's food options are conveniently located just off the highway. Our favorite is the delicious pizza at the Bear Bottom Bar & Grill. Take-out services are available if you want to enjoy your meal as you continue up the mountain.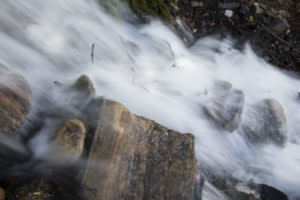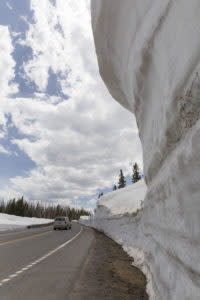 Like many Laramie residents, we make it an annual tradition to drive the scenic byway over the pass on the first weekend it opens in Spring (typically around the end of May). You can't beat the feeling of the mountain waking up for summer, with greens and flowers poking out from under snowdrifts and streams rushing along the side of the road. While the Snowies are loaded with great picnic and camping sites, well-maintained trailheads, and beautiful pull-offs to enjoy, these early season trips prevent access to much of those amenities. In exchange though, you get to see massive snow walls stacked yards above the highway right next to your car, and even an impromptu waterfall or two that exist only during the melt. 
If you are traveling when the range is more accessible, plan to spend extra time at stops along the way. If you are up for it, pausing for a hike is a great way to stretch your legs and enjoy some fresh air. You might consider a longer hike starting from our favorite trailhead: Sugarloaf. If you are pressed for time, try the Lake Marie parking area for easily accessed views and a paved, handicap-accessible hiking trail that takes you to the beautiful Mirror Lake.
If traveling from June to mid-July, you'll also get to enjoy impressive displays of wildflowers, including Indian Paintbrush, Wyoming's beloved state flower. And if you're especially lucky, you might even spot a moose or a fox, or any array of other wildlife through the trees as you pass. If you look close enough you may even be able to see trout in the crystal clear lakes!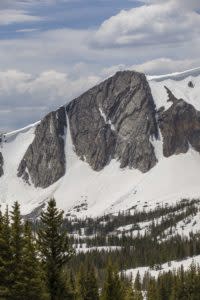 Descending the western slope into the Platte River Valley, you'll be greeted by a change in flora from thick pine forests to expansive sagebrush flats speckled with the yellow flowers of arrowleaf balsamroot. If time is on your side, the famous North Platte River in the Platte River Valley is home to some of the best fly-fishing in the United States. Anglers can land wild browns or rainbow trout measuring more than 20 inches. The Platte is a freestone stream that can be fished within the city limits of Saratoga or at many fishing accesses along its lengths. The accesses are well marked, so be sure to avoid fishing in any unmarked areas. 
Once you have fished to your heart's content, you can make your way back to Interstate 80 or enjoy the scenic byway from the other side to return to Laramie.
Learn more about more Wyoming scenic drives, enjoy these other blog posts: Snowy Range Scenic Byway and the Saratoga Hot Springs, Social Distancing Road Trip Blog, or Laramie's Favorite Hiking Trails.
Note: Brian and Dani Harrington are independent writers contracted by Visit Laramie. Views and opinions expressed here are their own and do not reflect those of the Albany County Tourism Board.