Free Things To Do
Looking for fun things to do in Laramie that won't break the bank? Laramie has many free things to do (or nearly free) that are sure to provide all ages and interests with tons of fun. There are some great free indoor activities for when the weather is cold, or rainy, or windy. And, of course, Laramie has an abundance of wonderful free outdoor activities for when the weather cooperates. Regardless of the season, there is sure to be something interesting going on in Laramie.
Free Things To Do Indoors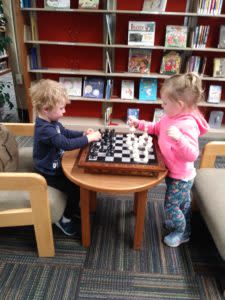 Albany County Public Library is a great destination for a rainy or snowy day. Obviously, they have a terrific selection of books and magazines. They also have a wonderful children's section with a reading nook, flannel board, puppet theater, coloring area, kids computer area, and more. The library hosts many regular kids activities like Book Babies, Family Story Time, and Lego Club. They also host a teen club, several book clubs for adults, a regular foreign film series, and many other special events throughout the year. There is literally ALWAYS fun to be had at the library. Check out their webpage for upcoming events and times.
Laramie Plains Civic Center is a gorgeous building, rife with character and history. Built in 1878, it is the oldest school building in the state and formerly housed a high school and junior high. The civic center is currently home to several local businesses and has venues available for rental or public use. More information on the building, rental requests, and a schedule of activities can be found on their webpage.
Laramie Plains Civic Center Gymnasiums
The gymnasiums are open to the public during regular hours and when not previously reserved. Bring your own basketball, or other athletic equipment, and enjoy the nostalgia while you avoid inclement weather.
Gryphon Theater
The beautiful Gryphon Theater located in the Laramie Plains Civic Center has a variety of musical and theatrical shows, as well as films, throughout the year. While most of these productions require the purchase of tickets, they do offer many free shows and festivals. Check out their webpage or follow them on Facebook for information on upcoming shows and events.
University of Wyoming Geological Museum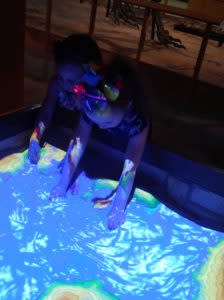 Come check out "Big Al," the impressive allosaurus specimen at the UW Geological Museum. You can see Big Al, as well as many other fossils of dinosaurs and other prehistoric creatures. The museum also houses a collection of rocks and minerals, a fossil prep lab, augmented reality exhibits, and an augmented reality sandbox. They also frequently host special events throughout the year, and special kid-friendly days as well. This museum is so much fun for paleontology enthusiasts of all ages. Please visit their webpage or more information.
In addition to the Geological Museum, the UW campus also hosts two smaller museums: the UW Insect Gallery and the UW Anthropology Museum.
University of Wyoming Art Museum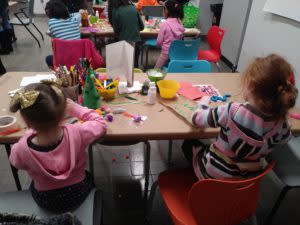 Another fabulous and free museum, the UW Art Museum always has something going on—from special holiday events, to artist talks, to regular drop-in meditation. If you have little ones, be sure to check out one of the monthly Family Saturday Workshops where you and your kiddos can view exhibits and create art. Oh yeah, and they have a wonderful collection of ever-changing art exhibits. Don't miss out! See their webpage for current exhibits, museum hours, and upcoming events.
Harry C. Vaughan Planetarium
The Harry C. Vaughan Planetarium at the University of Wyoming regularly offers public shows for a minimal cost (adults are $5, students are $3, and kids 5 and under are free). However, they routinely have free events and shows which are open to the public. Be sure to see their webpage or follow them on Facebook to find out when you can catch the next free showing.
Live Entertainment at Bars and Restaurants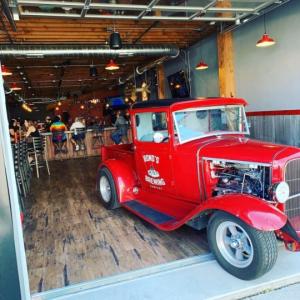 Yet another fun and free thing to do, Laramie bars and restaurants frequently feature live entertainment. Everything from local and well-known bands and artists to comedians, open mic, and trivia nights.
The Cowboy Saloon and Dance Hall, Alibi Woodfire Pizzaria and Bakery, Speedgoat Laramie, O' Dwyer's Public House,  The Great Untamed, and Bond's Brewing Company (to name just a few) often have some type of entertainment. Some of the events are ticketed or have a cover charge, but many are free.
Of course, you will want to enjoy one of the fantastic craft beers, artisan cocktails, or amazing appetizers that these venues have to offer, so it won't be totally free. However, it is well worth the cost of a few drinks.
UW Music Department Student Recitals
The College of Fine Arts at UW has many ticketed events throughout the year (to view ticketed events visit the Fine Arts Box Office), but it also has a wonderful selection of free events as well. Students in the music department perform recitals that are free to attend. If you would like to take in the talented student recitals see the schedule here.
Free Things to Do Outdoors
 
State, Federal and Other Public Lands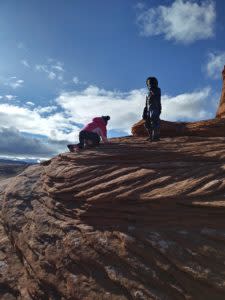 Laramie is known for its spectacular natural surroundings. There is an abundance of state and federal land available for hiking, snowshoeing, fishing, birdwatching, and other recreational activities.
While there are areas that require fees for use such as parking lots, groomed trails, and campgrounds, there are also many areas that can be accessed without paying a fee. These areas include parts of Medicine Bow-Routt National Forest, Hutton Lake National Wildlife Refuge, Vedauwoo Recreation Area, public lands managed by the Bureau of Land Management, and lands managed by the Wyoming Game and Fish Department.
To access fee-areas in Medicine Bow-Routt National Forest, you can purchase a yearly pass for $30 or pay the day-use fee of $5 per vehicle per day. For more information on which activities and areas require fees see the Medicine Bow-Routt National Forest and Thunder Basin National Grassland Recreation Passes & Permits page. 
Laramie City Parks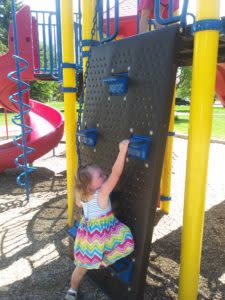 Laramie has a variety of beautiful public parks. The parks have wonderful play areas for children, picnic areas, shelters, and lovely green space, as well as other amenities. Washington Park has a paved walking path and a wading pool, Undine Park has a fantastic Splash Pad, Optimist Park provides access to the paved Greenbelt for walking and biking, and LaPrele Park has a frisbee golf course and Huck Finn Fishing Pond (for kids 12 and under). For more information on individual parks and for hours please see the City of Laramie Parks and Recreation webpage.
Historic Downtown Laramie Walking Tours
Laramie is a true western "hell on wheels" town. Enjoy the beautiful historic downtown area while learning about the unique history on a self-paced walking tour. Visit our Historic Downtown Laramie Tour page for details and to download a free brochure. This tour begins at the Union Pacific Footbridge and Depot and takes you through the famous (and infamous) buildings of downtown Laramie. Additionally, themed and guided tours, as well as biking tours, are offered during the summer.
Downtown Laramie Farmer's Market & Thursday Local Market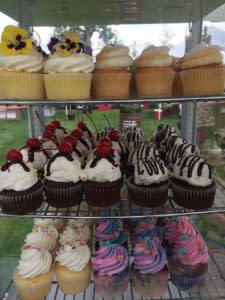 In the summer and early fall, Laramie plays host to two amazing outdoor markets. The Downtown Laramie Farmer's Market is located in the Depot Parking Lot right at the edge of downtown. This fantastic market has tons of vendors from Laramie and beyond. You can find loads of fresh produce, artisan wares, food trucks, and live music.
While slightly smaller, the Thursday Local Market is still big on fun. It has artisan products and wares from local vendors. Located in the beautiful shade of Undine Park, they also have a selection of food trucks and often a special activity for kids.
Summer Concerts in the Washington Park and Simpson Plaza
Every summer, Laramie residents and visitors are treated to not just one, but two stellar concert series. The concerts in the Washington Park bandshell occur weekly on Wednesday evenings and features the Laramie Municipal Band. A variety of different bands and artists perform in Simpson Plaza at UW. These concerts are just outside the student union at noon and provide perfect lunchtime entertainment. Find more information on the Visit Laramie Events Calendar.
Seasonal Events at the Wyoming Territorial Prison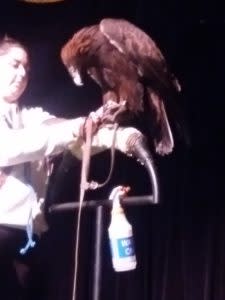 The Wyoming Territorial Prison has both indoor and outdoor space and is certainly worth a visit in its own right. There is a charge of $7.00 for adults and $3.50 for kids (ages 12-17) for touring the prison during typical museum hours (kids 11 and under are free). However, the prison hosts several wonderful free events for families throughout the year.
In the spring, there is the Spring Exploration. Kids of all ages will enjoy participating in crafts and activities that teach about Wyoming insects, seeds, and plants. There is also an appearance from the Rocky Mountain Raptor Program.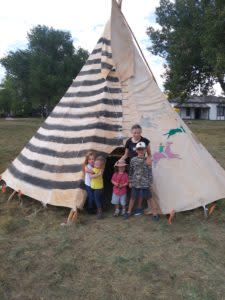 In September, the museum hosts the Archeology Fair. This free festival introduces kids to archeology through a variety of exhibits, activities, and demonstrations. Kids will love making their own pinch pots, digging for fossils, watching a real blacksmith in action, and viewing a stunning performance of traditional Native American dance. 
Then, in October, the prison puts on the fall Pumpkin Walk. There are loads of games, crafts, and activities. As well as a hayride, a straw maze, and a pumpkin patch. For more information and exact dates of these annual events see the Wyoming Territorial Prison webpage or check out their Facebook page.
Note: Leah Veinbergs is an independent writer and the author of the blog Two Little Time. She is contracted by Visit Laramie. Views and opinions expressed here are her own and do not reflect those of the Albany County Tourism Board.