Camping with kids in Wyoming is an incredible adventure and can be very family-friendly. Use this guide to fast-track your plans! True, it can be a lot of work and there are things that may go wrong. However, with the right planning and preparation, you can have a terrific camping experience. This guide to camping with kids in the Laramie area will help you have a safe trip and create life-long memories for you and your kids.
---
Where to Go Camping With Kids
---
There are many great options for camping with kids in the Laramie area. Do you want to take your family on a quick weekend getaway, or an extended week-long adventure? Do you want to relax in a luxurious camper in a well-maintained campground, or "rough it" in a backcountry tent? 
U.S. Forest Service Cabins
The area around Laramie offers a wide variety of camping options. For those who prefer a less rugged experience, the U.S. Forest Services offers cabin rentals in several locations. These cabins typically have heat and a cookstove. They will have beds and a vault toilet. The Keystone Cabin even has indoor plumbing. There is a nightly charge for these cabins, and they must be reserved ahead of time. For more information see the Snowy Range Area Activities page.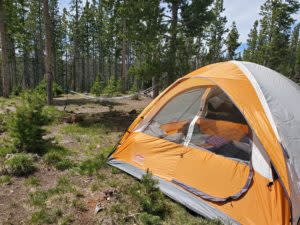 Tent Camping at Rob Roy Reservoir Campground (photo credit Leah Veinbergs)
Campground Camping
There is a wonderful variety of campgrounds to choose from in the Laramie area. Whether you are pitching a tent or parking an RV, there are quite a few options to choose from. 
East of Laramie are Curt Gowdy State Park, Happy Jack Recreation Area, and Vedauwoo Recreation Area. Curt Gowdy State Park has three reservoirs for motorboating, kayaking, paddle boarding, and fishing, not to mention extensive hiking trails. It also has almost 200 campsites and cabins, and a variety of amenities. Many campsites provide RV hookups. Nearby, Happy Jack and Vedauwoo Recreation Area are also very popular spots for families to hike and camp. Campsites provide picnic tables, fire rings, and vault toilets.
West of Laramie, in the Medicine Bow-Routt National Forest (Snowy Range Area) there are also many terrific campgrounds. These campgrounds provide sites that accommodate tents or trailers (no hookups). Most campgrounds operate on a first-come, first-served basis. Fees are $10 per night. Developed campsites usually have a picnic table,  fire pit with grate, access to trash canisters, and vault toilets. Most have potable (drinking) water, although not all.
Rob Roy Campground at Rob Roy Reservoir is a popular choice. This well-maintained campground features easy access to Rob Roy Reservoir for boating, kayaking, and fishing. Nearby. Lake Owen Campground has similar amenities and water access. There are several other campgrounds near lakes and streams, such as Brooklyn Lake Campground, North Fork Campground, and Silver Lake Campground. 
In addition to the developed campgrounds, you can also "make your own site" by dispersed camping in the Pinkham Mountain Trailhead area, Platte River Wilderness Area, and the Savage Run Wilderness Area.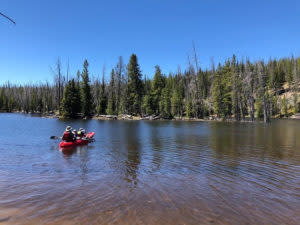 Kayaking on Rob Roy Reservoir (photo credit Brittany Thompson)
---
What to Do While Camping With Kids
---
There are so many great activities to take advantage of while camping. Kids won't even have time to think about phones or screens (they also won't have service).
If you are near water, you can go fishing, kayaking, or canoeing. Some lakes and reservoirs allow motorboats as well. Curt Gowdy, in particular, is known for great paddle-boarding and boating. For more information on water activities in the area see our Summer Water Activities Itinerary for Families.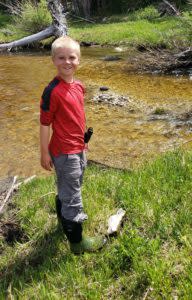 Ready to Explore (photo credit Jessica Fertig)
Of course, the Vedauwoo, Curt Gowdy, and Medicine Bow-Routt National Forest are all rife with hiking trails. You can find everything from easy, paved "walks" to challenging all-day hikes. Each trail provides opportunities to explore nature and see animals. The U.S. Forest Service Kids page has a wide variety of activities for kids. Wyoming Game and Fish has Inspire a Kid, as well as a Youth Fishing Challenge. Add some binoculars or magnifying glasses and a plant and animal identification guide, and you're good to go. You might also enjoy our post Nature Activities for Families.
---
What to Bring When Camping With Kids
---
Camping with kids does present some unique challenges. However, with careful planning and packing, it will be much smoother sailing.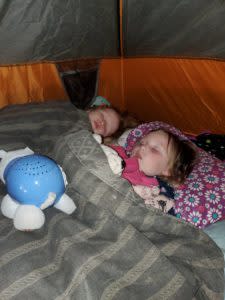 Cozy in the Tent (photo credit Leah Veinbergs)
Sleep Essentials
It is important to note that, even in the summer, nights in Wyoming can be cool. This is especially true at higher elevations. Make sure to bring proper bedding for your sleeping arrangement. Sleeping bags are a convenient choice, but keep in mind that not all sleeping bags are created equal.  We recently discovered that our kids' Disney princess sleeping bags, while cute, did not provide enough warmth for a cool night in a tent. Make sure to bring extra blankets, and bring more than you think you will need.
For tent campers, I HIGHLY recommend a sleeping pad of some sort. There are a variety of options, from air mattresses to ultra-light camping pads. Air mattresses provide the most cushioning between you and the bumpy, hard ground. However, air mattresses also do not typically have much insulation. You might be surprised how much cold can come up through an air mattress at night. Sleeping pads usually provide more insulation from the cold. One last tip for staying warm at night? Wear warm pajamas and bring a couple of those instant hand-warmer packets to toss in the bottom of your sleeping bag. 
Clothing
Camping, like hiking and other outdoor activities in Wyoming, requires dressing in layers. The weather, especially in the mountains, can change quickly and it is important to be prepared. Always pack a little bit more than you think you will need, in case you get wet or dirty. For young kids, you might need to pack twice as much! Definitely bring extra socks and shoes as well. Don't forget to accessorize appropriately. Bring a hat and sunglasses. Also, it is helpful to have a plastic bag to put dirty and wet clothing.
Camp Kitchen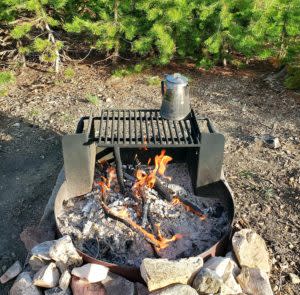 Campfire Coffee (photo credit Leah Veinbergs)
Bringing the essentials for your camp kitchen will make your trip so much more enjoyable. RVs and cabins typically have a cookstove and a kitchen of some sort. A few Forest Service cabins come with stocked kitchens. Make sure that you have the proper fuel (propane, firewood, etc.) to cook with and a lighter. If you are planning to cut firewood you will need a permit from the Forest Service. A hatchet and saw are important tools if you are gathering firewood on-site. 
Basic camp cookware essentials include a camp stove or a fire pit with a grate, cast iron pans, metal cooking utensils, sharp knife, hot pads, skewers, and camp dishes or disposable dishes. Don't forget to bring tools specific to the foods you are planning to prepare, such as a can opener or measuring cup. Make sure to bring a dishpan, dish soap, and towels for washing dishes. Some other important things to bring include a lantern, picnic blanket or table cloth, and large trash bags.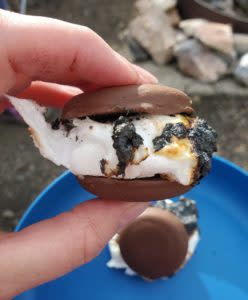 Cookie S'mores . . . Yum! (photo credit Leah Veinbergs)
Food
One of the best parts of camping is the food. There is something about cooking over an open fire and eating in the fresh mountain air that just makes everything taste better. Bring food that is simple to store and prepare. Hotdogs and foil pack dinners are a great choice. Bacon and eggs make for a simple, hearty breakfast. There are tons of great camping recipes online. Plan as many non-perishable food items as possible, and bring a cooler and ice for the rest. 
S'mores! Is it even camping if you don't make s'mores? For a fun twist use chocolate covered cookies instead of the traditional graham cracker and a chocolate bar. We used Tagalongs last time and it was AMAZING!
It is important to bring plenty of water. Some campgrounds do not have potable water and some water pumps may not be in working order. One of those great big water coolers with a spigot works great.
Bathroom
For tent campers and most Forest Service cabins there is only a vault toilet available. For little kids, a potty seat that fits over a regular toilet seat is great to bring. My kids are afraid of the vault toilet, and the potty seat makes it a little less scary. Make sure to bring extra toilet paper and hand sanitizer too.
Safety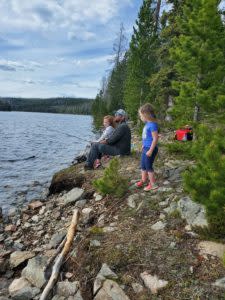 Fishing on Rob Roy Reservoir (photo credit Leah Veinbergs)
Safety is paramount when you are camping. Make sure to bring extras of essentials like water, warm clothing, matches, lighters, and batteries. A first aid kit, bug spray, and sunscreen are very important. Also, when in bear country, proper food storage is very important.  Bear spray is also a really good idea. For more on safety see U.S. Forest Service Backcountry Safety and Be Bear Aware.
Without a doubt, camping with kids in the Laramie area is an unparalleled opportunity to have fun, make memories, and experience all that nature has to offer. For more information on camping and other outdoor recreation please see our Sports and Recreation webpage.
Note: Leah Veinbergs is an independent writer and the author of the blog Two Little Time. She is contracted by Visit Laramie. Views and opinions expressed here are her own and do not reflect those of the Albany County Tourism Board.