Summer Family Itinerary
A Wyoming summer vacation to Laramie is perfect for families. Whether you are visiting Laramie for a week, a weekend, or just a day, there is so much to do and see. Discover all that Laramie has to offer with this summer family itinerary.
Get the Wiggles Out
Laramie Recreation Center
Without a doubt, kids need space to be kids. The City of Laramie has two wonderful facilities for family recreation. The Laramie Recreation Center has an indoor and an outdoor leisure pool (as well as a lap pool) that offer tons of fun. These pools feature slides, fountains, a lazy river, and more. The recreation center also has plenty of fitness equipment, gymnasiums, and an indoor track.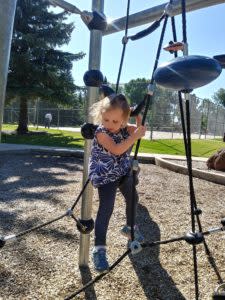 Laramie City Parks
Laramie City Parks are beautiful places to play or just hang out. Nearly every park is packed with terrific amenities such as playgrounds, picnic areas, basketball courts, and BBQ grills. 
While there are many parks to choose from, a few highlights stand out. Washington Park has a great paved walking path, wading pool, baseball field, soccer field, horseshoe pits, volleyball court, and basketball court. Undine Park has a wonderful splash pad. And, LaPrele Park has the Huck Finn Fishing Pond for kids 13 and under.
House of Pounce, LEAP, & All Points West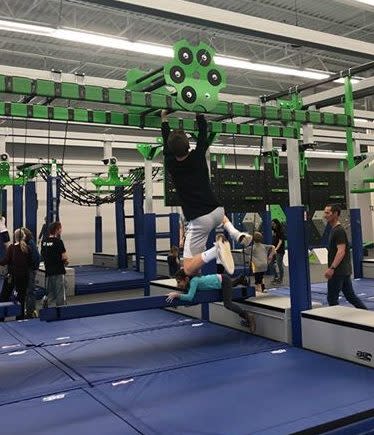 Laramie also has three more awesome places to get wild and crazy. House of Pounce is a super fun way to let young children (literally) bounce off the walls. LEAP's ninja warrior obstacle course is a great place for older kids and teens to climb and jump. Finally, All Points West has laser tag, escape rooms, and much more. Their recently remodeled facility is scheduled to reopen just in time for summer.
Experience History, Science, Art, & Culture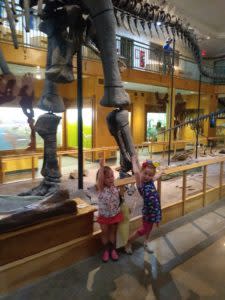 University of Wyoming Campus
The beautiful and historic UW campus is home to several wonderful museums. The UW Geological Museum is a must-see for any dinosaur lover or budding geologist. Kids of all ages will be thrilled by the 75-foot Apatosaurus skeleton, the numerous fossil displays, and the Augmented Reality Sandbox. The Harry C. Vaughan Planetarium has a fascinating schedule of shows and routinely offers family-friendly shows geared towards younger children. Not least of all, the University of Wyoming Art Museum is a stunning collection of artwork in a one-of-a-kind building. They also have kid-friendly displays and areas, and frequently host family-friendly events.
History of the West
The Ivinson Mansion, which houses the Laramie Plains Museum, is one of the jewels of Laramie. The beautifully restored, three-story home was built in 1892. The Laramie Plains Museum offers guided tours of the many historical photographs, period clothing, and antiques in the mansion.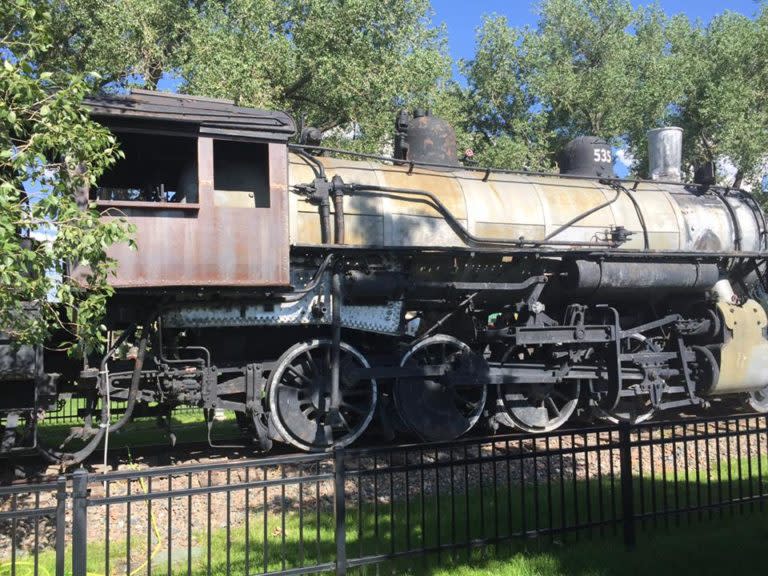 For railroad aficionados of all ages, the Historic Laramie Railroad Depot and Nici Self Museum each offer fascinating memorabilia and exhibits. The Laramie Railroad Depot was built in 1924 after the original depot burned down. The museum offers tours on Mondays. The Nici Self Museum, located in nearby Centennial, Wyoming, has exhibits on the railroad as well as area mining and logging.
The Wyoming Territorial Prison is the place to see the wilder side of the west. Once a prison, the imposing stone building and stockade provide a glimpse into the lives of incarcerated outlaws— Butch Cassidy was an inmate at one time! Kids will love taking on a "convict identity" as they tour the prison and the extensive grounds.
Other Arts & Culture
Summertime Laramie hosts not just one, but two stellar farmers markets. On Thursdays, the Thursday Local Market can be found in Undine Park. At this small local market, vendors, artisans, and food trucks display their wares. On Friday afternoons, the Downtown Laramie Farmers Market draws not only local vendors and artisans but vendors from the surrounding states as well. Sample fare from a variety of food trucks, buy artisan bread or fresh produce, see beautiful artwork, listen to live music, and enjoy the atmosphere.
Art and Soul Paint Your Own Pottery, also located downtown, is a great place to create your own art. Kids and adults will enjoy this fun store. Choose a piece of pottery from their extensive collection, pick your glaze colors, and paint it yourself.
Destinations for Great Food
There are so many options that it is almost impossible to choose. Some local favorites are Born in a Barn, The Library, Lovejoys, Altitude, and The Good Egg. If you are looking for something a little out of the ordinary, try Sweet Melissa's for delicious vegetarian food, Anong's for tasty Thai food, or Mizu Sushi for, well, sushi. For a complete listing of restaurants in town see our Where to Dine page.
The Sugar Mouse Cupcake House (photo credit: The Sugar Mouse Cupcake House)
For an afternoon pick-me-up or sweet treat for the kids, check out one of Laramie's many coffee shops like Turtle Rock Coffee or Coal Creek Coffee. Stop-in to the Chocolate Cellar for delicious candies and gourmet chocolates. Need to get your ice cream fix? The Big Dipper has the best ice cream in town in the fun setting of an old-fashioned soda fountain. The Sugar Mouse deserves special mention as a sweet stop that kids will love. The enchanting pink and white shop serves tea, cupcakes, and other tasty treats.
Destinations to Enjoy Nature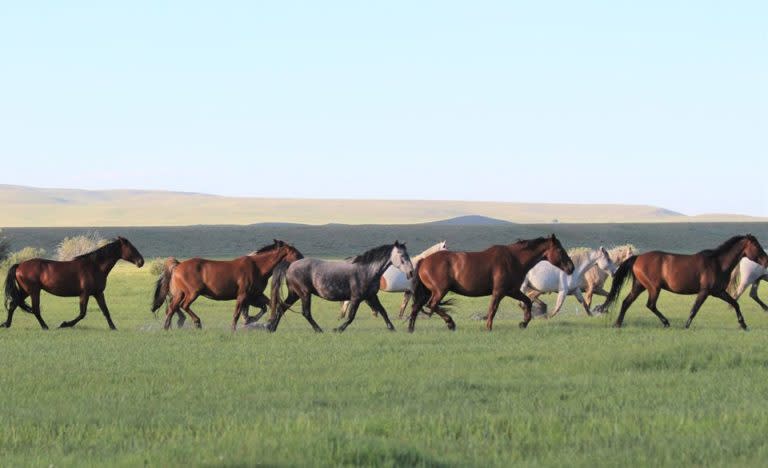 Needless to say, one of the major draws to the Laramie area is our extraordinary natural landscape. Vedauwoo Recreation Area is just 20 miles east of Laramie. This remarkable area has striking rock formations and terrific hiking. Nearby Curt Gowdy State Park has 3 reservoirs for fishing, boating, and paddleboarding. They also have 35 miles of hiking trails. Medicine Bow-Routt National Forest is only 30 miles west of Laramie. Take in breathtaking vistas, stunning mountain peaks, and serene pine forests. It is full of hiking trails, scenic drives, picnic and camping areas, lakes for fishing and canoeing, and wildlife viewing.
Two other great places to observe animals deserve mention. The Hutton Lake National Wildlife Refuge is a nesting ground and migratory stopover for 146 species of birds, as well as numerous other animals. Deerwood Wild Horse Ranch and Ecosanctuary is a working ranch and refuge for wild mustangs relocated by the Bureau of Land Management. The ranch offers ATV tours by appointment.
Indeed, Laramie has a wonderful selection of activities and attractions for families. Make Laramie your summer family vacation destination!
Note: Leah Veinbergs is an independent writer and the author of the blog Two Little Time. She is contracted by Visit Laramie. Views and opinions expressed here are her own and do not reflect those of the Albany County Tourism Board.
1). Q. What is there to do in the summer in Wyoming?

A: Summers provide an outdoor playground for adventure around the city of Laramie and the 600,000-square-mile Snowy Range of southern Wyoming. Just about every outdoor activity imaginable is at your fingertips. Only a short drive from Laramie, there is amazing rock climbing, hiking, biking and sightseeing at the beautiful rock formations of Vedauwoo and Happy Jack, located in the Medicine Bow National Forest. Southern Wyoming boasts generous fishing spots, thrilling offroading and ATV trails, and championship golf at some of the finest public courses in the West.

2). Q. What are the best parks in Laramie?

A: The many parks of southern Wyoming are ideal for exploring by vehicle or on foot, or kicking off your shoes and running your toes through the grass. Optimist Park along the Laramie River is a good spot to snag a trout, and LaPrele Park has a stocked pond. The splash pad at Undine Park and the wading pool at Washington Park are a hit with kids in the summertime. Optimist Park is also dog friendly, or you can take your pooch to play at the Sandy Aragon Softball Complex.

3.) Q. Is there camping at Medicine Bow National Forest?

A: Medicine Bow National Forest has an abundance of outdoor adventures during the summer, including camping. The park is filled with adventures, so you may need to spend a few days to fit it all in. There are 34 developed campgrounds located throughout the forest, with National Forest Campgrounds and cabin rentals available for overnight stays. Nash Fork, Silver Lake and Sugarloaf are great spots for camping that are near Highway 130. For a more private area, try Bow River, Brooklyn Lake or Deep Creek.

4.) Q. Where are the top hiking trails in southern Wyoming?

A: There's a world of terrain to explore just outside of Laramie in the Snowy Range Mountains and at Vedauwoo. The Snowy Range features many hikes and climbs. Medicine Bow Peak, Libby Creek Trail and Lakes Trail are popular hikes with both visitors and locals. The Pilot Hill Trails were added in 2020 and connect Laramie to the foothills and forest to the east. Happy Jack to the east of the city is a favorite spot for hiking, camping and mountain biking. And of course Turtle Rock Trail in Vedauwoo is a #1 must-see.

5.) Q. Does southern Wyoming have good mountain biking trails?

Biking is a popular sport in Laramie and southern Wyoming. First, there are hundreds of miles of biking trails to explore. Albany County has trails from easy rides to extreme trails that are experts only. In the city, there are a few excellent bike shops that sell new bikes and gear, and also provide top-notch service like tune-ups and repairs. There are presently two bike shops and two outdoor shops that are highly rated and feature top gear and services at competitive rates.The staff are also very knowledgeable about rides and the local trails.

6.) Q. Does Vedauwoo have good rock climbing?

A: About 25 miles southeast of Laramie is the Vedauwoo Recreation Area, one of the best rock climbing spots in Wyoming. Vedauwoo is located just off Interstate 80 and is a great place for beginners. It's also an international climbing attraction with some of the most grueling offwidth climbs imaginable. Vedauwoo offers easy access to some of the best wide crack climbing in the world, and has great granite routes for every level of climber.

7.) Q. What is there to do in the fall in Wyoming?

A: When the weather cools and the leaves begin to change is when things really heat up in the Snowy and Laramie Ranges. Hunting, viewing fall colors, fishing, and wilderness spotting are three of the most popular activities in September, October and November. For hunting, the most sought-after game are elk, moose, mule deer and white-tailed deer, along with bighorn sheep, bison, bears, mountain lions, turkeys, wolves and many species of birds. If you're more of a passive type, there's excellent nature watching - eagles, elk, moose, bison and bears, just to name a few.

8). Q. Where is the best trout fishing near Laramie?

A: The Big Laramie River has several public access points for trout fishing. Greenbelt Access, on Snowy Range Road just east of I-80, is a great spot to reel in huge wild Brown Trout and Rainbow Trout within city limits. Late fall, right after runoff, is the best time for fishing as the river is slow and meandering, with deep runs and undercut banks. A few other honey holes around Laramie include Monolith Ranch Access, 6 miles west of the city on Highway 230, and Pioneer Canal Access, 20 miles west of Laramie. Pioneer Canal is a nice spot for trout fishing in June and July. Jelm Access, 30 miles west of Laramie, offers fantastic blue ribbon fishing in May and early June, and again in the fall.

9). Q. Can you hunt for big game in Wyoming?

A: Albany County boasts some of the best hunting opportunities in southern Wyoming. There are ideal locations for hunting antelope, big-horn sheep, mule deer and elk in the Laramie Range. Snowy Range offers premier hunts for elk and moose. Wyoming Game and Fish is the governing body for all hunting and fishing activities in the state. The main office is located in Laramie and the phone number is (307) 745-4046.

10). Q. Where are the best wildlife viewing opportunities near Laramie?

A: There are incredible wildlife watching opportunities for bears, elk, moose, wolverines and birds ranging from songbirds to geese. The Hutton Lake National WIldlife Refuge has five lakes and more than 30 species of water birds. The refuge is a hot spot for photographers. Located at 7,150 feet, about 11 miles southwest of Laramie, the Hutton Lake National WIldlife Refuge has grassland, open water and marshes. West of Laramie, the roads of the Medicine Bow National Forest present varied wildlife habitat and viewing opportunities. Moose sightings are also plentiful to the forests east or west.

11). Q. Are there off-road trails for ATVs near Laramie?

A: Wyoming has more than 640 miles of ORV (Off Road Vehicle) trails and 2,585 snowmobile trails. Laramie has endless adventures along the hundreds of miles of trails and backroads in the region. There's excellent offroading along the backroads of the Snowy Range and the forest service roads of the Medicine Bow National Forest. Wyoming's trails range from deep river canyons to high desert plains, high elevation crags, alpine meadows and lush greenways.

12). Q. Where are the best golf courses near Laramie?

Fox Run Golf Course on Highway 230 in Laramie offers a beautiful landscape and stunning views. There are magnificent fairways and pristine greens with challenging bunkers and a grueling second cut to test your mettle. The Jacoby Golf Course on the east side of the UW campus is a 6,855-yard course that presents a distinctive and entertaining round. At 7,220 feet, your ball may fly a little further. Oasis Golf is a family-friendly spot for an evening of summer mini-golf!

13). Q. Is the Jelm Mountain Observatory fun for families?

A: Starry skies are one of the best parts of a Laramie evening, and there are some awesome locations to reach up and touch the sky. Libby Flats Observation Point has great views of the stars. The Wyoming Infrared Observatory at Jelm Mountain has free night viewing tours in October that are open to the public, where you can peer into the largest infrared telescope in the world. Harry C. Vaughan Planetarium on the UW campus is another prime destination for astronomy buffs.

14). Q. Where is the big rodeo in Wyoming?

A: Since 1897, Cheyenne, Wyoming has been home to Cheyenne Frontier Days, billed as the "World's Largest Outdoor Rodeo and Western Celebration." The event attracts more than 200,000 spectators to Cheyenne for 10 days of festivities during the last full week of July each year. In addition to world-class rodeo competitions, Cheyenne Frontier Days also has exhibits and performances by major headlining music acts.

15). Q. Where is the Miracle Mile in Wyoming?

A: Sinclair, Wyoming. A famed stretch of the North Platte River about 40 miles north of Interstate 80 is known as "The Miracle Mile," for its awesome fishing. The stretch of river is an extremely fertile tailwater at the foot of the Seminoe Mountains. The river offers a dazzling population of trophy brown trout, rainbow trout, Snake River cutthroat trout, carp, and suckers. Resident trout are in the river year-round, but there are large numbers of both migratory rainbows and browns from nearby Pathfinder Reservoir.