Despite being a "small town", Laramie, Wyoming has a fantastic variety of restaurants. We have Mexican, Thai, Japanese, Chinese and Korean cuisine. Not to mention a fantastic selection of chain restaurants, steakhouses, breweries, sports bars, and others. Many if not all of these restaurants are great for kids. However, there are several that stand out a bit from the rest. You are probably already familiar with what Perkins, Applebee's, Chili's and other chain restaurants have to offer, but there are many awesome eateries a bit more unique to Laramie. As a parent, these are my top picks for restaurants kids and families love in Laramie, Wyoming.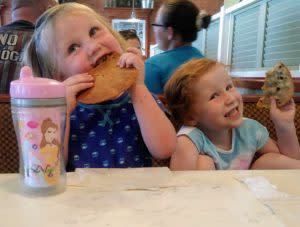 McAlister's has the best cookies!
McAlister's Deli
McAlister's Deli is a chain restaurant, but not as widely known perhaps as some others. Located in UW Plaza, with proximity to War Memorial Stadium, Arena Auditorium, and the UW Art Museum, McAlister's is the perfect pre-game lunch destination. The menu offers a wide variety of sandwiches and salads in addition to other tasty options. It is also very close to several hotels, including the Hilton Garden Inn, Holiday Inn, and Quality Inn and Suites.
Food: Hot and cold sandwiches, salads, giant spuds, A-MAZING Sweet Tea
Price Range: $
Why It's Good For Kids: Family environment, large booths, outdoor seating, good variety on kid's menu, delicious cookies.
What to Order: Horse Radish Roast Beef & Cheddar Sandwich, The New Yorker Sandwich, Black Angus Roast Beef Spud, Savannah Chopped Salad, or Broccoli Cheddar Soup (with Sweet Tea of course).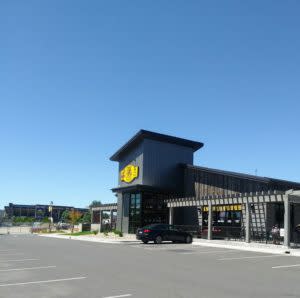 Rib & Chop House with War Memorial Stadium in the background.
Rib & Chop House
Also conveniently located in UW Plaza, Rib & Chop would have to be my dinner pick for this part of town. Even better, they are right next door to the new Studio City UW movie theater. Although well established in other parts of the state (and the west), Rib & Chop is relatively new to Laramie. They have a great atmosphere and a beautiful new building with great outdoor seating. Their menu is terrific, and their fried green tomato appetizer is an absolute "must order." Definitely, one of the restaurants kids love, for sure!
Food: Steaks, pasta, seafood, great appetizers, full bar
Price Range: $$-$$$
Why It's Good For Kids: Large booths, outdoor seating, low-key atmosphere, crayons and coloring for kids.
What to Order: Fried Green Tomatoes, Crabmeat Stuffed Mushrooms, Handcut Ribeye, Famous Filet, Cedar Plank Salmon, The Dalrymple Salad, or the Super Caesar Salad.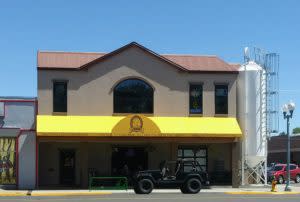 The Library
The Library Sports Grille & Brewery
Downtown Laramie also has several restaurants kids love. "Don't lie to your mom, tell her you're at The Library!" has been a catchphrase of this establishment for years. Formerly located across from the University of Wyoming campus, The Library moved several years ago to a new building downtown that still maintains it's cool-factor and charm. They are also home to a microbrewery.
Food: Pub fare, unique sandwiches and wraps, great appetizers, full bar, and interesting drinks.
Price Range: $$
Why It's Good For Kids: Casual atmosphere, multiple TV screens playing a variety of athletic events, no need to be super quiet.
What to Order: Pub Steak, Spinach Artichoke Burger, Ulysses Sandwich, Catcher in the Rye Sandwich, Blackened Steak Wrap, Sweet Potato Fries, Mac n' Cheese Bites, or Frickles.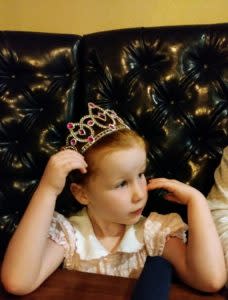 All fancied up for our favorite "proper lady restaurant" (Altitude).
Altitude Chophouse & Brewery
Located just kitty-corner from The Library is the more upscale Altitude Chophouse & Brewery. A staple of Laramie for 20 years, this exceptional restaurant was recently remodeled. You can't top Altitude for the atmosphere and the variety of food. Besides its stellar menu, Altitude is home to an award-winning microbrewery too. They also have a full bar and a menu of interesting seasonal martinis and cocktails. Everyone who visits Laramie should have at least one meal here.
Food: Steak, seafood, unique sandwiches and entrees, full bar, interesting drinks
Price Range: $$-$$$
Why It's Good For Kids: Low-key vibe despite being upscale, good variety on kid's menu, large booths that dampen noise.
What to Order: Filet of Beef, Ribeye, Prime Rib, Smoked Beef Brisket, Wontons, Cedar Plank Salmon, Lobster Mac & Cheese, Brisket Street Tacos, Fish Tacos, Pulled Pork Sandwich, or the Gouda Burger.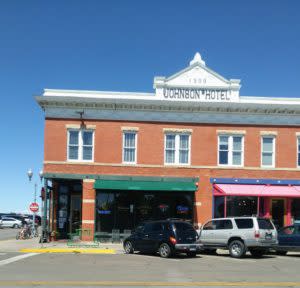 Lovejoy's Bar & Grill
Lovejoy's Bar & Grill
Also located downtown in a beautiful historic building, Lovejoy's Bar & Grill is owned by the same folks as Altitude Chophouse & Brewery. Lovejoy's offers the same quality and taste as Altitude but with a more casual and eclectic spin. In addition to their usual menu, they also have yummy daily and weekly specials. Bonus: stop in for brunch Saturday or Sunday morning and enjoy bottomless mimosas! This is a restaurant kids love in downtown.
Food: Burgers, pub fare, unique sandwiches and burgers, full bar, interesting drinks
Price Range: $$
Why It's Good For Kids: Good variety on kid's menu, low-key atmosphere, no need to be quiet, sports bar, large windows overlooking train tracks.
What to Order: Sunshine Crunch Sandwich, Brisket Grilled Cheese, Burrito Bowl, Lovejoy's Burger, Tex Mex Mac 'n Cheese, or Avocado BLT.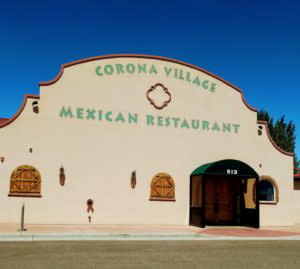 Corona Village
Corona Village Mexican Restaurant
Despite being slightly removed from the main areas of Laramie, Corona Village is well worth the trip. It is located at the 3rd Street exit from I80 (it does have another location on Grand Avenue with a cafeteria-style service). With its authentic Mexican cuisine and vibrant interior, this is easily one of my favorite restaurants in Laramie. Oh, and if it happens to be your birthday, you get to wear a pretty awesome sombrero.
Food: Authentic Mexican, bottomless chips and salsa, Margaritas
Price Range: $-$$
Why It's Good For Kids: Fun vibrant atmosphere, colorful decor, large booths, free balloons.
What to Order: Carne Asada, Corona Burrito, Andale Burrito, Fajitas, or Enchiladas, and a margarita.
You Can't Go Wrong
When it comes to choosing a restaurant in Laramie, you literally can't go wrong. There are so many amazing places to choose from. Whether you are craving Mexican, Thai, or a juicy steak, you will find it all in Laramie at one of the many locally owned and operated restaurants. They really are all great restaurants for families and kids, so come see what Laramie has to offer the next time you're looking for a place to grab some food.
For more information about where to eat in Laramie, check out the Where to Dine section of our website where you can view a full list of restaurants to choose from.
Note: Leah Veinbergs is an independent writer and the author of the blog Two Little Time. She is contracted by Visit Laramie. Views and opinions expressed here are her own and do not reflect those of the Albany County Tourism Board.