Coming to Laramie
International Travel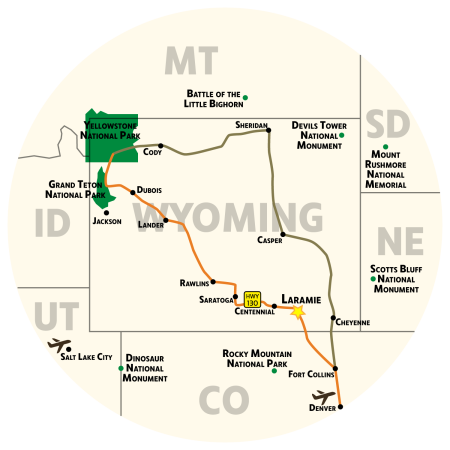 The American mountain west and Yellowstone areas of Wyoming are a bucket-list trip from any direction. Make Laramie your favorite stop on your trip west for Wyoming history, cowboy culture, and a visit to the University of Wyoming. Laramie's museums, western flair, wildlife, and scenic views make for the perfect taste of Wyoming.
Follow our international travel itineraries below for Laramie's version of the modern West.
Getting Here
Laramie is conveniently situated just two hours drive from Denver International Airport. Direct flights enter Laramie Regional Airport twice a day. If car rentals are not part of your travel plan, taxi, bus, and Uber services can help you get around the city. Learn more on our "Getting Here" page.
International Itineraries
EN - FR - DE
Discover the Old West
EN - FR - DE
Explore the Quiet Corner
EN - FR - DE
Get Cultured in Laramie
EN - FR - DE
Hike Your Way
Images for Promotional Use
Images provided by Visit Laramie and the Albany County Tourism Board are for use in editorials, conferences or event promotion, or other formats that promote the Laramie Area and encourages visitation in paid overnight accommodations.
For full-size resolution photos, please contact Scott Larson, Executive Director, or Jennifer Bartlett, International Consultant, and include your contact information, reason for use, and organization name. We will respond to all requests within 1-2 business days.
When using the images, please use photo or video credit to Visit Laramie and @VisitLaramie.
| | | |
| --- | --- | --- |
| Snowy Range Mountains | Laramie Mural Tour | Downtown Laramie Shopping |
| Laramie Jubilee Days | Laramie Jubilee Days Rodeo | Wyoming Territorial Prison |
| University of Wyoming | Camping in the Snowy Range | Fishing the Laramie Plains Lakes |
| Wyoming Traffic Jam | Cabins & Guest Ranches | Fall Fly Fishing |
| Vee Bar Guest Ranch | University of Wyoming Campus | Live Music |
| Vedauwoo | Snowy Range Scenic Byway | Wyoming Wildlife |
| Wild Horse Eco Sanctuary | Vee Bar Guest Ranch | Wyoming Wildlife |
| Mountain Biking | Vedauwoo | Union Pacific Railroad History |
| Off Roading | Geology Museum | Laramie Plains Museum |
| Cabins & Guest Ranches | Historic Downtown Laramie | Food & Dining |