Wyoming Breweries: In Laramie, Wyoming, there are many reasons to celebrate the season of fall: the ever-popular University of Wyoming Cowboys football games; the return of students and increase in university activities; hunting, fishing, climbing, hiking—basically anything you might do in the great outdoors that form Laramie's backyard.
But sometimes, the best way to enjoy the season is to simply relax and have a beer. Slow down. Listen to the leaves crunch. Watch the world go by.
While the nearby cities on the Colorado Front Range have more and larger breweries, Laramie is a splendid location for a brewery tour. Laramie is full of delicious craft beer and scores points for fewer crowds and convenience, boasting a surprising five local breweries located within just a few blocks of one another. Proximity and quality have made Laramie a real beacon for the craft beer enthusiast and the craft beer curious alike.
In this post, we will highlight each of Laramie's local breweries and share a few of our personal favorites from each.
---
Library Sports Grille and Brewery • 201 E. Custer St.
---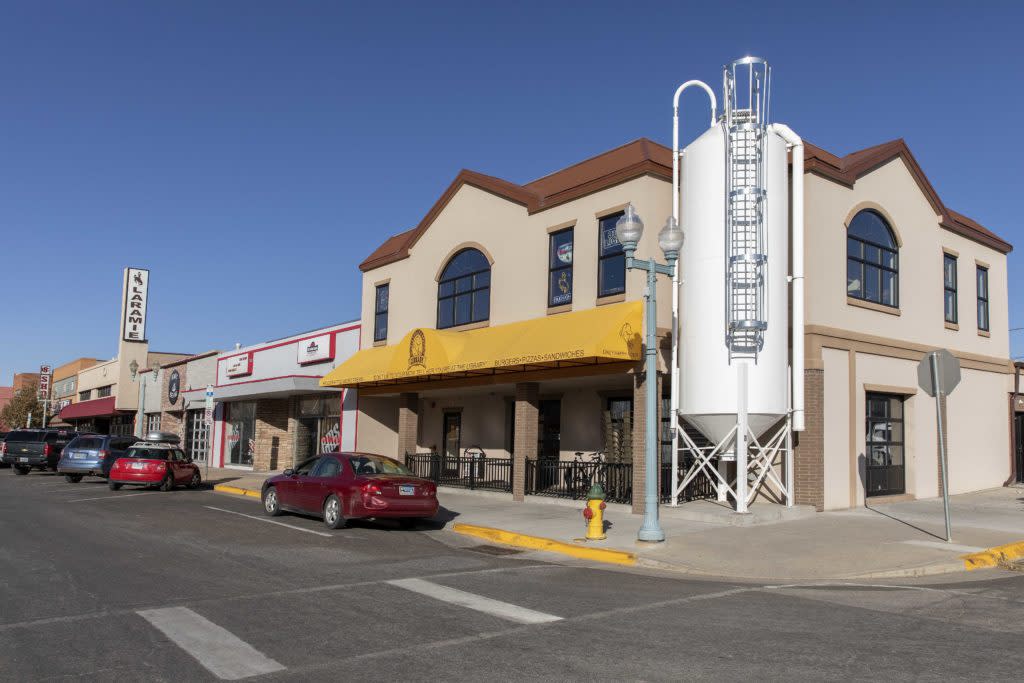 "Don't lie to your mom, tell her you're at the Library." This has long been the alibi for the sports-loving crowd that frequents this Laramie brewery. The Library boasts a deep menu of staple and seasonal beers and a pub-style menu. Televisions are plentiful and make every seat in the house a "good seat" for watching your favorite sports team.
Brian's Top Pick: Rattlesnake (Rye Pale Ale) 6.9% ABV Dani's Top Pick: Big Nose (ESB) 5.0% ABV
---
Bond's Brewing • 411 S. 2nd St.
---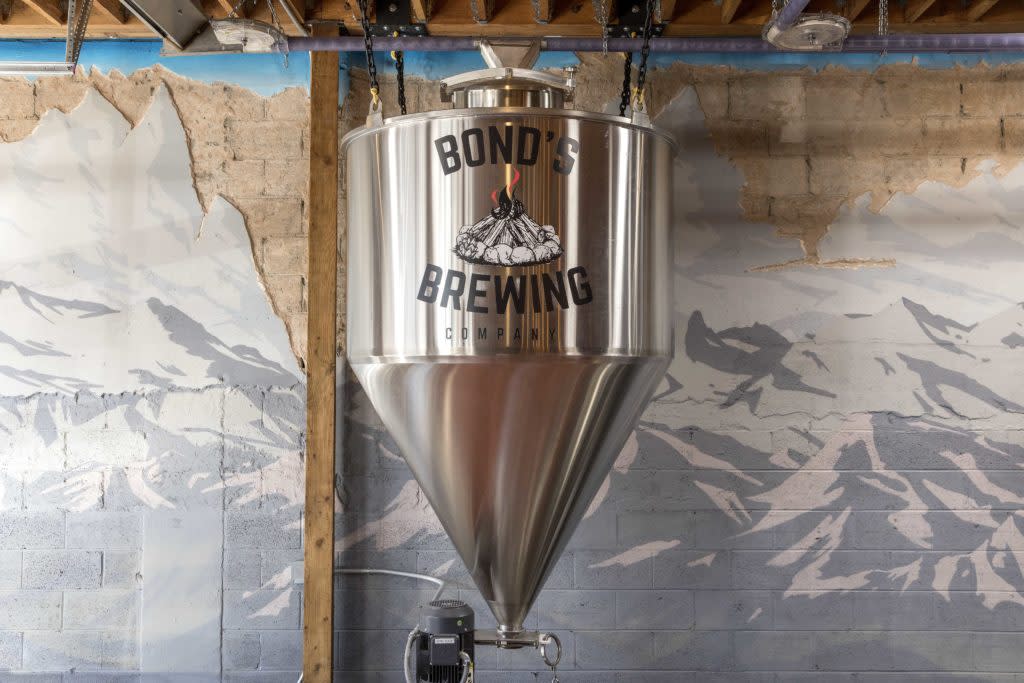 Opening their doors in August of 2019, Bond's Brewing is Laramie's newest brewery and the only brewery that does not offer food service. But this last point is actually a plus: Bond's frequently hosts food trucks and encourages ordering in from your favorite local restaurants.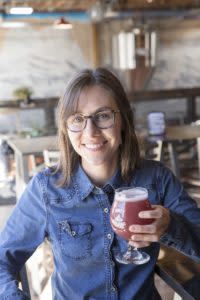 Downtown Laramie is dotted with beautiful murals; Bond's brings one of them inside. A spectacular mural of a mountain range, created by local artist Dan Toro, looms over the industrial brewing equipment and contributes to a lovely atmosphere. The brewery also features a gas log fireplace that is oh-so-welcome on a cold day, and for warmer days, its garage-style doors open up to let in an abundance of fresh air and sunshine.
Bond's currently has a limited but diverse list of beers, from the deeply flavorful stout to the frankly-named, easy-drinking "Beer." Bond's is family-friendly and has several board games on hand in addition to the age-old Ring a Bull pub game.
Brian's Top Pick: Citra Hop-a-dopolis (Strong Pale Ale) 6.0% ABV Dani's Top Pick: Rhuberry (Strawberry-Rhubarb Ale) 5.5% ABV
---
Altitude Chophouse & Brewery • 320 S. 2nd St.
---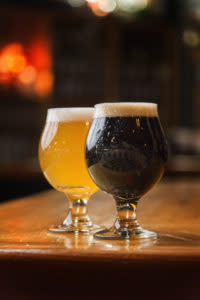 Altitude Chophouse & Brewery has long been the cornerstone of great craft beer and fine dining in Laramie, with an atmosphere that is at once elegant and casual. Altitude offers a Mug Club, and the long waitlist to get in speaks to the community's appreciation for this brewery.
Altitude won two gold medals in recent years at one of the world's most prestigious beer competitions—the World Beer Cup—for its Altitude Altbier (2014 and 2018). If that doesn't impress you enough, Altitude also brought home more medals than any other brewery in the United States at the 2017 American Beer Awards, and over the years, they have received over 25 awards at regional brew fests.
Altitude maintains a substantial list of always-on-tap beers alongside their constantly evolving seasonal beer list. In addition, their pilot brewing system puts a rotating, ever-changing "pilot beer" on the menu for those who like to keep expanding and experimenting with their beer.
Finally, we'd be remiss if we didn't mention our love for the free, deliciously-seasoned pretzels they serve alongside their craft brews!
Dani's Top Choice: Heat and Repeat (Amber Ale with Green Chili) 5.3% ABV
Brian's Top Choice: Altitude Altbier (Dusseldorf Alt Beer) 5.5% ABV
---
Coal Creek TAP • 108 Grand Ave.
---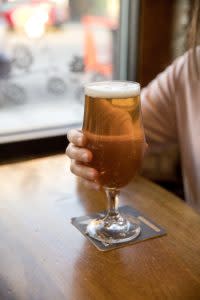 If you've spent any time in Laramie, you're probably familiar with the amazing coffee of Coal Creek Coffee Company, but you may be unaware of their more recent adventure into craft beer.
Coal Creek TAP, Laramie's only "nano-brewery," opened its doors in March of 2014, right as the coffee house turned 21 (naturally). Known for their flavorful and high ABV beers, Coal Creek offers its brews in 5 oz, 10 oz, and 16 oz pours so that you can try what you want without fear of falling off your stool.
Of their diverse list of beers, some remain on tap year-round, while others appear both seasonally and on an experimental basis. For those who like to learn more about the what and the why behind their drink, each table at Coal Creek includes a flipbook-style information booklet that describes each of their beers in detail.
Charmingly, this brewery also works hard to create a welcoming space for all Laramie residents, putting on events such as Tales at the Taphouse, a story-telling series for women and LBGTQ individuals. It also frequently hosts (and donates a portion of its proceeds) to community-based fundraisers.
Finally, Coal Creek Tap is one of the only Wyoming Breweries that has an outdoor patio and the only one in Laramie—a highly coveted feature when the season is right in an otherwise cold mountain town!
Dani's Top Choice - Molly (Blond Ale) 7.25% ABV
Brian's Top Choice - For the Love of Hops (Experimental IPA Series) ~7.5% ABV
---
Accomplice Mycro-Pub • 301 Grand Ave.
---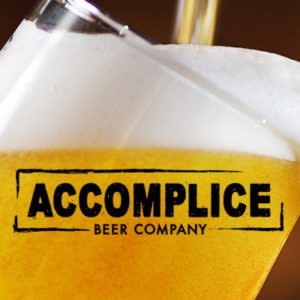 Accomplice Brewery has been a favorite of Cheyenne beer enthusiasts since 2016, and opened up a location in Laramie in January 2020 right at the corner of 3rd and Grand Avenue. Accomplice offers pub-style food alongside its microbrews, including a wide array of snacks, salads, artisan pizzas, "san-which's", and delicious desserts. They have seven signature beers, three seasonal styles and four guest taps. Take your pick between IPA's, porters, lagers and more.
Visit Laramie recommends include the "Sol Dance Wheat" or "Slumber Car Porter." The Sol Dance is smooth and refreshing with a little bite at the end, and the porter is great for cooler fall days, colder winter nights, or as a dessert beer after a pizza.
Click here for Places to Eat in Laramie
Note: Brian and Dani Harrington are independent writers contracted by Visit Laramie. Views and opinions expressed here are their own and do not reflect those of the Albany County Tourism Board.