Planning a visit to Wyoming? Wondering what to do that won't break the budget? Laramie has so many wonderful, budget-friendly activities—especially in the summer and fall when the weather is at its loveliest. Check out these budget-friendly activities for summer and fall fun!!
Budget-Friendly Activities in the Great Outdoors
One of the best ways to enjoy Laramie on a budget is to embrace the breathtaking mountains, trails, and recreation areas surrounding Laramie. Most U.S. Forest Service parking areas, trailheads, and picnic areas require day-use fees. Typical day-use fees are $5.00 and can be pre-paid online or on-site (bring cash for paying on-site). There are also annual passes available for purchase. I would highly recommend the America the Beautiful Pass if you think you may visit more than one federally managed park or site in the year. The America the Beautiful Pass costs $80.00 and is accepted for entrance to more than 2,000 locations managed by the U.S. Forest Service, National Park Service, Bureau of Land Management, and other federal agencies. The pass is valid for one year. For more information on purchasing passes and permits, visit the U.S. Forest Service Passes & Permits page.
Hiking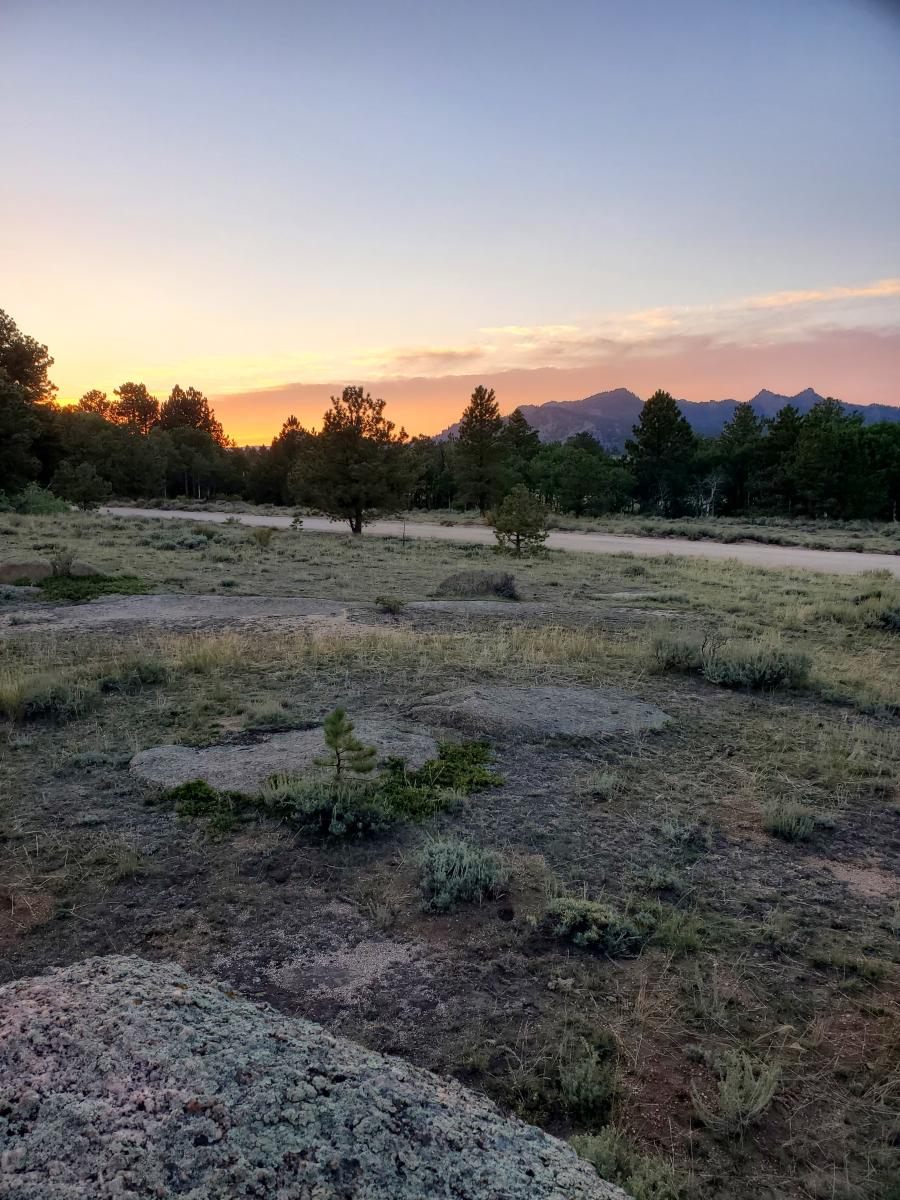 Vedauwoo at Sunset (photo credit Leah Veinbergs)
One of the most popular activities in the Laramie area is hiking. A variety of trails ranging in difficulty from easy, paved walking trails to advanced, back-country trails are waiting for hikers of all ability levels. Popular areas for hiking include Medicine Bow National Forest in the Snowy Range Mountains west of Laramie, Vedauwoo Recreation Area, Curt Gowdy State Park, and Happy Jack and Pole Mountain areas east of Laramie.
For more information on hiking trails, hiking tips, and other information read: Top 5 Scenic Hikes Near Laramie, Vedauwoo: Land of the Earthborn Spirit, and Top 5 Tips for Hiking with Kids in the Laramie Area.
Mountain Biking
A second extremely popular activity near Laramie is mountain biking. Mountain biking trails have a wide range of ability levels as well. The same areas popular for hiking are also popular for mountain biking. The Pilot Hill Project connects the City of Laramie to the Happy Jack and Pole Mountain Areas, and provides addtional terrain for mountain bikers who prefer to stick closer to town.
To read more about mountain biking in the Laramie area see our posts: A Beginner's Guide to Mountain Biking in Wyoming and  Top 5 Mountain Bike Trails in Laramie, Wyoming.
Camping
After a day of hiking or biking, why not enjoy nature a little longer and camp overnight? The Laramie area boasts many well-developed, beautiful campgrounds scattered throughout Medicine Bow National Forest, Vedauwoo Recreation Area, and Curt Gowdy State Park. Most campgrounds offer potable water, vault toilets, and trash bins. Individual sites typically accommodate tents and sometimes campers, and are outfitted with a fire ring with a grate, and a picnic table. There is an additional fee for camping overnight in developed campgrounds.
If you prefer to rough it a bit more, there are also many dispersed camping areas throughout Medicine Bow National Forest and Vedauwoo Recreation Area. These sites may or may not be marked and may or may not have a fire ring. There is no additional fee for dispersed camping.
To find out the best places to camp and other important tips see: 6 Things to Know Before Camping in Wyoming and Local Favorites: Camping.
Water Activities and Fishing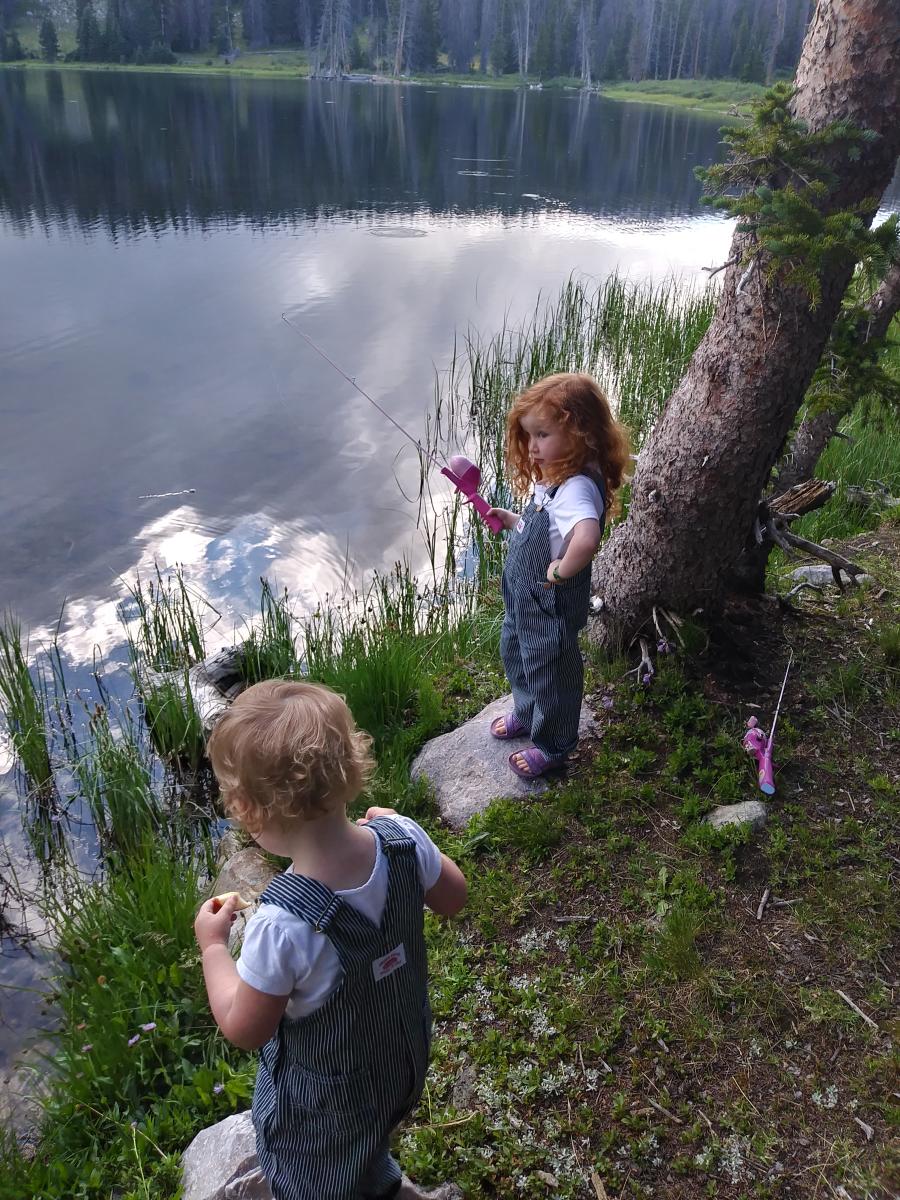 Fishing at Brooklyn Lake in the Snowy Range Mountains (photo credit Leah Veinbergs)
The Snowy Range Mountains have an abundance of mountain lakes and streams. Canoeing, kayaking, paddle boarding, swimming, and fishing are all very popular activities. Keep in mind that some lakes do not allow motorboats.
Curt Gowdy State Park is a very popular place for boating, canoeing, kayaking, and paddle boarding. There is no swimming, unfortunately, but plenty of other fun to be had on the water.
Besides the above, the Laramie Plains Lakes are another very popular fishing location. 
You may also enjoy: Local Favorites: Best Fishing Access and Summer Water Activities for Families.
Fall Leaves
When summer comes to an end and the temperatures begin to dip, Mother Nature puts on her best show yet! The orange and gold autumn leaves are particularly stunning against the evergreen and gray of the mountains. They sparkle against the cloudless, blue sky. There are several places known for their gorgeous fall colors.
Read 5 Fantastic Fall Drives in the Laramie area and Where to Go to See Fall Colors in Wyoming for more information.
Wildlife Viewing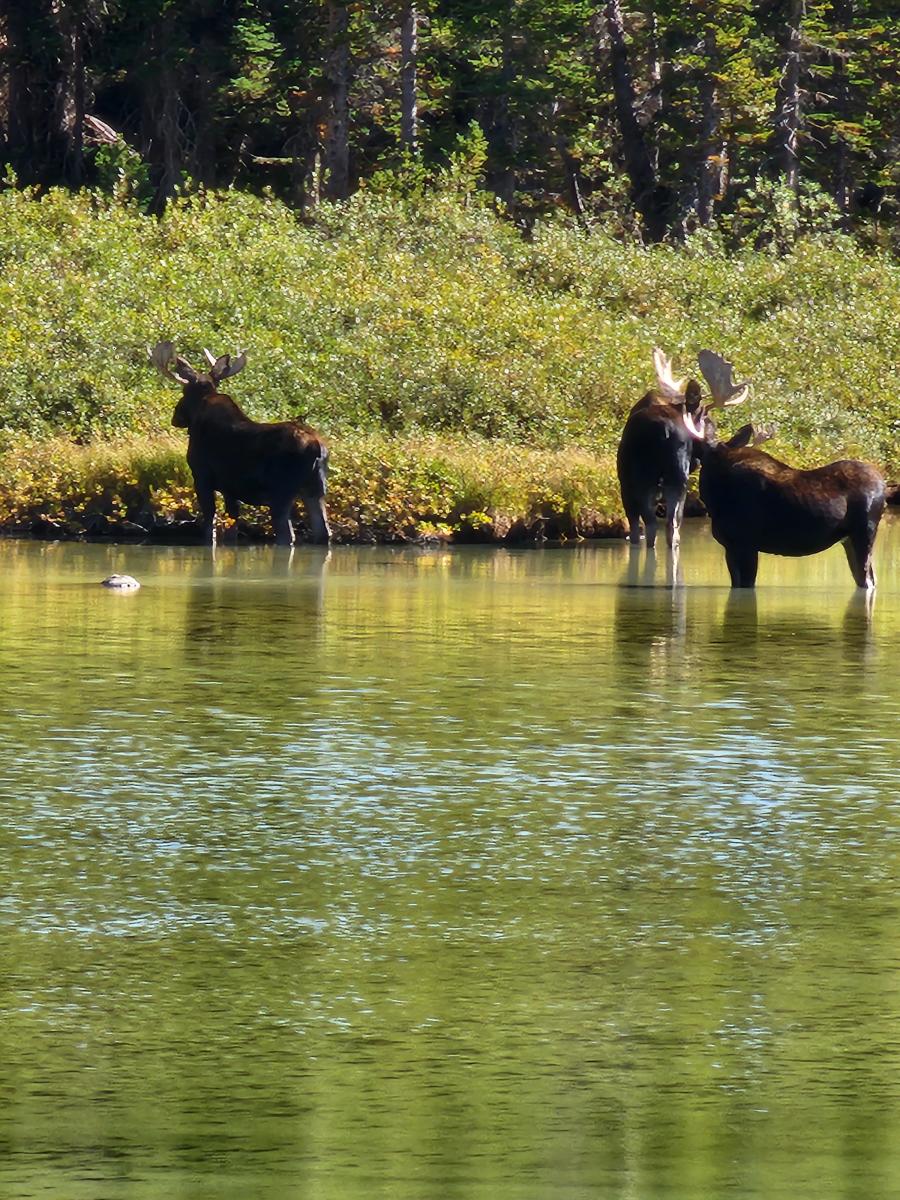 A Trio of Moose Along the Snowy Range Scenic Byway (photo credit Leah Veinbergs)
Any time spent in nature, you are likely to see some type of wildlife. However, there are a few times and places that will increase your odds.
First, the time of day is important. Animals are usually more active at dusk and dawn, so that is the best time to see them. 
Second, if you do see animals, they may be far away. It is a good idea to bring binoculars or a spotting scope to see them better. 
Third, know where to look for which animal. Pronghorn are basically everywhere, all the time! But some wonderful places to see them are the prairie areas west and southwest of town. Hutton Lake National Wildlife Refuge in particular is a good spot to see pronghorn, various birds, prairie dogs, and coyotes. The Snowy Range area is best for seeing deer, elk, and moose.
To read more about how to enjoy Laramie-area wildlife, check out these blog posts: Best Places for Viewing Wildlife and 10 Things to Bring on a Hunting Trip in Wyoming.
Budget-friendly Fun in Town
Not up for communing with nature? No problem! Laramie has many budget-friendly activities to enjoy in town as well. All of the activities listed here are outdoors because the summer and fall have such gorgeous weather. 
City Parks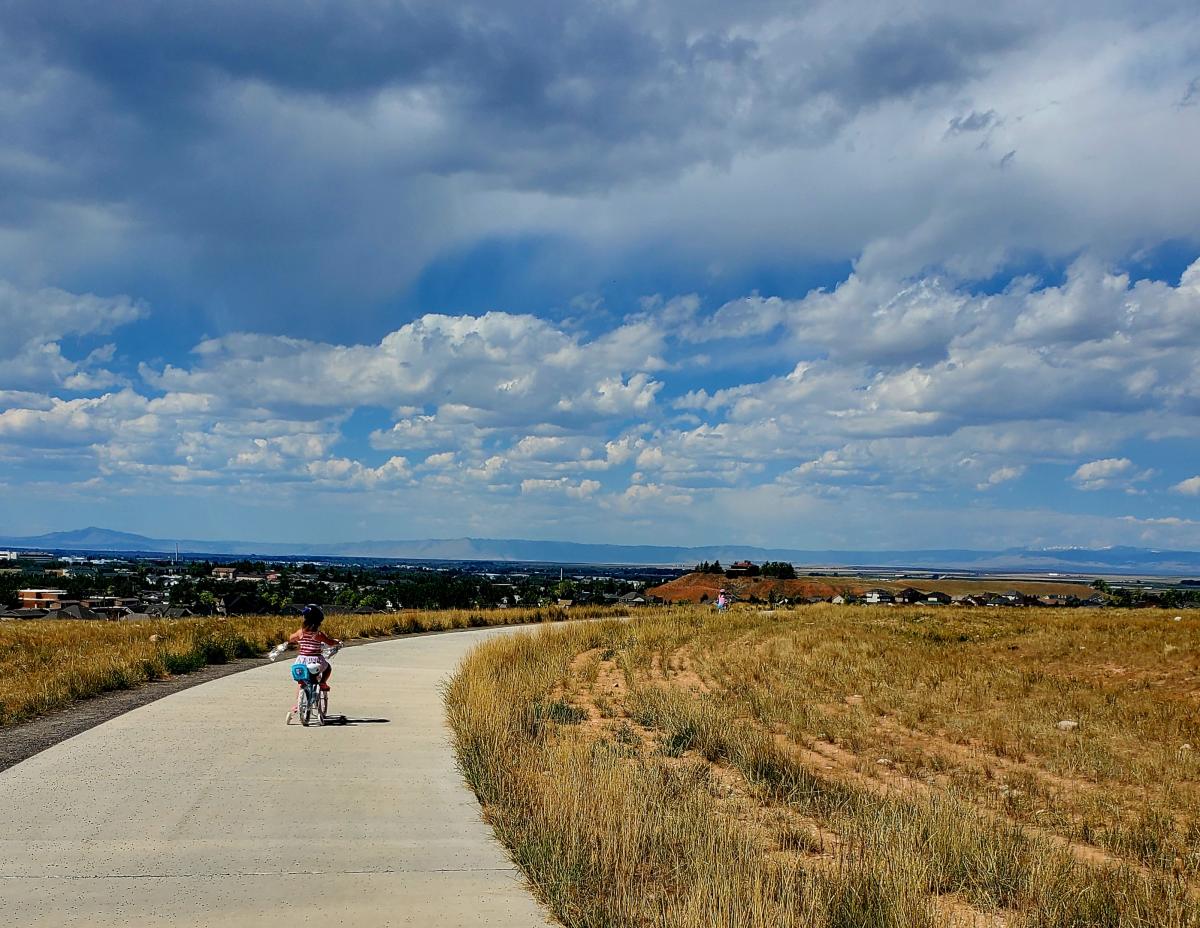 Biking on Cirrus Sky Trail (photo credit Leah Veinbergs)
The city of Laramie is home to some truly amazing parks. There are 17 parks in Laramie. Most of these parks have playgrounds, picnic shelters and tables, BBQ grills, bathrooms, and other amenities. Here are a few standout parks in town.
Washington Park has three great playgrounds for the kids (one is brand new). The playgrounds are nestled in among mature trees which provide shade and shelter from wind and sun. The park is also home to several picnic shelters with tables and BBQ grills. The park also features a basketball court, baseball diamond, open fields for frisbee or soccer, volleyball courts, a bandshell, horseshoe pits, and a wading pool. Additionally, the park is encircled by a .78-mile paved walking path and fitness circuit stations.
LaPrele Park has a brand-new playground and a beautiful picnic shelter with tables, a BBQ grill, and bathrooms. LaPrele Park is bisected by Spring Creek and is home to Huck Finn Fishing Pond, where kids 13 and under can fish. LaPrele has several wide-open fields and a Frisbee Golf Course.
Undine Park also has a brand-new playground, several picnic areas, beautiful shade trees, grassy fields, and bathrooms. They also have volleyball, tennis, and basketball courts. Undine is best known for its Splashpad—a favorite with kids of all ages.
Labonte Park is the largest park on the north side of town. It has two playgrounds, several picnic shelters, bathrooms, a large pond, and more. Labonte is best known for its skatepark. It is also next door to Feeding Laramie Valley, which provides free lunches to kids daily during the summer months (adults can purchase a lunch for a small fee).
Optimist Park is located in West Laramie and is next to the beautiful Laramie River. Optimist Park also has a fun playground and picnic areas. It's also home to a wonderful dog park and is a great place to access the Greenbelt. The Greenbelt is a 6-mile paved trail, much of which follows the Laramie River.
Cirrus Sky Trail is not a park exactly, but it is a great place to walk, run, or bike with great views of the city below. Located on the north side of Laramie. Cirrus Sky Trail is a paved path on a hill overlooking Laramie. The path is 3.2 miles and connects 15th Street to 30th Street. It can be accessed at the north end of 15th Street, 23rd Street, and 30th Street. Cirrus Sky Trail is best at sunset when the breathtaking views of Laramie and the Snowy Range Mountains are bathed in color.
Walking Tours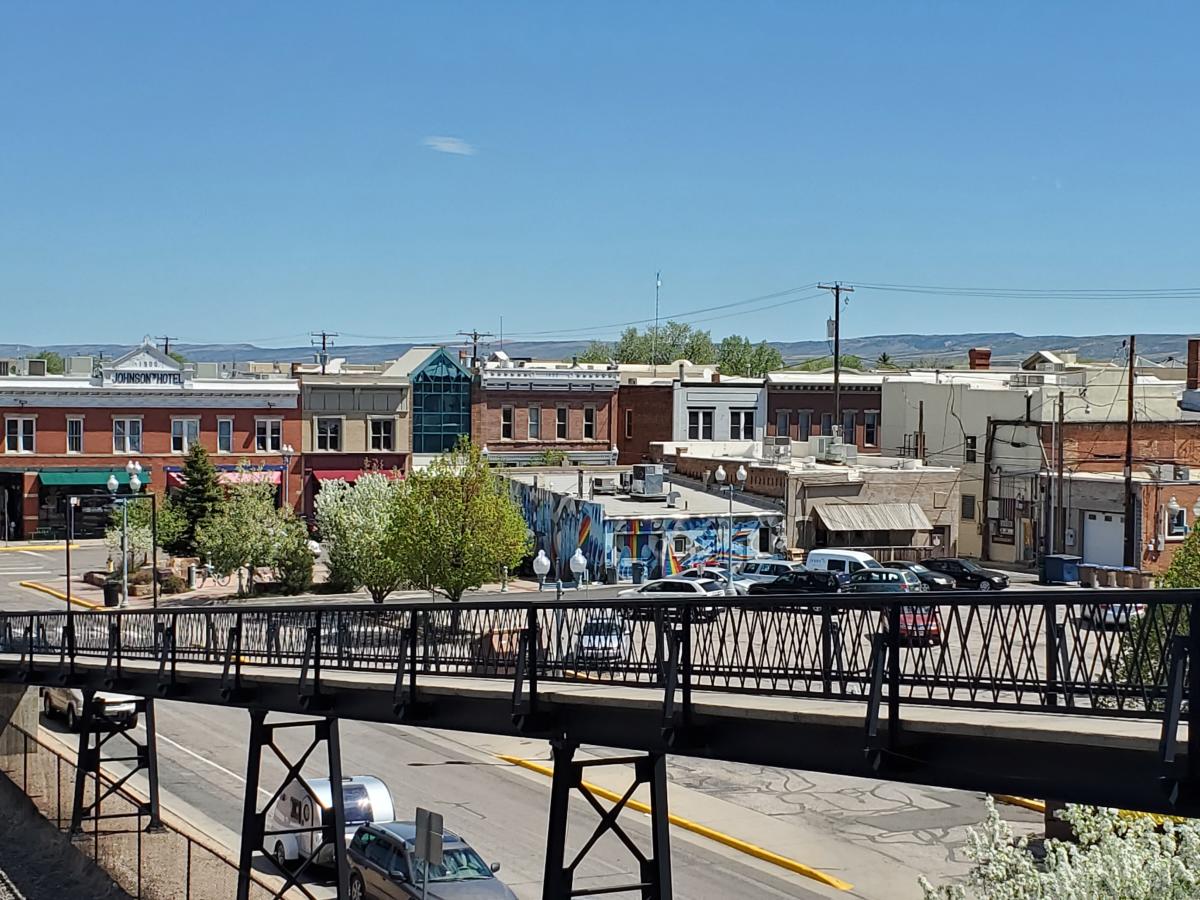 View of Downtown Laramie as seen from the Garfield Street Pedestrian Bridge (photo credit Leah Veinbergs)
Laramie has several interesting self-guided walking tours, which are a great way to learn more about the culture and history of Laramie while getting in a little exercise.
The Historic Downtown Laramie Tour provides a great way to get a sense of Laramie's history. The tour winds through Laramie's downtown and highlights historic businesses, buildings, and people.
The Legends of Laramie Tour starts at The Laramie Plains Museum in the historic Ivinson Mansion and then circles back to downtown. This tour has interesting stories about the people and events of Laramie.
The Laramie Mural Project Tour is a great option for anyone who appreciates art. This tour gives individuals a chance to see the over 20 murals scattered around downtown and explains something about the artist and the origin of each.
The Historic Architectural Treasures Tour highlights the many beautiful, historic homes and churches in the historic "tree area" of Laramie.
The Historic University of Wyoming Campus Tour gives a closer look at the beautiful UW campus and also shares some of the unique histories of this "land grant" university.
Outdoor Events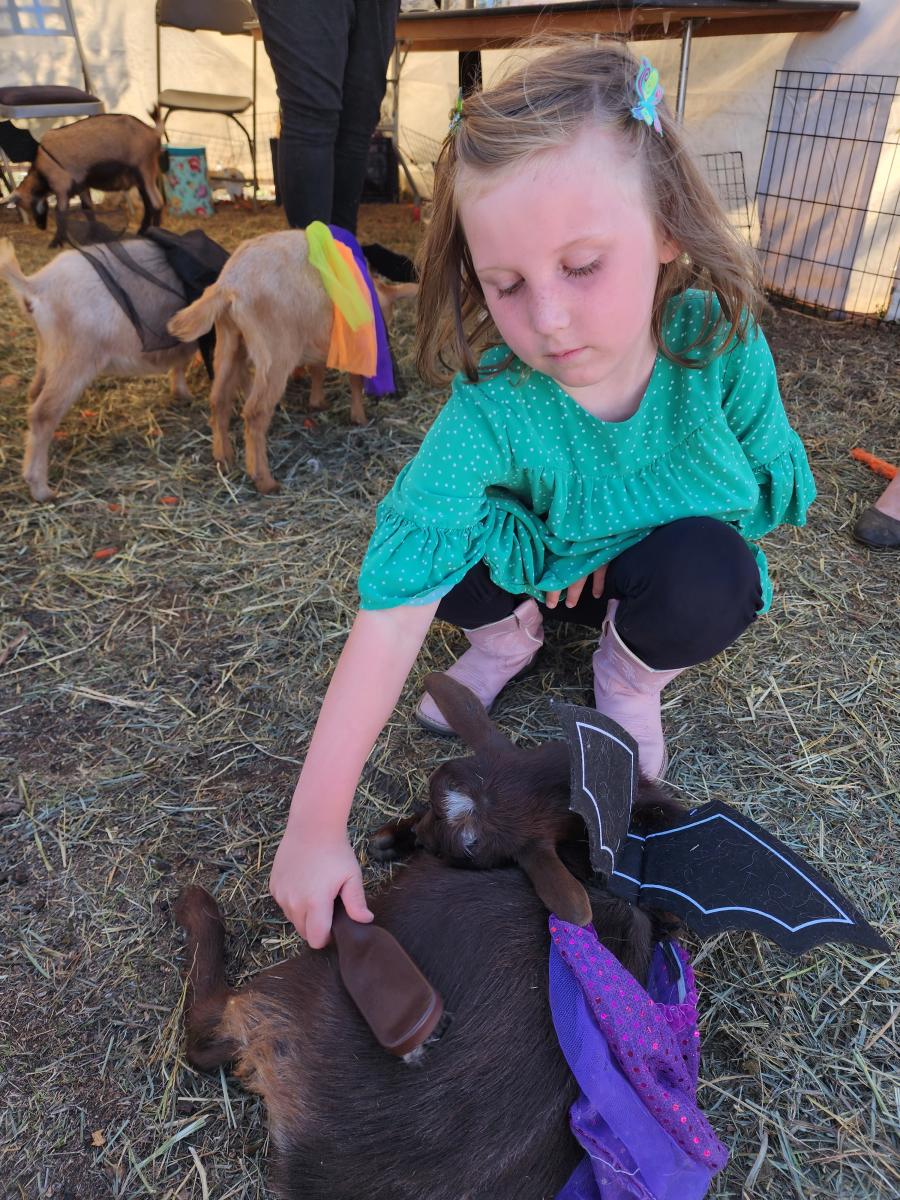 Petting a Baby Goat in a Halloween Costume at the Higher Ground Fair (photo credit Leah Veinbergs)
Last, but not least, there is ALWAYS something happening in Laramie. Events like outdoor music in Washington Park or on the UW campus, town festivals like Laramie Jubilee Days, the Downtown Farmer's Market, Albany County Fair, special events at the Wyoming Territorial Prison State Historic Site, and more, provide fun for all ages. Most of these events are free or have a minimal cost. To find out what is happening, keep an eye on the Visit Laramie Calendar of Events.
Laramie certainly has a lot to offer, even on a budget. There truly is something for every age and interest to enjoy. With so many inexpensive and free activities, you'll want to plan your trip today!