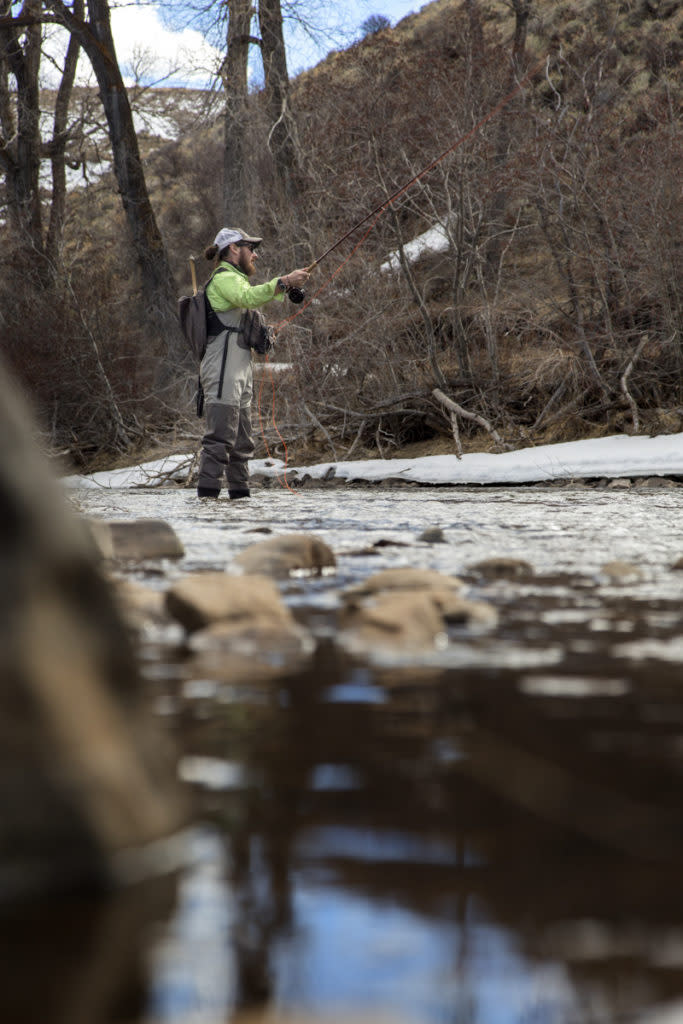 Wyoming fishing access and some locals favorite secret spots: As the peaks have finally shed their winter blankets of snow, the rivers have reached their crest and begun to drop. The summer season is here, and with it comes the best month of fishing of the year near Laramie, Wyoming.
Late June through mid-July is the prime season on the upper North Platte and Big Laramie Rivers. These are freestone streams, a term that refers to the fact that they are wild rivers, unregulated by dams, with shorter seasons than their tail-water relatives. To be clear, both the Big Laramie and the North Platte are dammed at some point in their trajectories, but at their headwaters near Laramie, they, and the fish that call the rivers home, are free.
Warmer weather, wildflowers, and greater access to the outdoors makes early summer my favorite time of year. It feels only appropriate that during my favorite time of year, I get to share with you my favorite outdoor activity: fishing. Fishing is a family tradition for both my family and my wife's family. It was one of the things that brought us together when we first met. We both have plentiful stories of fly-fishing with our parents as kids, and now, as adults, we continue these traditions.
If you prefer a worm on a hook to a fly, this post will still offer some useful insights. Remember that it is your responsibility to know the rules of the stream or lake you are fishing. Take care of the water and wildlife and leave our wild spaces exactly as you found them. With that, I'll now share a few of my favorite spots to wet a line and then turn it over to other locals to share their favorites.
---
Author's Favorites
---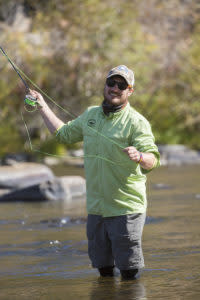 Let's begin with the Laramie River. With headwaters just over the border in Colorado, this beautiful freestone flows through wild landscapes and mostly private land until it hits the Jelm Mountain Access Points. There are two access locations just up Highway 10 from the Woods Landing Resort (great for a cold beer and good meal after a day of fishing). The first access gets less pressure because you have to hike down into the river. The second access, Jelm South, brings you directly to the river and allows for easier access to the water. The Laramie River scores points for quick and simple access and great fishing, with occasional large fish.
If you are looking for more consistently large fish than what the Laramie River typically offers, check out the section from the Colorado border to Fort Steele of the Upper North Platte River, one of the best fisheries in the state of Wyoming. With access available along much of its path, this river provides anglers with enough space to spread out. One of my favorite places to get after wild rainbows and browns on the Upper Platte is at Treasure Island. This more than 1-mile long island breaks the river into two more manageable sizes and allows those in waders to access just about any run they'd like. "Treasure" also boasts some of the highest fish counts in the entire river.
One of my go-to flies for the Platte is the ugly stonefly nymph known as the "Pat's Rubber Legs". They come in several colors, and any color seems to do the trick. This time of year, I have the best success fishing them below an indicator and as close to the bottom as possible.
Now, let's hear from other Laramie anglers about where to go for a spectacular day of fishing:
---
Local Favorite Accesses
---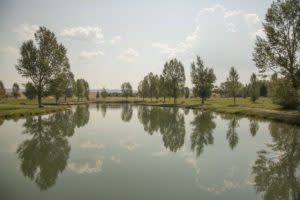 Huck Finn Pond at LaPrele Park
"Huck Finn Pond at LaPrele Park is always a family favorite for after-dinner fishing within a bike ride of home. Curt Gowdy State Park is another big favorite to fish from our kayak." - Britt Thompson - Laramie Local
"My favorite place to fish is the Platte River because, in Wyoming, this river offers such diversity for an outdoors person that you can find something new every time you visit." - Jordan Collingwood - Laramie Local
"Crystal and Granite Reservoirs get a lot of attention (as they should) but my favorite fishing spot at Curt Gowdy State Park is North Crow Reservoir. It is beautiful and really fun to try and hook into a tiger muskie." - Patrick Harrington - Superintendent of Curt Gowdy State Park
"I know it's corny but my favorite fishing spot is Huck Finn pond at LaPrele Park! For kids it's a total blast, and we have kids." - Jeff Smith - Laramie Local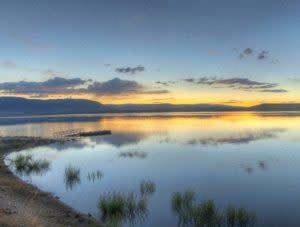 Lake Hattie, largest of the Laramie Plains Lakes
"I'm a long time angler and I think people should go fish for the trophy fish in the Laramie Plains Lakes. There are some massive fish in there." - Paul Weaver - Laramie Local
"My favorite fishing spot is way down on the Platte River on the Pickeroon campsite, which is located in the Medicine Bow National Forest. When runoff has stopped you can cross Douglas Creek and head into the wilderness section of the Platte River. The views are great, the River is peaceful, and sometimes you can see river otters." - Emily Parsons - Laramie Local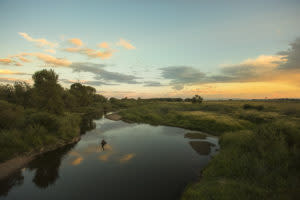 The Laramie River along the Laramie Greenbelt
"My favorite fishing spot is one of the beaver ponds tucked away in the Happy Jack Recreation Area or down Telephone Road. The ponds and the brookies are small, but it's hard to resist in the evening with such a quick trip from town. It's 15 minutes to solitude and hungry little Brook Trout." - Sara Haugen - Visit Laramie Marketing Manager
You may also enjoy some of our other blogs, "Summer Water Activities Itinerary for Families," "Top 5 Lakes to Fish on the Laramie Plains," "Local Favorites – Laramie Area Hiking Trails" and "Local Favorites - Best Places to Catch the Sunset."
Note: Brian and Dani Harrington are independent writers contracted by Visit Laramie. Views and opinions expressed here are their own and do not reflect those of the Albany County Tourism Board.