Visit Laramie on your Drive to Yellowstone
Yellowstone National Park is an incomparable natural wonder, and well worth visiting. On the way to Yellowstone, stop in Laramie. Located on Interstate 80 in southeastern Wyoming, it is chock full of opportunities to enjoy culture and nature. As you are planning your summer road trip to Yellowstone, consider stopping in Laramie for a fun and relaxing respite from the drive. Here are our suggestions for the best driving routes to Yellowstone plus sightseeing and stops along the way. And of course, Visit Laramie!
Routes to Yellowstone through Laramie
So, how do you get to Laramie, Wyoming? Laramie is right on the way to Yellowstone if you are coming from south or east of Wyoming.
Driving From the South
There are two ways to approach Laramie (and Yellowstone) from the south. The most standard route is to take Interstate 25 north from Denver, CO to Cheyenne, WY and then go west on Interstate 80. However, there is another slightly faster (depending on traffic) and more scenic route as well. For this route, head north on Interstate 25 but exit for Fort Collins on Hwy. 14/ 287 and continue north to Laramie on Hwy. 287.
Driving From the East
If you are approaching Wyoming from the east, it is pretty simple. Hop on Interstate 80 and head west until you hit Laramie.
Driving Laramie to Yellowstone
Through Lander, WY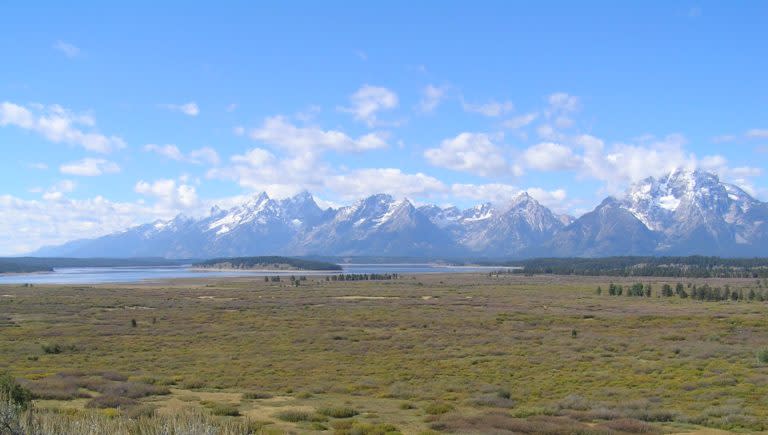 View of Tetons (photo credit: National Park Service)
The most direct (and scenic) route from Laramie to Yellowstone is to go through Lander, WY. For the direct route, you will head west on Interstate 80 from Laramie to Rawlins. For the most scenic route during summer, we highly recommend taking a detour across the Snowy Range Scenic Byway, aka Hwy. 130, west from Laramie toward Saratoga before reconnecting with Interstate 80 to Rawlins. From Rawlins, head north on Hwy. 287. Continue through Lander on Hwy. 287. Eventually, you will merge with Hwy. 191, a beautiful drive through Grand Teton National Park. It will take you all the way to Yellowstone's South Entrance. There is a $35 entrance fee to drive through Grand Teton National Park.
Through Casper, WY
For a slightly longer route with no additional fees, you can also travel to Yellowstone via Casper. Leave Laramie going northwest on Hwy. 30. In Medicine Bow travel north on Hwy. 487 until it junctions with Hwy. 220. Then travel north on Hwy. 220 toward Casper. From Casper, go northwest on Hwy. 26 to Thermopolis. From Thermopolis, take Hwy. 120 towards Cody. Cody is only about an hour away from Yellowstone's East Entrance.
Things to Do in Laramie
Why stop in Laramie? Laramie is a unique gem among Wyoming towns. It possesses all the western charm and natural beauty Wyoming has to offer, while still providing rich cultural and educational opportunities.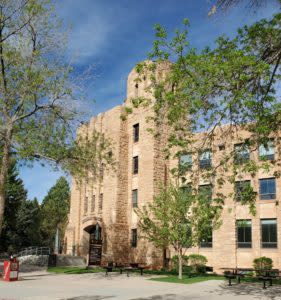 University of Wyoming
Part of what makes Laramie unique is the fact that it is home to Wyoming's only four-year university. The University of Wyoming draws a wide variety of international, cultural, artistic, and academic enterprises to Laramie in the form of museums, restaurants, and other businesses. 
The campus itself is certainly worth touring. Initially founded in 1886, the beautiful and stately buildings are surrounded by shady cottonwood and pine trees. You can download the Historic Campus Walking Tour Brochure. Several museums are located on campus, as well as restaurants, sporting events, and frequent concerts. 
Museums at the University of Wyoming
The University of Wyoming itself houses a treasure trove of museums and other opportunities for educational enrichment. Most of the museums are free of charge.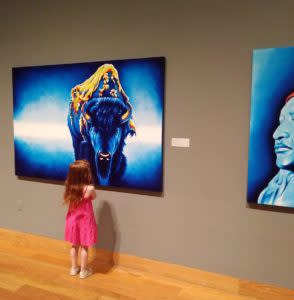 The UW Geological Museum is a fantastic space showcasing minerals, fossils, and the skeletons of several prehistoric creatures. The centerpiece is the 75-foot Apatosaurus skeleton.
The stunning architecture of the UW Art Museum encompasses a varied and changing collection of paintings, sculptures, and art experiences. 
The Harry C. Vaughan Planetarium is yet another terrific way to spend time on campus. This beautiful planetarium does regular shows depicting the solar system, constellations, and many other topics. 
UW also has an Anthropology Museum. This museum has various displays dedicated to hunter-gatherer societies from around the world, as well as local indigenous people. 
Other Laramie Museums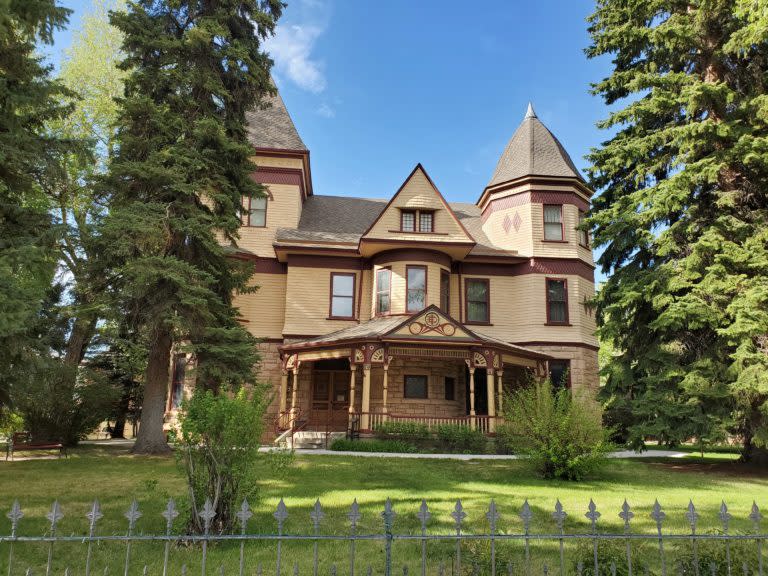 The Laramie Plains Museum at the Ivinson Mansion is another "can't miss" local museum. This museum of local and general Wyoming history is located in the exceptionally well-restored Ivinson Mansion. The three-story mansion was built by the notable Ivinson family in 1893. The museum also includes lovely grounds, a gift shop, and a frontier schoolhouse.
Of course, we can't forget the Wyoming Territorial Prison. This historic site was formerly both a territorial and federal prison that housed the notorious Butch Cassidy. Today you can tour the prison cells and extensive grounds. 
This isn't even all of the museums that Laramie and the area have to offer. To read more about the above-mentioned museums, as well as some additional gems, check out The Best Laramie Museums and Historic Sites and Top 5 Museums for Kids in Laramie.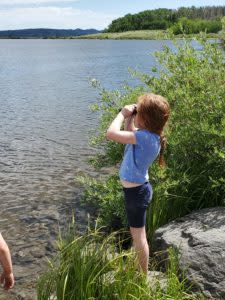 Natural Wonders
Yellowstone isn't the only amazing natural landscape in Wyoming. Stop in Laramie to whet your appetite for natural beauty. The Laramie area has so many great opportunities to enjoy the outdoors, camping, picnicking, hiking, boating, kayaking, fishing, and wildlife watching.
While Laramie is literally surrounded by outdoor adventure, three areas stand out. The first is Curt Gowdy State Park. If you are arriving in Laramie via Interstate 80, you can detour in Cheyenne to Happy Jack Road to experience this beautiful area. Curt Gowdy has three huge reservoirs for boating, fishing, kayaking, and paddleboarding. It also has miles of hiking trails and wonderful campsites.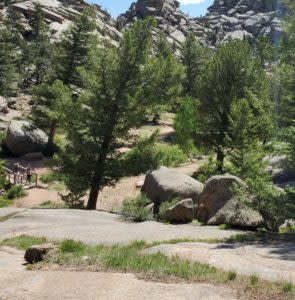 The second area is on Interstate 80, just a little closer to Laramie. Vedauwoo Recreation Area has breathtaking rock formations that transform it into an alien landscape. Vedauwoo is renowned for its rock climbing but also has great hiking trails and campsites.
The third area is west of Laramie, the stunning Snowy Range Area of the Medicine Bow-Routt National Forest. This huge national forest is home to abundant wildlife (some of the best moose habitat in the state), a myriad of lakes and rivers, and amazing hiking and camping opportunities. There is also the Snowy Range Scenic Byway which follows Hwy. 130 over the Snowy Range from Centennial to just south of Saratoga. If you are planning to get to Yellowstone via Lander, you can head north on Hwy. 130 after traversing the Byway to reconnect with Interstate 80.
For more details about the amazing wildlife, hiking, and outdoor adventure surrounding Laramie read Local Favorites—Laramie Hiking Trails and Nature Activities for Kids and Families.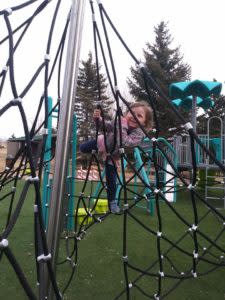 City of Laramie
If you are looking for a fun place to have a meal or stretch your legs, stop in Laramie. Laramie has a vibrant downtown with lots of shops and stores. It also has many beautiful parks and green spaces. Hungry? Laramie restaurants offer diverse cuisine that is always delicious.
Downtown 
In the downtown area of Laramie, you can enjoy one of the historical or mural walking tours. There are many great opportunities to shop at apparel, antiques, or art stores. There are fantastic restaurants, bars, breweries, and coffee shops. On Fridays, in the summer there is a great Farmer's Market with delicious produce, food trucks, music, and artisan wares.
Places to Eat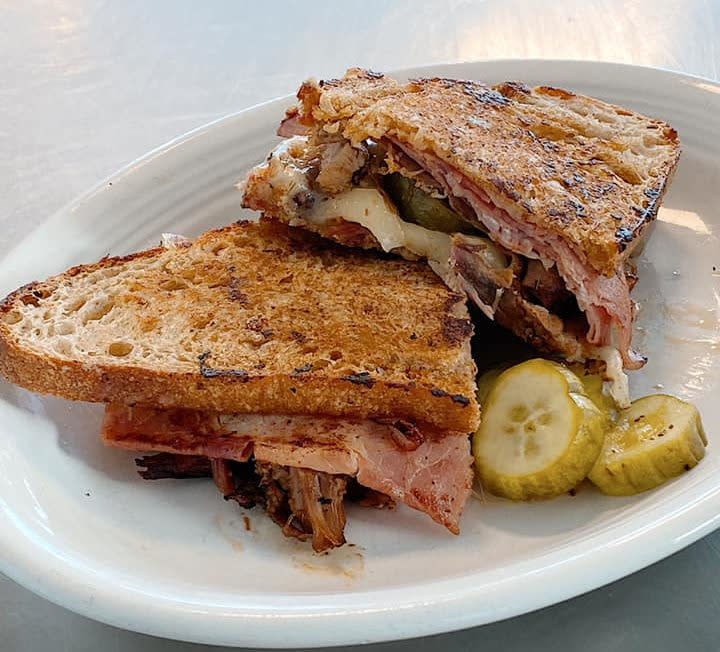 Laramie has so many restaurants and eateries to choose from. For classic steakhouse fare that is always fresh and delicious try Altitude Chophouse and Brewery or Wyoming's Rib & Chop House. If you are craving a sports bar atmosphere with delicious food, you can't beat The Library or Lovejoy's. For a more unique twist, sample the vegetarian dishes at Sweet Melissa  or the artisan sandwiches and pizza at Alibi. There are also the international options presented by Corona Village, Anong's, or Mizu Sushi.
To satisfy a sweet tooth, Big Dipper Ice Cream has delicious ice creams, sorbets, and gelatos. The Sugar Mouse is an adorable tea shop with traditional British treats, cupcakes, and more. To see more great places to eat view our Where to Dine page.
Where to Stay in Laramie
Need to break up the road trip and stay a night? Stop in Laramie overnight. Laramie has a fantastic variety of hotels, motels, camping, and cabins to make your overnight stay perfect. There are literally too many to list.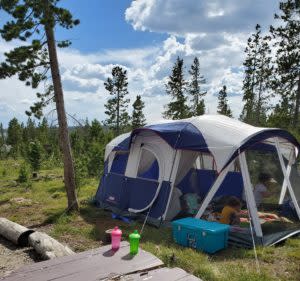 Camping and Cabins
As mentioned above, there are many fantastic campgrounds in Curt Gowdy State Park, Vedauwoo, and Medicine Bow-Routt National Forest. The Forest Service also offers cabin rentals.
Hotels & Motels
Laramie has many hotels and you are sure to find one to suit both your needs and your budget. If you are looking for a quick stop with a budget-friendly price, consider the Laramie Valley Inn. Or, if you want to enjoy a few more amenities, the Hampton Inn, Quality Inn & Suites, Americinn, and Days Inn all have indoor swimming pools, fitness centers, and complimentary breakfast. For a bit of luxury, stay at the Hilton Garden Inn or the Holiday Inn. Find the full list by clicking here.
Beyond Laramie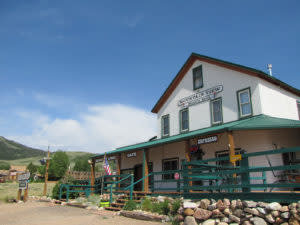 The area around Laramie provides additional lodges, hotels, and cabins. In Centennial, the gorgeous and historic Mountainview Historic Hotel and Cafe is a perfect place to stay while exploring the Snowies. Also in Centennial are the Old Corral Hotel & Steakhouse and the Mountain Meadow Cabins. For more information on these and other great places to stay please visit our Where to Stay page.
Without a doubt, Laramie is the perfect stopover on the way to Yellowstone. With so much to do, so many great restaurants, and so many wonderful places to stay Laramie is really a destination on its own. Stay in Laramie a while and enjoy all that we have to offer!
Note: Leah Veinbergs is an independent writer and the author of the blog Two Little Time. She is contracted by Visit Laramie. Views and opinions expressed here are her own and do not reflect those of the Albany County Tourism Board.