Laramie, Wyoming is a fantastic place to go hunting from. Whether you are an experienced hunter or a novice, there are hunting opportunities galore. The sheer variety of game animals makes this area a hunter's paradise—moose, elk, mule deer, white-tailed deer, and pronghorn. And the beautiful and expansive plains and mountains provide an amazing backdrop.  I never imagined myself as a hunter but began hunting pronghorn two years ago. My husband is a very experienced hunter and has taken elk, mule deer, and pronghorn in the Laramie area and has guided family from out of state on hunts as well. From an easy day-hunt for pronghorn to the backcountry pursuit of elk, there is something for everyone. Wondering what things to bring hunting? Try these top 10 fundamental pieces of hunting gear.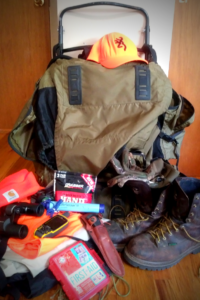 Hunting Gear
Essential Gear to Bring Hunting
First of all, what is "essential" is going to vary depending on the type of game animal, hunting area, time of year, and whether you are just hunting for the day or camping. For a day hunt, there are certain "must-have" items that will contribute to a safe, legal, and enjoyable hunt.
1. Hunting License and Conservation Stamp
It should go without saying that all hunters must have a hunting license. Also, hunters must purchase a conservation stamp annually. Proceeds from the conservation stamp are used to support habitat and wildlife projects. Hunters must carry their signed license and stamp on their person while hunting. You can find more information about how to apply for and purchase licenses and stamps at the Wyoming Game and Fish Department website.
2. Hunting Weapon
A regulation firearm and proper ammunition, or archery equipment, are essential components for hunting in Wyoming. The requirements vary by animal type and area. The regulations for archery and firearm equipment are quite complex. I recommend consulting the Hunting Regulations page on the Wyoming Game and Fish website to ensure compliance.
In certain areas, it is a good idea to carry a handgun and bear spray in case of an encounter with a bear or a mountain lion.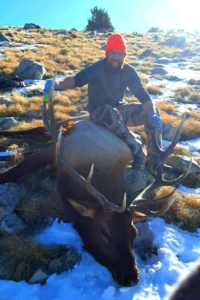 Big Elk Near Centennial
3. Backpack or Frame Pack
A backpack is very important for carrying all the necessary hunting gear. When hiking a long distance and, especially when pursuing large game like elk, a frame pack (backpack with a metal frame) will be indispensable. A frame pack provides additional support and distributes weight to hips rather than only shoulders and back.
4. Quality Knives
In order to properly field-dress game, pack a sharp hunting knife. For elk and deer hunting in more remote areas, it may be necessary to quarter the animal in order to pack it out in manageable portions. For both situations, a bone saw comes in handy. If quartering an animal be sure to pack out all the required portions, even if the meat is spoiled or bloodshot. See the Hunting Regulations page on the Wyoming Game and Fish website for more information.
Many hunters also bring an extra knife and a knife sharpener. My husband has had his knife break in the field mid-way through field-dressing a deer and can attest to the importance of a spare. Also, the incredibly tough hides of some large game animals will quickly dull even a newly sharpened blade.
5. Appropriate Clothing
Another important thing to bring is appropriate clothing. The type of clothing depends somewhat on the season and weather. As a basic guideline wear layers made of moisture-wicking fabric or wool. First, it is important to have a good base layer that will insulate you even if you get wet. Next, wear intermediate layers that you can add and subtract depending on the temperature. Finally, wear or pack an outer layer that provides protection from wind and rain. Make sure to bring a hat and gloves as well.
Three Generations Pronghorn Hunting
Additionally, it is paramount to have warm, insulated, waterproof boots that will provide your feet with adequate comfort, support, and traction. Make sure to have warm, wool socks to provide additional insulation. You may want to carry an extra pair in your pack just in case.
Of course, don't forget to wear blaze orange or fluorescent pink. Many hunters wear blaze orange or fluorescent pink hats and vests. The bright color provides visibility to other hunters and promotes safety. For more information see the Wyoming Game and Fish 2019 Hunting Guide .
6. GPS with a Wyoming Hunting and Fishing GPS Map
It is absolutely essential to have a GPS with the very latest land ownership and boundary information. Navigating Wyoming's wealth of state and federal lands, as well as combinations of public and private lands open to hunting in the form of Hunter Management Areas (HMAs), Walk-in Areas, Wildlife Habitat Management Areas (WHMAs) can be daunting without the aid of modern technology. You can purchase the Wyoming Hunting and Fishing GPS Map from the Wyoming Game and Fish Department Store. Be sure to check the regulations for each type of area you are planning to hunt as they all have their own set of rules.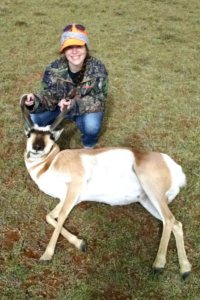 First Pronghorn
7. Binoculars
Binoculars are another crucial hunting tool in Wyoming. Spotting game in the wide-open spaces of Wyoming can be very difficult without proper optics. Getting up on a hill and glassing can be a very fruitful tactic. What's more, In certain hunting areas, there are regulations on the number of antler points for an animal to be legally taken. Binoculars are essential in determining if an animal can be legally taken in these areas. 
8. Survival Gear
When hunting, it is critical to be prepared for the unexpected. It is a good idea to bring snacks and plenty of water. Pack snacks that are easy to carry and have plenty of protein like energy or protein bars, jerky, or trail mix. 
Often overlooked, but very necessary, is toilet paper. Throw a roll in a Ziploc bag and add it to your pack. Add a lighter or a pack of matches and you have a fire-starter too. In the interest of general hygiene, anti-bacterial wipes and latex gloves come in handy for a variety of purposes, including clean up after field-dressing game.
Make sure to bring a small first-aid kit in case of injury, and single-use hand and foot warmers are great for cold fingers and toes. Don't forget a headlamp or flashlight in case you end up hiking after dark.
---
Non-essential, But Nice to Have
---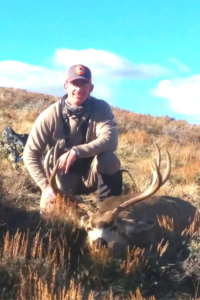 Big Mule Deer
In addition to the absolute essentials, there are several things that, while not vital, will make your hunting experience much more pleasant and successful.
9. Anemometer and Range Finder
The Laramie area is one of the windiest areas in the country. That, coupled with the relative openness of the terrain can necessitate shots far longer than hunters from other states are accustomed to. For shots beyond 200 yards, a range finder and an anemometer (wind speed gauge) are requisite for making an ethical shot. 
10. Paracord or Rope
Last but not least, a length of paracord or rope can be a very useful addition to your hunting pack. It can be used for securing gear and game to a pack, dragging game, and making in the field repairs to gear. My husband has had to channel his inner MacGuyver and use paracord as a belt, to repair a frame pack and a rifle sling in a pinch.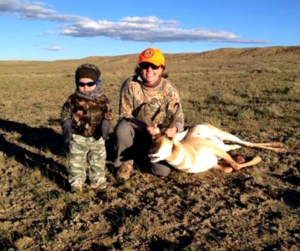 Mother and Son Pronghorn Hunt
These top 10 types of gear to bring hunting are important to keep in mind when hunting in Wyoming. For hunters who cannot supply their own gear and may prefer a guided experience, there are several outfitters in the Laramie area: Trophy Room Outfitters, Mill Creek Outfitting, and Bar Nunn Hunting, to name a few.  For more information on hunting in the Laramie area please see our hunting page on this site.
Note: Leah Veinbergs is an independent writer and the author of the blog Two Little Time. She is contracted by Visit Laramie. Views and opinions expressed here are her own and do not reflect those of the Albany County Tourism Board.