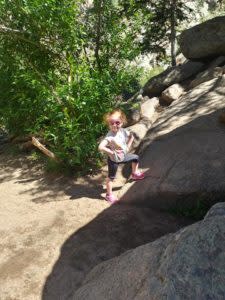 Fierce and Four in Vedauwoo
Wondering what you need to know to go hiking with kids in the Laramie area? Laramie is a fantastic area for hiking with kids. There are several different areas to hike, each with an abundance of trails. The diversity of hiking opportunities means that there is literally something for everyone - every age and every level of experience. Still, hiking with kids can pose some unique challenges and it is important to be prepared. Try these tips to have a memorable and successful hike with the whole family.
#1. Set Expectations
Sometimes, we as parents, just have unrealistic expectations. Before hiking with kids, think about your family and the ages, abilities, and experience levels of your children. Is your kiddo a four-year-old who's never been hiking before? Then it might be a bit too much to start with a five-mile backcountry hike up steep terrain. Conversely, your athletic, outdoorsy pre-teen might find a short stroll down a level path too boring.
Once you have a good idea of the type of hike you want to undertake, make sure to convey your expectations to your kids. Tell them as much as you can about the hike distance, terrain, and behavior expectations before you set out. For older kids, this can be a really great time to enlist them in the planning of the actual hike.
#2. Choose the Right Trail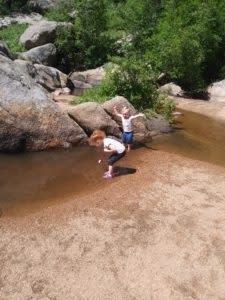 Splashing in the creek near Hidden Falls
As I mentioned, Laramie has tons of great hiking trails. The Medicine Bow-Routt National Forest offers picturesque trails with views of mountain peaks, lakes, and deep forests. Curt Gowdy State Park has miles of trails, beautiful reservoirs, and lots of activities. Vedauwoo Recreation Area provides well-maintained trails and a close-up look at unique geological formations.
My personal favorites for younger kids are Turtle Rock Loop in Veedauwoo, the hike to Hidden Falls in Curt Gowdy, and Lake Marie Trail in Medicine Bow-Routt. Lake Marie trail is an especially easy trail and is even paved. It is only .6 miles long and leads to a small waterfall (Lake Marie Falls). It is also easy access from the Snowy Range Scenic Byway.
For older kids, you may want to try a hike to the top of Medicine Bow Peak. Nevertheless, Medicine Bow Peak is doable even for very young hikers (I was once schooled by a kindergartener on this trail). It really just depends on your child's physical stamina, level of interest, and level of experience.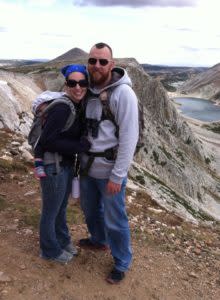 Medicine Bow Peak hike with a toddler in a carrier
For more information on specific trails and to help you plan your family hike visit the U.S. Forest Service Interactive Visitor Map, Visit Laramie: Hiking,  or Just Trails. These sites will tell you more about the length and difficulty of various trails. If you want to dry a guided experience, Laramie Base Camp offers outfitting and guiding.
#3. Gear Up
Having the right gear makes a big difference. This is especially true when going on longer hikes. The first thing is to make sure everyone has the proper footwear. Hiking boots or tennis shoes with good tread are a must. This is not the time for open-toed shoes.
If you are hiking with infants or toddlers, you may want to consider a child carrier. I hiked to the top of Medicine Bow Peak with my small one-year-old in an ergo baby carrier, which worked great.  Once the babies were older we switched to a frame backpack. If you don't have a frame backpack, you can always rent one from Laramie Base Camp.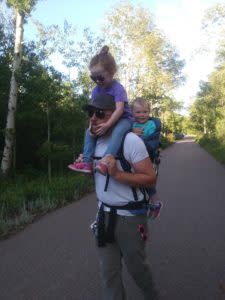 When the "big kid" gets tired you improvise
Other gear to consider includes backpacks, fanny packs, and hiking poles. You are certainly going to need some type of a backpack or fanny pack for the supplies you are bringing. The more weight you are carrying, the more important the quality of the backpack becomes. Hiking poles are certainly not essential but can be very helpful.
Whenever you head out on a hike it is essential to bring PLENTY of water. Hiking, especially at high altitudes, really works up a sweat and you can become dehydrated quickly. If you are hiking with young kids, make sure they are drinking periodically throughout the hike.
Snacks are also important. Even if you aren't planning a long hike, it is a good idea (and can be a good treat for little ones) to bring snacks. I recommend high-protein, non-perishable snacks such as trail mix, jerky, or granola bars. Fruit like oranges or apples also travel well and are another source of liquid. If you have an insulated pack and are planning a longer hike, it can be wonderful to pack a whole picnic.
For safety, it is important to apply (and bring along) sunscreen and bug spray. At high elevations the sun can burn you faster than usual, so use at least an SPF 50 that is sweat resistant. Don't forget to use a good insect repellant (preferably with DEET) to ward off mosquitos and ticks. Remember to check yourself and your children carefully for ticks once you are off the trail. It is also a good idea to bring along a small first aid kit. You never know when you might need some bandages or acetaminophen. 
#4. Dress For the Weather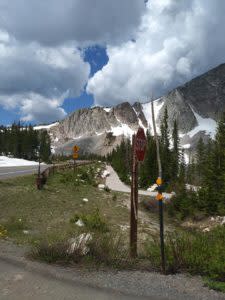 Still Snow in July
Dressing for the weather in Laramie basically means being prepared for anything. Be sure to check the weather report and consult the hourly breakdown for predicted weather. As we all know, weather predictions can be inaccurate, but it is still helpful to know as much as possible in advance.
The key to dressing for the weather is layers. For late spring, summer, or early fall hike I would recommend three layers. If you are planning a true cold-weather or winter hike you may need additional layers.
First, make sure everyone has a base layer that is comfortable in the heat. I usually recommend long pants regardless of the heat (too many rocks and logs to scrape on) and then a lightweight t-shirt or tank top. Next, add a middle layer. Depending on the weather predictions this might be a short-sleeved shirt on a hot day or a lightweight long-sleeved shirt for a cooler day. Finally, your third layer might consist of a lightweight shirt or jacket, or a heavier sweatshirt of a jacket. This, of course, is depending on the weather. If rain is predicted, include ponchos or other rain gear in your backpacks.
#5. Have Fun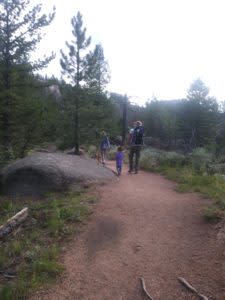 Turtle Rock Loop in Vedauwoo
This is the most important. Whatever happens, remember you are there to have fun and build memories as a family. Things may not go according to plan - in fact, with kids, I can pretty much guarantee they won't. But your kids won't remember if you didn't make it all the way to the end of the trail or if you had to carry one of them the whole way, they will remember the beauty of the natural world and the irreplaceable time spent together as a family. Happy Trails!
Plan your visit today! For more information on hiking in the Laramie area, or to find other things to do and places to stay, be sure to visit the Visit Laramie website.
Note: Leah Veinbergs is an independent writer and the author of the blog Two Little Time. She is contracted by Visit Laramie. Views and opinions expressed here are her own and do not reflect those of the Albany County Tourism Board.