Would you like to watch a herd of white-tailed deer bolt through a field, their signature white tails held high like flags? Or witness a stately bull elk standing regally in a mountain meadow? If the answer is yes, you need to visit Laramie, Wyoming! The Laramie area is home to an abundance of wildlife. There are many opportunities to encounter pronghorn (antelope), moose, mule deer, elk, and a plethora of bird life and small mammals. The area is also home to elusive predators like coyotes, black bears, and mountain lions. The Laramie area affords some of the best Wyoming wildlife viewing opportunities for those interested in everything from a casual mountain drive to an epic backcountry adventure, and fall is one of the best times for viewing.
---
Things to Keep in Mind when Viewing Wildlife
---
If you are planning a wildlife viewing excursion, there are a few things to keep in mind. First of all, generally speaking, the further you are from the hustle and bustle of civilization, the more likely you are to see wild animals. Animals are naturally shy of people and the accompanying road-noise, barking dogs, etc.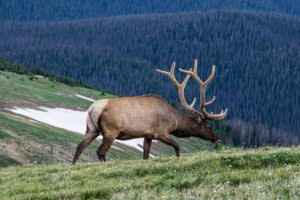 Credit: Dave Wilhite
Second, certain times of day are without a doubt better for seeing wildlife. The ethereal hours of dawn and dusk - roughly a half-hour on either side of sunrise and sunset - are prime viewing time for coyotes, elk, moose, and deer. Although you may see animals at other times of day (the prolific pronghorn are always out and about), your best chances are in the early morning and early evening.
Some seasons are also more optimal than others. In early spring you may see elk and moose, but they will likely have dropped their antlers. Once hunting season starts in the fall, animals also become more skittish. Mid-to-late summer and early fall are arguably the best seasons for wildlife viewing. 
Third, when viewing wildlife it is important to maintain proper respect for the animal and their habitat. This is for your safety as well as that of the animal. Never feed or approach a wild animal, and be sure to leave the natural habitat as you found it. Always keep a safe distance when viewing wildlife.
Fourth, keep in mind that seeing wild animals in their natural habitat is never guaranteed. Even in the backcountry, far from civilization, you might come up empty. What you are promised, however, is stunning scenery and a beautiful experience.
Next Up - Best Places in Wyoming for Viewing Wildlife
---
Short Excursions: Wildlife Viewing from Vehicles
---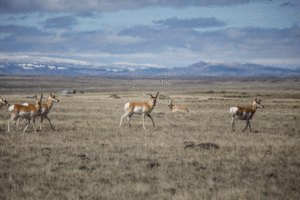 Taking a mountain or prairie drive is a great way to see some wildlife. There are plenty of animals you can see from the safety and comfort of your vehicle. This is an especially good option if you don't want to commit a lot of time and energy, if you have physical limitations, or if you have small children.
As noted, wild animals are more elusive in areas near busy roads, towns, or well-used campgrounds and trails. In order to maximize your opportunities, you will want to make sure to go out during peak viewing hours. Also, make sure to be as quiet as possible and keep your eyes peeled. I highly recommend bringing along binoculars, as any wildlife you are able to see may be further from the road.
Hutton Lake National Wildlife Refuge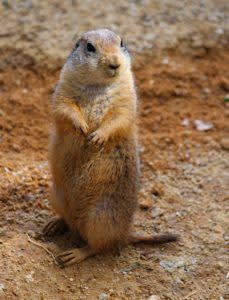 Credit: Smetana Dusan
The best animals to view from vehicles are pronghorn (often called antelope). Pronghorn are everywhere in the Laramie area. In fact, you often don't even have to leave the city limits to catch a few pronghorn munching on grass. One of the best places to view pronghorn, however, is out toward Hutton Lake National Wildlife Refuge, about 12 miles southwest of Laramie. This 1,968-acre refuge was established in 1932 to provide nesting and breeding habitat for birds and other wildlife. I have almost never failed to see a pronghorn out there. Additionally, 146 species of birds have been recorded at the refuge, as well as jackrabbits, coyotes, foxes, weasels, and an overabundance of prairie dogs.
Snowy Range Area
Another great area for viewing wildlife in the Laramie area is in the Snowy Range Area near Little Brooklyn Lake Guard Station and Brooklyn Lake Campground. This area is only about 35 miles from the city of Laramie on Hwy 130. You can easily drive into this area. I have seen several moose alongside the road driving into this area. I have also seen elk and mule deer near Little Brooklyn Lake Guard Station. Furthermore, it is a great spot for a picnic, fishing, kayaking or canoeing, or camping.
Just a little further on Hwy 130 (also called the Snowy Range Scenic Byway) is the Libby Flats Observation Area.  A stone observation platform and the stationary viewing glasses provide stunning views of Medicine Bow Peak, the Sierra Madre Mountains, and the Laramie Mountains. You are likely to see a few marmots sunning themselves on the rocks, and you may even see larger animals further away on the mountain slopes.
Jelm Mountain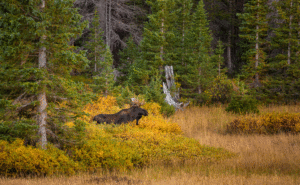 Credit: Brian Harrington
Approximately 40 miles southwest of Laramie on Hwy 230 is Jelm Mountain. The drive up the mountain provides possibilities for seeing mule deer, elk, and moose. There are even more opportunities if you are willing to take a short 10-minute walk to one of the many lookout areas. Stay alert, as there are some bear and mountain lions in the area. As an interesting side note, the Wyoming Infrared Observatory is located on the Summit of Jelm Mountain.
Sybille Canyon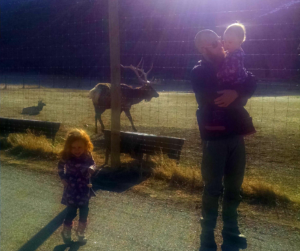 Tom Thorne and Beth Williams Wildlife Research Center Photo credit Leah Veinbergs
About 40 miles northeast of Laramie, on Highway 34, is Sybille Canyon. This breathtaking canyon is home to elk, mule deer, and bighorn sheep, as well as owls, birds of prey and many other animals. The Tom Thorne and Beth Williams Wildlife Research Center, located in the canyon, has enclosures on highway 34 that allow for viewing opportunities many of these amazing animals.
---
Day Trips: Wildlife Viewing on Short Hikes
---
Another fantastic way to take in the local fauna is to go on a short hike. Hiking for a couple of hours or even half a day is a great option for school-age children who are old enough to keep up and stay quiet enough not to scare away wildlife. Bring plenty of water, snacks, sunscreen, bug spray, and bear spray. Even if you are only planning on a very short hike, it is always a good idea to bring along emergency supplies just in case. See the Top 5 Tips for Hiking with Kids in the Laramie Area for more information and ideas.
Hiking Trails in the Snowy Range Mountains
As with viewing wildlife from roads, the more well-traveled the hiking trail the less wildlife you are likely to see. And, you will want to make sure that part of your hike overlaps with peak wildlife viewing hours. In the Snowy Range, Quealy Lake Trail and Shelf Lakes Trail (access from Lewis Lake Picnic Area) are usually less-traveled and therefore may present more chances to see wildlife. The Savage Run Wilderness of the Snowies has a resident elk population and several hiking trails running through it. You can view an interactive U.S. Forest Service map here.
Vedauwoo and Curt Gowdy
East of Laramie on I80, Vedauwoo Recreation Area,  Happy Jack Recreation Area, and Curt Gowdy State Park offer many more easy and moderate hiking trails. The area around Vedauwoo and Happy Jack is known for mule deer and moose, while Curt Gowdy has white-tailed deer.
---
Epic Adventure: Backcountry Wildlife Viewing
---
The very best opportunities to see wildlife are usually farther from civilization. However, backcountry hiking is not for the novice. This type of adventure lasts at least an entire day or perhaps several. It also requires significantly more knowledge, experience, and supplies. However, if this is your type of wildlife experience, the Laramie area has plenty to offer. 
Snowy Range Area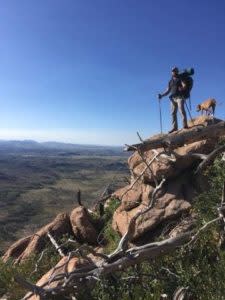 Laramie Peak Area Photocredit Aaron Thompson
The Snowy Range certainly has plenty of obscure trails to conquer and probably the greatest wildlife viewing in the area close to Laramie. A combination of Sheep Lake Trail, Gap Lakes Trail, and Lost Lake Trail (starting from the Brooklyn Lake Trailhead/ Campground), will take you on an approximately 12-mile tour of the alpine lakes of the Snowy Range. This hike also provides access to the Shelf Lakes Trail for an out and back addition. 
Laramie Peak Area
If you are willing to go a bit further away from the city of Laramie, the Laramie Peak Area is another wonderfully wild place to keep in mind. Access Laramie Peak near Friend Park Campground or Bear Creek Road and Arapahoe Trail Road for rugged terrain, sweeping vistas, mule deer, elk, turkey, grouse, and almost any other Wyoming animal you can think of. This area is a bit further from Laramie itself (between 80 and 100 miles) depending on the access. Despite the distance, this stunning wilderness is well worth the drive. For more information on backpacking, see our 6 Tips for a Successful Hiking and Backpacking Trip in Wyoming.
Undoubtedly, the Laramie area is a great place for visitors of all sorts to enjoy the wonder of the natural world. From birds of prey to jackrabbits, pronghorn to elk, there is so much to see. Whether you want to take a short evening drive, go for a picnic hike, or backpack for a week, there is something to suit you. The opportunities for viewing wildlife in the Laramie area are truly amazing. Visit our website for more information on how to plan your visit to Laramie.
Note: Leah Veinbergs is an independent writer and the author of the blog Two Little Time. She is contracted by Visit Laramie. Views and opinions expressed here are her own and do not reflect those of the Albany County Tourism Board.