Sitting around a crackling campfire, listening to the whisper of wind through the pine trees, under a star-studded sky—what could be better? Camping in Wyoming is a magical experience. Whether you are an experienced or a novice camper, here are six important things to know before embarking on a Wyoming camping trip.
---
1. It is Important to Be Bear Aware
---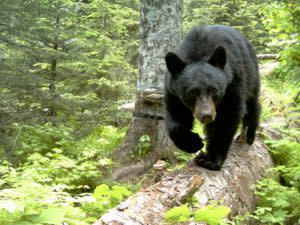 You don't want this guy to visit your campsite! (photo credit U.S. Forest Service)
Camping in Wyoming involves a true adventure in the wild. There are many wild animals in the Laramie area, including potentially dangerous animals like bears. While most animals are shy and will avoid humans, bears are sometimes attracted to campsites where they may find food. 
To protect yourself from unwanted guests, make sure to properly secure food and trash at night and when you are away from your campsite. This means storing food in a bear-safe canister, hard-sided vehicle, or suspended on a tree branch at least 10 feet off the ground and 4 feet from the tree trunk. Trash should be disposed of in a bear-proof trash can (if provided at a campsite) or stored the same as food. Never store food or trash in a tent. For more on bear safety please see the U.S. Forest Service Be Bear Aware.
---
2. The Nights Are Cold
---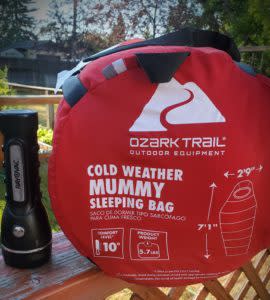 Warm sleeping bags are a must for camping in Wyoming! (photo credit Leah Veinbergs)
We discovered this on our first high-altitude camping trip in the Snowies. My kids and I were equipped with only cheap polyester sleeping bags and, despite the 80-degree daytime temps, we FROZE when the sun went down. 
The high altitude and low humidity of this area mean that there are large temperature swings from day to night. If you are sleeping in a tent or other un-heated vehicle, it is important to plan for this. A good quality sleeping bag that will keep you warm at low temperatures is very important. If you can't invest in a high-quality sleeping bag (they can be pricey), make sure to bring extra blankets. 
An often overlooked warmth factor is ground insulation. When you are sleeping in a tent, the cold that seeps up from the ground is just as chilling as the air. While good cushion, regular air mattresses do not provide insulation, the air inside the air mattress will be just as cold as the ground, and so will you. Invest in insulating sleeping pads. High-quality inflatable pads are the best, but can also be pricey. Walmart sells inexpensive foam mats that can be helpful if you don't wish to purchase an expensive sleeping pad. These can also be used on top of a regular air mattress for the best of both comfort and warmth.
It is also a good idea to wear warm sleeping attire. Wool base layers and wool socks offer the best insulation. Also, a hood or hat is a great idea if you don't have a "mummy" sleeping bag. 
---
3. The Weather is Unpredictable
---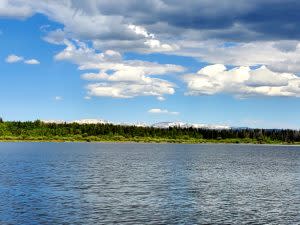 Rain clouds moving in. (photo credit Leah Veinbergs)
There is a saying in Wyoming that if you don't like the weather, just wait a minute. It's true. Wyoming is known for its erratic weather. You can't always trust the forecast. When camping, it is important to be prepared for rain or shine, warmth or cold.
When packing for your camping trip, make sure to bring enough clothing to accommodate the changing conditions. A good wool base layer is recommended not only for sleeping but also for chilly or wet days. Wool will help to insulate you and keep you warm even if you get wet. Additionally, bring plenty of clothing, so that you can have warm, dry clothing to change into if you do get wet. This includes multiple pairs of shoes too—nobody likes wet feet. And, of course, a poncho or rain gear is a life-saver. When away from your campsite, dress in layers in case the weather changes while you are hiking or boating.
Another often overlooked camping necessity are tarps. This is particularly true for tent campers. Tarps will come in very handy in the rain. A tarp strung over your tent gives you a bit of additional weather-proofing. A tarp under your tent provides a bit of extra insulation and protection against the cold, damp ground. Toss a tarp over your firewood to keep it from getting soaked. Or string a tarp up over your picnic table and firepit so you can keep your cooking and eating area dry. Of course, there are also awnings, canopies, and screened in gazebo tents that can be purchased for this purpose as well.
---
4. It is Windy
---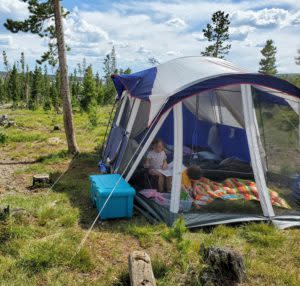 Remember to properly stake your tent and rainfly. (photo credit Leah Veinbergs)
Along with unpredictable weather, camping in Wyoming brings unpredictable wind. On a recent camping trip, we witnessed the Wyoming wind in action. Some nearby campers neglected to stake down their tent sufficiently. A huge gust of wind sent their tent, and the tarp it was on, soaring over the treetops. Thankfully, the tent came down only a few campsites away, but I don't think they ever found their tarp. 
Wyoming wind is gusty and strong. Even in seemingly sheltered places among trees, the wind can wreak havoc. Always stake your tent down thoroughly. Use metal or aluminum stakes whenever possible If your tent comes with plastic stakes, you can buy additional stakes on Amazon or even Walmart. Make sure to stake down your tent and rainfly using all the provided loops and guylines. If it is particularly windy or expected to become windy, stake down your tarp as well.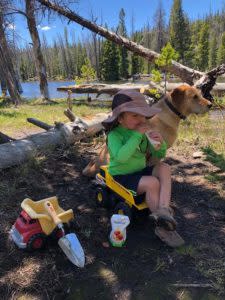 Lunch in the shade. (photo credit Brittany Thompson)
---
5. Altitude Increases UV Intensity
---
Sunscreen might seem like a no-brainer, but it is important to note that the high altitude of the Laramie area increases your UV exposure. Make sure to use a sunscreen with an SPF of 30. Sunscreens that contain zinc oxide or titanium dioxide are even better because they provide a physical barrier between yourself and the sun. Also, you will want to reapply your sunscreen throughout the day, particularly if you are in water or sweating. Wear long sleeves, pants, and a hat whenever possible. 
---
6. Fire Danger is Real
---
Campfires are one of the best parts of camping. (photo credit Leah Veinbergs)
Forest fires are a real danger in any wooded area. It is vital that all campers and hikers do their part to prevent forest fires. Always build a campfire in either a dedicated fire ring or a properly prepared fire area. The U.S. Forest Service offers these tips for Building A Safe Campfire. Always make sure to have a shovel and a large container of water on hand. It should go without saying, but make sure your campfire is 100% out before leaving the area. For more tips on preventing accidental fires see the U.S. Forest Service Fire page.
Most of the areas for camping around Laramie are regulated by the U.S. Forest Service or Wyoming Game and Fish.  Whether you are camping in a developed campground or doing dispersed camping, it is important to know the most updated regulations and restrictions for your area. For example, if fire danger is considered high, the forest service may institute restrictions on where fires can be built and even whether or not chainsaws can be used. Campgrounds or dispersed camping areas may be closed due to issues like falling beetle-kill trees or maintenance operations. Before leaving on your camping trip always double-check the webpage for your chosen camping area or call the Forest Service office. To find more information see the U.S. Forest Service Destinations page.
Without a doubt, camping in Wyoming is a wonderful way to enjoy nature and make memories. With a little planning and preparation, you are sure to have a safe and fun trip. For more information on camping in the Laramie area visit Camping in the Snowy Range Mountains and Vedauwoo. You may also enjoy: Camping With Kids in the Laramie Area, How to Spend a Weekend in the Snowy Range, and Local Favorites – Laramie Area Hiking Trails.