Wyoming Summer Water Activities for Families: Summer in Laramie means crystal-clear blue skies, gorgeous sunshine, and amazing summer water activities for the whole family. There are plenty of great ways to beat the heat and have fun in Laramie. Don't miss out! Check out this family water activities itinerary.
---
Swimming
---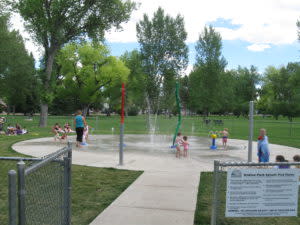 Undine Park Splash Pad (photo credit Laramie Parks and Rec)
What says summer more than a dip in a nice cool pool? The Laramie Parks and Recreation Department maintains three terrific places to splash, swim, and cool off. For details about each facility as well as hours of operation and closures please visit the Parks and Recreation homepage.
Laramie Recreation Center
The Laramie Recreation Center is the perfect place to enjoy a sunny (or even a rainy) day! With both an indoor and outdoor leisure pool, the rec center is ready to accommodate whatever the weather brings. Both pools have terrific water features to appeal to a variety of ages. There are water slides, water cannons, and even a lazy river. The rec center also has a lap pool and hot tub to appeal to teens and adults. All pools are monitored by well-trained lifeguards. 
Washington Park Wading Pool
Another terrific option for summer water activities is the Washington Park Wading Pool. This free pool is fenced and monitored by a lifeguard. The pool is perfect for little kids and has a fun water feature that rains down water while kids play. Besides the pool, there is plenty of other fun at Washington Park, with several playgrounds and picnic areas, a walking path, a basketball court, and more.
Undine Park Splash Pad
Not to be outdone, Undine Park Splash Pad is also an awesome place to cool off on a hot day. The splash pad has several water sprayers, water cannons, and fountains on a paved surface. After the splash pad, enjoy a picnic in this beautiful, shady park, play on the playground, or take advantage of the tennis, volleyball, and basketball courts.
---
Boating, Canoeing, Kayaking & Paddle Boarding
---
The lakes and reservoirs around Laramie provide ample opportunity to enjoy a variety of water sports and summer water activities. There is nothing quite like gliding along the still waters in a canoe or zipping over the waves in a motorboat.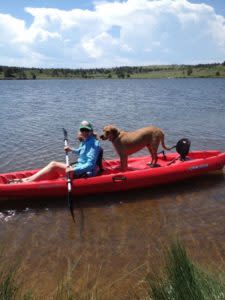 Kayaking on North Crow Reservoir at Curt Gowdy (photo credit Aaron Thompson)
Curt Gowdy State Park
Curt Gowdy State Park has a variety of hiking trails, campsites, and picnic areas, but the three reservoirs are the big draw. Boaters, kayakers, and paddle-boarders flock to this spot to enjoy the water, fishing, and beautiful scenery. Don't have your own kayak or paddleboard? Don't worry, Laramie Basecamp in Laramie rents inflatable kayaks and paddleboards (as well as a variety of other gear).
Medicine Bow-Routt National Forest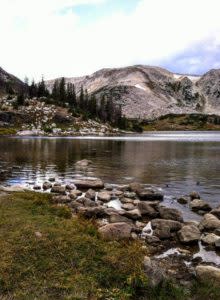 Lake Marie (photo credit Leah Veinbergs)
Kayakers and Canoeists know that peaceful pristine waters await in Wyoming's Snowy Range area of Medicine Bow-Routt National Forest. There is a myriad of beautiful glacial lakes in Medicine Bow-Routt National. Some favorites for canoeing and Kayaking are Mirror Lake, Lake Marie, Lewis Lake, Brooklyn Lake, and Little Brooklyn Lake. Motorboat enthusiasts will enjoy Rob Roy Reservoir and Lake Owen. Find more information about recreational activities in the national forest here.
---
Fishing 
---
The fishing in the Laramie area is astounding. With an abundance of stocked lakes, streams, and rivers, the fishing here is sure to delight both the novice and the expert.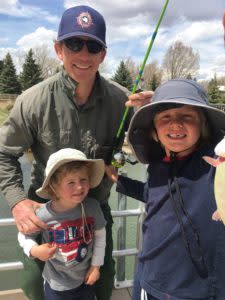 Fishing at Huck Finn Pond (photo credit Brittany Thompson)
Huck Finn Fishing Pond
If you are looking to keep it simple, Huck Finn Fishing Pond in LaPrele Park is a great place for budding fishermen. Kids 13 and under can enjoy this well-stocked pond. Incidentally, it's also a great place to find crawfish. Conveniently located in town, LaPrele Park also has a public restroom, picnic areas, a brand new playground, and a Frisbee Golf course.
Fishing in the Wild
Alternatively, for a more authentic experience (and for adult fishing), there are many wonderful places for both bobber and fly fishing. Medicine Bow-Routt National Forest has terrific fishing in its regularly stocked waterways.
Rob Roy Reservoir and Lake Owen (mentioned above), as well as the "Plains Lakes" (Lake Hattie, Twin Buttes, Galett, and Meeboer) allow for motorized water-craft and have boat ramps. However, many lakes and streams are accessible without any sort of boat. Mirror Lake, Lake Marie, Lewis Lake, and Little Brooklyn Lake (also mentioned above) are just a few great places to fish.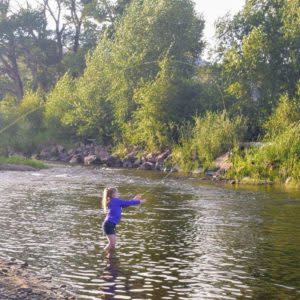 Fly-fishing in the Little Laramie River (photo credit Emily Cuin)
The Little Laramie River is a terrific place for fly fishers. While much of this river does run through private land, it can be publicly accessed in a variety of places. Optimist Park and the Greenbelt in west Laramie provide access from right in town. There is also public access from Monolith Ranch, Wyoming Game and Fish access points near Jelm and off Hwy 130, and through BLM and USFS land near Wood's Landing. For more information on fishing in the area be sure to visit our fishing information page.
Without a doubt, Laramie has an abundance of summer water activities for families to enjoy. So grab a fishing rod or swimsuit (and don't forget the sunscreen) and come experience all that  Laramie has to offer.
You may also enjoy Laramie Summer Family Itinerary, Social Distancing Road Trip, How to Spend a Weekend in the Snowy Range, and Summer in Laramie: Fun Activities for Kids and Families.
Note: Leah Veinbergs is an independent writer and the author of the blog Two Little Time. She is contracted by Visit Laramie. Views and opinions expressed here are her own and do not reflect those of the Albany County Tourism Board.