Are you looking for the best sports bar in Laramie to watch football on TV? What could be more fun than taking in a University of Wyoming sporting event and cheering on the Pokes? Yes, it's true, college football season is just about finished. However, basketball season is in full swing. Obviously, the best place to cheer on the Cowboys is from the stands. However, even die-hard fans cannot always attend away games, and must even miss out on home games from time to time. Rooting for your favorite team is always better with other fans. Even if you can't be there in person, you can still try out one of these top five Laramie Sports Bars.
---
1. The Library Sports Grille & Brewery
---


Brown and Gold at The Library Sports Grille & Brewery (photo courtesy of The Library)
First on the list of great Laramie sports bars is the iconic The Library Sports Grille & Brewery. One of the most popular places to watch UW games (or any sporting event), The Library boasts several big-screen TVs in both their bar and restaurant sections. There is plenty of room for a crowd and the atmosphere is always laid back and fun. 
When it comes to food, The Library is one of the best restaurants in town. They have great salads, delicious sandwiches, paninis and wraps, and fantastic burgers. They also have a huge selection of amazing and unique appetizers like mac and cheese bites and fried pickles. The Library Brewery produces beers that are as unique and delicious as their menu. Enjoy craft beers, cocktails, and delicious pub food as you cheer the Cowboys to victory. A perfect place to view the New Year's Eve bowl game! See The Library Facebook page for upcoming events and specials.
---
2. Bond's Brewing Company
---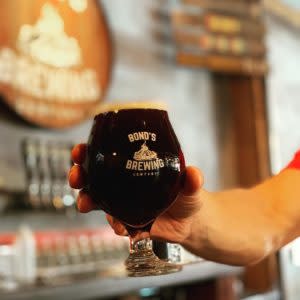 Unique and delicious brews at Bond's! (photo courtesy of Bond's Brewing Company)
Next, a comparatively new addition to Laramie's brewpub and sports bar scene. Bond's Brewing Company offers original beers for a variety of tastes. Personally, I can't get enough of the Rhuberry! They often have food trucks available outside the pub to satisfy your hunger. Their wide-open and inviting space makes Bond's an ideal place to catch the game with a group of friends. 
Come throw back a few brews and watch the New Year's Eve bowl game at Bonds while you enjoy the delicious Chacho's Tacos Food Truck from noon until 7:00. Stay tuned to the Bond's Brewing Facebook page for announcements.
---
3. Wyoming's Rib and Chop House
---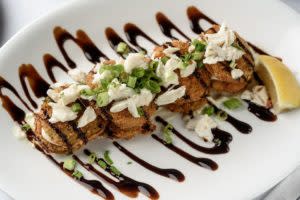 To-die-for Fried Green Tomatoes (photo courtesy of Wyoming's Rib and Chophouse)
Want to watch the game while enjoying a more upscale menu? Check out Wyoming's Rib and Chop House in Laramie. Offering creative takes on the traditional steakhouse menu, Rib and Chop's menu is sure to wow. You can't miss with any of their delicious steaks or other entrees, not to mention the fried green tomato appetizer is absolutely to die for. Rib and Chop's bar area is a great place to watch the Cowboys—or any of your other favorite teams—while enjoying delicious food and fantastic drinks.
Rib and Chop House will be showing the UW New Year's Eve bowl game, as well as all the other bowl games. What better way to ring in 2020 than an evening spent at Rib and Chop? Keep an eye on the Wyoming Rib and Chophouse Facebook page for upcoming specials.
---
4. Roxie's on Grand
---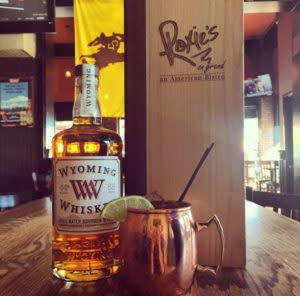 Just one of many tasty libations available at Roxie's (photo courtesy of Roxie's on Grand)
Yet another awesome Laramie sports bar and restaurant, Roxie's on Grand is a great spot to watch UW in action. Roxie's offers tasty bar and grill style food (you must try the pizza), craft beer, and delicious cocktails. Multiple big-screen T.V.s and a large upstairs space provide a great way to view the Cowboys! Roxie's also has a delicious Sunday brunch complete with Mimosas and Bloody Mary's.
On New Year's Eve, Roxie's will be hosting a watch party on both floors—complete with dynamite food and drink specials and "tailgate games." Checkout the Roxie's on Grand Facebook page for more details.
 
---
5. Third Street Bar
---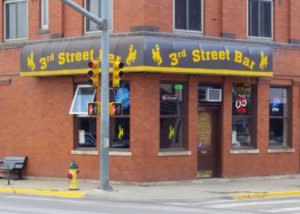 Third Street Bar in the heart of downtown Laramie (photo courtesy of Third Street Bar)
Finally, no list of Laramie sports bars would be complete without the Third Street Bar. This local favorite has generous drinks and the true college-town sports bar atmosphere. Often a standing room only venue, come here to cheer on the Cowboys with the true die-hard Cowboy's fans. Whether you watch the whole game from one of their booths or stop in for a victory toast, make sure to visit Third Street Bar. Check out the Third Street Facebook page for more information.
There are many other terrific bars and restaurants to watch the bowl game and other upcoming sporting events (see our "Where to Dine" listing of Laramie restaurants). Besides the Cowboys, the sports bars regularly show other college sports, NFL games, NBA games, and a plethora of other sporting events. 
Whether you decide to spend the evening at one or several of these amazing locales, be sure to celebrate the New Year and (hopefully) a Cowboy victory surrounded by fans who bleed brown and gold while enjoying one-of-a-kind food and beverages. Happy New Year! Go Cowboys!
  Note: Leah Veinbergs is an independent writer and the author of the blog Two Little Time. She is contracted by Visit Laramie. Views and opinions expressed here are her own and do not reflect those of the Albany County Tourism Board.