Laramie, Wyoming is famous for its beautiful mountains, terrific hiking, and other outdoor opportunities. However, Laramie also has several museums. These museums are dedicated to not only history, but also dinosaurs, art, and astronomy. If you are planning a visit to Laramie, there are several family-friendly museums that are a must-see. They are wonderfully entertaining as well as educational. Don't miss these top 5 museums for kids and families!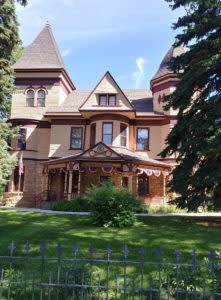 The Historic Ivinson Mansion
1. Laramie Plains Museum and Ivinson Mansion
The Laramie Plains Museum and Ivinson Mansion is the epicenter of history in Laramie. The beautifully restored historic mansion was originally built by Edward and Jane Ivinson in 1893. The Ivinson family left a lasting legacy in Laramie through their various business and philanthropic ventures in the area. Their impact and influence can be seen around town in not only the mansion and museum but also in the Ivinson Memorial Hospital, Ivinson Avenue, Ivinson Home for Ladies, and other namesakes.
Perfect Museum for School-Aged Kids
Personally, I would recommend this museum for older children (6 and up). It is absolutely one of the best museums for kids, but the fragile artifacts might prove too tempting to little hands. However, for school-aged children with an interest in history, the Laramie Plains Museum is fantastic. The three floors of the mansion are filled with turn-of-the-century memorabilia and interesting information. There is an extensive collection of photographs of western life, gun collection, antique toy collection, textile collection, and other exhibits on women's suffrage, Native Americans, and the old west.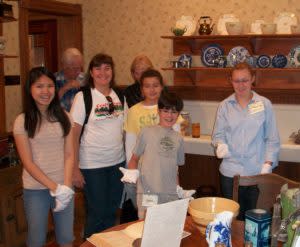 Junior Docents leading a tour of the Ivinson Mansion (Photo c/o of Laramie Plains Museum)
Great Tour Guides
Your tour of the mansion may be led by one of the museum's exceptionally trained junior docents. These tour guides begin volunteering with the museum the summer before 8th grade, and many continue to volunteer their time and lead tours throughout high school. Thus, they are extremely knowledgeable and give excellent and entertaining tours. Tickets for adults are $10.00, students are $5, and children under 6 are free. There are a variety of additional discounts described on their webpage.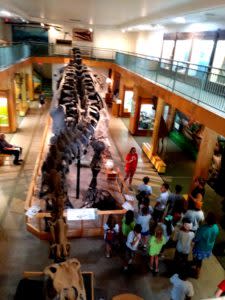 UW Geological Museum
2. University of Wyoming Geology Museum
The University of Wyoming Geological Museum, located on the UW campus, is a favorite with my dinosaur-loving kids! This museum is definitely one that can entertain even very young patrons. I first took my kids to this museum when they were only two and four-years-old, and they loved it. The exciting dinosaur fossil displays and hands-on exhibits make this one of the best museums for kids.
Amazing Exhibits for All Ages
The museum is indeed jampacked with great exhibits. It houses full and partial fossil bones of an allosaurus, apatosaurus, triceratops, tyrannosaurus rex, stegosaurus, and mammoth, among others. They also have a wonderful exhibit of gems and minerals. Kids will love the museum scavenger hunt worksheets that take them on an interactive tour of the museum. My three-year-old's favorite was the Augmented Reality Sandbox, which allows kids to shape mountains and valleys. A camera and Kinect project topographical lines and colors showing elevation onto the sand. Check out this University of Wyoming YouTube Video to see how it works.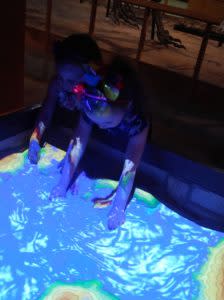 Augmented Reality Sandbox
A new addition to the museum is their augmented reality app and cards. To use, simply download the WyoFossil Augmented Reality app from the link provided on the museum webpage and use it to scan QR codes on various cards found at the museum. The cards and app provide visitors with a view of a 3D model of different fossils, as well as interesting facts and details.
"Friday Funday"
What's more, if you visit in the summer, every Friday from 11:00 to 2:00 is "Friday Funday." These special days offer wonderful, kid-centered activities and crafts. Some of the activities this summer have included erupting a volcano, making a fossil cast, and identifying rocks and minerals. Admission to this wonderful museum is free, so don't hesitate to plan a visit.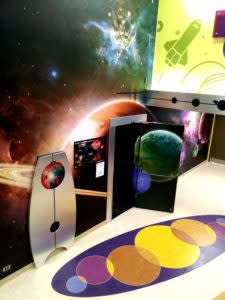 Entrance to the Harry C. Vaughan Planetarium
3. Harry C. Vaughan Planetarium 
The Harry C. Vaughan Planetarium is also located on the University of Wyoming campus. It is right near the Geological Museum, so combining the two into one trip is ideal. The planetarium offers a variety of shows for different ages and interests as well as a rooftop star observatory (open the first and third Friday from 8-9:30).   Tickets are $4 and children under 5 are free. For more information about specific shows and times, or to purchase tickets, be sure to visit the webpage.
Kid-Themed Shows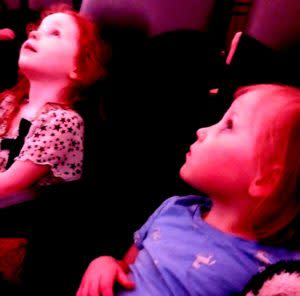 Captivated by the stars . . .
On the 2nd and 4th Saturday of the month, the planetarium has shorter and more kid-centric shows followed by free activities. These Saturday kid's shows are perfect for preschoolers and toddlers. I have brought my kids to several planetarium shows and they are always mesmerized. Recently we attended the kid-themed Heroes, Villains, and Emus show. This particular show focused on constellations and some of the myths and legends behind them. As always, the show was visually stunning. Following the show, kids had the opportunity to make a "Nebula in a Jar," which was a really simple and fun craft. My girls had a great time.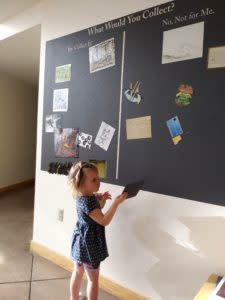 An interactive activity at the UW Art Museum
4. University of Wyoming Art Museum
The University of Wyoming Art Museum is another wonderful (and free) museum for kids. Again, this is a museum I would recommend for school-aged children rather than babies and toddlers. Although my five and three-year-old did enjoy it, we made the visit intentionally short. Of course, if you are attending one of the many family-friendly events that the museum hosts, by all means, bring the littles as well.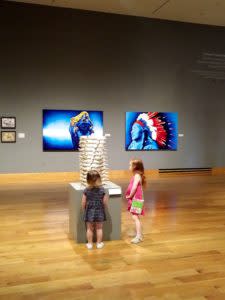 Checking out the exhibits in the Friendship Gallery at the Art Museum
Art and Architecture
Housed in the spectacular Centennial Complex, along with the American Heritage Center, the museum itself is a work of art. The building is in the shape of a teepee and encompasses a gorgeous interior as well. The museum showcases a variety of traditional and modern art. Wandering through the quiet galleries is a tranquil and bewitching experience that had even my boisterous kids enthralled (and quiet). Be sure to visit the museum webpage for more information on exhibits and other events.
5. Wyoming Territorial Prison
I don't know if I can say I saved the best for last (because these museums are all fantastic), but the Wyoming Territorial Prison is truly a treasure among museums for kids. Built in 1872, the imposing stone prison and wooden stockade are interesting reminders of the lawless wild west. The building was in operation for 30 years, first as a federal prison and then as the Wyoming State Penitentiary.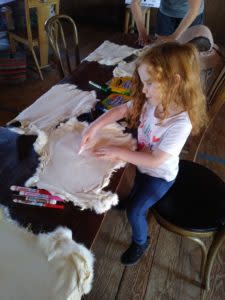 "Painting" a rabbit skin at the Archaeology Fair
Wild West History
Your family can explore real prison cells and read stories of real convicts—including Butch Cassidy. You can also tour other exhibits and restored historical buildings. There is even a nature trail and a scenic overlook on the Big Laramie River where you can view many species of birds, animals, fish, and insects. The museum is open year-round for self-guided tours. The staff provides guided tours in the summer. Admission is $7 for adults, $3.50 for kids 12-17, and it is free for 11 and under.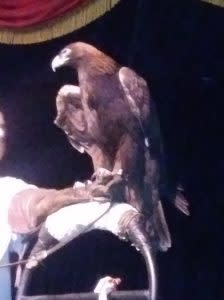 Golden Eagle from the Rocky Mountain Raptor Foundation at the Spring Exploration Event
Free Kid's Events
My favorite thing about this museum is the many fun and free family events they host throughout the year. These awesome events are interesting for kids of all ages and provide plenty of hands-on activities. In particular, my kids loved the atlatl throwing and Native American tribal dancers at the Archeology Fair. The pumpkin painting and games at the Pumpkin Walk were also lots of fun. Not to mention, the raptor show at the Spring Exploration Event was especially interesting. Older kids and teenagers are sure to enjoy Halloween themed Dark Cells: Haunted or Hoax.
So Much To See
Clearly, there are tons of fun and educational things to do in Laramie. While the above museums are my favorites for kids, they are certainly not the only museums, historical sites, and cultural attractions that Laramie has to offer. For a complete list of all the museums in Laramie, visit our website. Also, check out Summer in Laramie: Fun Activities for Kids and Families and Snowy Range Scenic Byway and The Saratoga Hot Springs for more fun things to do during your trip to Laramie.
Note: Leah Veinbergs is an independent writer and the author of the blog Two Little Time. She is contracted by Visit Laramie. Views and opinions expressed here are her own and do not reflect those of the Albany County Tourism Board.