The nip in the air has turned to a bite. The beautiful landscape is blanketed in white. Laramie's dazzling and fleeting fall has come to an end. It is tempting to lament the end of the warmer months and the beginning of the long, cold winter. No matter! The Laramie area has just as many indoor family activities to fill your winter days!
Contents
Indoor Physical Activities Cultural and Educational Activities - Museums - Music, Theater and Dance Performances - Hands-on Art Additional Fun and Entertainment
---
 Indoor Physical Activities
---
LEAP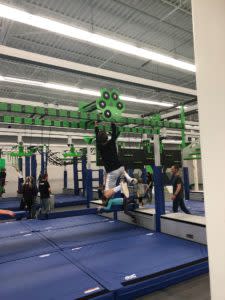 LEAP Ninja Warrior Gym (photo courtesy of LEAP)
The newest addition to Laramie's indoor recreation options, LEAP is an AMAZING way to stay active during the cold months. LEAP is an indoor "Ninja Obstacle Course" that caters to a range of fitness levels from kids to adults. You can take a class or come to an "open gym." They have day-pass, punch card, or monthly membership options, as well as party and special event packages. Check out their webpage for more information!
Laramie Recreation Center and Ice & Event Center
The Laramie Recreation Center is another awesome option for both kids and adults. There is a terrific indoor leisure pool, complete with waterslides, a lazy river, and other water features. Take advantage of the 8 lane lap pool, one of the basketball courts, the indoor walking/running track, the plethora of workout equipment and machines, or a drop-in fitness class to get your heart pumping. After you're done, relax in the hot tub, steam room or sauna. Day passes or various membership options are available. See their website for more information.
Additionally, the Laramie Ice & Events Center is located right next door to the Rec Center. This wonderful facility often hosts fun performances, competitions, and other events. Take in a hockey game or watch the Naughty Pines Derby Dames compete in roller derby. Want to try hockey, broomball or curling? The Ice and Events Center offers drop-in options and leagues. Of course, there is public skating most weekends and a half-price lunch skate during the week. The facility provides skate rentals and skate sharpening.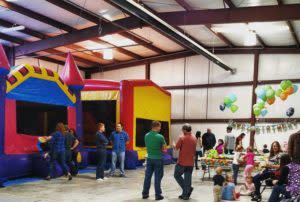 Birthday Party at House of Pounce (photo courtesy of House of Pounce)
House of Pounce
Kids bouncing off the walls? Bring them to House of Pounce, where they can literally bounce around in one of several huge bouncy houses instead of your living room. Without a doubt, the kids will have a blast and get out some of that extra energy.  House of Pounce has open bounce hours every Saturday this winter from 10 to 12. This is also a great place to book a birthday party or even rent a bouncy house. They also offer fundraiser events where your group or cause gets a portion of the proceeds. For more details see the House of Pounce Facebook page.
---
 Indoor Cultural and Educational Activities
---
Museums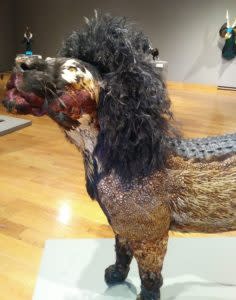 A unique and beautiful exhibit at the UW Art Museum.
Laramie is blessed with several terrific museums. The University of Wyoming Art Museum, University of Wyoming Geological Museum, and Harry C. Vaughan Planetarium are conveniently located on the UW campus. The Laramie Plains Museum is located at the historic Ivinson Mansion, in the heart of Laramie. 
The University of Wyoming Art Museum has an extensive permanent collection, as well as hosting various temporary exhibits and special events. The museum is free. Check their website for hours, exhibits, events, or to schedule a guided tour, or follow them on the UW Art Museum Facebook page.
The University of Wyoming Geological Museum is perfect for dinosaur-lovers young and old. Spend a snowy afternoon exploring the extensive fossil collections of this free museum, you won't be disappointed. The museum frequently hosts special events, see their UW Geological Museum Facebook page for upcoming events.
Exhibit at the UW Geological Museum
The Harry C. Vaughan Planetarium is a wonderful way to explore the mysteries of space. The planetarium offers an ever-changing array of shows to appeal to all ages and interests. They offer a complete description and schedule on their website. See the website or the UW Planetarium Facebook page for additional information and upcoming events.
As well as the great museums found at UW is the Laramie Plains Museum at the Ivinson Mansion. This museum is a monument to the early history of Laramie. The museum houses beautifully restored rooms, antiques, a women's suffrage exhibit, and so much more in the stately 127-year-old mansion. This museum is truly a must-see. See their webpage for ticket prices and hours. 
You can find more information about visiting these museums with kids on our post Top 5 Museums for Kids in Laramie.
Music, Theater, and Dance Performances
The University of Wyoming College puts on a virtual cornucopia of performances ranging from theater to dance to music. These stellar performances change with the seasons. Be sure to see the Department of Music Upcoming Performances, the UW Presents Season Lineup, the What's Playing at the Department for Theater and Dance, and the Performing Arts Box Office for descriptions of upcoming performances or to purchase tickets.
Additionally, The Gryphon Theater hosts performances and events throughout the year. Check out their webpage for schedules and tickets!
Hands-On Art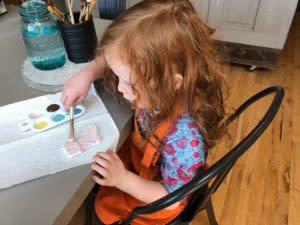 Painting a Christmas Ornament at Art & Soul
Art and Soul, located in downtown Laramie, is a fun and relaxing way to spend an afternoon. Take the kids, or enjoy some solitude while you paint pottery on your own. Pottery pieces are ready to "paint" with a variety of glaze colors. You can also follow them on the Art and Soul Facebook page.
Another terrific hands-on art activity can be found at Pop-Up Paint Party! Here you can schedule a private party for a group or join one of their open paint parties. This is sure to be a fun way to spend date night or girl's night out! Visit their webpage or Facebook page for more details!
4th Street Studios is a working art studio that hosts art & science exhibits and community events. You can even schedule your own private art-making experience for groups of 4 to 10. See their Facebook page for upcoming events.
---
 Even More Fun Indoor Activities
---
UW Basketball Games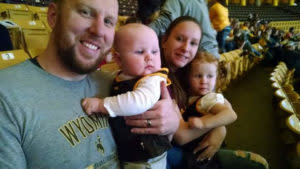 Go Pokes! Basketball fun for the whole family!
Love to watch sports, but don't relish the thought of freezing in an outdoor stadium? No worries, basketball season is here. UW basketball is fun for the whole family. Enjoy affordable and comfortable seating in Arena Auditorium. You can enjoy food and drink from a variety of vendors and even stock up on your brown & gold gear. Find information on athletic events and tickets here.
Studio City UW Movie Theater (photo courtesy of Studio City UW)
Movie Theaters
Laramie has two wonderful movie theaters—Regal Fox Theater and Studio City UW. The newest theater, Studio City UW, has 10 wall-to-wall screens, luxury reclining seats, and literally every concession you can imagine. Bring the whole family and enjoy one of the many films with some popcorn, soda, and maybe some frozen yogurt or nachos!
Live Music & Other Entertainment
The restaurants and bars in downtown Laramie frequently feature live music, trivia nights, and more. You can find more information on their respective Facebook pages and websites, but The Cowboy Saloon & Dance Hall, Bond's Brewing Company, Speedgoat, and Alibi Wood Fire Pizzaria frequently have live music and other entertainment.
Food and Drink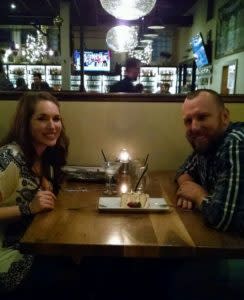 Date Night at Altitude Chophouse and Brewery
If you are a foodie, there are wonderful options in Laramie. Laramie has restaurants specializing in vegetarian cuisine, sushi, Korean, Chinese, Mexican, Thai, Italian, artisan pizza, Irish pub food, craft burgers, unique takes on traditional Americana, and, of course, steak houses. See our Where to Dine page for a complete listing of Laramie restaurants.
Or take advantage of one of several cozy coffee shops for a quiet afternoon with a warm beverage! Besides having several Starbucks locations, Laramie also has Turtle Rock Coffee & Cafe, Coal Creek Coffee Co., The Rising Cafe, The Grounds Internet & Coffee Lounge, and Boba Cafe.
Laramie is also home to several wonderful breweries—be sure to check out Laramie Fall Brew Tour —as well as eateries and bars that specialize in amazing craft cocktails. If you haven't tried Altitude Chophouse or the Alibi's spins on the traditional Moscow mule, you are missing out!
Shopping
Despite being a small town, Laramie has many wonderful boutiques and shops, as well as larger chain stores. With the weather turning cold and the holidays just around the corner, it's a great time to spend some time perusing the warm and festive downtown stores. For more on the best shopping in Laramie, see Spectacular Shopping in Laramie.
Without a doubt, Laramie is full of fun and amusement ANY time of the year. Don't let the cold weather keep you home, there are plenty of indoor activities to keep you warm and entertained all winter long!
Note: Leah Veinbergs is an independent writer and the author of the blog Two Little Time. She is contracted by Visit Laramie. Views and opinions expressed here are her own and do not reflect those of the Albany County Tourism Board.