Although I went on several backpacking trips during my childhood, as an adult my backpacking experience has been limited to purchasing a backpack and then letting it collect dust in the closet. This is mainly because I, like many people, have been somewhat intimidated by the prospect of planning a backpacking trip. Even if you are well-versed in the areas of hiking and camping, backpacking can feel like something only the super-duper outdoorsy do. In reality, the activity is much more accessible than you might think.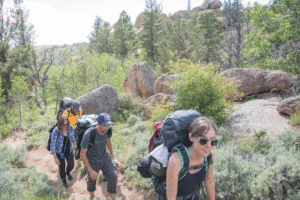 Of course, backpacking can be an intense activity, but how intense depends entirely on the kind of trip you plan. You might choose an extremely remote area or a trail with high technical difficulty. You might choose to swap the comforts (and discomforts) of civilization for just the open trail and your pack for weeks or even months on end.
But there is no rule that says you can't take it down a notch and instead simply hike a few miles, set up camp, and call it a day. If you're like me, you might be more inclined to ease your way into the sport in this way, knowing it might be as far as you ever take it (which is totally fine), and also knowing it could be your jumping-off point for more bold journeys down the line.
For the experienced and inexperienced alike, the outdoors surrounding Laramie, Wyoming offer an abundance of backpacking opportunities. The Medicine Bow National Forest sits in close proximity to the town of Laramie and includes the Snowy Range Mountains to the west and a variety of recreation areas to the east.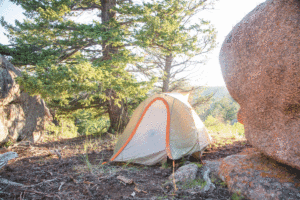 About 45 miles west of Laramie, the Snowy Range Mountains offer stunning alpine scenery complete with rugged granite peaks and pristine glacial lakes, some of which are brimming with trout. For the purposes of backpacking, The Snowy Range is the place to go if you are looking for longer trails, multi-day trips, or a more remote experience, though again, you can always tailor your trip to be as short as a mile or two if that better suits you.
Once I resolved to finally get my sad, never-used backpack out of the closet and into the mountains, the first step my husband and I took in the planning process was to stop by Basecamp in Laramie. The outdoor gear shop's slogan is literally "We Help You Get Outside," so it seemed like a logical place to start. Because of a prolonged and especially snowy Spring this year, the owner suggested that we steer clear of the Snowy Range (unless we wanted to cross country ski) and instead consider Blair-Wallis for our excursion. Blair-Wallis is located about 25 miles to the east of Laramie in the Medicine Bow National Forest. It sits lower in elevation than the Snowy Range, making it a perfect option for the first weekend of July following a late-onset summer.
Discover these 6 Tips for planning a successful adventure
Based on our experience, below are 6 Tips for planning and executing a successful hiking and backpacking trip in Wyoming, particularly if it's your first outing:
1. Gather Your Tribe
Recruiting one friend or several is a great way to feel more at ease on your first backpacking trip.  Finding a friend with experience is ideal, though if this isn't possible, an inexperienced friend will still make your trip safer (and more fun) than if you were going it alone.
2. Plan Your Route
Identify which trail(s) you want to explore and consider choosing a shorter, closer route for your first outing. You may be surprised by how heavy your pack can start to feel when your body isn't used to lugging around such weight, even if you've done your due diligence to pack only the essentials.
3. Pack Extra Food And Water
For hiking and backpacking alike, my personal rule is to first pack the amount of food and water I think I'll need, then pack extra. These items (especially water) are truly essential and are not the place to skimp. A quick google search will help you double-check your list of other essentials to pack, such as a tent, sleeping bag, sunscreen, flashlight, etc.
4. Familiarize Yourself With Potential Restrictions
Can we camp anywhere? Can we have a fire? These were some questions that popped up for me during the planning process. While National Parks often require permits, the areas of the Medicine Bow National Forest discussed here, including in The Snowy Range Mountains, do not as of this writing. Do be sure to have some cash on hand to pay any trailhead/parking fees, however. On Forest Service land, you can generally camp anywhere so long as you are at least a half-mile from a paved road. As far as campfires are concerned, just be sure to check the parking area for any restrictions or bans.
5. Plan for All Seasons
This is good advice for exploring the mountains in general, and it's especially good advice for backpacking and hiking in Wyoming.  Wyomingites often joke that you can enjoy all four seasons in a day here, and at high elevations, the temperature can change drastically from day to night.  I started off the hike in a tank top and rolled up pants, sweating generously, but by nightfall, I was feeling cozy in a down coat and beanie, huddled next to a fire.
6. Maintain A Healthy Respect For Mother Nature
I have a small confession to make: we didn't last the night. Our tents and sleeping bags were fully assembled, we were feeling sleepy from the lull of the campfire, but a storm on the horizon was drawing near. I'm not being dramatic when I say it was the most lighting I've seen at once in my life. In the end, we made the decision to pack up and hike out rather than spend the night squatting in lighting pose, terrified inside our tents. Perhaps we should have ridden it out, and perhaps we would have regretted that decision. Either way, the night hike back to the parking lot was a unique and beautiful consequence of our decision.
Are you feeling more confident and prepared after this post and considering giving hiking and backpacking a try this summer? Visit us in Laramie whether you're a first-timer or a veteran of the trails and you're sure to have an experience with memories you won't soon forget. Find more information on Laramie by visiting our website today.
Note: Brian and Dani Harrington are independent writers contracted by Visit Laramie. Views and opinions expressed here are their own and do not reflect those of the Albany County Tourism Board.