Looking to make some memories with your kiddos? How about a perfect 3-day winter weekend for families in Laramie? Laramie is a great winter-time destination for families with kids of all ages. There are tons of activities to keep the kids busy both inside and outside.
Check Into Your Accommodations
Laramie has a variety of hotels in the city of Laramie, as well as more unique accommodations in the nearby mountain communities of Centennial and Albany.Laramie hotels range from budget-friendly to luxurious, but they are always clean and welcoming. See our blog posts Best Laramie Hotels to Stay at When the Roads Close, Laramie's Best Pet-Friendly Accommodations, and Winter Cabin Retreats Near Laramie, Wyoming 
Day 1 Morning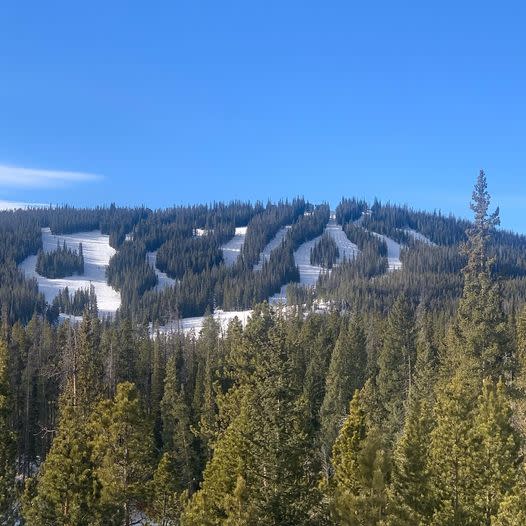 The beautiful slopes at Snowy Range Ski Area (photo credit Snowy Range Ski Area)
Enjoy Snowy Range Ski Area
One of the best family activities in the Laramie area is skiing and snowboarding at Snowy Range Ski Area. Only 45 minutes from Laramie, Snowy Range Ski Area offers all of the fun of larger Rocky Mountain ski resorts with less crowds and lower prices. Lift tickets for adults range between $49 and $64 (depending on day and season). For teens, $42 to $57, for kids $30 to $45, with seniors and kids 4 and under free. Additionally, Snowy Range offers season passes as well.
Snowy Range offers a variety of ski and snowboard rentals as well as group and individual lessons. It is truly a great place to introduce kids to skiing or snowboarding. The trails have a variety of difficulty levels to meet different needs, and there are two terrain parks as well.
Find more information and purchase tickets online by visiting snowyrangeski.com.
Day 1 Evening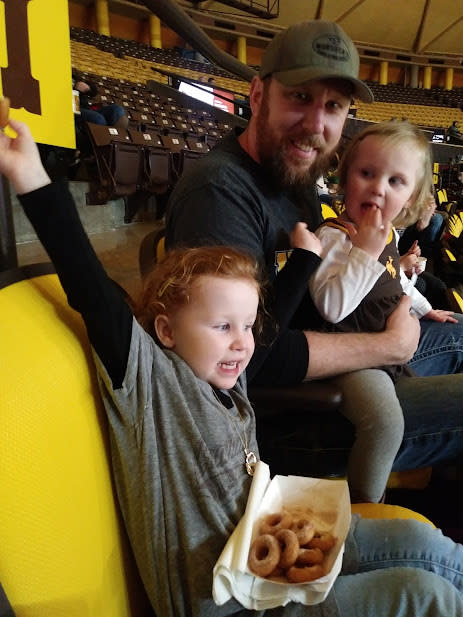 Fun for all ages watching a UW basketball game (photo credit Leah Veinbergs)
Catch A Basketball Game at UW
After a day out on the slopes, watching a University of Wyoming basketball game is the perfect way to warm up. Arena Auditorium is a great place to sit back and enjoy a game. Both the men's and women's basketball teams are excellent and fun to watch, and Cowboys fans are the best fans around.
The UW men's season goes through mid-March, and the women's season ends in early March. Tickets can be purchased here.
Day 2 Morning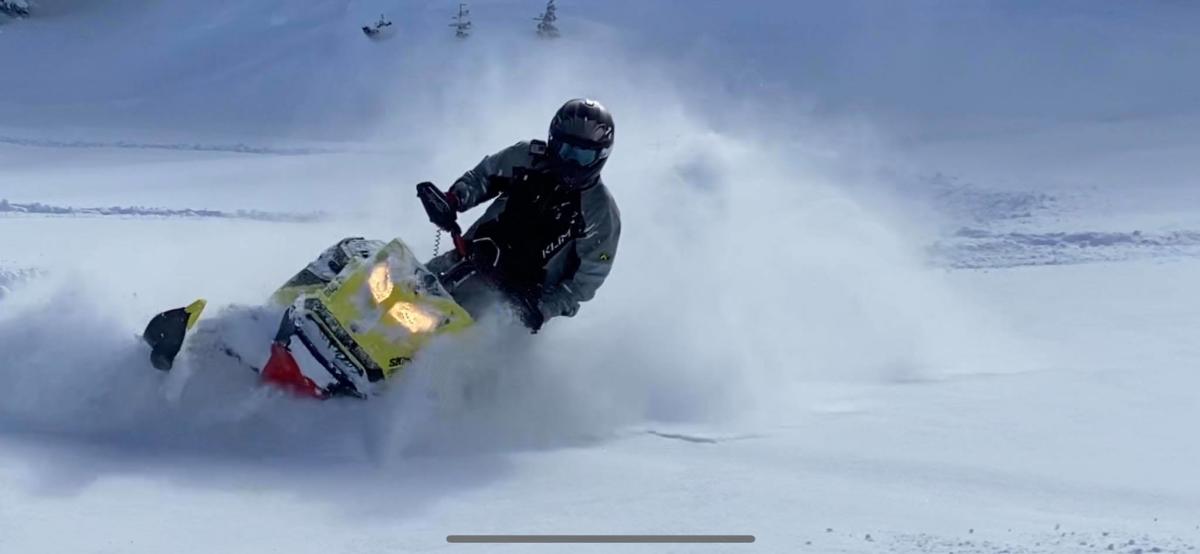 Fresh powder in the Snowy's (photo credit Elway Powersports)
 
Explore the Snowies on a Snowmobile
The Snowy Range Mountains, just west of Laramie, are a snowmobiler's paradise. Miles of trails of powdery trails wind through pristine evergreen forests. Read more about Snowmobiling in the Laramie area on our post A Guide to Snowmobiling Near Laramie Wyoming.
Don't have your own snowmobiles? No problem snowmobiles can be rented from both the Albany Lodge and 3C Guiding. Both also offer guiding services for a truly amazing experience.
Day 2 Evening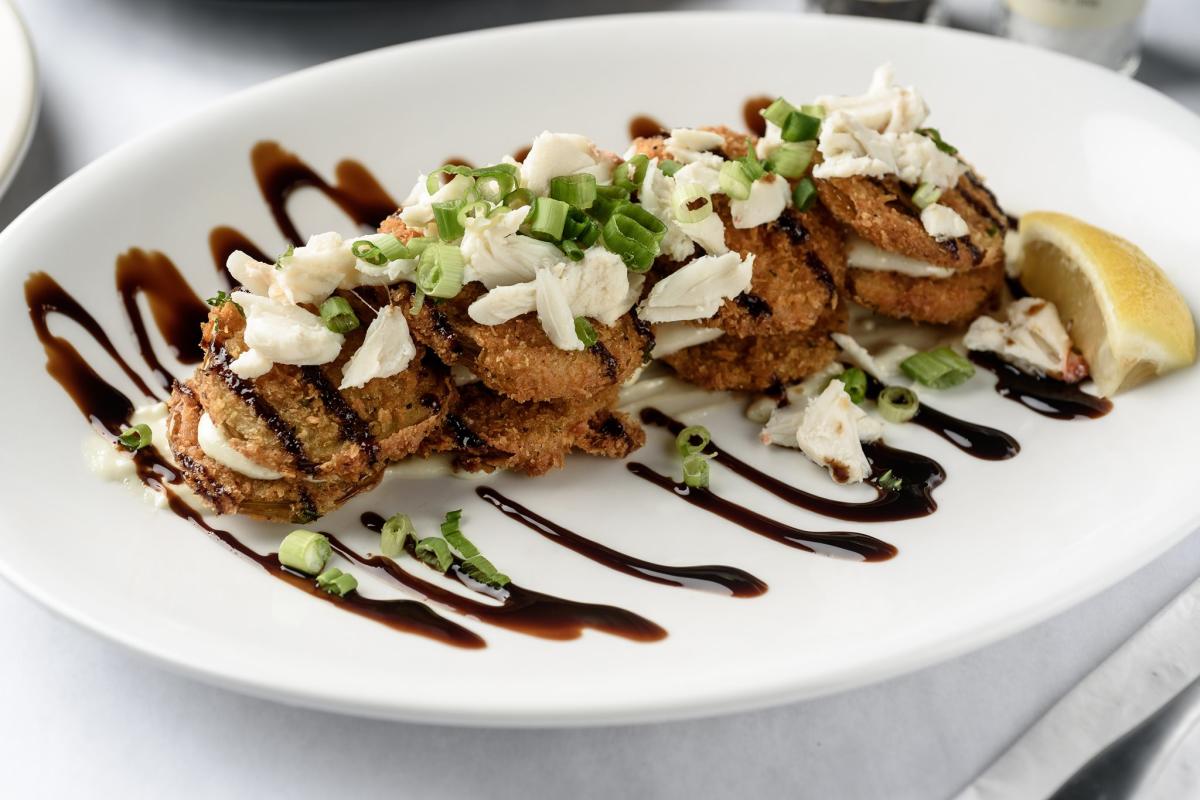 Fried Green Tomatoes at Wyoming's Rib & Chophouse (photo credit Wyoming Rib & Chophouse)
Have a Relaxing Dinner
The Laramie area has many fantastic restaurants to choose from. Near the mountains, the towns of Centennial and Albany offer several delicious options. In Centennial, the Bear Bottom Bar and Grill is a great place to enjoy a variety of burgers, pizza, and sandwiches. Also in Centennial, the Old Corral Hotel & Steakhouse has delicious sandwiches, chicken, salmon, and steak. In nearby Albany, the Albany Lodge has everything from pizza and burgers to a variety of specialty mac and cheese dinners, to steak and seafood.
If you prefer to dine in Laramie proper, there are even more choices. Locals love Wyoming's Rib & Chophouse, Altitude Chophouse & Brewery, and The Cavalryman for steaks and other upscale entrees. If you are in the mood for a unique menu try The Library Sports Grille & Brewery or Alibi Woodfire Pizzeria & Bakery. Sweet Melissa's has amazing vegetarian fare that both vegetarians and non-vegetarians will love. There are also several restaurants with more exotic cuisine Anong's (Thai), Thai Spice (Thai), Mizu Sushi (Japanese), Niko Sushi & Steak (Japanese), O'Dwyer's Public House (Irish), Corona Village (Mexican), and Buffalo Indian Restaurant (Indian). All of these restaurants are family and kid-friendly.
For more information on all these restaurants and more, please see our Restaurants section.
Day 3 Morning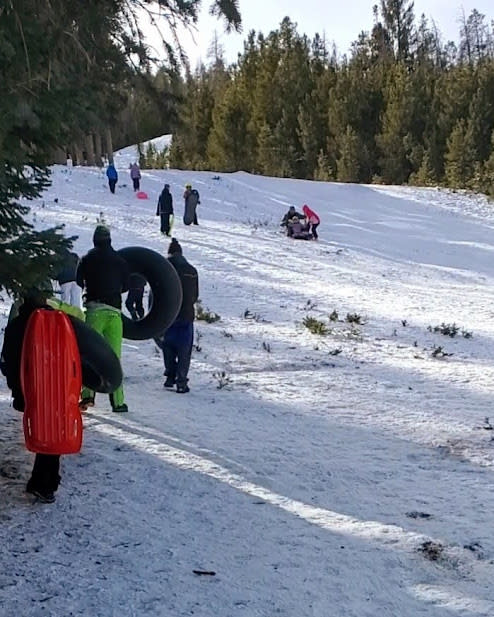 Sledding at Vedauwoo (Happy Jack Area) (photo credit Leah Veinbergs)
Visit Vedauwoo
Only about 20 minutes east of Laramie on Interstate 80, is the unparalleled Vedauwoo and Happy Jack Recreation Areas. This breathtaking area affords visitors stunning landscapes and tons of winter fun.
Park at the Happy Jack Trailhead and enjoy the local's favorite sledding hill. Younger kids can enjoy a tamer ride by starting only partway up the hill. Older kids and adults will get a thrill from starting at the top of the massive hill.
This area is also a haven for fat tire bikers who make use of the many snow-covered hiking trails. For more on this unique sport see our post 5 Tips for Your First Time Snow Biking.
In addition to biking and sledding, the area is also a great place for snowshoeing or nordic (cross country skiing). Laramie's Basecamp offers both ski and snowshoe rentals for kids and adults. For information on the groomed nordic ski trails in the area visit the Medicine Bow Nordic Association website.
Day 3 Evening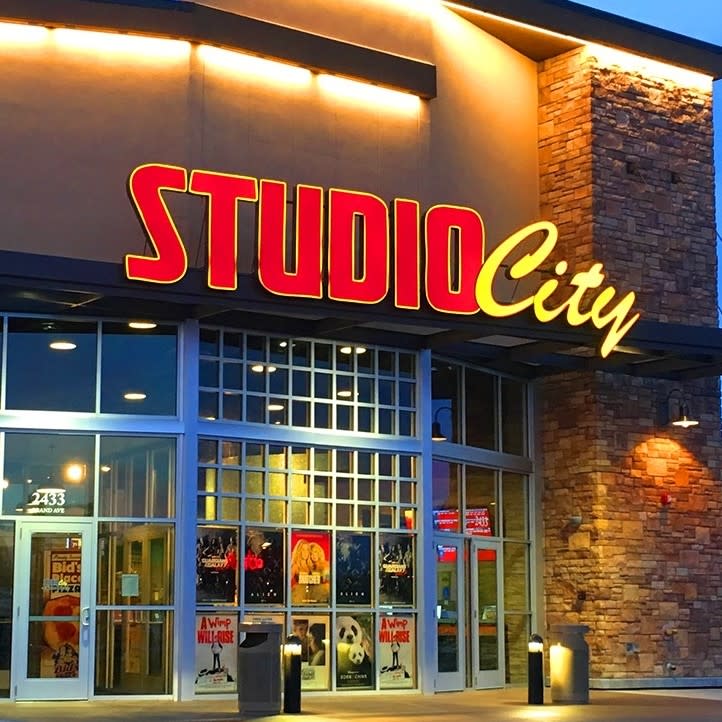 A great place to catch a movie! (photo credit Studio City Cinemas at UW Plaza)

Take in A Movie
After a full day of outdoor winter activities, it's nice to relax and get warm. Laramie has two beautiful movie theaters with recliner seating and fantastic concessions. For details and showtimes visit either Regal Fox Theater or Studio City Movie Theater.                                                                                                                                                                                                                                                                                                                                                                                              
There is really so much to do in the Laramie area. With tons of outdoor sports and activities it truly is a winter wonderland for families. The snow won't last forever! Plan your family winter weekend in Laramie now!
You may also enjoy: Spectacular Shopping in Laramie, Indoor Activities and Entertainment in Laramie, Snowshoeing Tips for Beginners, and Best Places to Eat Lunch in Laramie.