The Snowy Range Mountains of southeastern Wyoming are home to nearly two million acres of exceptional snowmobiling territory. About 30 miles west of Laramie, Wyoming, this area is a premier destination for snowmobilers—and for good reason. It is vast, scenically beautiful, and offers a greater sense of solace and freedom when compared to other snowmobile destinations in the Rocky Mountains. If you want to escape the crowds while still having access to everything you need for a great trip, the mountains of southeastern Wyoming are a superb choice.
To help visitors learn more about how to make the most of their time snowmobiling in Wyoming's Snowy Range, we thought it would be best to pick the brain of someone more experienced in the sport than we are. A Laramie native and snowmobile enthusiast, Chris Jansen kindly offered up some tips and insights about snowmobiling in this area of the world. His local knowledge and years of experience will prove useful to anyone considering a snowmobile vacation near Laramie.
---
Tip #1: Choose Your Path Wisely
---
Give your adventure some thought before you head out. Ask yourself what kind of terrain you want to experience and what is appropriate for your skill level. The Snowy Range is home to incredible backcountry riding as well as groomed and marked trails, and there are plenty of areas that offer amazing hill-climbing as well as scenic, wide-open meadows.
Be sure to do your research beforehand by consulting maps and talking with people who are familiar with the area. Chris recommended stopping by Elway Powersports or Frontier Cycles in Laramie for valuable information about trails and snow and avalanche conditions.
Snowmobiling in the Snowy Range typically means choosing to depart from either Albany Lodge or Green Rock Trailhead. Albany Lodge lies at the base of the Snowy Range and offers easy access to hundreds of miles of groomed and marked snowmobile trails, while the Green Rock Trailhead is located above Centennial higher up in the range.
If you are looking for more groomed trails, Albany Lodge is definitely the place to depart from, while the trails around Green Rock are mostly ungroomed. On the flip side, Green Rock offers quicker access to spectacular backcountry territory, though amenities at the trailhead are limited to a Forest Service bathroom. Albany Lodge features a restaurant and bar, rentals, gear, guide service, a convenience store, and lodging.
Regardless of your starting point, Albany Lodge and Green Rock are connected by the trail systems. Understanding more about these two departure points will nonetheless help you better plan for the kind of experience you're aiming at.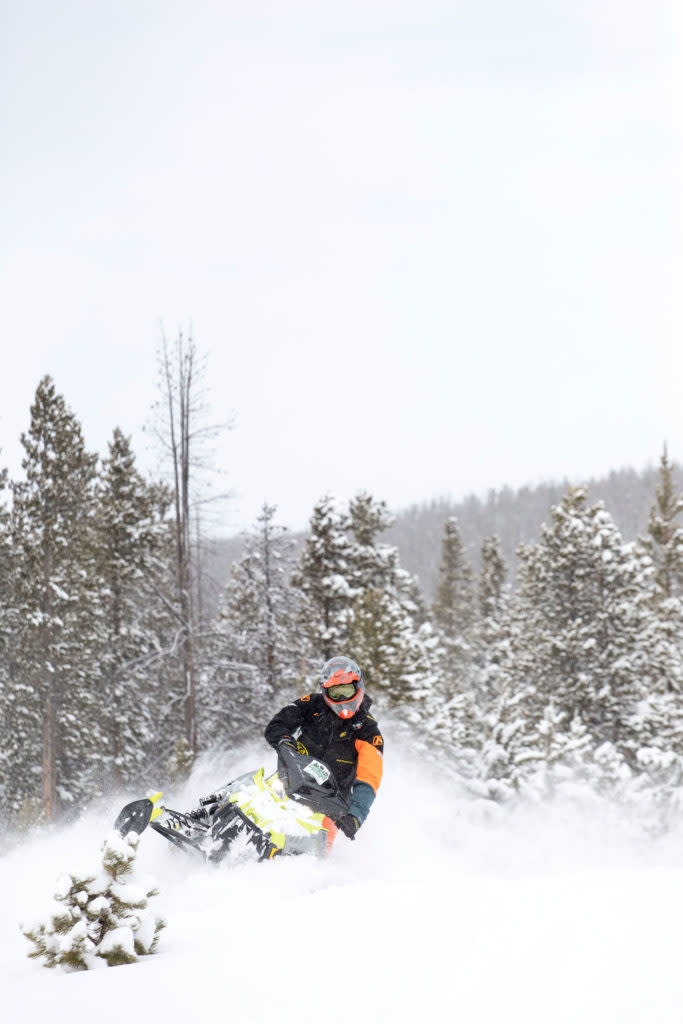 Chris said not to miss the infamous "Widowmaker." To get there, depart from Green Rock Trailhead to access the "O" trail; follow it to the "NO" trail and cut south toward the north end of Medicine Bow Peak. A steep hill climb, the "Widowmaker" is a great place for riders to experience a little thrill, and for spectators, it is entertaining to watch others try their luck. Fortunately, the site is also located in one of the most scenic areas of the Snowy Range.
---
Tip #2: Don't Forget Your Permit
---
The State of Wyoming requires that all snowmobilers purchase an annual permit for $35.00. Elway Powersports and Frontier Cycles in Laramie can both issue these permits, as can Albany Lodge and several other outdoor-oriented businesses in Laramie and Centennial. You can also purchase permits online, though if you go this route planning ahead is imperative as it will take 7 to 10 days for your permit to arrive via mail.
---
Tip # 3: Keep Your Bearings
---
Be sure to maintain your bearings and bring a map. Many outdoor-oriented shops in Laramie and Centennial offer a quality snowmobiling map of the area. Besides containing excellent trail, topographic, and area information, this map displays markers for warming huts that are scattered throughout the range. Warming huts feature wood stoves and are a welcome respite from the cold. Chris remarked that they are his go-to lunch destinations while he's out on the mountain.
Wyoming State Parks also maintains a map that features geoPDF files of snowmobile trails by region, including the Snowy Range. Continuously updated snow and avalanche reports are also available through their website.
---
Tip #4: Plan for the Unexpected
---
As with any outdoor experience, planning for the unexpected and keeping safety at the forefront is of the utmost importance, and it will also make your adventure more enjoyable. While snowmobiling is a relatively safe activity, riders do face several potential hazards. Avalanches, exposure, getting lost, getting stuck— these are just some of the potential dangers that riders face.
Snowmobiling in the backcountry allows you to get deep into the mountains very quickly. Of course, this also means that if something goes wrong and you can't get out as soon as expected, you're now far away from civilization with no quick escape.
With all this in mind, always pack additional supplies, at least enough for one more day than you plan on being out. This means extra food and water and a few emergency supplies such as space blankets and fire starters. Chris also offered the tip of bringing a small backpacking stove. Beyond allowing you to whip up a hot lunch, it could also come in handy in the event that you need to melt and purify snow.
In addition to packing extra supplies and a small emergency kit, a SPOT is another item you should bring along, particularly if you are riding in remote areas. A SPOT is a device that uses satellite technology to track your location. You can check in with loved ones and send them your GPS coordinates, request help from pre-programmed contacts in non-emergency situations, and send out an SOS code that prompts search and rescue crews if things get really bad. If you don't own a SPOT or don't want to invest in owning one, you can rent one from Albany Lodge.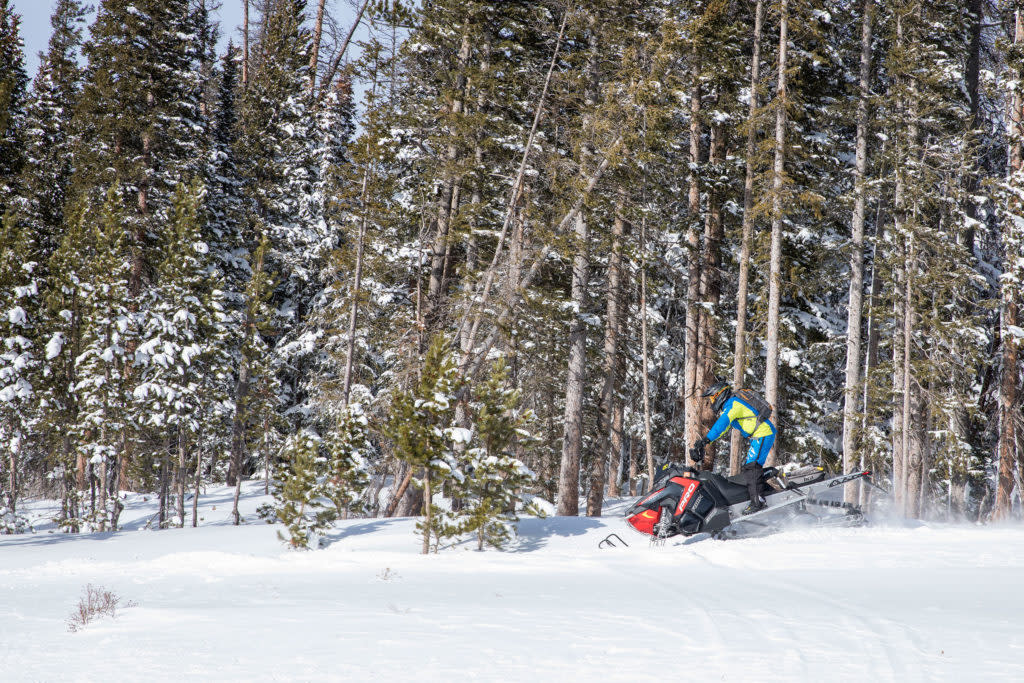 Backcountry riders would also be wise to bring an avalanche probe and a shovel. A shovel may also come in handy for digging your snowmobile out in a less serious situation.
---
Tip #5: Enjoy the Ride
---
Snowmobiling allows you to experience winter landscapes you'd never be able to reach otherwise. With two million acres of land rendered accessible by winter conditions, the Snowy Range offers riders a unique sense of expansiveness and freedom.
To learn more about snowmobiling in the Snowy Range and in and around Laramie, click here to visit the snowmobiling page of our website.
  Note: Brian and Dani Harrington are independent writers contracted by Visit Laramie. Views and opinions expressed here are their own and do not reflect those of the Albany County Tourism Board.