Looking for a way to extend your vacation or work stay in Laramie? The possibilities are just about endless. Laramie is known as a great destination for a day trip of hiking, climbing, snowmobiling, skiing, or fishing. However, it's also great to extend your stay and stay for a full weekend. There is much more to Laramie than meets the eye. Come for the day -- stay for the weekend.
Ideas to Extend Your Stay in the Summer
In the summer months, Laramie is a magnet for outdoor enthusiasts. The breathtaking Snowy Range mountains and the crystal-clear streams and rivers are perfect for a variety of activities.
Come to Hike, Stay to Mountain Bike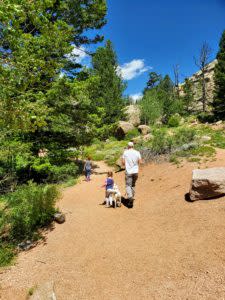 Vedauwoo: Great Trails for Hiking or Biking (photo credit Leah Veinbergs)
The area around Laramie is already known for its wonderful hiking trails. The well-groomed trails in the Medicine Bow-Routt National Forest in the Snowy Range, the Vedauwoo Recreation Area, and the Happy Jack Recreation area are beautiful and popular places to hike. For more information, be sure to visit the Visit Laramie Hiking page.
However, many people are not aware that the Laramie area also boasts stellar mountain biking as well. Hikers may want to consider staying an extra day and trading in their hiking boots for a mountain bike. The Vedauwoo area, in particular, is known for great mountain biking. Local bike shops like the Pedal House and All-Terrain Sports are great places to get more information.
Come to Fish, Stay to Kayak, or Paddleboard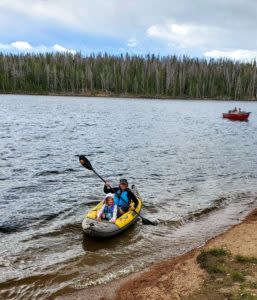 Kayaking at Rob Roy Reservoir in a Kayak from Laramie Basecamp (photo credit Leah Veinbergs)
Laramie's streams, rivers, and lakes provide excellent opportunities for both fly fishing and bait fishing. Some of the most popular fishing areas in the Snowy Range are Rob Roy Reservoir, Lake Owen, Mirror Lake, Lake Marie, and Lewis Lake. There is also the nearby "Plains Lakes" and, of course, the Little Laramie River. 
For those who appreciate a day on the water, it would be a mistake not to stay one more day (or two) and experience the fun of kayaking or paddleboarding. The Snowy Range lakes noted above are all great places for kayaking. Just east of Laramie, Curt Gowdy State Park offers a fantastic place to paddleboard. 
Don't have a kayak or paddleboard? No problem. Reasonable rentals are offered by Laramie's Basecamp.
Try these other blog posts on summer outdoor activities in the area: Local Favorites – Best Mountain Biking Trails, Laramie Summer Family Itinerary, Best Places for Viewing Wildlife in the Laramie Area, Local Favorites – Laramie Area Hiking Trails, and Local Favorites – Best Fishing Access.
Ideas to Extend Your Stay in the Winter
When winter winds blow, there is still plenty to do in the Laramie area. Whether its hitting the ski slopes or exploring the snow-covered trails, there is an adventure to be had.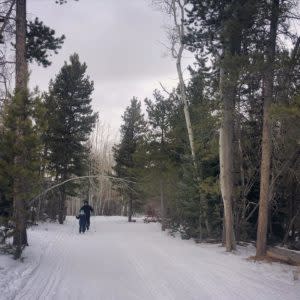 Enjoy the Cross-Country Ski Trails (photo credit Laramie's Basecamp)
Come to Downhill Ski or Snowboard, Stay to Cross-Country Ski or Snowshoe
The Snowy Range Ski Area attracts skiers and snowboarders of all experience levels. The gorgeous powder slopes and stunning vistas are hard to top. Snowy Range Ski Area provides great runs at a reasonable price. 
Skiers and Snowboarders should turn their day into a weekend and explore some of the other wintry activities that the Snowies have to offer. Cross-country skiing and snowshoeing might lack some of the adrenaline rush, but they more than make up for it in serenity. Few things are more peaceful than a snow-covered mountain trail. You can even rent gear from Laramie's Basecamp. If you've never tried it, you should.
Come to Snowmobile, Stay to Enjoy Downtown Laramie
The trails around Laramie are immensely popular with snowmobilers. The area near Albany, Wyoming is a particular hotspot, with the Albany Lodge offering food, lodging, and even snowmobile rentals. After a day on the trails, however, there is still so much more the area has to offer.
Snowmobilers may enjoy a visit to downtown Laramie. By night the numerous restaurants, bars, and breweries offer plenty of good food, good drinks, and good fun. Local favorites include The Library Sports Grille and Brewery, Alibi Woodfire Pizzaria and Bakery, and Bond's Brewing Company. Of course, for those who extend their stay, downtown in the daytime offers just as much fun. Try one of the awesome breakfast spots like The Good Egg, The Prairie Rose Cafe, or the brand-new Cowboy Crepes. Enjoy shopping at one of the local boutiques, art galleries, or antique stores. An extra day in downtown Laramie will make for a great weekend.
Check out these blog posts on winter activities in the Laramie area: Guide to Family Skiing and Snowboarding at Snowy Range Ski Area, Laramie Winter Weekend Itinerary, Indoor Activities and Entertainment in Laramie, A Guide to Snowmobiling near Laramie, Wyoming, and Snowshoeing Tips for Beginners. 
Extend Your Stay Anytime
Of course, there are many other great activities in Laramie that are fun just about any time of the year. Whether hiking, biking, fishing, kayaking, skiing, or snowmobiling, everyone should explore the many other fantastic things to do in Laramie.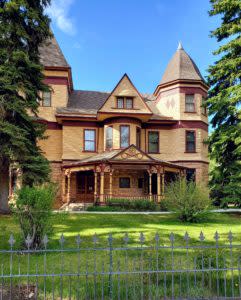 The Laramie Plains Museum at the Historic Ivinson Mansion (photo credit Leah Veinbergs)
Stay to Visit the Museums
For a small town, Laramie has an amazing amount of museums. The University of Wyoming is home to an Art Museum, Geological Museum, Anthropology Museum, and the Harry C. Vaughan Planetarium. Besides the amazing museums on campus, there is also the Laramie Plains Museum (located in the beautifully restored Ivinson Mansion) and the Wyoming Territorial Prison. 
Stay to Watch a Sporting Event
Throughout the academic year, the University of Wyoming brings Division 1 sports to Laramie. Watch football in the fall, basketball in the winter, soccer in the spring, and so much more! Tickets are reasonable, the fans are great, and the athletes play to win! Visit the University of Wyoming Athletics page for schedules and more information.
Check out these other blog posts on fun local activities: The Best Laramie History Museums and Sites, Top Five Restaurants in Laramie, and Spectacular Shopping in Laramie.
Stay Just to Stay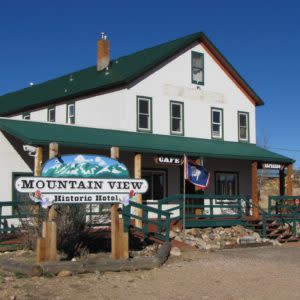 The beautiful Mountain View Historic Hotel and Cafe (photo credit Mountain View Historic Hotel)
Who says you need to plan an extra activity to extend your stay? With the truly wonderful accommodations in and around Laramie, it is worth it just to stay in and relax. For mountain getaways, the Albany Lodge, the Old Corral Hotel and Steakhouse, and Mountainview Historic Hotel are all wonderful options. In town, there are also several fantastic hotels like the Hilton Garden Inn and the Holiday Inn.
Don't miss these blog posts about places to stay in Laramie: Best Laramie Hotels to Stay at When the Roads Close and Winter Cabin Retreats Near Laramie, Wyoming.
Laramie is, without a doubt, a great place to visit. With all the great activities that Laramie has to offer, it is no wonder that many people find ways to extend their stay. To find out more about all that Laramie has to offer, be sure to check out the Visit Laramie Things to Do page. Come for the day, stay for the weekend!