Laramie is a great destination for thrill-seekers looking for a rush to beat the winter blues. Life at 7200 feet in the Rocky Mountain West makes our town an exceptional home base for winter adventuring. The Snowy Range Mountains tower about 35 miles west, and the Tie City / Happy Jack Recreation Areas lie about 12 miles to the east, forming an idyllic winter playground.
Cross country and skate skiing, snowshoeing, fat biking, ice fishing, sledding, snowmobiling, downhill skiing, and snowboarding are all on the menu for winter activities around Laramie, but this weekend itinerary is specially designed for visitors who prefer their outdoor recreation with a healthy dose of adrenaline. Start planning your weekend of thrills using our guide below. 
Friday: Arrival and Dinner in Downtown Laramie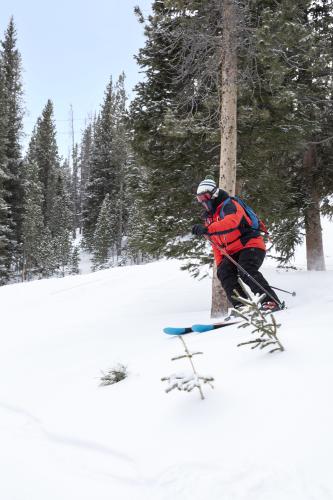 Plan your arrival in Laramie for the afternoon or early evening. Getting here is easy given Laramie's proximity to the Denver International Airport (DIA), just 134 miles away. Multiple daily flights connect Laramie to DIA at reasonable prices, and driving to Laramie from Denver only takes a couple of hours. If you're coming to us from elsewhere, Laramie is also conveniently located right off Interstate-80.
Once you have arrived and settled into your accommodations, head to the charming Historic Downtown for a delicious meal and perhaps a beer at one of Laramie's local breweries. 
Hit the hay early to prepare for the active days ahead.
Saturday: Snowboarding or Downhill Skiing at Snowy Range Ski Area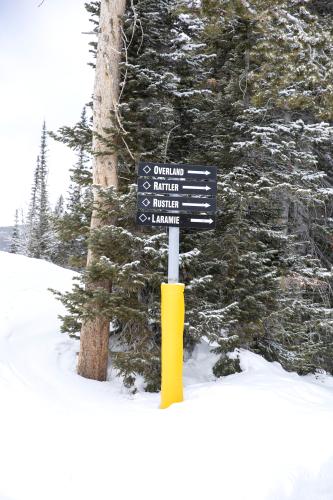 Fill your tank for a full day of skiing or snowboarding with a classic greasy-spoon breakfast at the Prairie Rose Cafe in downtown Laramie before making your way to the Snowy Range Ski Area. 
The Snowy Range Ski Area boasts an average of nearly 250 inches of annual snowfall and affords pristine views of Medicine Bow-Routt National Forest. Its lift ticket prices are hard to come by these days, ringing up at less than a third of other resorts near the area. Smaller crowds mean visitors spend less time waiting in long lift lines and more time getting their thrills out on the slopes. 
Snowy's four chairlifts connect you to 27 trails: 7 beginner/easiest, 12 intermediate/more difficult, and 8 expert/most difficult. While any trail can get your adrenaline pumping if you're a beginner, for more experienced riders seeking an exhilarating challenge, we'd definitely point you toward the expert runs. Crazy horse is one of our favorites and can be accessed via the sundance lift. Rattler, Overland, Laramie, Rustler, and the Shoot are five expert runs clustered side-by-side that promise a wild ride down the mountain.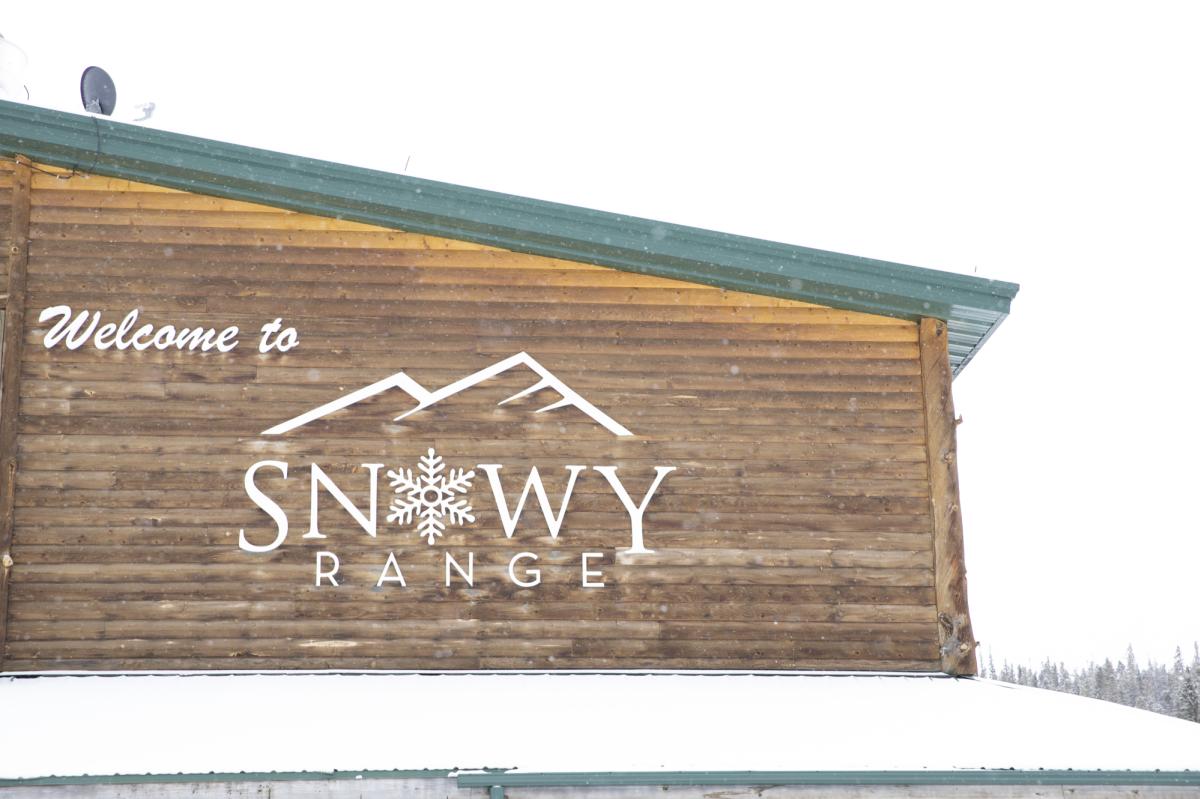 Take a well-deserved break at the Snowy Range Ski Lodge, where you can enjoy a sit-down meal and a beer or snag a quick bite at their grab n' go service so as to maximize your number of runs. 
Head back to Laramie and enjoy some fine dining western-style at the Cavalryman Steakhouse, located on the parade grounds of historic Fort Sanders.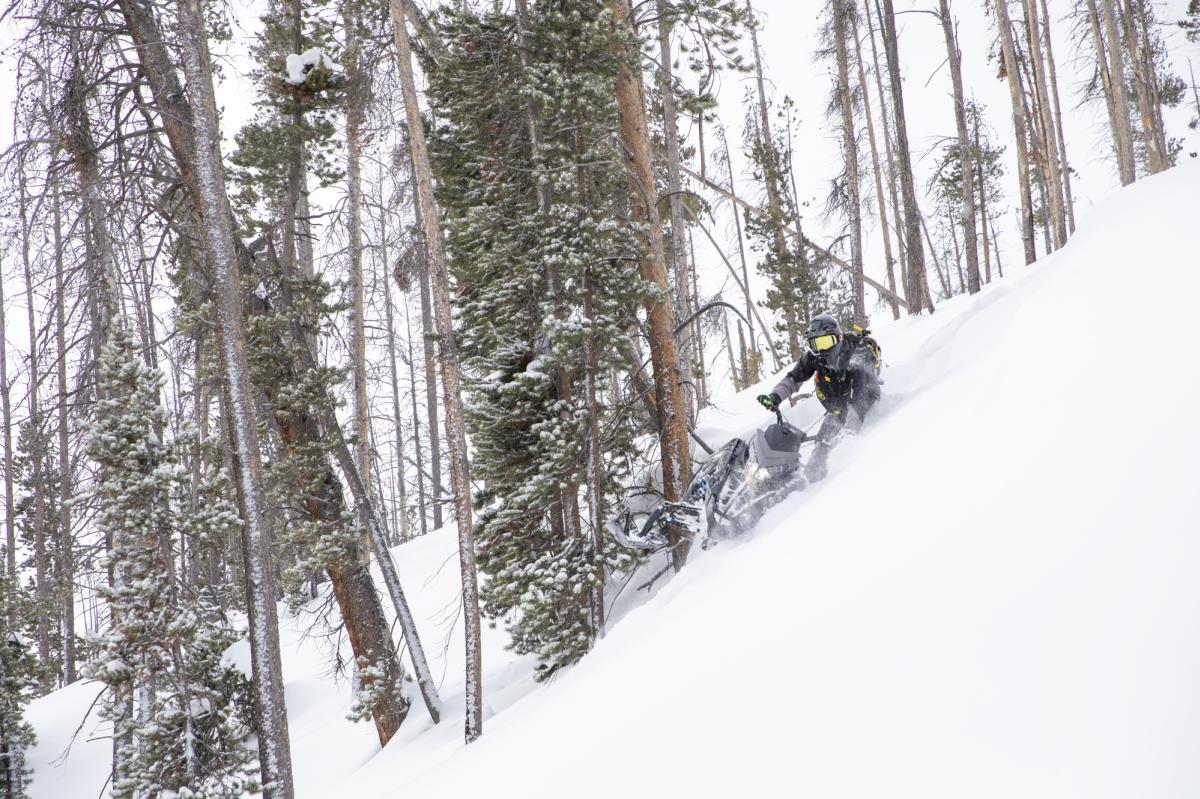 Sunday: Backcountry Snowmobiling
Grab breakfast and coffee to-go at either Night Heron or Coal Creek in Downtown Laramie before hitting the road for an exciting day of snowmobiling in the majestic Snowy Range Mountains. The quality of snowmobiling in this area is truly exceptional. 
The spectacularly vast and diverse backcountry territory of the Snowy Range is made for thrill-seekers, offering riders a unique sense of exhilaration as they cruise through miles and miles of mountainous terrain. The Snowy Range features an incredible variety of snowmobiling experiences, including epic hill climbing on the peaks, rides over wide-open meadows of untracked powder, and deep exploration into otherwise unreachable areas. 
You can access the backcountry either by departing from Albany Lodge at the base of the range or Green Rock Trailhead further up. If you need to rent your snowmobile or would prefer the expertise and knowledge of a local guide, check out our post on Guided Snowmobile Trips in the Snowy Range.
Here are just a few ideas on how to get your adrenaline pumping while cruising through the Snowy Range: 
Riding off-trail around Libby Flats requires exceptional caution due to the fact that wind blowing across the exposed flats drifts the snow inconsistently, creating a combination of shallow snow and deep drifts. The Libby Flats are also speckled with giant boulders. The obstacle dodging and concentration required by this area are exhilarating.
For the ultimate rush, the infamous "Widowmaker" is found along the "NO" trail toward the north end of Medicine Bow Peak at an elevation of 11,330. The Widowmaker is an exceptionally steep hill climb legendary among snowmobilers. It attracts thrill-seeking riders (and small crowds of spectators) from across the country and is found in one of the most scenic areas of the Snowy Range. True to its namesake, the trail can be dangerous and should only be attempted by experienced riders. 
Once you've satiated your inner daredevil, make your way back to Albany Lodge, where you can enjoy dinner and drinks at their restaurant and bar. 

 
Note: Brian and Dani Harrington are independent writers contracted by Visit Laramie. Views and opinions expressed here are their own and do not reflect those of the Albany County Tourism Board.