Need to get away this winter? With this winter weekend itinerary, you can't go wrong. Laramie, Wyoming is the perfect wintertime destination. From skiing to snowshoeing, snowmobiling to ice skating, Laramie has it all. 

Where to Stay
Laramie offers several wonderful options for cozy winter accommodations. Whether you prefer accommodations right in the mountains, or a hotel in town, you can find the perfect place to fit your plans and budget.  

Centennial
Enjoy the full effect of the Snowy Range mountains and while staying at the Mountain View Historic Hotel and Cafe. This beautifully restored hotel is located in Centennial, only 30 miles west of Laramie. The hotel was originally built in 1907 and offers the true historical experience. The café has delicious breakfast and lunch options to please any palate.
Another wonderful Centennial hotel is the Old Corral Hotel and Steakhouse. The restaurant has delicious food and the hotel is not short on rustic charm. Rooms are decorated with log furniture and offer epic mountain views.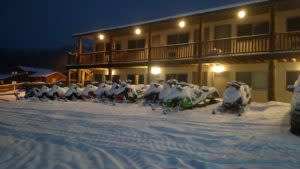 Cozy Albany Lodge (photo courtesy of Albany Lodge)

Albany & Woods Landing
The Albany Lodge, about 35 miles southwest of Laramie, is a prime pick for snowmobilers. The Albany Lodge offers both a hotel and cabins, as well as UTV and Snowmobile rentals. There is also a delicious restaurant and full bar. 
Nearby Woods Landing Resort features guest houses, cabins, and a campground. There is also a restaurant and a dance hall with weekend entertainment. 

Laramie
Of course, Laramie itself has many great hotels. There are too many to list, however, the Hilton Garden Inn and the Holiday Inn have beautiful rooms, pools, breakfasts, and other amenities. For a complete listing of all the fantastic places to stay in the Laramie area see the Where to Stay guide. 

Day 1 Winter Weekend Itinerary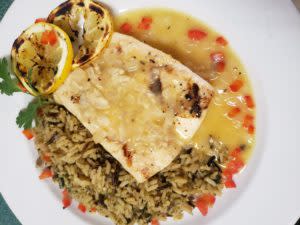 Mahi Mahi (photo courtesy of Albany Lodge)
Check-in, get settled and then choose from one of Laramie's wonderful restaurants for dine-in or takeout. Many hotels have restaurants on-site or check out one of the many fabulous eateries in the area.
For burgers and wings Born in a Barn can't be beaten. The Library, Accomplice, Alibi, or Roxie's on Grand bring a unique flair to traditional pub food. Craving Asian flavors? Mizu Sushi, Anong's, and Thai Spice are stellar options. For Mexican food, Corona Village is definitely delicious. At Wyoming's Rib and Chop House and Altitude Chophouse & Brewery, steaks, seafood, and more are on the menu. And, Sweet Melissa's brings vegetarian fare to a whole new level. These are only some of the many restaurants Laramie has to offer.

Day 2 Winter Weekend Itinerary

Breakfast
Start the day off right with breakfast at the hotel or one of Laramie's tasty breakfast options. Local favorites include The Prairie Rose Cafe, The Good Egg, and the 17th Street Cafe.

Fun in the Snowy Range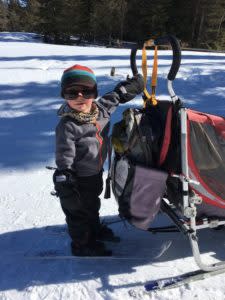 Little Cross-country Skiier (photo credit Brittany Thompson)
Take the day to enjoy all that the Medicine Bow-Routt National Forest and the Snowy Range area has to offer. Medicine Bow-Routt National Forest is only a short 35-mile drive from Laramie, just outside of Centennial. This area is known for its cross-country skiing, snowshoeing, snowmobiling, and downhill skilling.


Cross-country Skiing and Snowshoeing
Enjoy the solitude and serenity of the mountains from the beautiful trails. The trails wind through the forest and offer stunning views of rocky peaks, frozen lakes, and snow-dusted pines. Visit the  Winter Sports Section of the Medicine Bow-Routt National Forest page for more information about trails.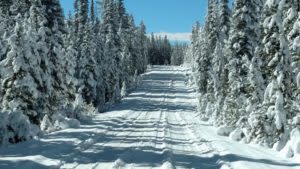 Snowmobile Trails (photo courtesy of Albany Lodge)



Snowmobiling
The Snowy Range mountains are a popular place to snowmobile. The national forest is criss-crossed by extensive trails for snowmobiling. Maps of the Snowy Range area can be downloaded from the Wyoming Parks Snowmobile page. For more information on snowmobiling etiquette, trail conditions, and other important information the Wyoming Parks Snowmobile page is a great resource.
Downhill Skiing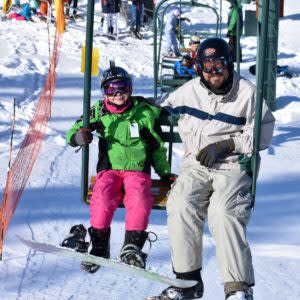 Family Fun at the Snowy Range Ski Area (photo courtesy of Snowy Range Ski Area)
Snowy Range Ski Area is also located in the Medicine Bow-Routt National Forest, just a few miles from Centennial. The ski area has a variety of exceptional alpine ski trails ranging from "beginner" to "expert" level. Additionally, there are also two terrain parks and Nordic ski trails. They also offer reasonably priced gear rentals, as well as ski and snowboard lessons. For more information about rates and hours of operation be sure to visit the Snowy Range Ski Area website.


Where to Warm-Up
Take a break from the snowy slopes and enjoy snacks or a hot meal at one of the many wonderful eateries in the area. The Snowy Range Ski Area offers several great options for patrons: The Lodge, the Happy Jack Cafe, Libby Creek Bar and Grill, or the Snowy Joe. 
There are, of course, the afore-mentioned  Albany Lodge Restaurant and Woods Landing Resort Restaurant. And the town of Centennial has the Mountain View Cafe and the Old Corral, as well as the Bear Bottom Bar and Grill.


Day 3 Winter Weekend Itinerary


Breakfast
Once again, don't forget breakfast! After all, it's the most important meal of the day, especially when spending the day enjoying winter sports and activities.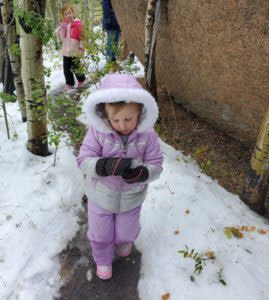 Enjoying a Snowy Hike at Vedauwoo (photo credit Leah Veinbergs)


Fun in the Pole Mountain Area
The Snowies are such a perfect winter wonderland that you can easily spend the entire weekend there. However, visiting the Pole Mountain Area provides the opportunity to see a whole new type of terrain. This recreation area is located on Interstate 80 just east of Laramie. The area is known for its wonderful trails and astonishing rock formations. It includes the Tie City Trailhead, Happy Jack Trailhead, and Vedauwoo Recreation Area.
The ski trails in the Pole Mountain Area are conveniently located, easy to access, and well-maintained. This is also a wonderful place for snowshoeing. Follow this link for a map of the Happy Jack and Tie City Ski Trails.
 
Winter Weekend Itinerary Alternative Activities
Although Laramie is blessed with extraordinarily sunny weather most of the winter, it is cold and often windy. On the rare occasion that the weather is too extreme to enjoy outdoor activities, there are still plenty of awesome indoor options.
Laramie Ice and Event Center offers reasonably-priced admission and skate rentals—rentals for kids under 18 are free! They also provide skate-sharpening and rivet replacement. You can even take a half-hour lesson with a professional figure skating coach.
For something that is sure to be unique, try LEAP. LEAP is a "Ninja Obstacle Course" that offers physical fun for adults and kids alike.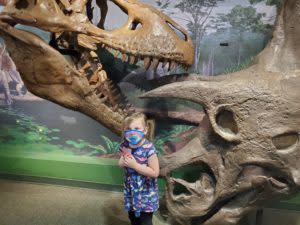 UW Geological Museum (photo credit Leah Veinbergs)
Try something crafty and paint pottery at Art and Soul Pottery. Choose from a huge variety of pre-made pieces, select your glaze colors, and create a one-of-a-kind work of art.
For those looking to expand their minds, Laramie has several wonderful museums. The Laramie Plains Museum at the Ivinson Mansion, the University of Wyoming Art Museum, the University of Wyoming Geological Museum, and the Harry C. Vaughan Planetarium are all amazing and educational. 
Studio City is the place to take in a movie. The theater features 10 auditoriums with wall-to-wall screens, comfortable recliners, and all the concessions you could want.
Last, but not least, downtown Laramie has terrific shopping with everything from antiques to sporting goods. For more information on Laramie's shops and retailers see our Spectacular Shopping in Laramie blog post.


Plan Your Visit Now
With so much to offer, Laramie is the ideal winter getaway. Stay in a cozy hotel, ski in fresh powder, snowmobile across breathtaking landscapes, eat amazing food – Laramie has it all. Save this winter weekend itinerary and plan your vacation now. 
You may also enjoy these other posts: A Guide to Snowmobiling near Laramie, Wyoming, Guide to Family Skiing and Snowboarding at Snowy Range Ski Area, Top 5 Things to Remember when Snowshoeing, Best Laramie Hotels to Stay at When the Roads Close, and Top Five Restaurants in Laramie.