Looking for a winter sport that's fun, simple, and relatively inexpensive? Look no further than snowshoeing. Snowshoeing is an excellent, low-impact workout that is suited for people of all ages. Snowshoes give you access to winter terrain that would otherwise be difficult or impossible to traverse.
Wyoming Snowshoeing if you've never snowshoed before, the good news is that the sport is extremely accessible: if you can walk, you can snowshoe, admittedly with a slightly wider, longer, and higher stride.
How Do Snowshoes Work?
Snowshoes have been around for thousands of years, and over time, snowshoeing has evolved from a purely utilitarian practice to a modern-day winter sport. The essential function of a snowshoe is to create a walking platform over the snow that disperses your weight over a large enough area to prevent your foot from sinking into the snow (known as "post-holing").
Snowshoes were originally made of birch bark with an animal hide stretching to form a platform over the snow. Modern-day snowshoes are typically made with an aluminum frame and a lightweight material (usually nylon) called "decking" that stretches across the frame. Bindings attach your shoes to the frame and decking. Lastly, crampons or spikes are included in most models to help you grip the snow. The "spikier" the snowshoes, the more suited they are for icy or steep climbs. Similarly, snowshoes meant for mostly flat terrain boast relatively flat spikes.
What Kind of Snowshoes Do I Need?
If you're a beginner, it's a good idea to rent snowshoes for your first outing (we suggest swinging by Laramie Basecamp in Downtown Laramie), just to be sure you enjoy the activity. You may even be able to try a few different models and see what you like.
If and when you decide to purchase your own snowshoes, as a beginner you should look for models that fall into the "recreational / hiking" category as these are best suited for beginners and therefore beginners' terrain (flat and rolling hills). Down the line, if you want to get into snowshoe running or backcountry snowshoeing, there are snowshoes specifically designed for those activities.
How to Snowshoe
Recreational snowshoeing is little more than walking with a bit more purpose in your step and with a slightly longer, wider, and higher stride. Because of this slight change to your stride, you will use muscles you haven't used as much before, so be prepared to be a little sore the next day.
The conditions will affect how high you have to step because the snow gives underneath as you walk (much like the feeling of walking on sand on the beach). If you are breaking trail, the snow will "give" more and you will have to increase the height of your stride, which is more difficult than walking on groomed trails but promises a solid workout.
Use trekking or hiking poles with snow baskets to maintain your balance (cross country ski poles work for this as well). You may feel awkward at first, but it won't take long for you to get the hang of things.
To go up and down hills on snowshoes, use the crampons or "teeth" to dig into the snow or ice for increased traction while bending your knees and taking smaller strides. To go uphill, press down on the front of your snowshoes; to go downhill, lean back slightly on your snowshoes.
What To Wear
In addition to your snowshoes and poles, footwear is another important consideration. Wear waterproof, warm snow boots, ski boots, or hiking boots. High gaiters are also very helpful for keeping snow out of your shoes.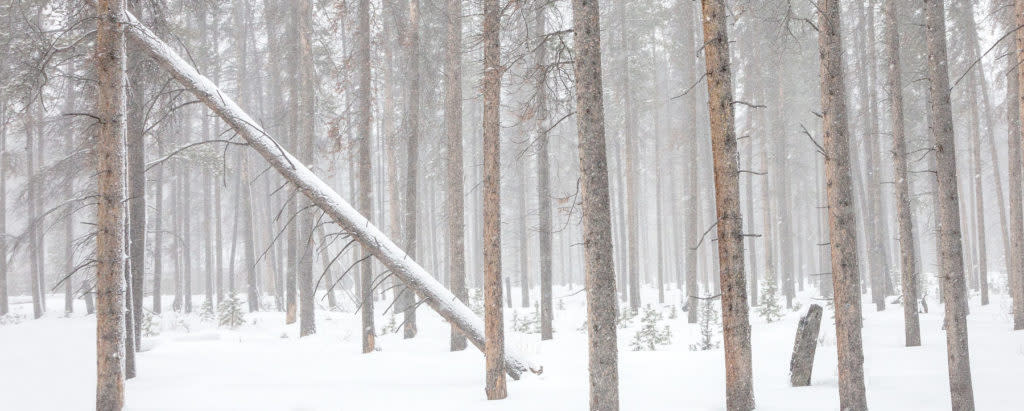 As for clothing, a wind-resistant top layer paired with athletic clothing made of wool or other moisture-wicking fabrics is your best bet (avoid cotton as it tends to hold moisture). A hat and gloves are both necessities, and if conditions are extra cold, use air-activated hand and toe warmers.
Snowshoeing is a nice workout and therefore generates heat, so adding and subtracting layers is the best way to ensure that you maintain a comfortable temperature. Pack your shedded layers in a backpack along with water, snacks, sunscreen, sunglasses, and a small first aid kit.
Where to Go
Now that you're ready to go, your next consideration will be where to go. Most walking, hiking and biking trails double as snowshoeing trails in the winter, and cross country ski recreational areas often contain snowshoeing trails as well. Do keep in mind, however, that certain trails you hike in the summer (such as rocky or narrow trails) may not be the most suitable for snowshoeing.
Be sure to inform yourself about the etiquette on the trails you visit. For example, take care not to snowshoe over groomed cross country ski trails and to give skiers the right of way—it's much easier for a snowshoer to suddenly stop or get out of the way than it is for a skier.
If it's your first time out, stick to terrain that is relatively flat, advancing to rolling hills once you hit your stride. Try out established trails with clear paths. Once you gain more experience, you may decide to venture off the trail a bit.
We're lucky to live in Laramie, Wyoming, where close-by trail systems and recreation areas offer spectacular snowshoeing opportunities, including the Tie City/Happy Jack Trailhead, Chimney Park Trailhead, and the Snowy Range.
For more on snowshoeing, cross country skiing, some of our favorite trails and more, click here.
Note: Brian and Dani Harrington are independent writers contracted by Visit Laramie. Views and opinions expressed here are their own and do not reflect those of the Albany County Tourism Board.