Few things in life are as cozy and peaceful as a winter cabin retreat. You'll already start to relax as you visualize yourself waking up to a mountainous landscape blanketed in snow, sipping your coffee next to a crackling fire.
Getting away from the stress of daily life is reason enough to plan a cabin stay, and the mountains around Laramie, Wyoming are an excellent choice for this purpose. With seemingly endless open space, incredible scenery, and a wide variety of easily-accessible winter recreation options, you can't go wrong with a trip to this area.
Ranging widely in size, remoteness, and amenities, cabins are a great option for just about any trip or budget. Options for cabin stays near Laramie are plentiful and offer a pleasing variety of experiences. In this post we'll explore several types of cabins in the area to help you plan your getaway.

Cabins With All The Amenities
Lodges and Guest Ranches offer the cabin experience with all the comforts of home and more. Prepared food and beverages, easy access from your vehicle, and closer proximity to other guests' cabins can be both comforting and convenient. 

The Vee Bar Guest Ranch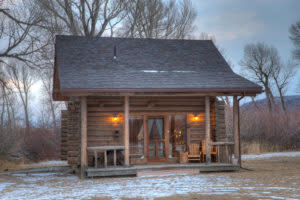 Nestled into the cottonwoods along the banks of the Little Laramie River, the Vee Bar Guest Ranch prides itself on "True Western Hospitality" and is located 25 miles west of Laramie on Wyoming Highway 130.
For accommodations, the Vee Bar offers several riverside suites close to the main lodge as well as three cabin rentals. The cabins are located further away from the main lodge and so are ideal for those looking for a more secluded experience. One cabin is near the fishing pond while the other two are surrounded by meadows. History lovers will appreciate the fact that two of the three cabins were original structures on the ranch.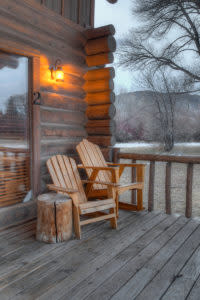 Each cabin can comfortably host five to seven guests. A gas fireplace will keep you toasty despite the outside temperature, warm blankets and quilts abound, and you'll love the cozy, spacious seating area. A small refrigerator and coffee maker add further convenience.
While the Vee Bar Guest Ranch is a lovely location for a summer stay, it is also ideal for winter given its proximity to the Snowy Range Mountains, just minutes away. The Snowy Range is full of winter recreation activities for the whole family, including downhill skiing at the Snowy Range Ski area, snowmobiling, cross country skiing, and snowshoeing. After your day in the mountains, enjoy a delicious pizza at the Bear Bottom in Centennial or, on the weekends, have dinner at the Vee Bar itself before turning in. You might even consider a nightcap at the Vee Bar's John Wayne Saloon. On a final note, it's worth mentioning that a daily, delicious breakfast is included in your stay!

Albany Lodge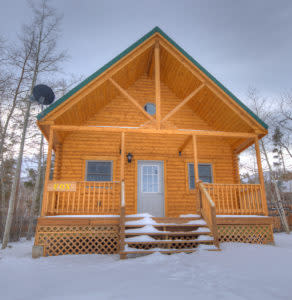 Thirty-two miles west of Laramie, Albany Lodge lies at the base of the Snowy Range and is another excellent choice for a mountain vacation during the winter months. Its closeness to the Snowy Range means you have convenient access to all the winter sports mentioned above. For snowmobilers, the Lodge is a particularly good choice as it offers easy access to hundreds of miles of groomed and marked snowmobile trails and breathtaking backcountry territory.
Albany Lodge is packed full of amenities, including a restaurant that features a large, varied menu for all three meals of the day and a full bar with a wide variety of craft beers.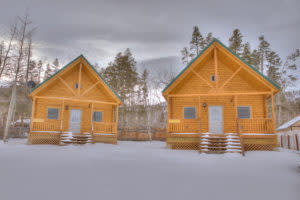 Cabin options at Albany Lodge are plentiful, allowing you to choose what best accommodates your style and the number in your party. Sleeping up to 6, the Fox and Willow Cabins are two recent additions that are particularly aesthetically pleasing and feature two bedrooms, a private loft, a fully equipped kitchen, and a covered front porch. In addition to cabins, Albany Lodge also has a series of newly renovated hotel rooms.

Vacation Rentals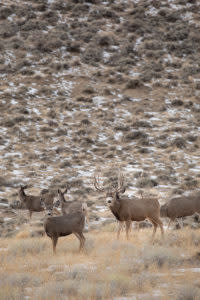 Your ideal serene winter cabin might just be waiting for you on a site like Airbnb or Vrbo. Vacation rental cabins of this variety are available in and around Centennial, a small, former-mining town that lies right at the base of the Snowy Range. The Rainbow Valley subdivision about 5 miles up the mountain is a cluster of family cabins where you will find many rentals. Cabins of this variety are great for longer stays and families, and for those who prefer a greater level of privacy than what lodge or ranch-style cabins may offer. Click here for the listings close to Laramie that we recommend.

Remote Cabins
Operated by the United States Forest Service, this category of cabin rentals are for those seeking a truly secluded mountain experience in the beautiful Snowy Range. Indeed, some of these cabins can only be reached by ski or snowmobile. Forest Service cabin rentals in this area offer a wide range of experiences. You might be staying at a retired fire lookout or a historic structure. While these cabins are primitive by nature, they make up for it in pure mountain serenity, stunning scenery, and excellent, direct access to the outdoors. Just strap on your cross-country skis or snowshoes at your front door and get going!
A rustic, 3-room cabin sitting at over 10,000 feet on the banks of Brooklyn Lake, the Little Brooklyn Guard Station is one of our favorites for its amazing views and immediate access to outdoor recreation. The Little Brooklyn Guard Station is open year-round, and the Forest Service provides propane and firewood as well as cooking supplies and utensils.
Before you finalize your plans, check for availability given that Forest Service cabins are currently closed due to COVID-19. You can find more information here on the Forest Service website.
You may also enjoy some of our other blogs, "Socially Distant Winter Activities," "Top 4 Cross Country Ski Trails Near Laramie," "Top 5 Reasons to Try Snowmobiling this Winter" and "Laramie: The Perfect Winter Destination for Families."
Note: Brian and Dani Harrington are independent writers contracted by Visit Laramie. Views and opinions expressed here are their own and do not reflect those of the Albany County Tourism Board.