Maybe you have noticed it too? Seemingly out of nowhere, fat bikes are springing up in nearly every bike shop and are now a frequent sight at your favorite trailheads. Despite being around since the early twentieth century, fat biking is finally getting its moment in the sun. Fat bikes offer a more stable way for riders to navigate technical terrain—primarily snow, although they are equally beneficial in loose sand and gravel.
Laramie, Wyoming is quickly becoming a hub for fat biking. With expansive trail systems in nearly every direction, it is easy to find the right fit for your trip. The most popular trails are just 15 miles east of Laramie at the Tie City / Happy Jack Recreation Area, but you can also find a great (and often less busy) ride in the Snowy Range Mountains, specifically at Corner Mountain, the Green Rock Trailheads, and even Chimney Park.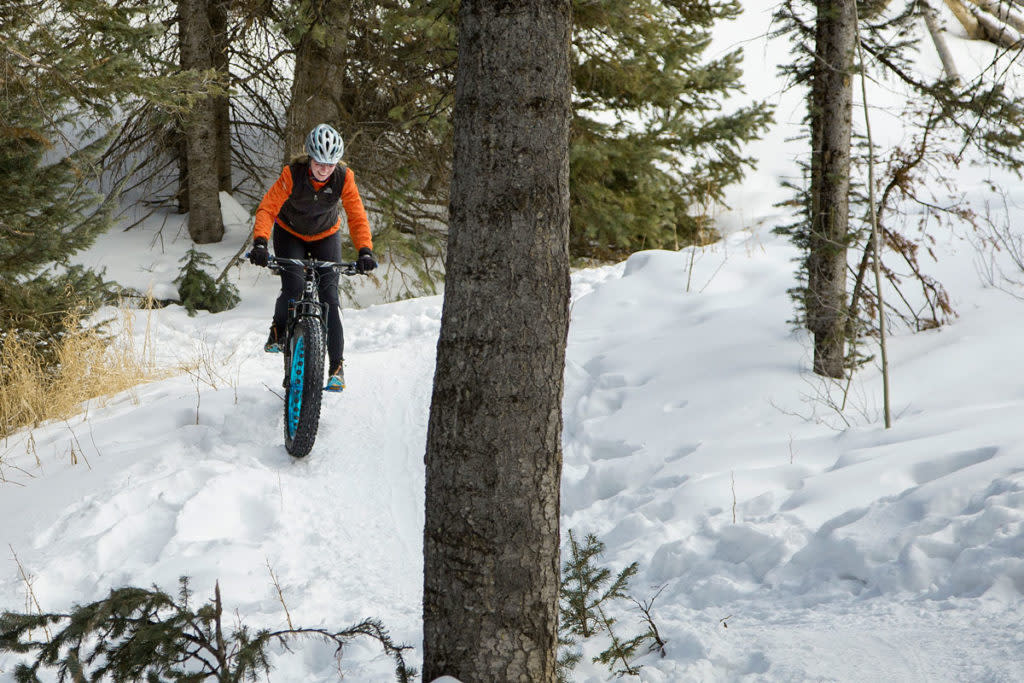 As a person who is brand new to fat biking in Wyoming, I've gained some valuable insight for beginners during my first few trips out. I'll share them here.
---
Tip # 1: Carefully Select Your Gear
---
Selecting the right gear for fat biking can make or break your trip, both in terms of your overall comfort and safety.
A Correctly Sized Bike
Let's start by talking about the bike itself. Borrowing a bike from a friend is a great option for your first ride, but be sure it's one that is correctly sized for you. We've all had the experience of riding a bike that is either way too small or has us straining to reach to pedals, and that experience is even less fun when you add cold and snow to the mix. I'd suggest visiting The Pedal House or All-Terrain Sports in downtown Laramie to check out their selection of demo bikes. Their knowledgeable staff can assist you in finding a bike that fits your needs.
Footwear
As far as footwear is concerned, be sure to wear warm, waterproof boots. There are boots designed specifically for winter fat biking that fit this bill and can be clipped into your pedals as well. Although some fat bikers definitely argue for the perks of wearing shoes or boots with pedal clips, just know that if you go this route, you may spend a fair portion of your time chipping ice and snow out of them. Winter-grade fat biking boots can also be quite pricey.
Gloves / Mittens
To keep your hands warm, you may choose to wear traditional winter gloves given that they are a convenient, affordable option. However, traditional gloves can make gripping your handlebars a bit challenging—especially if they are bulky. In my experience, it is well worth it to invest in a pair of bar mittens, which are specially designed for cold weather riding and offer both warmth and dexterity. You can find bar mittens at no less than three local Laramie businesses: The Pedal House, All-Terrain Sports, and Atmosphere Mountain Works.
A Helmet
As the advice goes, any time you ride a bike of any kind, wear a helmet! While you may be tempted to think that snow is soft and therefore a helmet might not be necessary, remember that a tree isn't and neither are the rocks or frozen earth that lurk beneath the snow. Opt for an insulated helmet, such as one that you would use for downhill skiing or snowboarding. If you don't have an insulated helmet, you can always wear a thermal beanie under your helmet which will serve as a thin insulating layer between your helmet and head.
Eye Protection
Bringing along sunglasses may not seem obvious at first, but snow reflecting the sun can be extremely bright and damaging to the naked eye. Plus, you won't spend your whole time squinting.
Layered Clothing
While it's fairly obvious that you'll want to take care to dress warm while biking in the winter, what may be less obvious is knowing how much and what kind of clothing to wear. Fat biking is a nice workout and therefore generates some heat, so adding and subtracting layers is the best way to ensure that you maintain a comfortable temperature. Athletic clothing composed of wool or other moisture-wicking fabrics is your best bet (avoid cotton as it tends to hold moisture). Long underwear is a great base layer, and from there you can add a warm insulated layer and a wind-resistance, waterproof top layer. Pack any layers you may need to shed along the way in a frame bag or a backpack, but be careful not to overfill either as the extra weight can throw you off balance.
---
Tip # 2: Pay Attention to Trail Conditions
---
Fat Biking is possible on any trail but promises a much better time on a well-packed trail. In Laramie, we are truly lucky to have the Tie City trail system right outside our backdoor. This trail system scores points on multiple counts: it is highly frequented by fat bikers, ensuring packed trails; it is located just 15 miles to the east of Laramie, making it extremely accessible and convenient; and it boasts trails that accommodate all levels of riders. Know your trail etiquette and be sure to avoid the groomed cross-country trails.
---
Tip # 3: Pay Attention to Weather Conditions
---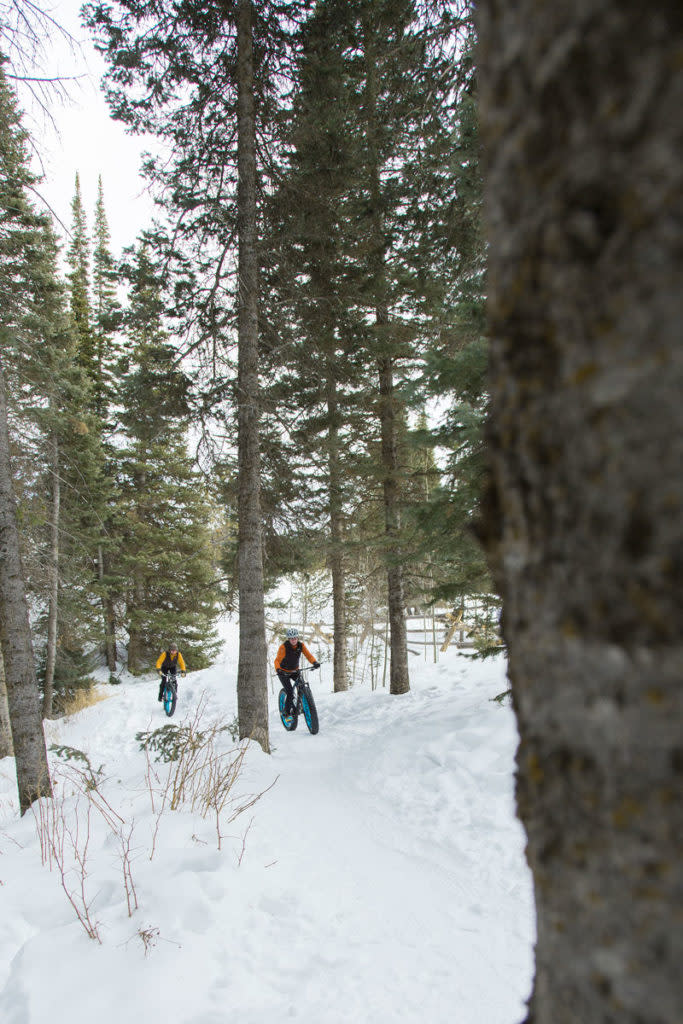 Fat biking is a great way to spend a winter day, and choosing the right weather can make all the difference. Unlike some winter sports, a fresh snow day will be less enjoyable for a beginner. Selecting a packed trail and a day with warmer and less windy weather is definitely the way to go.
---
Tip # 4: Don't Forget Your Fuel!
---
While we might more readily associate dehydration with summer than with winter, winter months actually bring an increased risk of dehydration when cold, dry air causes sweat to evaporate more quickly. This effect is amplified in high-altitude conditions such as Laramie's. This is all to say that it is important to bring and drink enough water while you're out on the trail. And, avoid letting it freeze! It would be a huge bummer to go for a drink only to realize that your water has frozen and you are now both thirsty and lugging around a frozen ice block. To avoid this unfortunate scenario, bring warm to hot water in a traditional bottle or carry insulated bottles to ensure your water won't freeze. If you are a hydration pack person, remember to blow the water back out of the hose after each drink to prevent your hose from freezing. Additionally, it is wise to bring a few snacks with you on any adventure.
---
Tip # 5: Take in the Experience
---
As you mentally go through your gear checklist and try to remember all the considerations listed above, don't forget that the real point of all of your preparations is to get outside and have fun! Enjoy the ride, the views, and the fact that you are in the mountains on a bike in the dead of winter.
Ready to give fat biking a try and hit the trails? Visit our website for more info on how to enjoy the trails on a pair of wheels this winter.
Note: Brian and Dani Harrington are independent writers contracted by Visit Laramie. Views and opinions expressed here are their own and do not reflect those of the Albany County Tourism Board.