As Wyoming's quintessential college town, Laramie, Wyoming has an impressive selection of shopping and stores. Shoppers can enjoy everything from larger chain stores to small-town boutiques. As the weather begins to turn chilly and the Christmas season approaches, it's hard not to want to go shopping. Downtown Laramie is the perfect place to find the perfect gift for a friend loved one or just a treat for yourself. Take time out for a cup of coffee at one of several coffee shops. Or, make a day of it and enjoy lunch or dinner in one of the fantastic downtown restaurants. With Small Business Saturday just around the corner on November 30th, consider making Laramie your "shopping small" destination.  Let's go shopping in Wyoming!
Contents
---
Clothing & Apparel Stores
---
Laramie offers a wide variety of clothing stores to suit almost any taste. From thrift stores to western wear, you're sure to find what you're looking for.
NU2U
Nu2u is a Laramie institution. Located just a few blocks from downtown, Nu2u is definitely worth the visit. They are literally jam-packed with gently-used, high-quality clothing, shoes, and accessories. They carry outerwear, men's, women's, and children's clothing. Not to mention a nice selection of western wear, vintage, formal, and University of Wyoming brown & gold attire. If shopping green while finding awesome deals is your thing, give Nu2u a try. And, don't forget about Nu2u Sports, located downtown, which carries used sports equipment, outdoor gear, and athletic apparel. This is a particularly great spot to look for athletic gear for growing kids.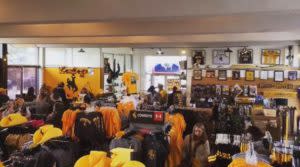 The Brown & Gold Outlet (photo courtesy of The Brown & Gold Outlet)
The Brown & Gold Outlet
Shopping for University of Wyoming fan gear? Look no further than The Brown and Gold Outlet. The Brown and Gold Outlet is a short distance from downtown, but right across from campus. They have everything a fan could need. You can outfit the whole family in Cowboys apparel. Be sure to visit this well-stocked store for its great selection, friendly staff, and wonderful sales.
Martindale's Western Store
Obviously, no list of Laramie clothing merchants could be complete without mentioning where to buy western wear. Martindale's Western Store has a wide variety of denim, outerwear, footwear, women's fashions, and accessories in brands like Levi, Miss Me, Cruel Girl, Carhart, Wrangler, and more. They specialize in quality goods with a western flair.
---
Outdoor Gear & Sporting Goods
---
With the numerous opportunities for outdoor activities like fishing, hiking, and hunting, Laramie is a great place to find outdoor gear. Besides the used gear available at Nu2u Sports, there are several terrific stores to outfit your next adventure.
Laramie's Basecamp
Laramie's Basecamp carries outdoor gear for purchase, as well as specializes in gear rental and guiding services. With extremely knowledgeable and helpful staff, this is the perfect spot to plan and gear up for your next outdoor excursion. 
West Laramie Fly Store
A Laramie favorite, West Laramie Fly Store has hunting and fishing equipment and accessories, as well as knowledgeable salespeople. This inconspicuous gas station/store in west Laramie is an unexpected gem for ammunition, flies and other tackle, bait, Wyoming Game & Fish licenses, snowmobile licenses, and more.
Atmosphere Mountainworks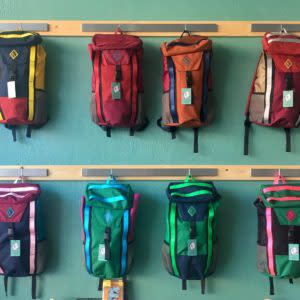 Hand-made backpacks at Atmosphere Mountainworks (photo courtesy of Atmosphere Mountainworks)
What makes Atmosphere Mountainworks so unique is that they actually create their own beautiful and functional clothing and gear in-house. In addition to the sports equipment they carry from well-known brands, they specialize in exceptional, hand-made backpacks, fanny packs, hats, jackets, and other apparel and gear. They will also create custom pieces. This is an ideal store to find a gift for the outdoor enthusiast who has everything.
---
Art, Antiques & Collectibles
---
Downtown Laramie has an abundance of galleries and antique stores to satisfy shoppers and collectors who appreciate rare heirlooms, exceptional craftsmanship, and singular art.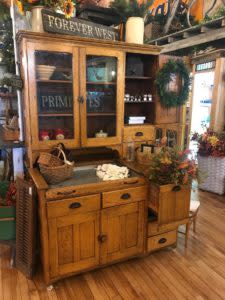 Beautiful Antique Hutch at The Bent & Rusty (photo courtesy of The Bent & Rusty)
The Bent & Rusty
My favorite store for antiques is The Bent & Rusty. You can practically get lost in the two levels of this store while looking at all the exquisite antiques and collectibles. They also carry Wyoming apparel, jewelry, handmade soaps, and other local and artisan goods. This store is always a wonderful shopping experience.
The Curiosity Shoppe
A gift shop for almost everyone, The Curiosity Shoppe is sure to have what you are looking for. The shop's teeming shelves display an abundance of collectible figurines, seasonal decor, Christmas ornaments, and Wyoming-themed gift items. They also have kitchen wares, candles, gourmet food items, cards, stationery, jewelry, and children's gifts.
Earth, Wind & Fire Gallery
Those looking for one-of-a-kind, beautiful art should pay a visit to Earth, Wind & Fire Gallery. This amazing store features breathtaking blown glass, pottery, woodworking, and jewelry. Find a unique accessory or a stunning piece to display in your home.
---
Gift and Specialty Stores
---
Downtown Laramie has a plethora of distinctive shops and boutiques that are fun to explore. Whether you are looking for the perfect gift for someone special or a treat for yourself, be sure to see what these stores have to offer.
Night Heron Books & Coffee House and Second Story Books
Who doesn't love a good book? These two fantastic book stores are located next to each other. Night Heron Books and Coffee House has a terrific collection of used books for a true book lover to explore--not to mention coffee, sandwiches, and other baked treats. Second Story Books specializes in new books, stationery, and other gifts. These two are definitely worth a visit. Bring your kids too, as each has a special children's section full of children's books and toys for them to play with.
Poppy's
Poppy's boutique is a treasure trove located in the heart of downtown Laramie. Here you can shop for that perfect gift, or find the accessory, or high-end, quality clothing item you have been looking for. You can also order a beautiful floral arrangement to be delivered.
Sweet Pickles Children's Store
If you are looking for something for a special child in your life, pay a visit to Sweet Pickles Children's Store. Sweet Pickles has unique toys, books, games, crafts, puzzles, and clothing for children. Their inventory includes toys from wonderful brands like Melissa & Doug, Corolle, Demdaco, Aurora, Brio, Skip Hop, and more. These are quality toys that are sure to spark hours of creative play.
The Chocolate Cellar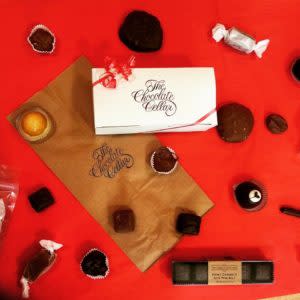 Delicious Hand-made Treats at The Chocolate Cellar (photo courtesy of The Chocolate Cellar)
The perfect way to satisfy that sweet tooth is with a visit to The Chocolate Cellar. The Chocolate Cellar offers the nostalgic charm of a traditional candy shop with a variety of delectable hand-made chocolates, caramels, and other treats, as well as gifts.
Chalk N' Cheese
Chalk N' Cheese is a truly unique shop. This tasting emporium offers charcuterie and wine tastings and dinners, along with a divine selection of wine, artisan goodies, and cheeses from around the world. They also have beautiful home goods and culinary entertaining products.
Big Hollow Food Co-op
Big Hollow Food Co-op is a grocery store, but it is a very special grocery store. Whether you are a co-op member or not, Big Hollow is THE place to buy organic produce, local honey, farm-fresh eggs, bulk spices, and a variety of canned and dry goods from trusted organic brands. Their selection is truly mind-boggling. Also, if you haven't already tried it, pick up a jar of locally made Need More Salsa--you can thank me later.
This list of stores is just a taste of the fantastic stores in Laramie. Not only does Laramie have wonderful small businesses for shoppers to enjoy, but we also have great larger chain stores as well, such as Murdoch's, Maurice's, Ace Hardware, Sportsman's Warehouse, and Wal-Mart. To see more of what Laramie shopping has to offer, please visit our Shopping and Retailers page. Laramie may be a small town, but its many locally-owned and family-operated businesses provide sensational shopping and memorable experiences. 
 
Note: Leah Veinbergs is an independent writer and the author of the blog Two Little Time. She is contracted by Visit Laramie. Views and opinions expressed here are her own and do not reflect those of the Albany County Tourism Board.