Laramie is hands-down the best Wyoming winter destination for families! From the powdery peaks of the Snowies to the well-maintained trails that crisscross the mountains and valleys, there are winter activities for everybody. What's more, with its family-friendly vibe, the Laramie area is a wonderful place to introduce kids to the fun of winter sports. Bundle up and get outside to enjoy the clear, sunny skies and glittering snow that make Laramie, Wyoming a winter wonderland.

Medicine Bow-Routt National Forest
Medicine Bow-Routt National Forest is located just 35 miles west of Laramie. The national forest encompasses the Snowy Range mountains and some of the best winter sports opportunities in the area.
Cross-Country Skiing and Snowshoeing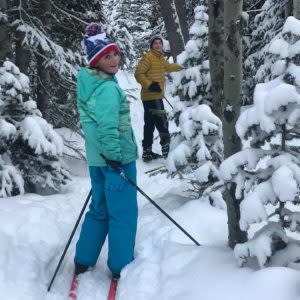 On the trail (photo credit Laramie Basecamp)
 
In the summer, Medicine Bow-Routt National Forest is home to wonderful hiking trails. In the winter, many of these trails become ideal places for snowshoeing and cross-country skiing. These beautiful trails wind through the trees and offer beautiful views of rocky peaks, frozen lakes, and snow-dusted pines. Visit the Winter Sports Section of the Medicine Bow-Routt National Forest page for more information about trails.


 
Snowmobiling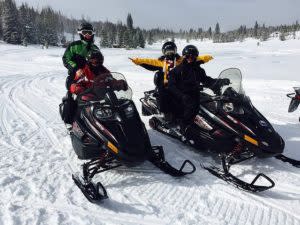 Winter Fun (photo credit Michelle Rey)

For those who have a need for speed, the Snowy Range mountains are a fantastic place to snowmobile. Throughout the national forest, there are extensive trails for snowmobiling. Maps of the Snowy Range area (as well as other areas) can be downloaded from the Wyoming Parks Snowmobile page. For more information on snowmobiling etiquette, trail conditions, and other important information the Wyoming Parks Snowmobile page is an excellent resource.

Where to Warm Up
After a chilly adventure, there are plenty of great local places to warm up with tempting food. The Albany Lodge (in Albany), Wood's Landing Resort (in Wood's Landing), and Bear Bottom Bar & Grill, Old Corral Hotel & Steakhouse, and the Mountain View Historic Hotel & Cafe (in Centennial) are all conveniently-located options for a delicious meal.

Snowy Range Ski Area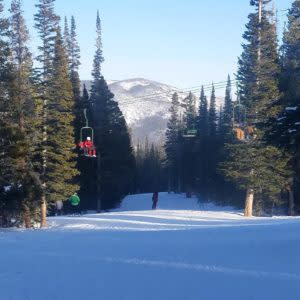 Stunning Slopes (photo credit Snowy Range Ski Area)
Snowy Range Ski Area is a major winter destination for families. It is conveniently located in the Medicine Bow-Routt National Forest, just a few miles from the town of Centennial. Snowy Range Ski Area offers a wide variety of exceptional alpine ski trails ranging from "beginner" to "expert" level. They have four chair lifts to carry skiers to the 9,633-foot summit elevation. There are also two terrain parks and nordic ski trails as well. 
Snowy Range Ski Area offers additional services and amenities that make it ideal for families. The Snowy Range Ski Lodge is a great place to warm up and enjoy one of the three options for refreshment: the Happy Jack Cafe, Libby Creek Bar and Grill, or the Snowy Joe. They also offer reasonably priced gear rentals, as well as ski and snowboard lessons. For more information about rates and hours of operation be sure to visit the Snowy Range Ski Area website.

Pole Mountain Area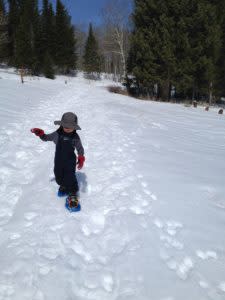 A tiny snowshoer (photo credit Brittany Thompson)
The Pole Mountain Area is located on Interstate 80 between Laramie and Cheyenne. This area is known for its wonderful trails and unusual rock formations. It includes the Tie City Trailhead, Happy Jack Trailhead, and Vedauwoo Recreation Area.
The ski trails in this area are conveniently located and well-maintained. This is also a wonderful place for snowshoeing. The rugged pines and craggy rocks against the pristine snow make this area visually stunning and interesting to all ages. Follow this link for a map of the Happy Jack and Tie City Ski Trails.

Laramie Ice and Events Center

The rink at the Laramie Ice & Events Center (photo credit Laramie Ice & Events Center)
Another great winter destination for families is the Laramie Ice and Events Center. It may not be the great outdoors, but it's still great. Enjoy the classic winter fun of skating, while sheltered from the wind and cold. 
Laramie Ice and Event Center offers reasonably-priced admission and skate rentals—rentals for kids under 18 are free! They also provide skate-sharpening and rivet replacement. Interested in skate lessons? Take a half-hour lesson with a professional figure skating coach.

Gear Rentals and Equipment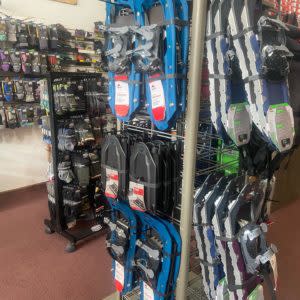 Check out the gear! (photo credit Laramie Basecamp)
For winter gear, look no further than Laramie's Basecamp. Laramie's Basecamp offers a variety of gear for purchase (check the webpage for the stock). The store has snowshoe, alpine, and cross-country ski rentals. Basecamp is also a great place to have skis and snowboards tuned and waxed. They even offer periodic free cross-country ski lessons for kids. For more information, be sure to check their Facebook.
Undoubtedly, Laramie is an exceptional Wyoming winter destination for families. Whether your family members are seasoned winter-sport enthusiasts or novices, there is an activity that is sure to meet your needs. Take advantage of all that the Laramie area has to offer—year-round—and plan a trip today.
Discover more informative posts about winter activities: Guide to Family Skiing and Snowboarding at Snowy Range Ski Area, Top 4 Cross Country Ski Trails Near Laramie Wyoming, Snowshoeing Tips for Beginners, A Guide to Snowmobiling Near Laramie Wyoming, and Best Laramie Hotels to Stay at When the Roads Close.