My twin brother and I spent our childhood summers riding bikes along the single-track trails of the Big Horn Mountains in northern Wyoming. Even though these are fond memories, they are memories of sections of unmarked trails or "trails" that slowly disappeared or dead-ended.
In contrast, the surrounding areas of Laramie, Wyoming where my brother and I live now overflow with opportunities for epic mountain biking. Curt Gowdy State Park, in particular, is home to 35 miles of incredible mountain biking trails for all skill levels, from the beginner to the expert. Curt Gowdy draws visitors interested in an array of outdoor activities, including camping, hiking, boating, and more, although the state park is especially renowned for what it has to offer in the way of mountain biking.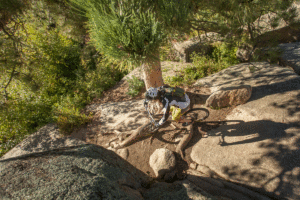 Curt Gowdy State Park is located halfway between Laramie and Cheyenne on Highway 210 / Happy Jack Road. If you're home-basing in Laramie, check out The Pedal House before you head out of town for the most current trail information and any last-minute gear.
Visitors to Curt Gowdy are required to pay a day use fee, which is $4 to $6 dollars for Wyoming residents and $6 to $9 for non-residents, depending on the time of year (price is per vehicle).
Your first stop in the park will likely be at the Aspen Grove Trailhead, the point from which you can access the majority of the park's trails. If you want to check out a trail map before your arrival, you can download one here.
Once you start riding, you can rest assured that each trail intersection will display a map showing you exactly where you are. These maps also indicate trail difficulties that include easy, easy/intermediate, intermediate, advanced, and expert. Pay special attention to these ratings -- Gowdy has some seriously technical terrain.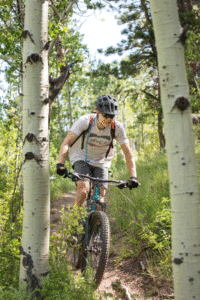 The Shoreline and Ferguson trails make loops around the reservoirs and are great for beginner riders. Or, if you are an experienced rider or just love more technical terrain, you'll find your favorite trails further into the park in the canyon section between the two reservoirs. I suggest Middle Kingdom as a jumping-off point for this kind of adventure. Note that you'll need to follow the main park road past Granite Springs Road in order to get to Middle Kingdom rather than starting from the Aspen Grove Trailhead.
My favorite ride in the park is the 4-mile loop called Stone Temple, aptly named after the large rock feature below which the trail directly passes. Stone Temple is my go-to trail because directly from it you can access other trails in the park as you follow its loop, extending both your ride and your views. You can ride Stone Temple in either direction, but I like to head north out of the parking lot and ride it counter-clockwise. This way, your journey begins with a nice warm up as you climb through the open prairie and into beautiful aspen forests before you get into the more technical sections.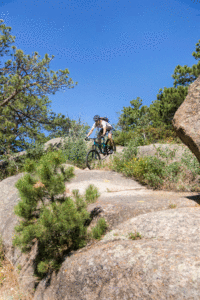 Gold Watch is a new and exciting trail that you access directly from Stone Temple. Charmingly, the trail is named after a state parks administrator who requested a new mountain biking trail in lieu of the gold watch traditionally gifted to retirees. Access to Gold Watch is at junction 4 on the Stone Temple circuit and loops you back into Stone Temple at its end. Gold Watch is all about large, rolling boulders and trusting that there is in fact a clean line through. In case you need help developing that sense of trust, though, there are gold swatches painted onto the rocks to help you find your line. You can rely on these gold swatches throughout the park on certain rock features, but they are particularly important on this trail. Venture back to Stone Temple clockwise to start all over again on Gold Watch (I always ride it multiple times!).
Once I've had my fill of flowing over granite boulders, I typically head for the meadows and speckled aspen forests of Albert's Alley. Albert's Alley also breaks free from the Stone Temple loop, this time at junction 3.  Albert's Alley is a perfect cruiser, though with occasional rocky or rooted sections. If you're like me and you wind up doing one-too-many laps around Gold Watch, you'll find some respite in a mellow ride from Albert's Alley back to the trailhead via the Crow Creek and Pinball trails. Alternatively, if after all this you've still got a little more gas in the tank, I'd highly suggest hitting up El Alto before you make your way back. This bruiser of a trail loops off of Albert's Alley and treats you to a panoramic view of the entire park and surrounding mountains. Be warned that El Alto is an expert level trail (it forces me to walk certain sections every time), but the view is 100% worth it if it's within your skill level.
On your ride back, be sure to watch for hikers on Crow Creek as this is the main hiking trail to the popular Hidden Falls, a picturesque waterfall that flows between a small canyon-like feature formed by looming boulders on either side.
To learn more about mountain biking in Curt Gowdy State Park and other locations near Laramie, check out our page dedicated to mountain biking here.
Note: Brian and Dani Harrington are independent writers contracted by Visit Laramie. Views and opinions expressed here are their own and do not reflect those of the Albany County Tourism Board.