As you ponder where to plan your next adventure for this winter season, we've got a strong case to make for Laramie, Wyoming. Laramie is an ideal location from which you can partake in a wide variety of swinter activities. The town is literally surrounded by winter recreation opportunities, with some locations as close as a 15 minute drive from town, and others not much further.
So, if variety, quality, and convenience is your style, read on. Below, we list some of the many winter recreation activities you can enjoy during your time in Laramie. These might just be the best winter activities for peace, quiet, and solitude.

Cross Country Skiing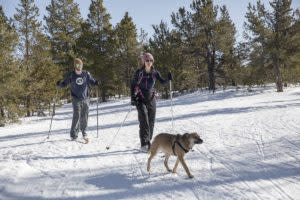 Laramie is an exceptional home base for cross country skiing. Awaiting you from the east, southwest, and west, Laramie's backyard contains a wide variety of cross country ski trails tucked among beautiful alpine scenery.
The Tie City Trailhead earns full bragging rights for proximity to Laramie (just 12 miles) and for having the most well- and regularly-groomed trails. It is also the only location around that grooms for both skate skiing in addition to classic-style skiing. To get there, head east out of Laramie and take exit 323 off I-80 for Highway 210/Happy Jack Road. There are many trails to choose from at Tie City, and all trails are rated by difficulty level.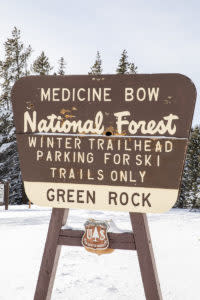 The Snowy Range Mountains west of Laramie are another great location for cross country skiing. The Barber Lake Trail, which departs from the Green Rock Trailhead, traverses the gorgeous high alpine terrain of the Medicine Bow National Forest. This trail features pleasantly long downhill runs that wind you through beautiful sections of forest, with a few flat and uphill sections as well. You may want to shuttle a vehicle to the bottom of the trail, parking at the Forest Service Welcome Center on Highway 130.
Chimney Park is yet another location you might choose for cross country skiing near Laramie and is located about 40 miles west off Highway 230. This trail system features groomed trails that wind through a dense, beautiful lodgepole forest. The trails are primarily flat, making them great for families and beginners.

Snowshoeing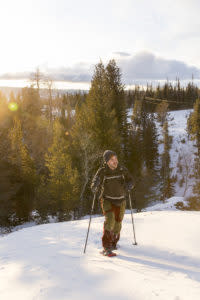 Snowshoeing is another great winter activity that is easily accessed from Laramie. If you've never gone snowshoeing or if you are new to winter recreation in general, snowshoeing is easier to pick up than just about any other winter sport. It provides a solid workout and is a wonderful means for experiencing nature.
All of the locations listed above for cross country skiing are also wonderfully suited for snowshoeing. If you choose to snowshoe from the Tie City Trailhead, be sure to keep to the multi-use trails only. These trails are specifically reserved for snowshoers, fat-bikers, and runners. Snowshoeing over the groomed cross country skiing trails is poor etiquette as it damages the trails.
Local Tip: Both Laramie's Basecamp and Westgate Sports offer cross country ski and snowshoe rentals.

Fat Biking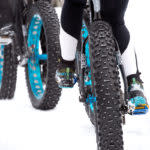 Fat biking is gaining in popularity, and Laramie is quickly becoming a hub for the sport. Fat bikes essentially allow riders to navigate trails covered in snow and ice. As with cross country skiing and snowshoeing, the most popular trails are located at the Tie City / Happy Jack Recreation Area. You can also find a great (and often less busy) ride in the Snowy Range Mountains, specifically at Corner Mountain, the Green Rock Trailhead, and Chimney Park.
Check out the Pedal House or All Terrain Sports for fat bike rentals.

Downhill Skiing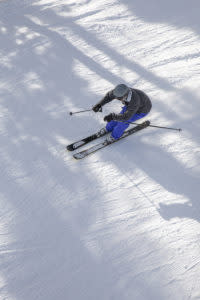 The Snowy Range Ski Area offers fantastic and affordable winter recreation for skiers and snowboarders of all ages and skill levels and is located about 35 miles west of Laramie. Nestled in the strikingly beautiful Medicine Bow National Forest, the Snowy Range's lift ticket prices are hard to come by these days, ringing up at less than a third of other resorts near the area.
The smaller crowds of the Snowy Range Ski Area also mean visitors spend less time waiting in long lift lines and more time enjoying the slopes. Four chairlifts connect you to 27 trails (7 beginner/easiest, 12 intermediate/more difficult, and 8 expert/most difficult).

Snowmobiling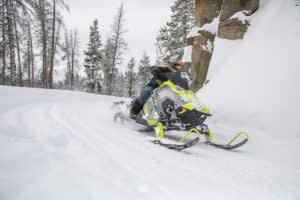 The Snowy Range also boasts some of the country's best snowmobile territory and features terrain that is suitable for riders of all levels. Snowmobiling in the Snowy Range typically means choosing to depart from either Albany Lodge or Green Rock Trailhead. Albany Lodge lies at the base of the Snowy Range and offers easy access to hundreds of miles of groomed and marked snowmobile trails as well snowmobile rentals and amenities that can't be found elsewhere in the range. The Green Rock Trailhead is located above Centennial, higher up in the range.
Snowmobiling in the Snowy Range is special both for the scenic beauty it offers and the vast amount of space that riders can experience without having to fight through crowds common to other snowmobile destinations in the Rocky Mountains.

Ice Fishing
Does it get more socially distant than ice fishing? Laramie is surrounded by a collection of lakes known as the "Plains Lakes" that are perfect for ice fishing. You might try your luck at Lake Hattie, Twin Buttes, or Meeboer.
The Granite Springs and Crystal Lakes Reservoirs are also wonderful locations for ice fishing. They are located in Curt Gowdy State Park, about 25 miles east of Laramie. Stop by the West Laramie Fly Store on your way out of town for the best selection of gear and the most up-to-date information.
You may also be interested in our other blogs: What to Expect on Your First Snowmobiling Trip, Guide to Family Skiing and Snowboarding at Snowy Range Ski Area, and Top 4 Cross Country Ski Trails Near Laramie.
Note: Brian and Dani Harrington are independent writers contracted by Visit Laramie. Views and opinions expressed here are their own and do not reflect those of the Albany County Tourism Board.