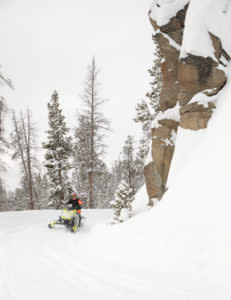 The quality of snowmobiling available in the Snowy Range Mountains in southeastern Wyoming is truly exceptional. Indeed, you would be hard-pressed to find an experience to rival all that this area has to offer, including, but not limited to: easy access to hundreds of miles of groomed and marked trails suitable for riders of all levels; vast and diverse backcountry territory; the breathtaking scenery of the Medicine Bow National Forest; and the dual advantage of fewer crowds and more affordable prices when compared to similar locations in the Rocky Mountains.
About 30 miles west of Laramie, Wyoming, the Snowy Range is home to nearly two million acres of snowmobile recreation, making it a premier destination for riders looking for a greater sense of solace and freedom. Still, solace and freedom need not be sacrificed for comfort: thanks to Albany Lodge, located in the foothills of the Snowy Range, snowmobilers can also enjoy plenty of amenities as well.
In this post, we aim to guide you in the direction of some of the best snowmobiling trails that the Snowy Range has to offer.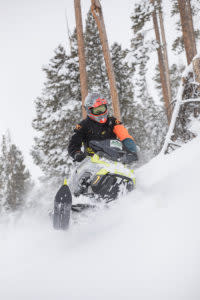 Once you have (wisely) decided to plan your next snowmobiling adventure in the Snowy Range, your next decision will be between one of two main departure points for trail access: Albany Lodge or Green Rock Trailhead. If you are looking for more groomed trails, Albany Lodge is definitely the place to depart from, offering easy access to 300 miles of groomed trails and 200 miles of marked, ungroomed trails. Albany Lodge also features a restaurant and bar, rentals, gear, guide service, a convenience store, and lodging.
However, if quick access to backcountry territory is your main goal, look no further than the Green Rock Trailhead, which is located above the town of Centennial and higher up in the range. The trails around Green Rock are mostly ungroomed and amenities are limited to a Forest Service bathroom, but the benefit is almost instantly finding yourself amidst a vast expanse of stunning and diverse backcountry terrain.
And really, the best part is that you don't necessarily have to choose one experience over the other given that, regardless of your starting point, both areas are connected by the trail systems. In other words, you can have the best of both worlds. This connection also means that you can reach the destinations we cover below from either starting point.
To help visitors like you learn more about how to make the most of their time snowmobiling in the Snowy Range Mountains, we thought it best to pick the brain of someone with advanced knowledge about the area's trail systems. Who better than the owner of Albany Lodge, Dave Wright? Dave kindly offered up some valuable insights to help you plan a memorable day of cruising through the great outdoors.
Per Dave's advice, this post is arranged less like a list of the "top trails" and instead features great trips or itineraries to best suit your needs. His recommendation is to choose a destination and then decide how to get there using the trail map that is available here. There is also an Avenza version for those of you planning to take your smartphones.

Itinerary #1: WyColo Lodge, A Trip for the Whole Family
This half-day ride is enjoyed entirely on groomed trails and is great for the whole family. You depart from Albany Lodge on the "Q" Trail and take it until you intersect with the "B" Trail. Then, take the "B" Trail south to the "T" Trail. Continue south on the "T" Trail through Fox Park to WyColo Lodge. WyColo Lodge is a great lunch stop before heading out to explore more or returning to Albany Lodge. This is an easy trajectory and is great for all skill levels.

Itinerary #2: Ride the Range to Ryan Park
This route takes riders from Albany Lodge to Ryan Park through incredibly scenic and wild terrain, making it an unforgettable experience. While this trip also follows groomed trails entirely, Dave warned that the distance traveled and some sections are best left for those with at least some snowmobiling experience. You'll embark on the "Q" Trail from Albany Lodge. After peacefully ascending the Snowy Range you'll pass Rob Roy Reservoir and the northern boundary of the Savage Run Wilderness. Continuing on "Q", you'll then drop into the French Creek Drainage. Hopping from one canyon wall to the next, you eventually find yourself in Ryan Park. If you planned well, you'll be there in time for lunch at Rendezvous Lodge. While there, be sure to top off your gas tank before heading back the way you came. Take "Q" up the French Creek drainage to its end at Albany Lodge. 

Itinerary #3: A Spectacular Backcountry Adventure Aimed at The Peaks
This type of ride is definitely for more experienced snowmobilers, and in Dave's words, it's also what folks come to the Snowy Range for: wide open meadows of untracked powder, incredible hill ascents, and the quiet solace of being alone in the mountains with a stunning backdrop of alpine scenery.
You can either depart from the Q Trail at Albany Lodge or, if you'd prefer to be a little closer to your destination, from the Greenrock Trailhead. If departing from the Q Trail, you'll turn to head north on the "T" trail across Libby Flats, taking care to be exceptionally cautious if riding off-trail. This is due to the fact that wind blowing across the exposed Libby Flats drifts the snow inconsistently. At times, you may be riding on very shallow snow, and at others you may hit a 20-foot-deep drift. It's also worth noting that the Libby Flats are speckled with giant boulders that you should take care to avoid, for obvious reasons.
"T" concludes at the Libby Flats Observation Point and intersects with the "U" Trail. You can take the "U" trail east to get on the "O" Trail, or, take it West to get on the "N" Trail. Both "N" and "O" take you further north where you can explore the peaks, and these trails can also be looped using the "NO" Trail, which boasts some of the best views on the peaks. If you've been looking for the infamous "Widowmaker," this is where you'll find it.
Especially when venturing out on these more advanced trails, be sure to plan ahead with food, water, and fuel. It's also important that you plan for enough time to make it back to the trailhead before dark.
Finally, if you have any questions or if you want the latest information on snow conditions, it's always helpful to stop in at the dealerships in Laramie (Elway Powersports and Frontier Cycles) or at Albany Lodge.
You may also be interested in our other blogs: A Guide to Snowmobiling the Snowy Range, What to Expect Your First Snowmobiling Trip, and Socially Distant Winter Activities. 
Note: Brian and Dani Harrington are independent writers contracted by Visit Laramie. Views and opinions expressed here are their own and do not reflect those of the Albany County Tourism Board.