One of the most popular fall activities in the Laramie area is, of course, hunting. Choosing a Wyoming Hunting Outfitter may seem overwhelming at first, as there are many outfitters to choose from. Each outfitter offers a unique experience and a variety of packages and price points. Spending thousands of dollars on a big game or trophy hunt is no small consideration. Follow these tips to choose an outfitter that will meet your needs and help you to have an amazing hunting experience. 
In Wyoming, out-of-state hunters are required to hunt with a licensed outfitter or resident guide in federally designated wilderness areas. Even resident hunters may want to hire an outfitter in order to access the variety of services that only an experienced guide can provide.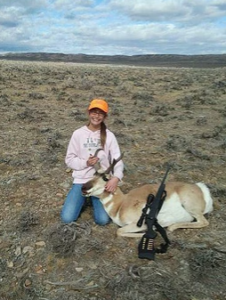 First buck pronghorn! (photo courtesy of Trophy Room Outfitters)
The Wyoming State Board of Outfitters and Professional Guides is a good place to start your search. Their website provides helpful FAQ's, a list of all licensed outfitters in Wyoming, and other useful links. The website also has a request form to find licensed outfitters for particular hunting areas and species.
You can also find outfitters through hunting forums, social media, or an internet search. However you find potential outfitters, the Wyoming State Board of Outfitters and Professional Guides recommend doing thorough research to ensure you have an enjoyable hunting experience.

5 Most Important Things to Consider When Choosing a Wyoming Hunting Outfitter
There are a multitude of factors to weigh when choosing an outfitter. Most of these factors are determined by the specific needs and expectations of the hunter. To begin with, decide exactly what type of hunting experience you want. This is very important to your overall satisfaction with the hunt. Regardless, there are several aspects that are important for any hunt.

1. Hire Only a Licensed Outfitter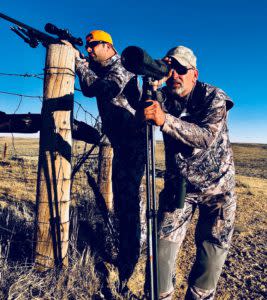 Outfitters provide expertise and tools to improve your hunt. (photo courtesy of Tyler Sims Outfitting, LLC)
This is the most important factor to consider when choosing an outfitter. It is illegal for an unlicensed individual to accept compensation for their services. This is different from hunting with a resident guide (usually a friend or family member) where there is no compensation. It is the hunter's responsibility to ask for the license number of potential outfitters and verify the information with the Wyoming State Board of Outfitters and Professional Guides.
Additionally, Wyoming outfitters are licensed for specific hunting "areas" and species. As the hunter, your hunting license is valid for specific species and hunting areas. This information will be on your hunting license and more details can be found on the Wyoming Game and Fish Hunting page. If you do not already have a hunting license, Wyoming Game and Fish has a helpful Hunt Planner tool. 
For further information about hunting in the Laramie area, see our hunting page.

2. Choose an Outfitter Who Offers the Experience You Want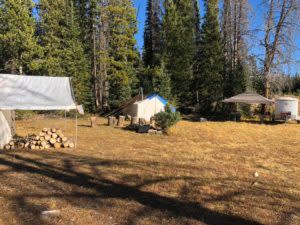 Moose Camp (photo courtesy of Trophy Room Outfitters)
Hunting experiences can vary widely, depending on the specific services and amenities offered by individual outfitters. Therefore, when choosing a Wyoming hunting outfitter, it is paramount that hunters know exactly what they want out of the overall experience. 
Some outfitters may have very basic food and rustic sleeping accommodations for hunters. Other outfitters offer a truly luxury experience. Think about how much you want to "rough it" during your hunt.
An additional consideration is how individual the hunting experience will be. There are outfitters who take groups of hunters out together, while others offer a one-on-one experience. Decide if you want the individual attention of your guide.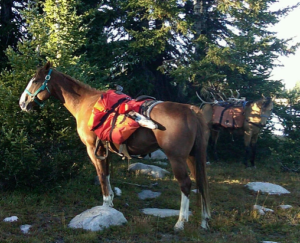 Pack animals make the hunt a little easier. (photo courtesy of Trophy Room Outfitters)
Another factor, of course, is the actual difficulty of the hunt. Hunters need to be cognizant of their own abilities and limitations. There is a world of difference between pronghorn (antelope) hunting and elk hunting. Hunting pronghorn can often be done with comparatively less physical exertion (depending on area). Conversely, elk hunting may involve camping in the backcountry, miles of hiking or riding over difficult terrain, and the daunting task of packing out 300 lbs of field-dressed elk. If you have any physical limitations it is important to discuss these with potential outfitters. Many outfitters offer the use of horses, ATVs, or pack animals to reduce the physical burden.
Still another aspect to think about are additional activities beyond the hunt itself. Some outfitters provide sightseeing or other opportunities to enjoy a more complete Wyoming experience.
Generally, outfitters provide different "packages" for different types of hunts. Spend time reviewing each package, the accommodations, and services offered to find the right hunting experience for you.

3. Read the Outfitters' Policies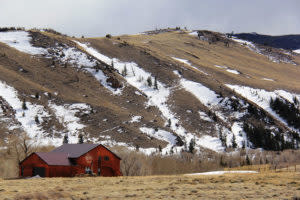 Tyler Sims Outfitting, LLC has lodging available at their "Headquarters" as well as several cabins. (photo courtesy of Tyler Sims Outfitting, LLC)
Different outfitters have different policies regarding deposits, cancellation, refunds, and many other issues. According to the Wyoming State Board of Outfitters and Professional Guides, most of the complaints that they receive are in regards to cancellations and refunds. Make sure to read these policies carefully.
It is also worth noting that some outfitters allow non-hunting guests to accompany the hunter. Some outfitters charge only for the guest's food, but others may charge comparatively high daily fees.

4.
Communicate With the Outfitter Directly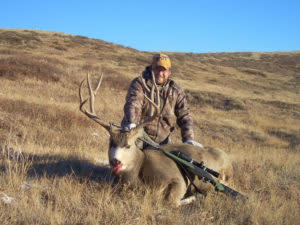 Mule Deer Hunt (photo courtesy of Tyler Sims Outfitting, LLC)
Communication is key. After reading through the hunting package descriptions and policies you will, most likely, still have questions. Make a detailed list of questions on any point of clarification or issue of significance. In addition to the topics mentioned above, it is also a good idea to clarify what equipment and gear are provided or available at an additional cost. Also, what sort of personal apparel (waterproof layers, boots, blaze orange, etc.) is needed.
Contact the potential outfitter before booking and make sure they have time to answer your questions. Also, ask for a list of references who you can contact.

5. Read Reviews and Contact References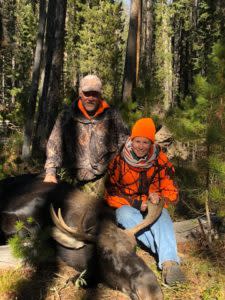 Moose Hunt (photo courtesy of Trophy Room Outfitters, LLC)
It is important to consider other hunter's experiences when choosing a Wyoming hunting outfitter. Most Outfitters post reviews and testimonials of satisfied customers. The Wyoming State Board of Outfitters and Professional Guides may disclose if an outfitter is in "good standing" with the agency, but not specific complaints. You can find reviews for specific outfitters on Google Reviews, The Better Business Bureau, other review sites, social media, and hunting forums.
Also, make sure to contact any references provided by a potential outfitter. Have a list of questions ready to ask the references. Base the questions on the questions you prepared for the outfitter directly. Most importantly, ask the references if they would hire the outfitter again.

Local Outfitter Spotlight
While Wyoming has many experienced, highly-qualified outfitters to choose from, a few local outfitters deserve mention.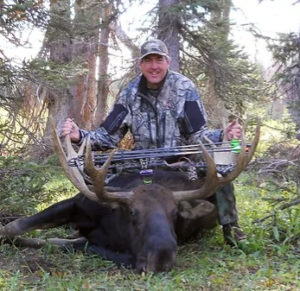 Bull Moose (photo courtesy of Trophy Room Outfitters)

Trophy Room Outfitters
Trophy Room Outfitters offers hunts for moose, elk, mule deer, and pronghorn. Owner and guide, Johnny Bergeson has extensive hunting and guiding experience throughout the state of Wyoming. He is also a certified archery technician. Hunts are on public land and are geared to serious hunters who want individual attention from their guide. Hunters are encouraged to bring family or other guests as well. There are also youth hunts and group and military discounts available. Follow Trophy Room Outfitters on Facebook.

Tyler Sims Outfitting, LLC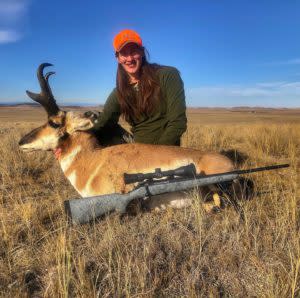 Successful pronghorn hunt! (photo courtesy of Tyler Sims Outfitting, LLC)
At Tyler Sims Outfitting, LLC, choose from elk, mule deer, pronghorn, varmint, or predator (coyote) hunts. Tyler Sims, owner and guide, brings years of experience to each hunt. Hunts take place on 250,000 acres of private land and hunters have the opportunity to enjoy fishing on private lakes as well. Comfortable accommodations are provided in the "headquarters" and also in individual cabins. Follow Tyler Sims Outfitting, LLC on Facebook.

Bar-Nunn Hunting
Bar-Nunn Hunting is family owned and operated. J.T. Nunn has years of experience hunting and guiding on the high plains of Wyoming. Bar Nunn Hunting offers elk, mule deer, pronghorn, mountain lion, prairie dog, and predator hunts. Accommodations include cabins, motels, or camping. Follow Bar-Nunn Hunting on Facebook.
The Laramie area is home to great outfitters and wonderful hunting opportunities. Don't wait to book your hunting adventure of a lifetime.
You may also enjoy: Top Ten Things To Bring on A Hunting Trip in Wyoming, Best Places for Viewing Wildlife in the Laramie Area, Fall Fly Fishing in Wyoming, and Top 5 Lakes to Fish on the Laramie Plains.