All the fun of fall! (Header photo credits clockwise from left: Wyoming Game and Fish, University of Wyoming Athletics, Leah Veinbergs)
The leaves are beginning to change color and there is a slight nip in the air. Another Laramie Fall is upon us. Here are the Top 5 Fall Activities in Laramie. Summer may be over, but there is still plenty of fun to be had.
1. Outdoor Fall Activities
The weather may be getting cooler, but there are plenty of fun fall activities to be enjoyed in the Laramie area. Grab your hiking boots and binoculars and get outside before winter!
Hunting and Fishing

Greater Sage Grouse (photo credit Wyoming Game and Fish)
Fall is, of course, hunting season. The mountains and plains around Laramie boast some of the best hunting around. Pronghorn, elk, deer, and even moose are bountiful in the area. Of course, it is too late in the season to apply for big-game licenses for this year. But, it is never too early to start planning for next year. For more information on hunting in the Laramie area, see our posts Wyoming Big Game Hunting License Guide, Choosing a Wyoming Hunting Outfitter, and Top 10 Things to Bring on A Hunting Trip in Wyoming.
For this fall, there is still plenty of non-quota bird, small game, and predator licenses to be had. The Laramie is home to a variety of grouse, partridge, pheasant, waterfowl, and other birds, as well as an abundance of rabbits. For more information on hunting regulations and to buy licenses see the Wyoming Game and Fish webpage.
Fishing in the fall is also great because the change in temperature causes trout to be more active. They tend to feed for longer periods of time. Brown trout also spawn in the fall. Find out everything you need to know for Fall Fly Fishing in Wyoming.
Hiking and Biking
Fall is one of the best times for hiking and mountain biking. For one thing, the trails are significantly less busy than in the summer months. For another, the cooler temperatures are more comfortable. Just make sure to dress in layers because weather and temperatures can change quickly, especially in autumn. Also, fall is one of the best times for experiencing the true beauty of nature. The changing autumn leaves are absolutely stunning against the brilliant blue skies and emerald green pine trees. Read up on hiking and mountain biking near Laramie: Top 5 Scenic Hikes Near Laramie and Best Mountain Biking Trails.
Scenic Drives and Wildlife Watching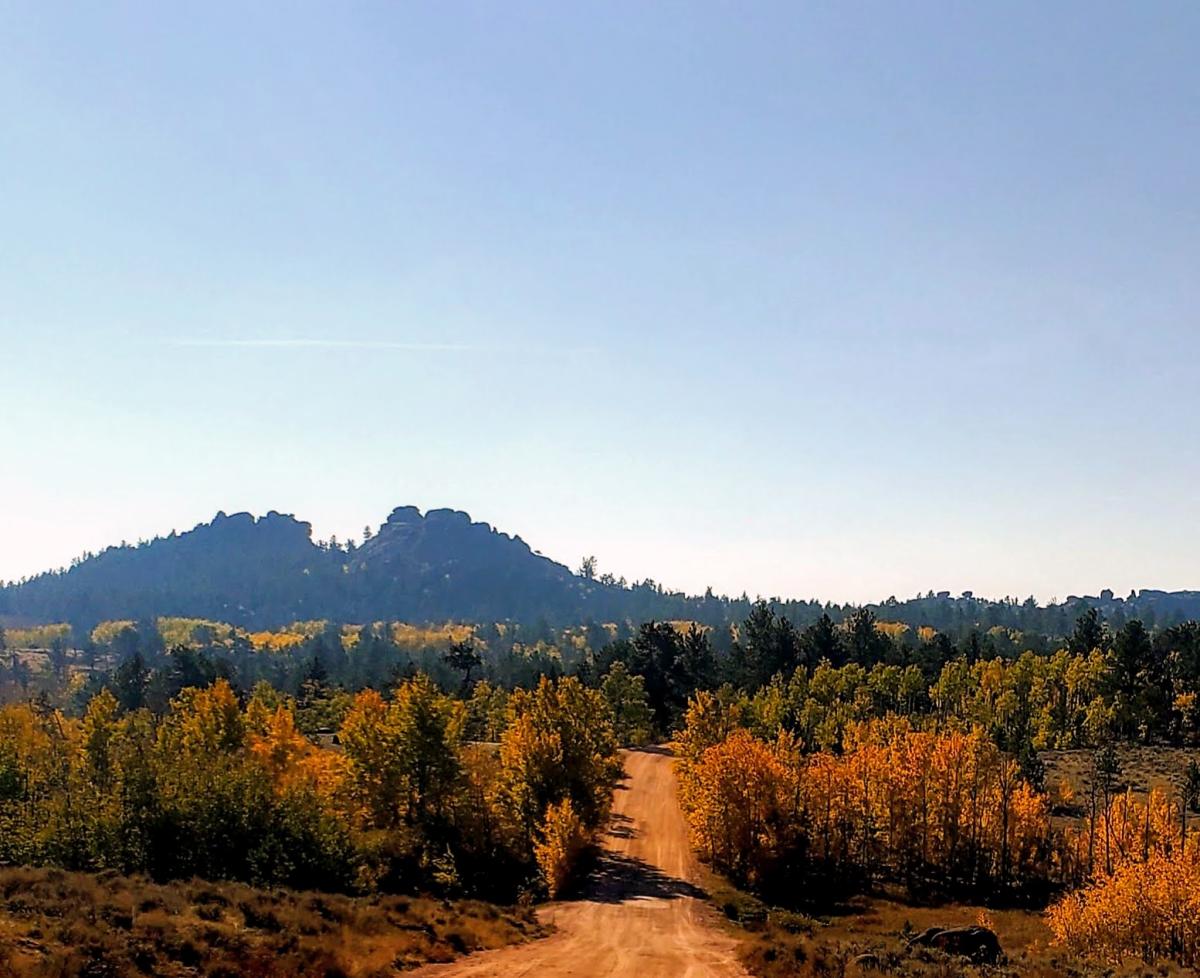 Fall beauty at Vedauwoo (photo credit Leah Veinbergs)
As mentioned above, the Laramie area is particularly stunning in the fall. There are some truly beautiful places for a leisurely drive. The towns of Centennial, Wood's Landing, and Albany are also great places to stop for lunch or dinner.
The Snowy Range Scenic Byway is the most popular in the area. This 29-mile paved highway over the Snowy Range mountains between Centennial and Saratoga offers absolutely breathtaking views of pristine mountain lakes, the rugged Medicine Bow Peak, and gorgeous forests, as well as many opportunities to see elk, deer, moose, and other animals. The byway also intersects with a myriad of U.S. Forest Service Roads in Medicine Bow National Forest. The byway is typically closed from mid-November to late May. Read more about other Scenic Drives on the blog.
Hiking or taking a scenic drive are sure to provide great wildlife viewing opportunities. In the fall, many animals are more active and thus more visible. Early morning and evening are the best times to see wildlife. Make sure to bring binoculars or a spotting scope. For more tips on how, when, and where to see wildlife read this post, Best Places for Viewing Wildlife.
2. University of Wyoming Fall Sports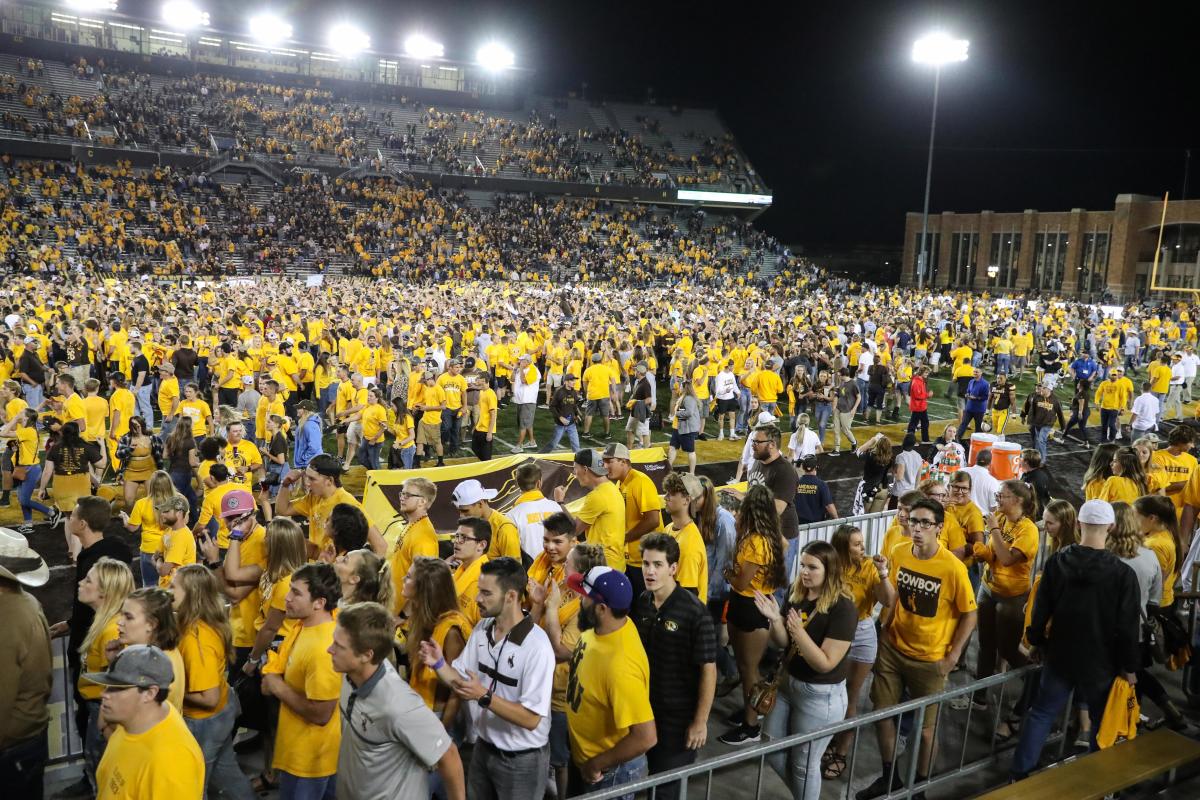 Spectators in War Memorial Stadium (photo credit University of Wyoming Athletics)
Fall in Laramie is the perfect time to enjoy stellar sports at the University of Wyoming. Football season is going strong in Cowboy country. Homecoming is on October 23rd. UW will play the University of New Mexico. Don't miss this game and all the accompanying homecoming fun! Find out how to make the most of Visiting Laramie on a University of Wyoming Football Game Day.
Make sure to support the Cowboys by going to one of the other many fall sporting events. Cross Country, Men's and Women's Golf, Swimming and Diving, Volleyball, Women's Soccer, Men's and Women's Basketball, and Women's Tennis are all great fall sports to follow. For information on each of these sports, schedules, and to buy tickets, visit the University of Wyoming Athletics homepage. There is also a really helpful Composite Calendar for viewing all the sports seasons at once.
3. Fall Fun at Museums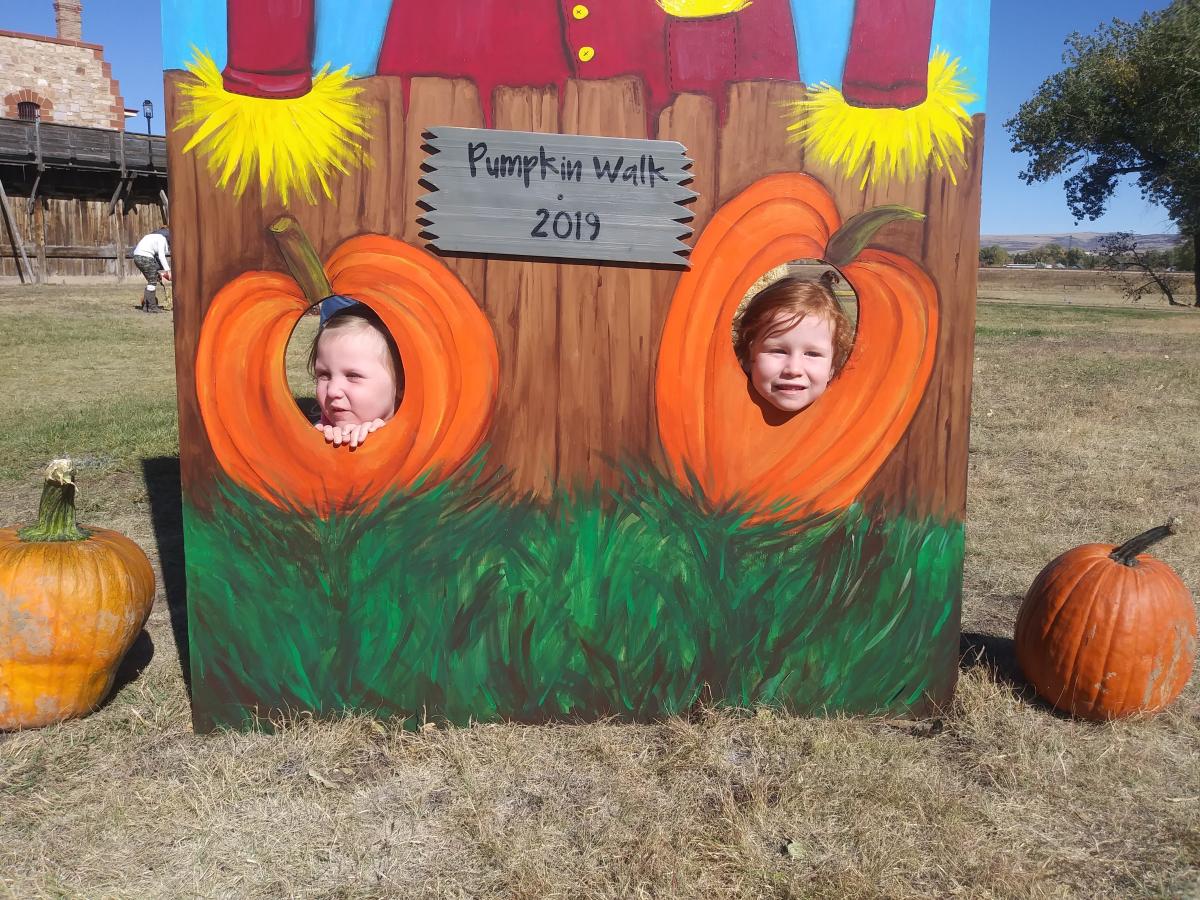 Fun at the Kids' Pumpkin Walk (photo credit Leah Veinbergs).
With the cooler weather, fall is a great time to enjoy one of the many museums that Laramie has to offer. The Wyoming Territorial Prison is always a fun place to visit, but a couple of fall-themed events make it even better. The annual Kids' Pumpkin Walk (on October 2nd this year) is a fun chance for families to pick a pumpkin and enjoy all kinds of Halloween and fall-themed activities. Dark Cells: Haunt or Hoax is not for the faint of heart. Participants will learn about paranormal science and take part in an investigation into the unknown. Make your reservation now, because there are only two Saturdays in October to experience this adults-only event. For more information on these and other events visit the Wyoming Territorial Prison Events page or Wyoming Territorial Prison Facebook page.
The Plains Museum at the Historic Ivinson Mansion is a wonderful place to learn about the history of Wyoming and the Laramie area. Guided tours of the beautifully restored Ivinson mansion provide a glimpse into the day-to-day lives of people in turn-of-the-century Wyoming. 
The University of Wyoming Campus is home to several amazing museums. The UW Art Museum rotates its exhibits regularly. There is always something fascinating to see at this free museum. The museum routinely schedules fun, family-friendly activities and workshops. See the UW Art Museum Events page for upcoming events. Another fun, free campus museum is the UW Geological Museum. It has wonderful exhibits of kids and families. Explore the museum's amazing collection of fossils, rock samples, and more. The Harry C. Vaughan Planetarium is a fun way to learn about the universe. The planetarium has a great fall line-up of shows for both kids and adults. Fall is the perfect time to make use of the S.T.A.R. Observatory on the roof of the Physical Science Building as well. For more information visit the Harry C. Vaughan Planetarium homepage.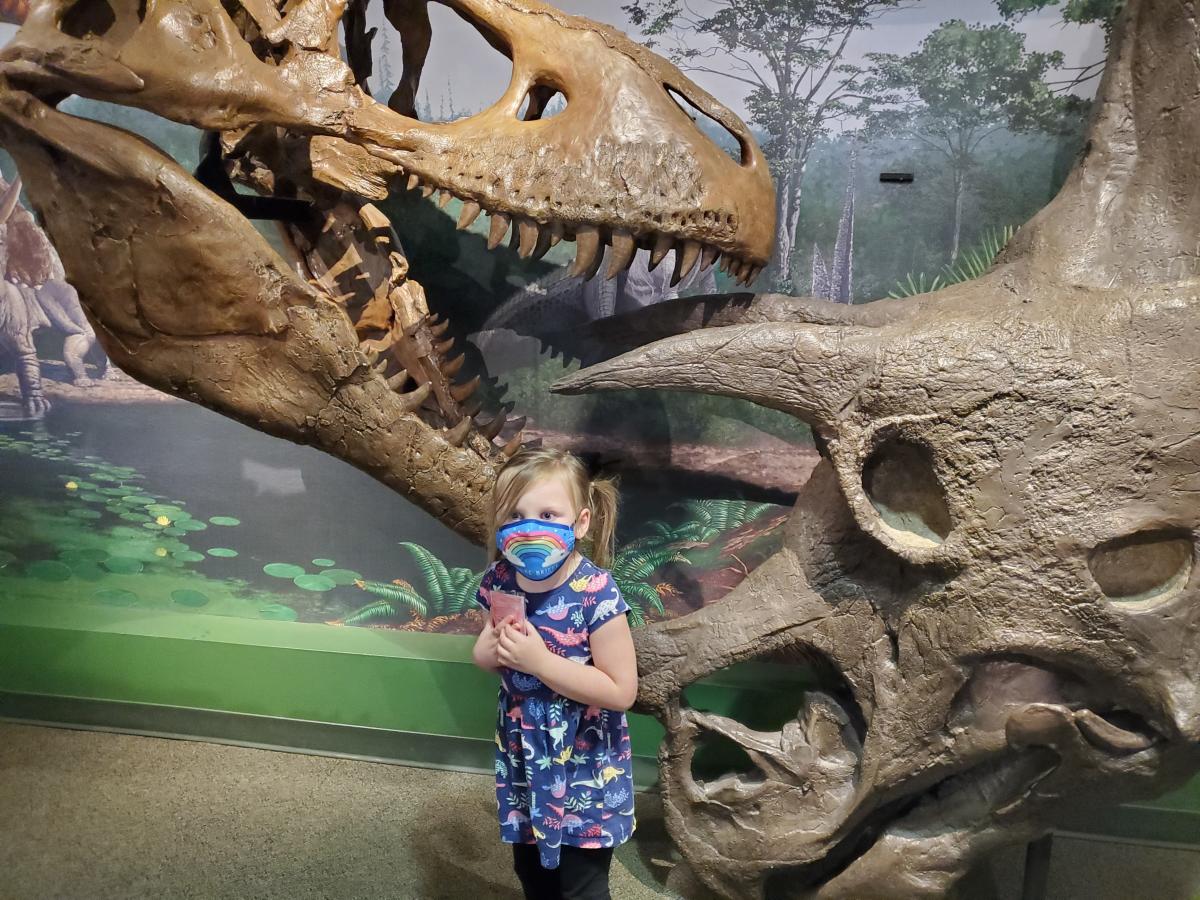 So much to see at the UW Geological Museum (photo credit Leah Veinbergs)
4. Fall Performing Arts
Wanting to see more than just a movie? Laramie has many wonderful cultural events and performances. With everything from live comedy to the UW symphony orchestra, there is something for everyone.
University of Wyoming Performing Arts and Music
Once again, the University of Wyoming comes through with wonderful performances by talented students and guests. This fall the UW Theater and Dance Department have both a play, Las Pajaritas, and a dance production of Shakespeare's A Midsummer Night's Dream planned.
The UW Department of Music has a variety of fall performances scheduled, including choral and symphony performances that are not to be missed.
The Gryphon Theater
Located in the Laramie Plains Civic Center, The Gryphon Theater is renowned for a terrific variety of local artists and productions, as well as nationally touring shows. See the complete listing of upcoming shows on The Gryphon Theater Events page.
5. Downtown Fall Activities and Events
Downtown Laramie is full of fall activities. Various bars offer live music, opportunities to watch UW Football, trivia, Karaoke, and more. The Laramie Mainstreet Alliance plans fun events in conjunction with small businesses and local artists. Visit the Downtown Laramie page to see what events are coming up this fall.
Bond's Brewing Company
One of Laramie's newer breweries, Bond's Brewing Company always has fun brewing (pun intended). Besides delicious fall brews like Jack O' Lantern Ale and Chill Ale, they are also hosting a huge Oktoberfest Celebration. They also are planning several live comedy nights and weekly Trivia Night, Cribbage Night, and Bingo Night. Check out their Facebook page for more information. Of course, Bond's isn't the only great brewery in Laramie. See a complete listing of Laramie Breweries and take the Laramie Brewery Tour.
Art and Soul Paint Your Own Pottery
Fall pottery, ready to paint! (photo credit Art & Soul Paint Your Own Pottery)
Unleash your creative side at Art and Soul. Choose from a wide selection of pottery pieces—very cute seasonal options—and then spend a relaxing afternoon painting/ glazing your piece in this charming store. Once painted, pottery is kiln-fired to harden the glaze. Pottery painting is fun for both grown-ups and kids!
Shopping
Downtown Laramie has so many great stores, it would be impossible to describe them all here. There are several wonderful art galleries like Works of Wyoming, which features Wyoming artists or the Earth, Wind & Fire Gallery which has a variety of original art, including absolutely stunning hand-blown glass. For antiques, The Bent & Rusty, Augusta Mizzlewitt's Back of the Wagon, and Ruby's on Grand are great choices. They have furniture, home goods, one-of-a-kind decor, and so much more. Want to get an early start on Christmas Shopping? The Curiosity Shoppe, Sweet Pickle's Children's Store, Martindale's Western Store, and Poppy's will probably cover just about everyone on your list.
Find out more about everything Downtown Laramie has to offer: Spectacular Shopping in Laramie, Fascinating Laramie Walking Tours, and Best Places to Eat Lunch in Laramie.
Make the most of the gorgeous fall weather. Visit Laramie for some fun fall activities and enjoy all that autumn has to offer!