Cowboy Fans Header Photo Credit: University of Wyoming Athletics
The mornings and evenings are cool and crisp, and the leaves are starting to turn—fall is in the air. What do Wyoming Cowboys fans do in the fall? Go to football games! Whether you're a longtime Pokes fan, or just want to take in a game, there are some important things to know. This University of Wyoming Football Game Day Guide will help you plan some Laramie football fun. The 2021 UW football season kicks off on September 4th, don't miss out!
Tickets
First things first, buy a ticket! The game schedule and tickets are available for online purchase here. There are also booths selling tickets the day of the game, but many seats sell out quickly so it is better to buy in advance. For the first time this year, a few permitted parking lots are available for single-game parking passes (select from parking options when you purchase your ticket).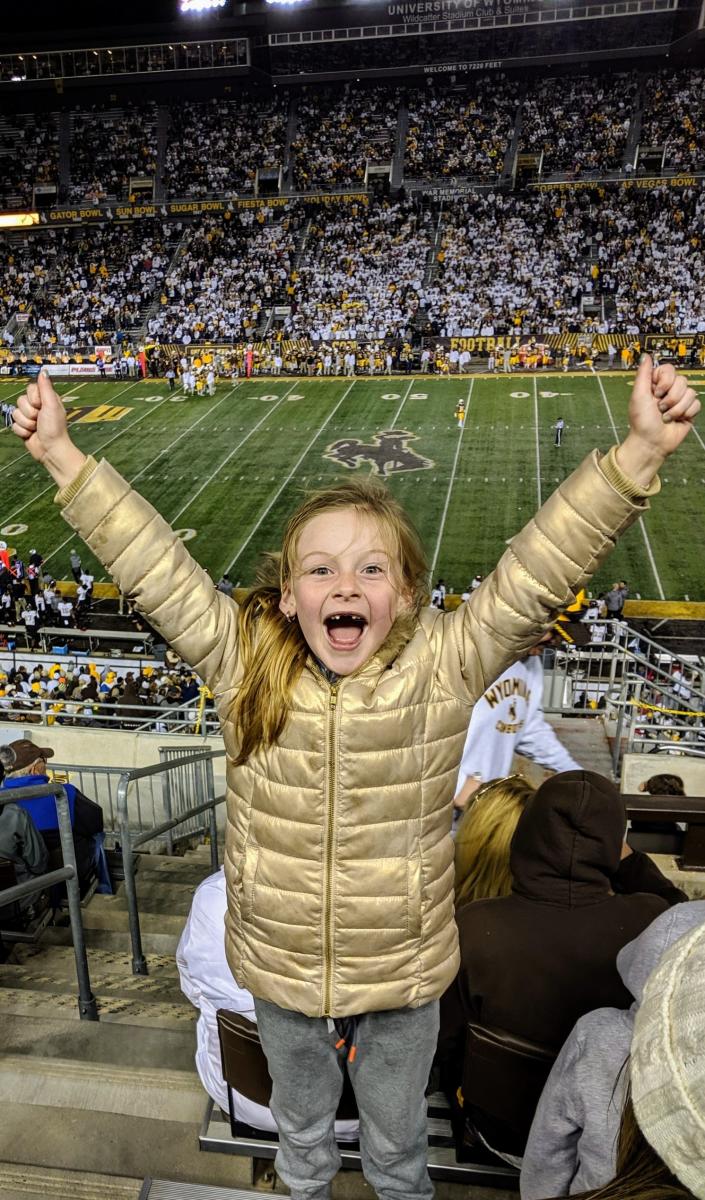 Poke Pride Starts Young! (photo credit Emily Cuin)
 Where to Stay
Laramie has tons of great hotels, motels, and bed and breakfasts to choose from. However, as game day parking can be a bear, getting a hotel within walking distance of the stadium is highly recommended. There are four hotels within a half-hour walk from War Memorial Stadium.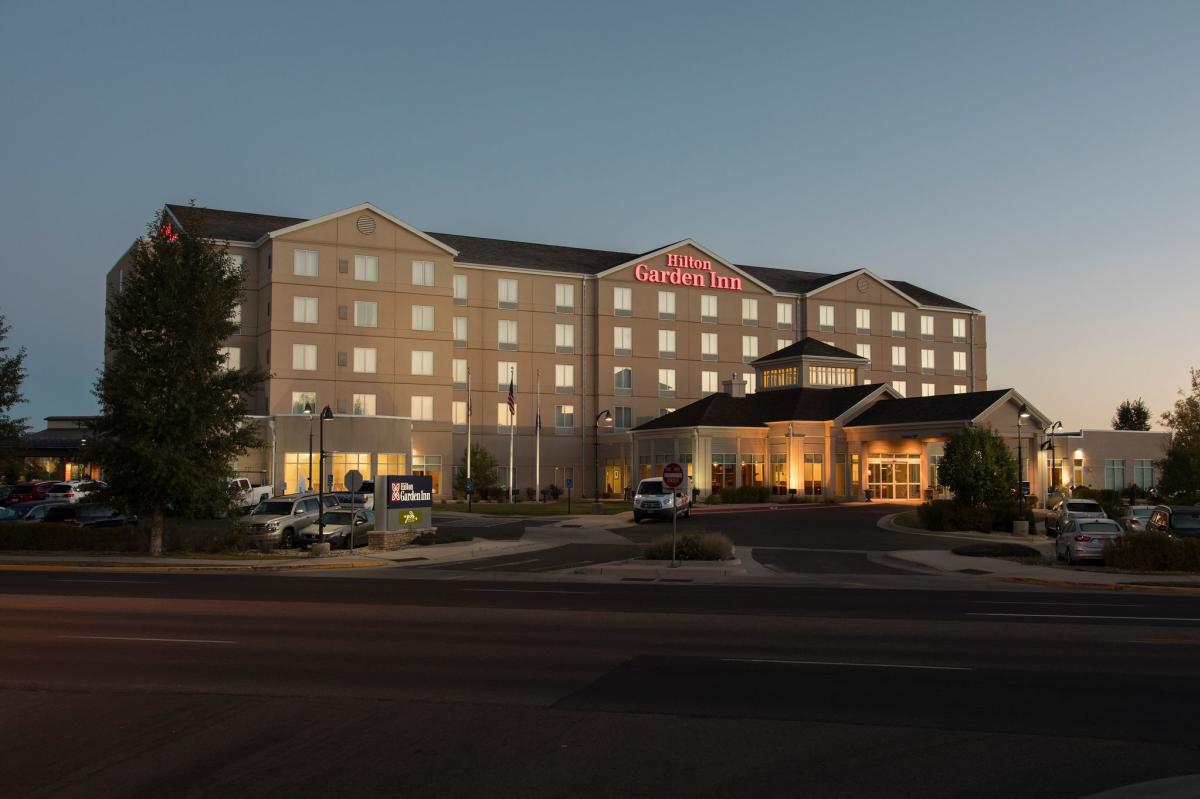 (photo credit Hilton Garden Inn)
The closest hotel to the stadium is Hilton Garden Inn, just a 5-minute walk from the field, this hotel is very popular on game day. This beautiful hotel has comfortable rooms, free wifi, an onsite restaurant, an indoor pool, a fitness center, and a business center. They even have an airport shuttle.
Just slightly further away, at about a 15-minute walk, is the Holiday Inn. This is another great hotel with lots of amenities. There is an indoor pool, a fitness center, free wifi, and a business center. This is a great choice for families with kids because kids (18 and under) stay free, and kids (11 and under) eat free at the onsite Perkins Family Restaurant.
This hotel is only about 20 minutes by foot from the field. Quality Inn also has an indoor pool, fitness center, business center, and free wifi. They feature a convenient grab-and-go breakfast, as well.
The Hampton in is about a 25-minute walk from the stadium. Amenities include an indoor pool, fitness center, business center, and free wifi. They also have a great complimentary breakfast.
AmericInn is about a 40-minute walk to the stadium, however, if you enjoy long walks or have parking closer to the stadium, this is still a great option. AmericInn has an indoor pool, fitness center, business center, free wifi, and complimentary breakfast.
To read more about these and other hotels in Laramie see Visit Laramie's Hotel's page. You may also like these posts: Best Laramie Hotels to Stay at When the Road Closes and Laramie's Best Pet Friendly Accommodations.
Where to Eat
There are tons of amazing restaurants to choose from in Laramie. There are several close to the football field that are great choices. Or, if you prefer to be a bit further away, downtown always has a great gameday atmosphere.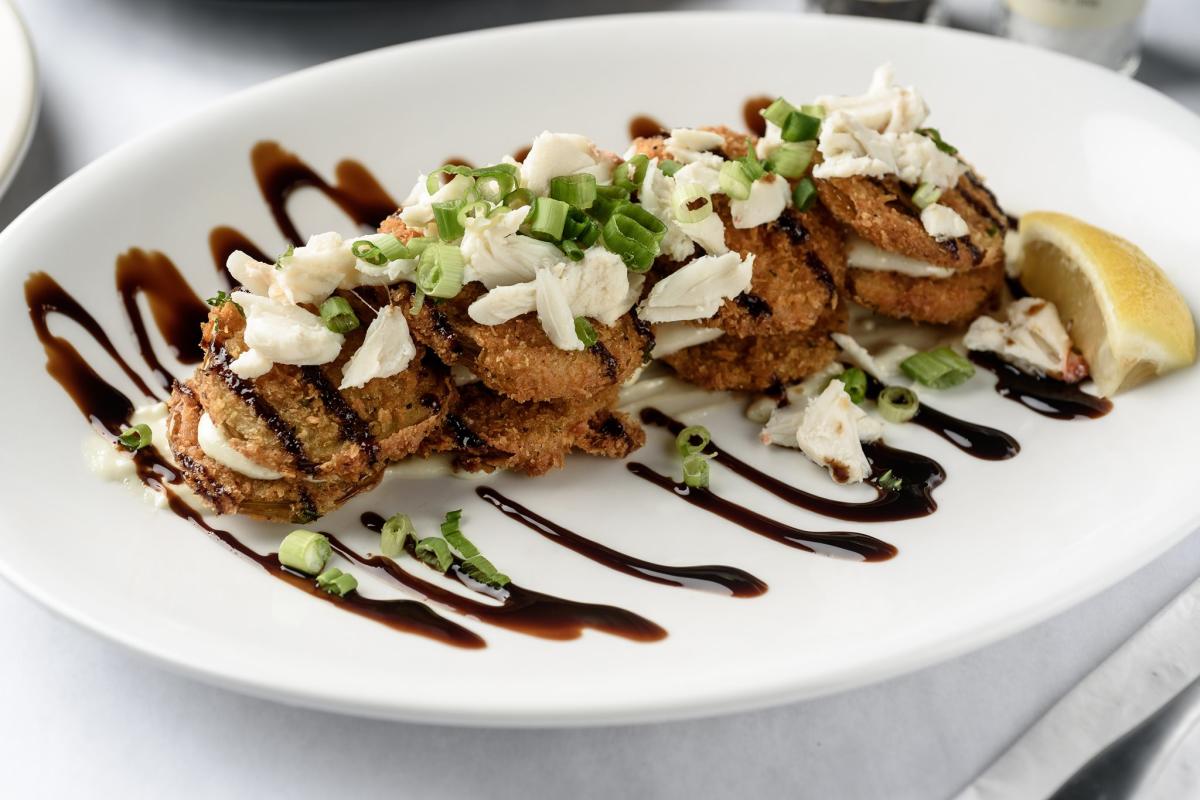 Fried Green Tomatoes (photo credit Wyoming's Rib & Chophouse)
Restaurants Near War Memorial Stadium
There are many restaurants to choose from within a few blocks of the stadium. These range from fast food to sit-down options. Here are some local favorites!
Wyoming's Rib and Chop House is only a few blocks from the stadium. It boasts nice outdoor seating, a full bar, and a large indoor dining area. The food is always amazing! There are terrific appetizers, steaks, pasta, sandwiches, and salads. Do not miss the Fried Green Tomatoes!
Just as close by is McAlister's Deli. This family-friendly and fast restaurant has awesome sandwiches, salads, and soups. Their Black Angus Roast Beef Spud, Savannah Chopped Salad, and The New Yorker sandwich are all favorites. McAlister's doesn't serve alcohol, but they do have amazing sweet tea!

 
This local favorite is only open for breakfast and lunch, but they have some of the best breakfast and lunch dishes in town. Try their breakfast burritos, omelets, or biscuits and gravy, you won't be disappointed.
O'Dwyer's has delicious food with a creative and, often Irish, flair. There are a variety of delicious and unique burgers, sandwiches, salads, and other entrées, as well as traditional and Irish pasties. Enjoy a brew and a slice of delicious homemade cheesecake for dessert.
For those craving something a bit more international, Niko Sushi & Steak is THE place to find authentic Japanese cuisine. The menu consists of sushi, hibachi, donburi, and vegetarian dishes. The seafood is fresh, and all the ingredients are top-notch.
Restaurants Downtown
Although not necessarily close to War Memorial Stadium (they are still less than three miles away), Laramie's downtown restaurants are also fantastic choices. With a great atmosphere and terrific food, they are the perfect way to experience the local flavor and gameday festivities. Again, there are so many to choose from, but here are some favorites!
Altitude is definitely a Laramie favorite! They are upscale, while still managing to be fun and family-friendly. They have a large dining room and full bar. Altitude's menu is filled with everything from steaks and pasta, to pizza and burgers. Can't miss choices include their hand-crafted brews, lobster mac, and any of their amazing steaks.
A Laramie institution, The Library is one of the best places to enjoy dinner. They have a fun, upbeat atmosphere in their dining room, outdoor seating area, and bar. Locally brewed beers and menu items like fried pickles (frickles), fried mac and cheese bites, sweet potato fries, paninis, hoagies, pizza, and unique burgers make this spot a winner every time.
At Born in a Barn, the food will have you literally licking your fingers. Try the wings, a burger, or the loaded mac and cheese—it's ALL good. They also have both indoor and outdoor seating and a full bar.
Roxie's is where it's happening! With nightly drink specials, karaoke Thursdays, and weekend DJ and dancing, there is always something going on. They also have really great food: unique appetizers, tasty sandwiches, yummy burgers, and brick oven pizza.
Accomplice serves fantastic burgers, sandwiches, pizza and salad with hand-crafted beers. They also offer an unbelievable selection of breakfast and brunch items every day until 2:00 pm.
Last, but never least, Sweet Melissa's is Laramie's only all-vegetarian restaurant. However, you certainly don't have to be a vegetarian to love the food. Their unique menu serves up delicious fare like "crabless" cakes, cauliflower melts, black bean burgers, and a variety of mac and cheese. Signature cocktails and other adult beverages are available from the adjoining Front Street Tavern.
To find more terrific restaurants in Laramie, please stop by Visit Laramie's Restaurants page. You may also enjoy: Local Favorites--Restaurant Dishes, Best Places to Eat Lunch in Laramie, and Best Restaurants for Kids and Families in Laramie.
What to Do on Game Day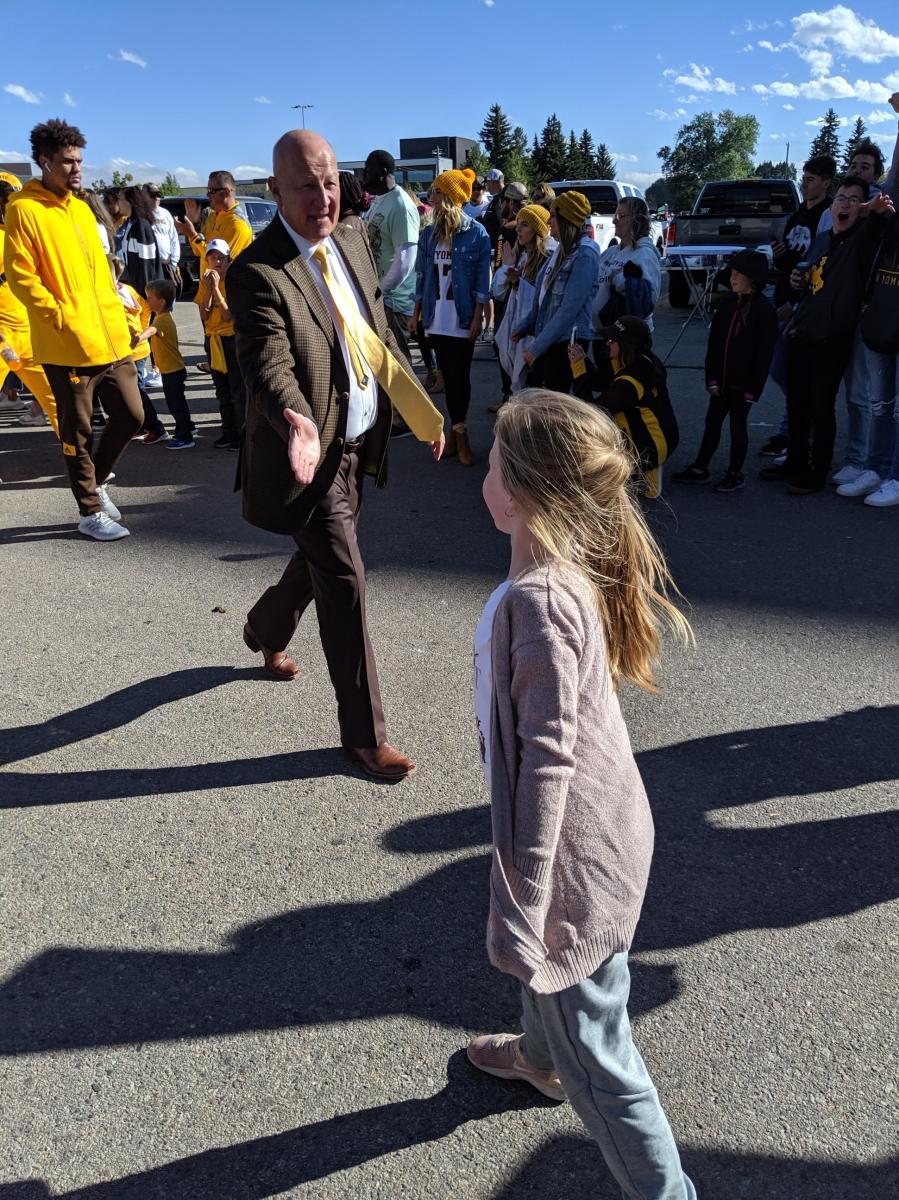 Young Fan Greeting Coach Bohl on the Pre-Game "Cowboy Walk" (photo credit Emily Cuin)
Get Your Brown and Gold Gear
Don't attend a game without the requisite brown and gold gear. Every true Wyoming fan needs to look the part. The Brown and Gold Outlet has everything a superfan needs and is only a few blocks from the stadium. Cowboys gear can also be found at The University Bookstore and The Knothole.
Explore Campus
The University of Wyoming is a beautiful, historic university. The stone buildings are a stately frame for the shady walkways and sunny commons areas on campus. The University of Wyoming Walking Tour Guide is a great way to learn more about the history and architecture of the UW campus.
Tailgating
It goes without saying that tailgating is the quintessential game-day activity. Tailgating is allowed--actually encouraged--in all of the UW parking lots. Of course, most of these parking spots are reserved for Cowboy Joe Club members, so you will want to get to the free lots early. As mentioned above, some parking spots are available to purchase a single-game parking permit. This is a great opportunity to tailgate. 
You can also come on down to the Pepsi Pre-Game Zone at the Indoor Practice Arena for food, drinks, live music, and more. And don't miss the pregame "Cowboy Walk." For more information see the 2021 Gameday Information page. You can view the Stadium Area Map here.
Celebrate Post-Game
When the Pokes win there is no better place to celebrate than downtown. All of the downtown restaurants mentioned above are great places to get a post-game snack or beverage. Bond's Brewing and 3rd Street Bar & Grill are two more establishments worth mentioning. Both are great places to have a brew and relive the excitement of the game. For more ideas, see  The Best Laramie Sports Bars for Watching Wyoming Cowboys Games and Laramie's Brewery Tour.
How to Extend the Fun   
One day in Laramie is never enough. Why not come early or stay longer? There are plenty of fun ways to extend your stay.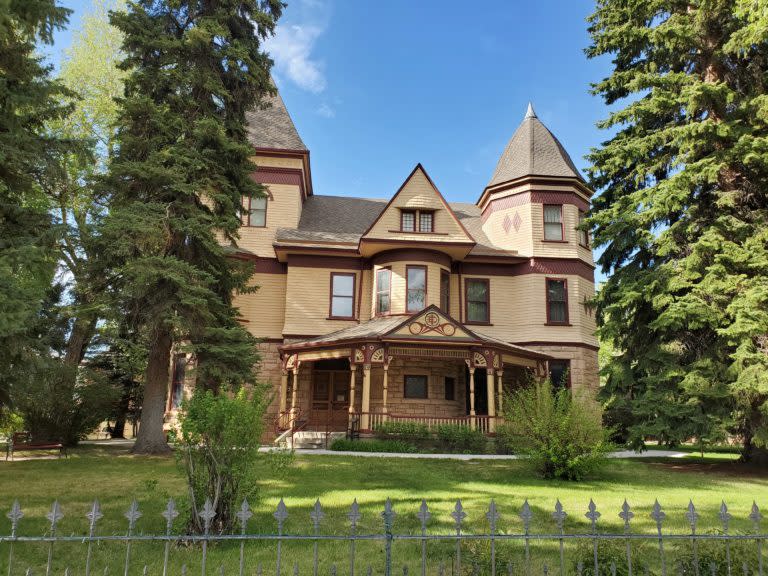 The Laramie Plains Museum at the Historic Ivinson Mansion
Museums
Laramie is home to a surprising number of fantastic museums. The University of Wyoming campus houses the Art Museum, Geological Museum, and Harry C. Vaughan Planetarium. Additionally, the Laramie Plains Museum at the Ivinson Mansion and the Wyoming Territorial Prison are fascinating places to visit.
For more information on Laramie's museums see The Best Laramie History Museums and Sites.
Downtown Shopping
Downtown Laramie has great shopping to offer. You will find everything from antiques to western wear. Noteworthy stores include Martindale's Western Store (western wear), The Bent & Rusty (antiques and craftsman co-op), Poppy's (florist & boutique), Works of Wyoming (local artists), The Curiosity Shoppe (gifts & souvenirs), Sweet Pickles (children's toys and clothing), Earth, Wind & Fire Gallery (art), and Ruby's on Grand (vintage homegoods).
To read more about Laramie's fine shopping checkout Visit Laramie's Shopping Guide.
Enjoy the Outdoors    
Of course, it goes without saying, one of Laramie's biggest draws is the extraordinary beauty of the area. Stay a few more days and enjoy beautiful hiking or mountain biking in the Medicine Bow National Forest in the Snowy Range Mountains or in Vedauwoo. Find out more about hiking and biking in the Laramie area on our Hiking and Biking pages.
The fishing is outstanding in the streams and lakes around Laramie. Bait and gear can be purchased locally at the West Laramie Fly Store or Four Seasons Anglers. For information on where to fish check out our Fishing page. For fishing regulations visit Wyoming Game and Fish.
Finally, take a scenic drive on the Snowy Range Scenic Byway. The views of Medicine Bow Peak are sure to be stunning. While you are driving you can look for beautiful autumn leaves. For tips on where to find the most gorgeous fall colors see Fall Colors Sightseeing Tours. Or, go scouting for wildlife. Fall is a great time to see pronghorn, elk, and deer. Our post The Best Places for Viewing Wildlife has lots of helpful tips.  
Whether you just come for a game or stay for the weekend, you won't be disappointed.  Cowboy football is the perfect fall experience. Make sure to make your game day everything it can be!