Laramie is home to several great Wyoming self-guided walking tours. The walking tours give a great overview of the extraordinary history and architecture of Laramie. Follow one of these fun, self-guided tours to learn more about Laramie. The best part? These walking tours are a perfect way to take advantage of the lovely summer weather.  Brochures for each of these tours are available online. They are also at the Laramie Area Visitor Center at 210 E. Custer Street downtown.
---
Laramie Area Walking Tours
---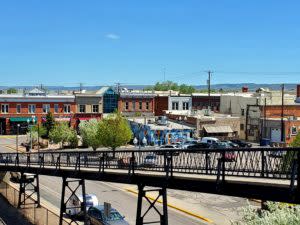 A View of Downtown Laramie from the Pedestrian Footbridge (photo credit Leah Veinbergs)
Historic Downtown Laramie Tour
First is the Historic Downtown Laramie Tour. This tour begins at the Union Pacific Railroad Depot. Additionally, the nearby Pedestrian Footbridge provides a beautiful view of the city. The tour winds through the major historic landmarks and buildings of downtown. The brochure also provides interesting details about each stop. Along the way, you can enjoy the many shops and restaurants. For antique shopping, check out The Bent and Rusty. If it's sweets you're after, stop in at Sugar Mouse Cupcake House or The Big Dipper. The historic Johnson's Hotel is the last stop on the tour. Today it is home to Lovejoy's Bar and Grill. Lovejoy's is a perfect place to enjoy lunch.
Legends of Laramie Tour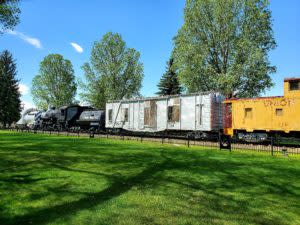 A train on Display at Heritage Park on the Legends of Laramie Walking Tour (photo credit Leah Veinbergs)
Next, the Legends of Laramie Tour provides a more interactive experience. Follow along with videos about each stop on the tour, beginning at the Ivinson Mansion. The Ivinson Mansion was built in 1892 and currently houses The Laramie Plains Museum. The beautifully restored mansion includes three floors of antiques, photographs, and historical displays. After the Ivinson Mansion, follow the tour back toward downtown for more of Laramie's wild past. On this tour, you will also see the gorgeous St. Matthew's Cathedral. Furthermore, you will hear stories of Laramie's past, like the famous "Bucket of Blood Shootout."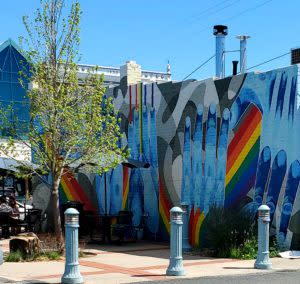 Many Hands by Meghan Meier (photo credit Leah Veinbergs)
The Laramie Mural Project Tour
Likewise, The Laramie Mural Project is also a great tour.  Downtown Laramie is adorned with numerous murals. Local artists created the murals as part of a community partnership. The partnership involved the University of Wyoming Art Museum, local artists and businesses, as well as the Laramie Mainstreet Alliance. One of the murals, Many Hands by Meghan Meier was designed as an elaborate "paint by number" for community members. This mural is located on the corner of Grand Avenue and First Street. The work on these murals is ongoing, and new additions are added frequently. For more information on The Laramie Mural Project, be sure to visit their webpage.
Historic Architectural Treasures of the Gem City of the Plains Tour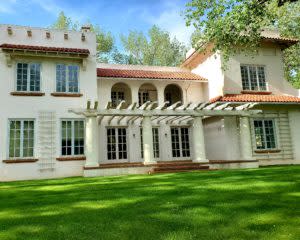 The Historic Cooper House Mansion is a combination of Misson Revival and Pueblo Revival architecture (photo credit Leah Veinbergs)
Next, architecture buffs are sure to enjoy the Historic Architectural Treasures Tour. The Tour is actually three tours. Each tour represents different architectural styles and time periods. These styles include "Victorian Jewels and Other Gems," "Queen Anne's and Common Folks," and "Grand Finale." These three tours encompass some of Laramie's most beautiful and unique homes and churches. Most of the homes are located on the shady streets of Laramie's beautiful historic "tree area." Therefore, this pleasant tour is quiet and cool for taking a stroll.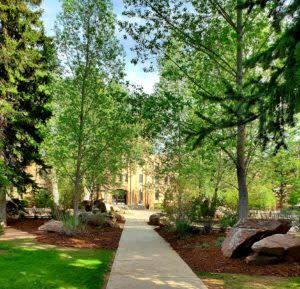 A shady path leading to Simpson Plaza and the Wyoming Union (photo credit Leah Veinbergs)
The Historic University of Wyoming Campus Tour
Finally, the Historic University of Wyoming Campus Tour is a guided experience of Wyoming's first (and only) university. The University of Wyoming was founded in 1886. Since its establishment, the campus has grown to encompass several square miles and dozens of buildings. The campus is a lovely place to tour and spend the day. There are also several interesting museums on campus. The University of Wyoming Geological Museum has an extensive collection of fossils and several dinosaur skeletons. The University of Wyoming Art Museum houses a wonderful collection of paintings and sculptures. Also, Harry C. Vaughan Planetarium has regular astronomy shows. There is a student union with a food court and campus store. Not to mention, Prexy's Pasture is perfect for picnicking. Please check ahead for updated hours and closures.
Undoubtedly, Laramie has a variety of unique self-guided walking tours to entertain and educate.  Pick up a brochure and enjoy one (or several) of these informative tours. There are several other self-guided tours in the area.  Brochures for these tours are also available either online or at the Laramie Area Visitor Center, 800 S. 3rd Street.
You may also like these posts: The Best Laramie History Museums and Sites, Spectacular Shopping in Laramie, and Best Places to Eat Lunch in Laramie.
Note: Leah Veinbergs is an independent writer and the author of the blog Two Little Time. She is contracted by Visit Laramie. Views and opinions expressed here are her own and do not reflect those of the Albany County Tourism Board.