Laramie, WY is an absolutely wonderful place to live for anyone who wants a small town feeling without having to sacrifice many of the perks of a much larger city. There are some quirks and challenges to be sure, but Laramie more than makes up for it. Find out more about what Laramie is like with these TOP 10 Frequently Asked Questions!
1. What is the weather like?
This is an important question! The short answer is, variable. Folks in Laramie often say, "If you don't like the weather, wait a minute." This saying is quite accurate. Laramie is prone to wind and one good thing about the wind is that it moves the weather along pretty quickly.
In general, Laramie is a very sunny place year-round. We have very few overcast or rainy days throughout the year. In fact, with an average of only 12 inches of rain annually (the U.S. average is 38), Laramie is quite arid. Most of our moisture actually comes from snow.
As far as temperature, Laramie is cooler than many places in the U.S. This is in large part due to our high elevation of 7,220 feet. Our hottest month is undoubtedly July, with an average high of 81° F. December and January tie for the coldest months with an average temperature of 9° F. Despite the cold, January is still a sunny bluebird sky month, and is actually the month with the highest average number of clear blue skies.
2. What are the seasons like in Laramie?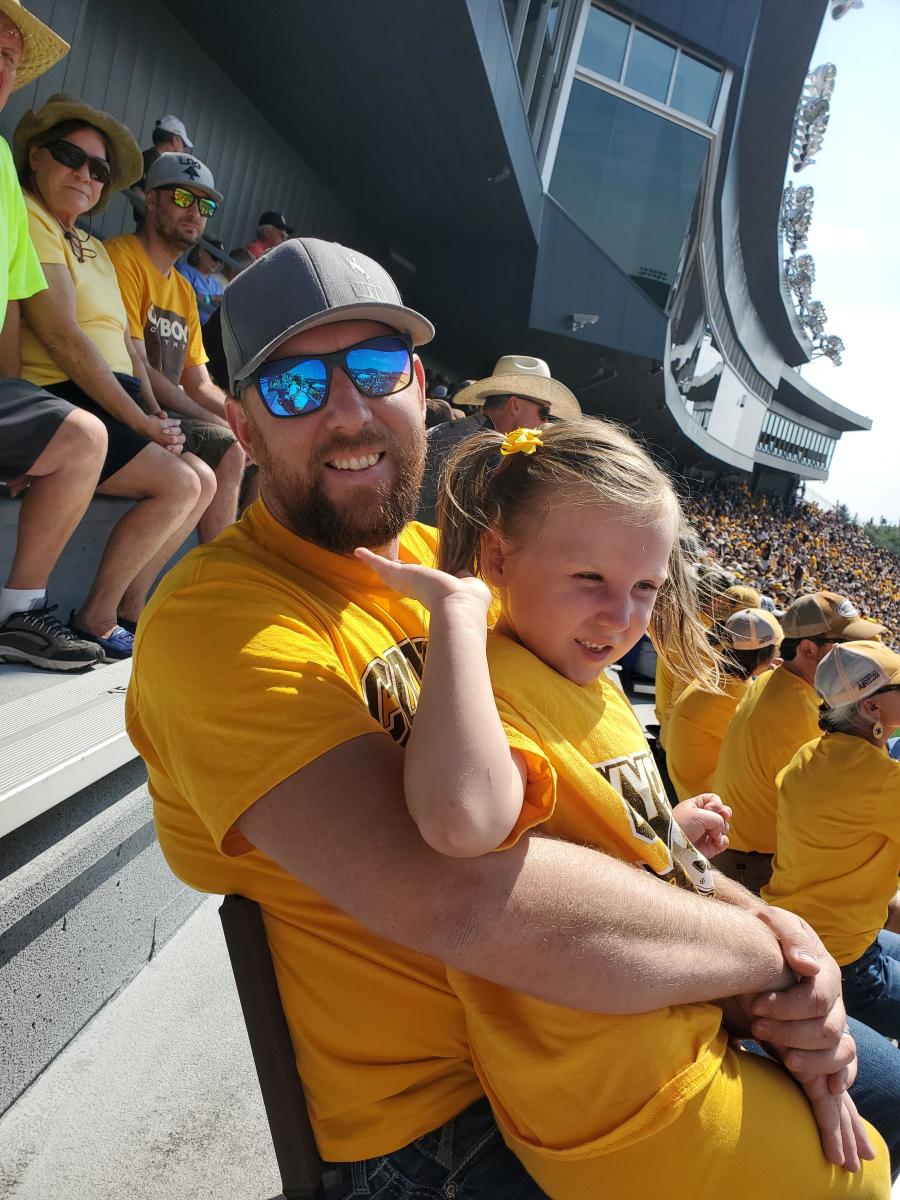 Nothing Says Fall Like Football! (photo credit Leah Veinbergs)
Laramie enjoys all four seasons, although, we do have a very short spring and a long winter. Newcomers are often surprised by the fact that it does occasionally snow in June. A good rule of thumb is to keep your cold-weather gear like coats and boots easily accessible until Memorial Day. Also, for gardeners, don't plant outdoors until after Memorial Day.
Our summers are idyllic, with hot, sunny days, cool nights, and low humidity. Many people don't even need air conditioning. Remember, the sun is intense at this elevation, so have sunscreen, hats, and sunglasses. The mosquitoes might seem like they will carry you away in June, but they lessen significantly by July.
Our most underrated season is fall. We have long, gorgeous falls with cool evenings and surprisingly warm days. It may snow in September, but it will melt off in a few hours and we will still have 70° days into October. Perfect for a hike to see the leaves or to take in a football game!
Read more about seasonal activities in Laramie: Where to See Fall Colors, Fun Fall Activities for Kids and Adults, and Summer Family Itinerary.
3. What do people do in the winter?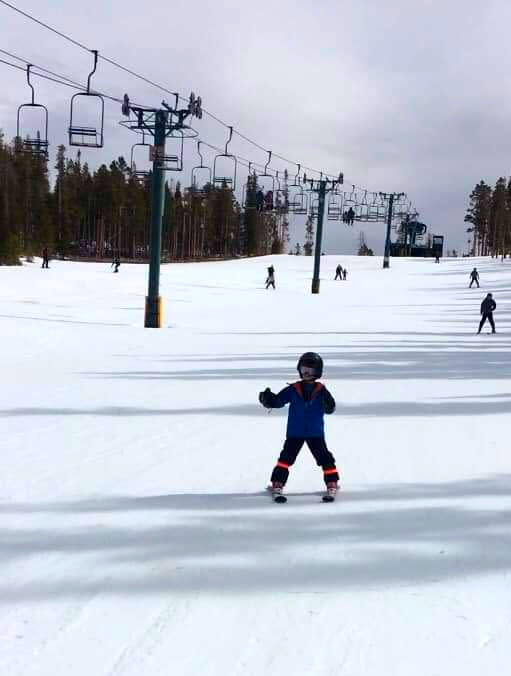 Hitting the Slopes at Snowy Range Ski Area (photo credit Brittany Thompson)
Laramie does have long winters, but that is one of the things that attracts many people to the area. If you enjoy winter sports, Laramie is a fantastic place to live. The nearby Snowy Range Mountains boast excellent snowmobiling, nordic skiing, snowshoeing, and alpine skiing. Because of the low humidity, the mountains are buried in tons of fluffy, powdery snow that is just perfect for winter sports. Another popular place for winter sports is the Vedauwoo Recreation Area just 15 minutes to the east of Laramie. This area is popular for downhill sledding, nordic skiing, and fat tire biking.
If winter sports aren't your thing, there are still plenty of fun indoor activities. The University of Wyoming, located in Laramie, is a division one school with stellar athletics. Watching UW basketball is a very popular activity in the winter. There are also two movie theaters, All Points West, Art and Soul Paint Your Own Pottery, and various musical and theatrical performances put on by the University and other local venues. 
For those who want to stay physically active without having to brave the cold, there are still plenty of great options. The Laramie Recreation Center has a huge gymnasium, weights, treadmills, bikes, an indoor track, three pools, and a variety of fitness classes and activities. LEAP Ninja Warrior Fitness has classes for kids and adults and is a great way to burn off energy. They have a climbing wall, an obstacle course, fitness machines, and more. The Laramie Ice and Event Center has a huge indoor rink for hockey, curling, figure skating, and free skating. 
Read more about winter activities in Laramie: Top Five Winter Experiences in Laramie, Snowy Range Skiing and Snowboarding Guide, and Wyoming Snowmobiling Guide: Destination Laramie.
4. Are there any good restaurants in Laramie?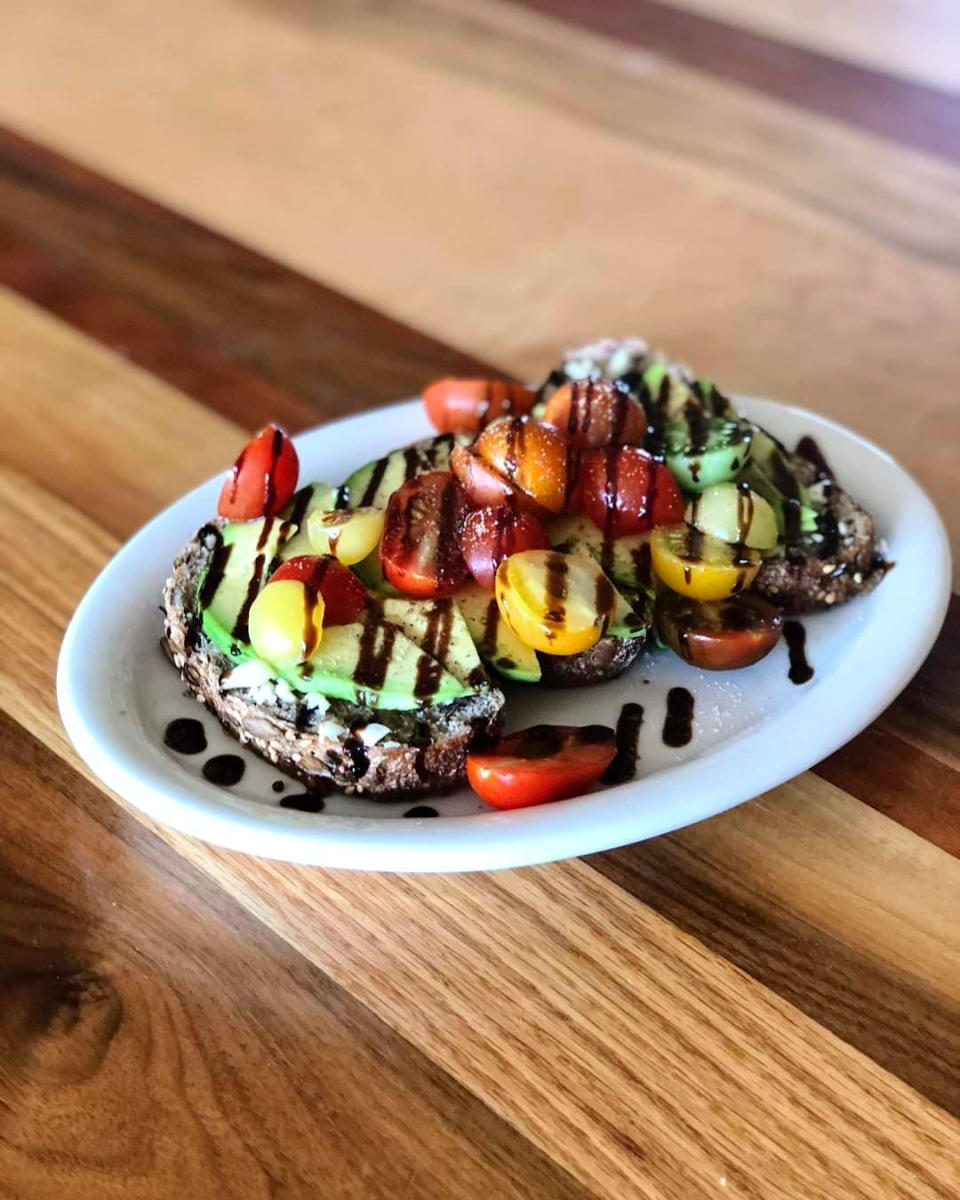 There's Always Something Delicious at Alibi (photo credit Alibi Woodfire Pizzaria & Bakery)
Laramie has a surprising array of options for restaurants and entertainment. Downtown Laramie is home to several fantastic options from breweries to food trucks, to vegetarian restaurants, Thai, sushi, and more. Many restaurants offer unique and creative menu options, in fact, several local restaurants were even featured on The Food Network's Diner's, Drive-In's, and Dives.
Read more about Laramie restaurants: Top 5 Restaurants in Laramie, Local Favorites: Restaurant Dishes, and Top 10 Favorite Laramie Restaurants with Outdoor Seating.
5. Is there anywhere to shop in Laramie?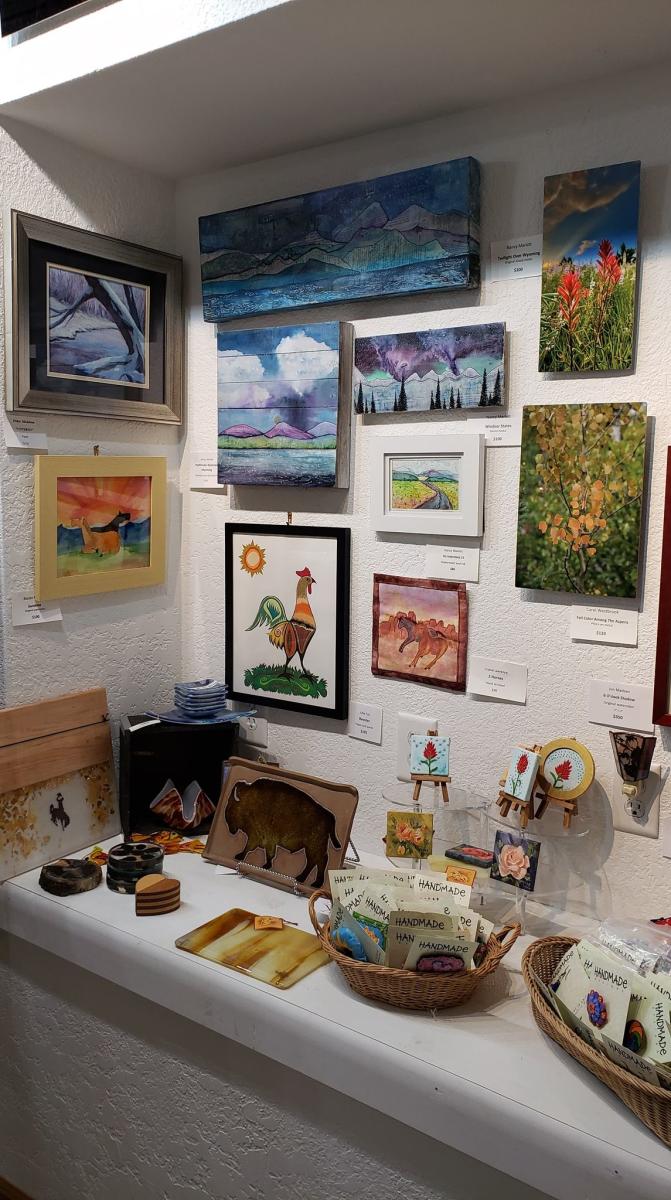 Support Wyoming Artists, and Shop Local! (photo credit Works of Wyoming)
Despite its small size, Laramie has many great shopping opportunities. The downtown area has adorable boutiques full of designer clothing, jewelry, home decor, and gifts. Works of Wyoming is an especially unique store featuring the works of Wyoming artists and makers.
For grocery shopping, there is Safeway and Ridley's, both of which offer surprisingly significant member discounts and a good selection of fresh produce, meats, and more. If you are after health food, Big Hollow Food Co-op has many organic and locally-sourced options and reasonable prices. 307 Meat Company sells local honey and other products in addition to their Wyoming-raised beef, chicken, pork, and seafood. Of course, in the summer, the Downton Farmer's Market is the best for farm-fresh produce, meats, baked goods, sweets, and more.
There are also a variety of chain and regional stores for everything from clothing to tools, and furniture to automotive parts. If you need something, and Laramie doesn't have it, many local stores will gladly order it for you for free local pickup or delivery.
Read more about shopping in Laramie: Spectacular Shopping in Laramie and Laramie Locally Made Shopping Guide.
6. What types of outdoor activities are there in Laramie?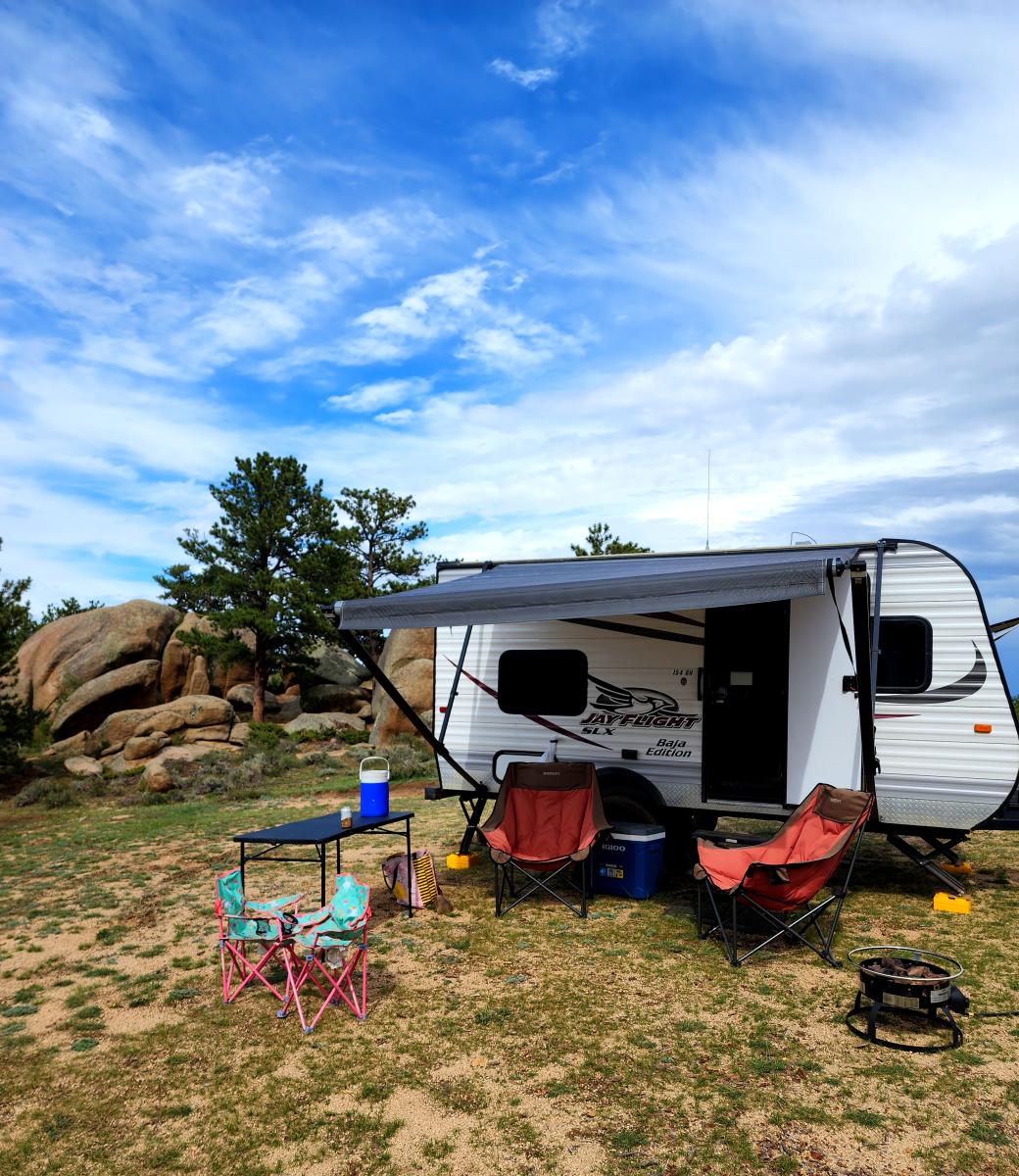 Camping at Vedauwoo (photo credit Leah Veinbergs)
In addition to the winter activities mentioned above, there are a ton of things to do outdoors when the weather is warm. 
The Snowy Range Mountains to the west, and Curt Gowdy State Park and Vedauwoo Recreation Area to the east are popular places for all sorts of outdoor activities. Hiking, horseback riding, mountain biking, kayaking, paddle-boarding, rock climbing, camping, fishing, and hunting are just some of the popular activities in the spring, summer, and fall.
An insider camping tip: campsites at Curt Gowdy are reservable from May through September (they are first-come-first-served outside of this time). They start to fill up as early as January, so reserve your campsite ASAP! Campsites at developed U.S. Forest Service Campgrounds in the Snowies and Vedauwoo are first-come-first-served. However, these still fill up quickly on summer weekends, especially around the 4th of July.
Laramie also has many absolutely fantastic city parks. Parks provide beautiful green spaces for reading a book, going for a walk, or playing with your dog. Most parks have playgrounds, bathrooms, picnic shelters, picnic tables, and BBQ grills. There is also a Frisbee Golf course, a dog park, a splash pad, a fishing pond, a wading pool, a skate park, basketball and volleyball courts, and more at various parks.
Read more about outdoor activities in and around Laramie: Best Places for Viewing Wildlife, Easy Hikes for Beginner's in Laramie, A Beginner's Guide to Mountainbiking in Wyoming, and Outdoors and Recreation.
7. Do people still ride horses down the street?
Only during parades, unfortunately. However, Laramie still holds true to its western heritage with an annual Jubilee Days celebration and rodeo. Our downtown is on the National Registry of Historic Places and retains much of its original old west charm. You can take an interesting and informative Downtown Walking Tour to learn more about the history and architecture of downtown Laramie.
Interested in horses? There are also many horse-friendly properties just outside of town. The Vee Bar Guest Ranch is a historic dude ranch–the perfect place to bring the family to experience ranch life. Another extraordinary place, the Deerwood Wildhorse Ecosanctuary, is a unique ranch where wild mustangs are cared for and preserved. They offer tours and other events and services throughout the year.
To read more about horseback riding and outfitting visit our Horseback Riding page.
8. Is Laramie a good place for families?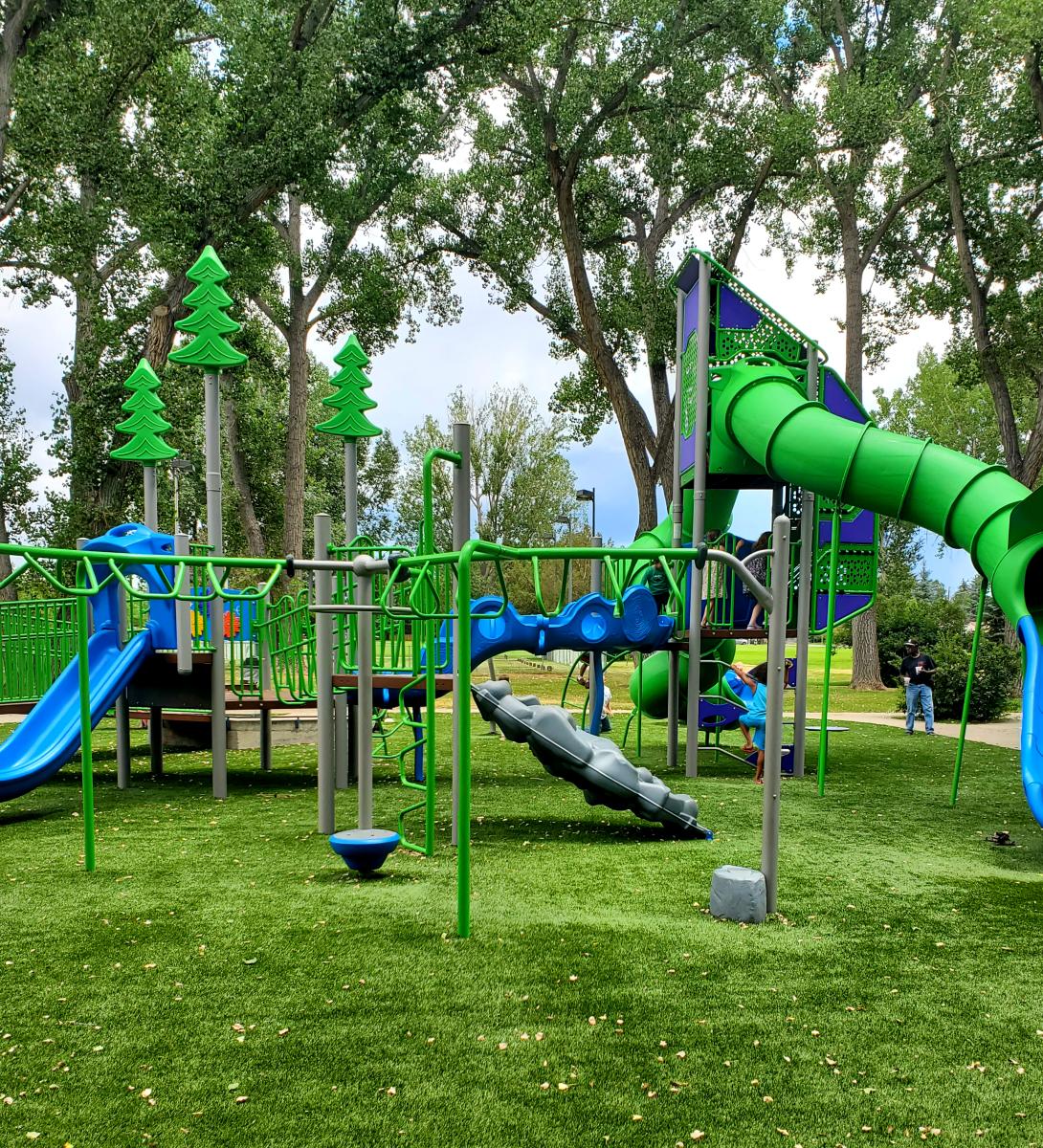 Brand New Playground at Washington Park (photo credit Leah Veinbergs)
Laramie is an amazing place for families! Laramie has great schools and great options for choosing just the right fit for your child. There are several neighborhood elementary schools in Laramie, some of which also offer Spanish language immersion and gifted programs. Additionally, there is Laramie Montessori School, the University of Wyoming Lab School, Snowy Range Academy, and Laramie Christian School. Each of these schools offers a different philosophical and educational approach to meet the needs of elementary and middle school-aged students.
Besides the elementary and middle schools, Laramie has a newly-built (2016) high school. Students enjoy beautiful facilities and wonderful teachers. Graduates from Wyoming high schools, who meet certain criteria, are eligible for the Hathaway Scholarship. This remarkable scholarship can provide significant funds for higher education at the University of Wyoming.
Beyond all of the wonderful activities, sports, parks, and outdoor fun already mentioned, Laramie is home to several museums which are very popular with kids and families. The University has several wonderful free or inexpensive museums. These include the University of Wyoming Geological Museum, the University of Wyoming Art Museum, and the Harry C. Vaughan Planetarium, among others. Off-campus museums include The Laramie Plains Museum, Wyoming Territorial Prison State Historic Site, and Laramie Depot Museum. What's more, many of these hold fun events throughout the year.
9. What are some other helpful resources about Laramie?
Fortunately, there are several great resources to help people learn more about the Laramie area. The Laramie Chamber Business Alliance website, Laramie Visitor's Guide, The Laramie Home Guide, and blog posts published by the Albany County Tourism Board, Albany County School District website, Medicine Bow-Routt National Forest website, and Wyoming Game and Fish are all invaluable resources to help you learn more about Laramie and all that the area has to offer.
10. Do people actually live in Laramie?
Yes, about 31,000 of us! To be honest, the people are the best part. The mountains are stunning, and the outdoor fun can't be beaten, but the people are what make Laramie truly special. The people of Laramie are kind, generous, and friendly. They are always ready and willing to lend a hand to a friend or neighbor in need. Laramie has a true sense of community that is not easy to cultivate in this day and age. Laramie is a welcoming, warm-hearted community with plenty of beauty and fun.