Winter in Laramie lasts just a little bit longer than in most places. Spring's onset is typically marked by a heavy coating of snow, and the high alpine areas of the Snowy Range are white-capped until early summer. These unique characteristics of life at 7,220 feet and above make Laramie an exceptional place for winter recreation and adventuring. 

Before the snow melts, Laramie should definitely make it in your plans for one last winter adventure. Beyond the endless trails and diverse options for your activity of choice, you can rest assured that you won't miss the crowds you've come to expect of other places in Rocky Mountain West.

So if you're looking for a convenient, crowd-free, and high-quality winter experience, look no further than Laramie. Below, we list a few of our favorite winter activities in the area.
 

Cross Country Skiing and Snowshoeing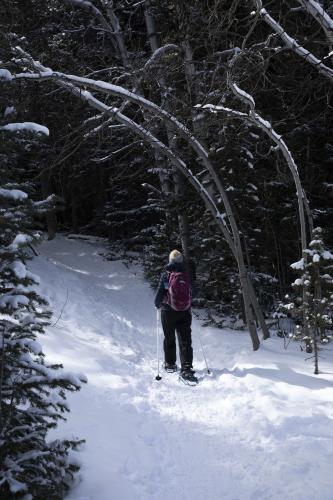 Laramie is surrounded by amazing groomed and ungroomed trails for cross-country skiing and snowshoeing. Whether you are looking for alpine exploration in the Snowy Range, well-groomed trails at Tie City, or visually stunning lodgepole forests at Chimney Park, the Laramie area has it all. In addition to stunning scenery, each of these locations is also remarkably convenient given their close proximity to Laramie. 
The Tie City Trailhead / Happy Jack Recreation Area is located just 12 miles east of Laramie, off exit 323 of I-80 for Highway 210 / Happy Jack Road. Its proximity to town has made it the area we inevitably visit most frequently. How cool is it to find yourself from couch to trails in just 15 minutes? Tie City is also the only place in the surrounding area that grooms for both skate skiing and traditional cross country skiing, and it also features groomed multi-use trails for snowshoeing and fat biking.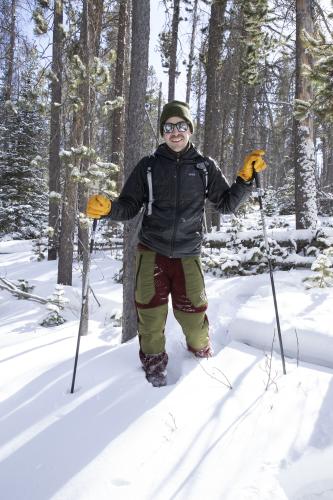 The Snowy Range Mountains west of Laramie are also great for cross-country skiing and snowshoeing. The Barber Lake Trail off the Green Rock Trailhead is one of our favorite trails, for a couple of reasons. First, so long as you shuttle a vehicle, it's downhill the entire way. Secondly, it is incredibly serene and beautiful. The trail begins in a vast alpine meadow before quickly dropping into pine forests. The trail ends at the Forest Service Welcome Center on Highway 130. Skip the shuttle and ski back up to your car for an invigorating workout. 
Forty miles West of Laramie off Highway 230, Chimney Park is groomed less often than the Tie City area but is also less crowded. Chimney Parks' repetitive lodgepole forest brings about a certain sense of peace that makes this area special. In the summer of 2020, the Mullen Fire swept through Chimney Park, leaving behind burned trees that have rendered the forest even more visually interesting due to the high contrast of black trees and white snow. Take care in this area due to the increased potential for falling trees. 
Fat Biking
Increasing in popularity every season, fat biking is thriving in Laramie. This sport is basically mountain biking on the snow, with the wider tires making biking in winter conditions possible. We still highly suggest sticking to the groomed multi-use trails at Happy Jack and Tie City to ensure you don't spend half your time climbing out of snowdrifts. For more information on fat biking, check out our dedicated blog on the topic here.  
Cabin Stays 
It's hard to imagine anything more relaxing than cozying up next to a warm fire in a cabin in the woods. Whether your stay takes you to a remote backcountry cabin that can be reserved through the US Forest Service or an AirBnB in downtown Centennial, you are sure to enjoy a few nights away from your everyday routine. Find our specific recommendations on where to stay in this recent blog post.
Snowmobiling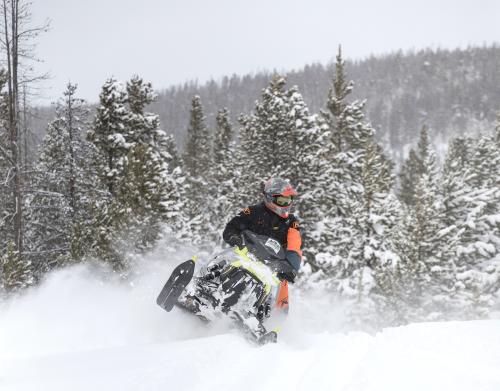 The Snowy Range is renowned for having some of the country's best snowmobiling territory. What makes Laramie such a great place to snowmobile is the easy and crowd-free access to terrain for all skill levels. If you are new to the sport like we are, check out this blog where we describe our first snowmobiling experience. Before you hit the trails, you can find all the snowmobiling gear you need either in Laramie or in the foothills of the mountain at Albany Lodge.
Snowy Range Ski Area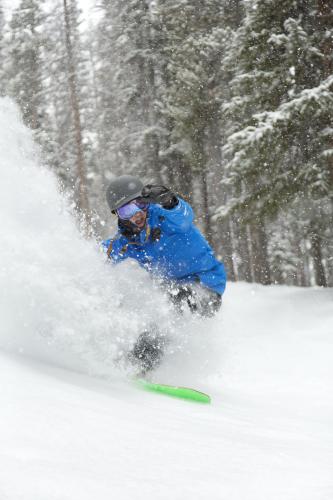 Although the season is sliding towards its end, there is still time to get some laps in at the Snowy Range Ski Area. While "Snowy" has trails for all skill levels, it is really great for beginners and families. Snowy is known for affordable skiing and beautiful views and scores extra points for zero lift lines and great snow. Learn more about planning a trip to the Snowy Range Ski Area here.