The Laramie area is teeming with hiking trails and experiences for every age and ability. From the Snowy Range Mountains to the prairie to the rock formations of Vedauwoo Recreation Area, there is something for everyone. However, sometimes you just want a light and easy hike. Maybe you are not an experienced hiker, maybe you have small children to contend with, or perhaps you just feel like a leisurely hike. Below are some of my favorite easy hikes in Wyoming for beginners and families! They are ranked from easiest to most-difficult (comparatively). 
---
1. Lake Marie and Lake Marie Falls Hike
---
This is the easiest of the easiest in every way except elevation. The trail is located at about 10,000 feet above sea level, in the Medicine Bow-Routt National Forest. You can access this trail on Highway 130 (the Snowy Range Scenic Byway) about 44 miles west of Laramie. There are many hiking trails off of this stretch of highway, ranging in difficulty from easy (see the Corner Mountain Hike below) to challenging.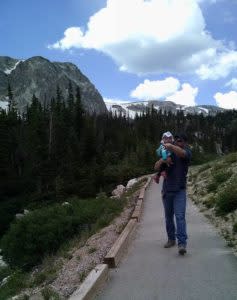 Lake Marie Trail
The Lake Marie and Lake Marie Falls hike is an out-and-back hike, meaning that you return by the same route. You can access this 1-mile hike starting at the Mirror Lake Picnic Area. Follow the Lake Marie Trail southwest to the Lake Marie West Trailhead and then take the Lake Marie Falls Trail for a view of the small but beautiful falls. The trail is paved for the first quarter-mile from the Mirror Lake Picnic Area to the West Lake Marie Trailhead and can easily accommodate bicycles and strollers.  This hike is great for families.
Lake Marie is one of my favorites because the hike is extremely easy and the scenery is outstanding. The trail provides breathtaking views of Mirror Lake, Lake Marie, and Medicine Bow Peak. It is a great, short hike for little kids. The picnic area and trailhead is equipped with toilets and a picnic area, and plenty of parking. It is a very popular hike and close to the highway, so plan on seeing plenty of people. You can access the interactive U.S. Forest Service map here.
---
2. Hutton Lake Wildlife Refuge
---
 The trails at Hutton Lake Wildlife Refuge are another very easy hike for beginners. The refuge is a migratory habitat and breeding sanctuary for birds and various mammals. 146 bird species and 29 mammal species have been recorded at the refuge. The refuge is located about 12 miles southwest of Laramie on Highway 287. 
This hike is a lovely 2.6-mile walk along several prairie lakes. There are water and plenty of opportunities to see birds and other wildlife, as well as a photography blind for snapping some photos. Look for golden eagles, geese, various duck species, egrets, hawks, a plethora of songbirds, pronghorn, jackrabbits, and prairie dogs. For more information on the bird and animal species and when they are likely to be seen, see the Hutton Lake species checklist. Oh, and be sure to bring the bug spray.
---
3. Turtle Rock Loop Hike
---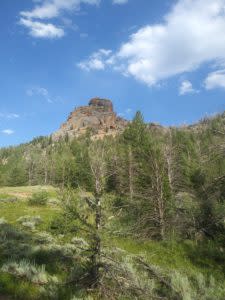 Turtle Rock Loop
Another great Wyoming hike can be found at the Vedauwoo Recreation Area 18 miles east of Laramie on I-80. Vedauwoo Recreation area is known for its stunning geology and amazing rock formations. Turtle Rock Loop takes you on a circuitous route around the unique Turtle Rock near the center of the recreation area. There is parking in the Vedauwoo Picnic Area as well as toilets. You can access the trail from several points in the parking area. 
Vedauwoo Recreation Area is at 8,000 feet above sea-level. Turtle Rock Loop is 2.8 miles with some small hills. This hike may be too much for little kids to hike, so I would recommend a child-carrier/ backpack. You can rent backpacks and child-carriers from Laramie Basecamp if you don't have your own. However, kids who are at least  4 or 5 should be able to handle the trail. I have also seen runners on this trail, so if you are looking for a country jog, this could be the place. Access the interactive U.S. Forest Service map here.
---
4. Crow Creek Trail/ Hidden Falls Hike
---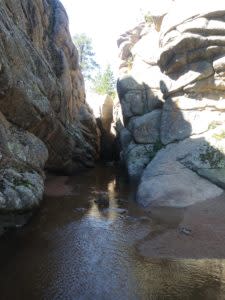 Hidden Falls
Curt Gowdy State Park is also on I-80, about 25 miles east of Laramie. Curt Gowdy State Park has quite a few wonderful hiking trails as well as canoeing, and paddleboard opportunities on the Granite Springs and Crystal reservoirs.
This out-and-back hike is classified as "intermediate," but my 4-year-old was able to hike most of it independently. It is 1.7 miles one way and does have some steep inclines in a few places. The hike is mostly through forested terrain overlooking parts of Crow Creek and ending at Hidden Falls. This hike is best enjoyed in the summer, as you can spend some time splashing in the creek and you need to wade into the creek a ways in order to truly appreciate the falls.
---
5. Corner Mountain Hike
---
Also located off of the Snowy Range Scenic Byway (Hwy 130) in the Medicine Bow-Routt National Forest 32 miles west of Laramie is the Corner Mountain Hike. The trailhead provides views of Corner Mountain, while the hike is an opportunity to experience the deep tranquility of the Medicine Bow Forest. This is a great fall hike because you are likely to see some beautiful golds and oranges contrasting with the evergreens.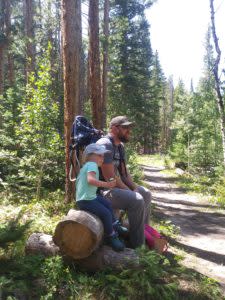 Resting and Eating Raspberries on Corner Mountain Trail
The Corner Mountain Trail System is a total of 7 miles but it can be shortened by taking one of the smaller loops within the system. It is well-maintained and well-marked. This hike has a few hills and is at a relatively high elevation (8,500 feet). It is slightly more difficult, but still a great easy hike for beginners. If you plan to bring young children on the hike, I would recommend a frame-pack Nevertheless, it is a great hike for beginners or school-aged kids. Access the interactive U.S. Forest Service map here.
The above hikes are just a starting point. There are so many great, laid-back hikes around Laramie. You can find more information on hiking trails on the Medicine Bow-Routt National Forest website, the Curt Gowdy State Park website, the Vedauwoo Recreation Area website, and at Visitlaramie.org. Happy hiking!
Note: Leah Veinbergs is an independent writer and the author of the blog Two Little Time. She is contracted by Visit Laramie. Views and opinions expressed here are her own and do not reflect those of the Albany County Tourism Board.