The benefits of shopping locally have been emphasized lately. Laramie is a great place to shop, with many locally-owned, boutique, and specialty stores. If shopping locally is good, could shopping locally made items be even better? There are also several Laramie stores that carry or specialize in locally-made products. Read on to find out more about several of Laramie's finest purveyors of locally-made items.
Apparel & Accessories
There are many wonderful apparel and accessory stores in Laramie. Poppy's Boutique, Martindale's Western Store, and The Cowgirl Edge are a few examples of the fantastic choices. However, for those who want to find something that is also locally produced, often by hand, there are a few unique stores that stand out.
Range Leather Company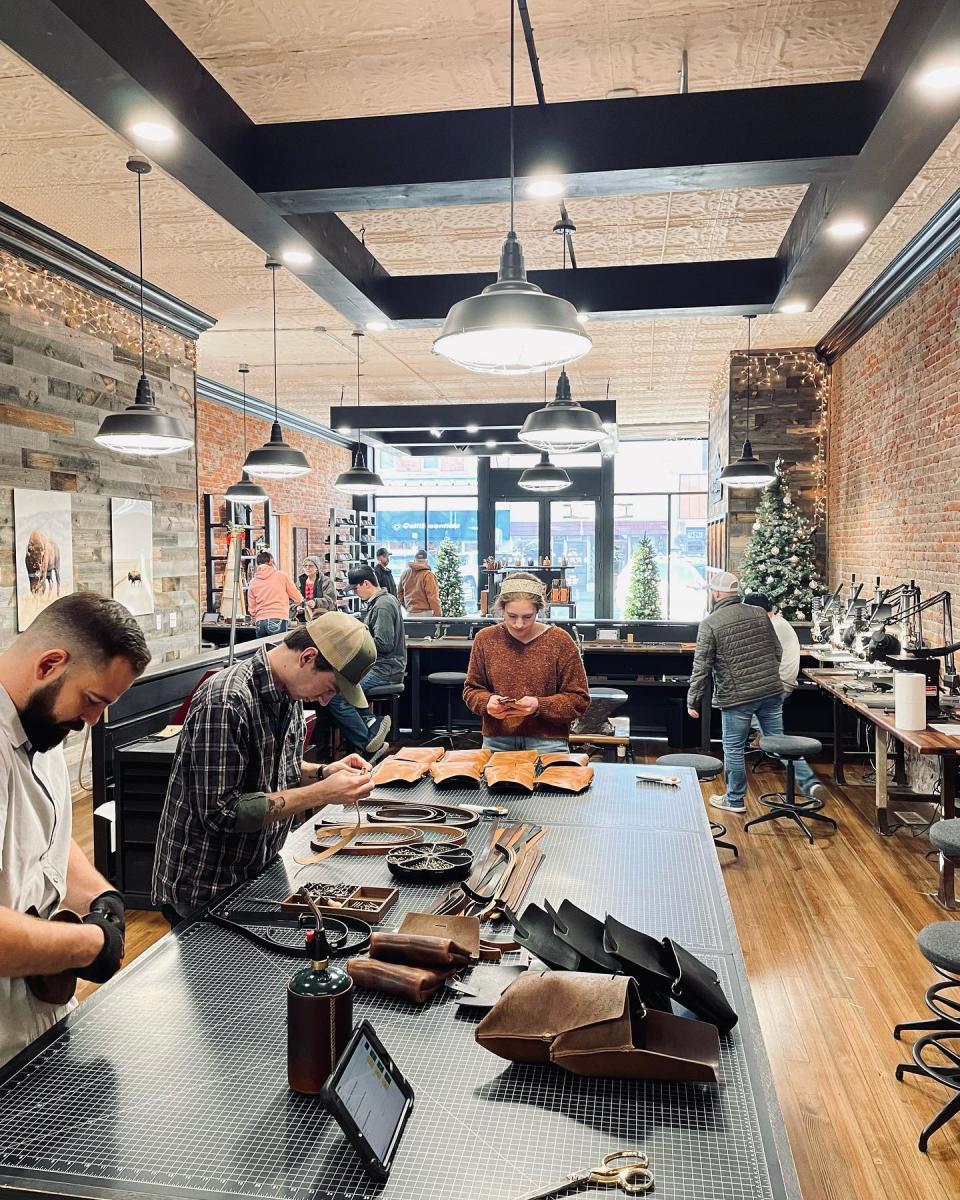 Hard at work making gorgeous leather accessories (photo credit Range Leather)
Range Leather Company produces a variety of locally-made, hand-crafted leather goods. From baseball caps and wallets to purses and jewelry, every item bears unmistakable craftsmanship and quality. In fact, they stand behind the construction of their products with a lifetime guarantee on the quality of the materials and manufacturing. Some of the most popular products at Range Leather include their wide variety of baseball caps, jewelry, wallets, journals, and small planters
Atmosphere Mountainworks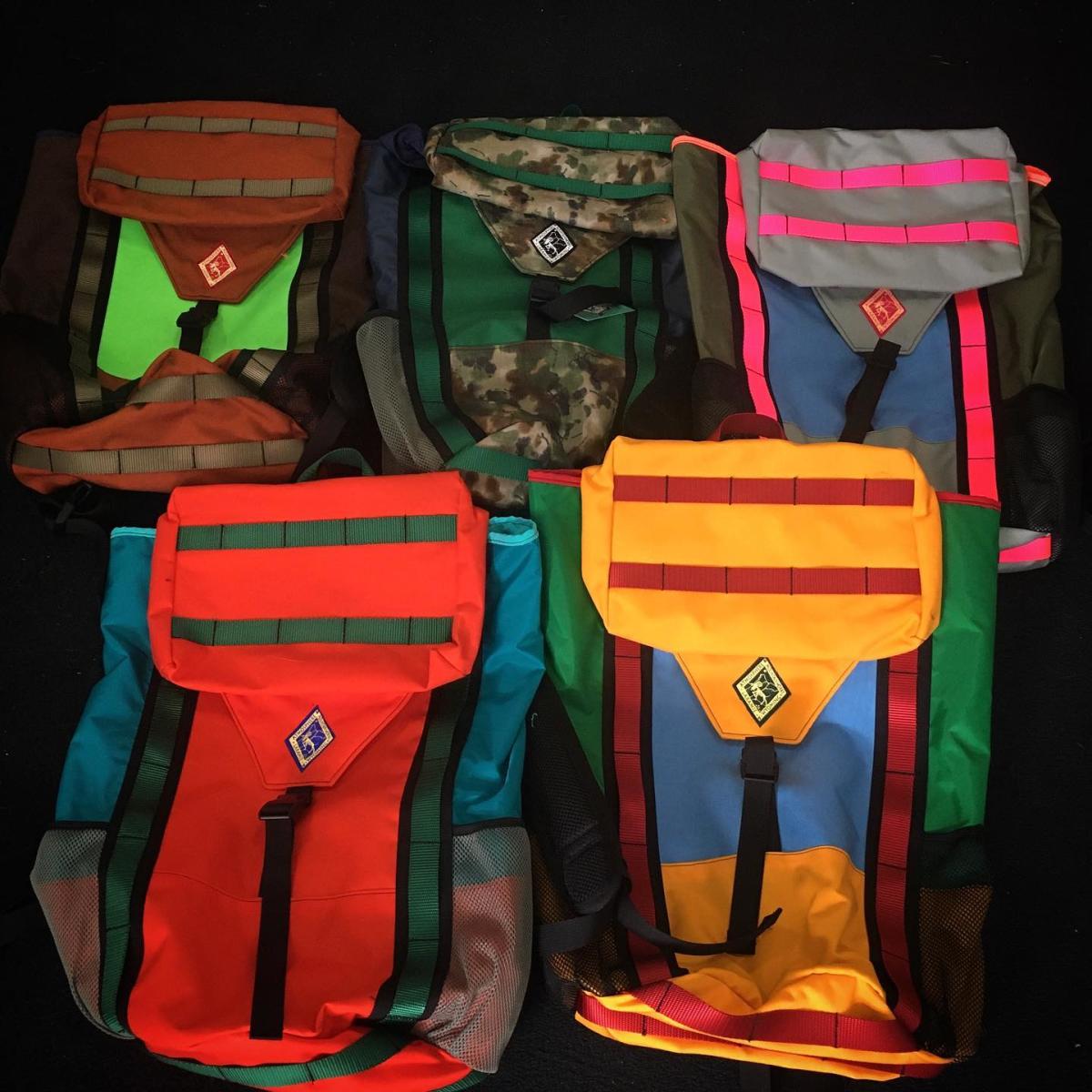 Colorful and unique gear from Atmosphere Mountainworks (photo credit Atmosphere Mountainworks)
It's hard to get much more local than Atmosphere Mountainworks. This unique business hand-produces quality outdoor apparel and gear. They cut, sew, and print all of their gear in Laramie. Atmosphere Mountainworks is primarily known for its amazing variety of high-quality bags and packs. Their colorful designs include hiking packs, fanny packs, duffle bags, messenger bags, and more. They even make specialty bags like dog packs, yoga bags, and bike bags. Atmosphere also does custom work.
Silver Sage Alpacas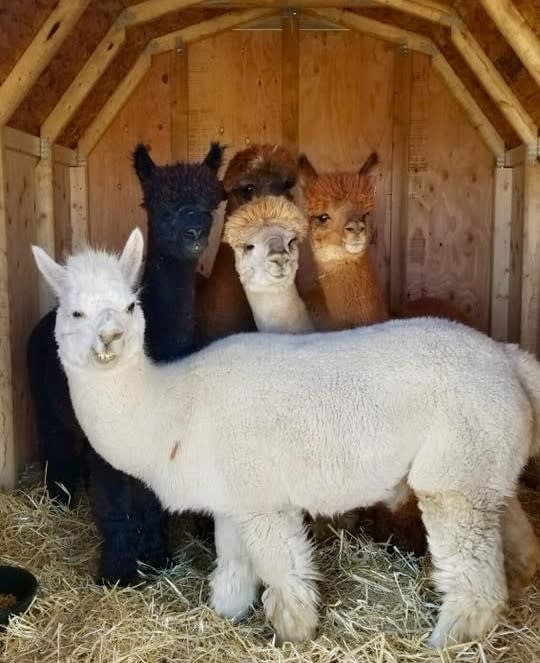 The alpacas (photo credit Silver Sage Alpacas)
While the items themselves are not produced in Laramie (they are American-made), the wool certainly is! Locally raised and harvested alpaca and angora goat wool is used in every product. Each item has exceptional quality. Popular items include socks of varying thickness, boot liners, super-soft gloves, hats, and scarves. Silver Sage Alpacas can mainly be found at a variety of farmer's markets and craft fairs in the area. However, they also have a fantastic webpage for ordering and are willing to meet with local customers.
Art & Decor
Once again, there are several great stores to find home goods, antiques, and artwork in Laramie. Still, if you are searching for art and decor produced by Laramie and Wyoming artisans, you won't want to miss out on these great stores and galleries.
Works of Wyoming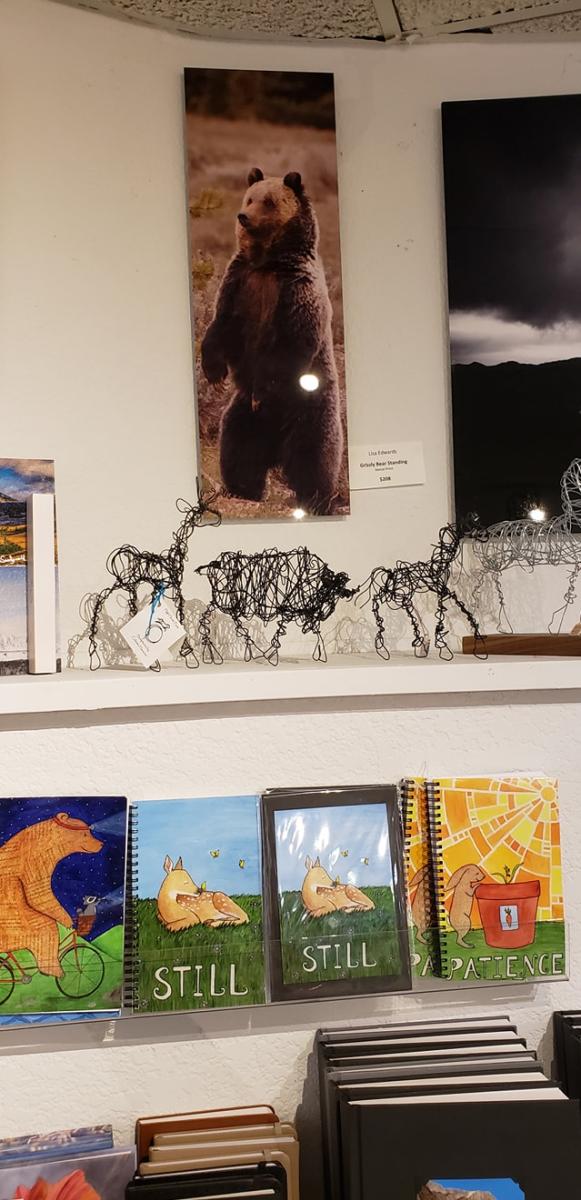 Some of the beautiful and unique items at Works of Wyoming (photo credit Works of Wyoming)
Works of Wyoming is a unique initiative and opportunity for Wyoming artists to showcase and sell their works. Not all of the items are made by Laramie area artists, but they are all made by artists from Wyoming. Works of Wyoming has a wide variety of pieces for sale including paintings, postcards, photography, stickers, jewelry, pottery, and more.
Chalked & Polished
Chalked & Polished sells a wide variety of home decor, clothing, and accessories. Not all of their products are produced locally, but they specialize in repurposing and restoring furniture, as well as custom furniture and decor projects. 
The Bent & Rusty
The Bent & Rusty is known for its exquisite collection of antiques and home decor. Of course, antiques are not exclusively locally-sourced, but they are restored and rebuilt in the local shop. The Bent & Rusty also does custom, made-to-order pieces. Not to mention the fact that they sell soap, jewelry, clothing, and more produced by local artists.
Earth, Wind & Fire Gallery
Another amazing store, Earth, Wind & Fire Gallery sells breathtaking blown glass, pottery, and more. Perusing the shelves of this store is almost like visiting an art museum. The pieces, while not exclusively made by Wyoming artists, are all created by artists in the western area of the country.
Food & Beverages
Laramie is full of delicious restaurants, food trucks, sweet shops, and other food vendors. However, a few stores and restaurants deserve special mention for their locally sourced ingredients and hand-crafted products.
307 Meat Company
Relatively new to Laramie, 307 Meat Company prides itself on its work with local ranchers and farmers to process and sell Wyoming meat. Their meat is of the highest quality and follows the farm-to-table ethic which bolsters small ranchers and farmers and benefits the environment. They have unique products like sausage, roulade, and custom spices, as well as cut-to-order meat. They also offer processing for local hunters.
Big Dipper Ice Cream Shop
Need a sweet treat? Big Dipper Ice Cream Shop offers locally churned ice cream, gelato, and sorbet. Made from the freshest ingredients, the quality and taste of their confections are unsurpassed. Their fun and nostalgic shop looks like an old-fashioned ice cream parlor or soda fountain. Big Dipper Ice Cream is a summer staple in Laramie.
Need More Salsa
Located a short distance from Laramie, in Jelm Wyoming, is Need More Salsa. This funky little company makes good on its name with raw, organic, delicious salsa that truly leaves you needing more. They make two red salsas (hot and mild) and a delicious salsa verde, but no matter which one you try you will want to devour the whole jar. Need More Salsa can be found at local Ridley's Family Markets, Big Hollow Co-op, and the Laramie Farmers Market.
Bond's Brewing Company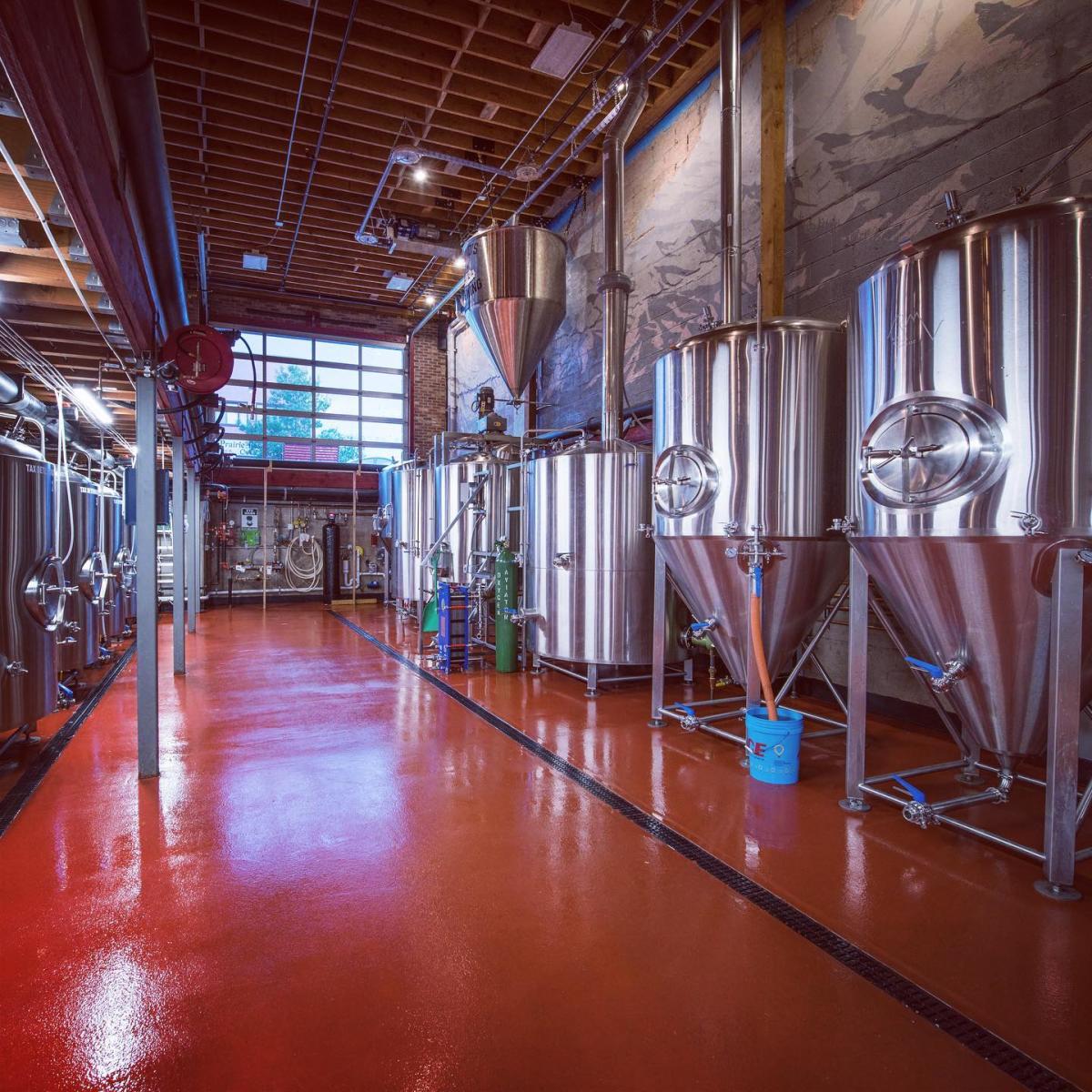 Where the magic happens (photo credit Bond's Brewing Company)
Bond's Brewing Company produces an amazing variety of locally brewed craft beers. Bond's has several regularly produced beers, as well as delicious seasonal brews. They routinely offer fun activities like Bingo and Trivia Night and frequently host local food trucks at their back patio.
Coal Creek Coffee Co. and Coal Creek TAP
Coal Creek Coffee sells their amazing locally roasted coffee, hand-crafted sandwiches and soups, and baked goods at both their uptown and downtown locations. They also have locally brewed craft beers and other adult beverages at their downtown brewery, Coal Creek TAP.
The Library Sports Grille & Brewery
Another fun brewery in Laramie is The Library Sports Grille & Brewery.The Library is not only a brewery, it also has a full bar, and a menu of delicious and unique pub food. The casual atmosphere and big-screen TVs make this an ideal place to take in a game. And, of course, the locally brewed beers are fantastic.
Altitude Chophouse & Brewery
One more local brewery needs to be mentioned. Altitude Chophouse & Brewery combines locally brewed beers with a more upscale dining experience. In addition to their flavorful brews, Altitude is known for their expertly prepared steaks, seafood, pasta, and salads.
Laramie Farmers Market
Laramie Farmers Market is the definition of locally-grown and locally-made. The market is not limited to food, but the abundance of fresh produce, food trucks, and other goodies certainly take center stage. While they do feature vendors from out of state, nearly all are from the Rocky Mountain area, and many are specifically from Laramie. The Laramie Farmers Market has fresh produce, local meats, local honey, sweets, art, pottery, food trucks, and so much more. The market is located in downtown Laramie on Friday afternoons from late June through September.
Laramie clearly has a lot to offer when it comes to locally sourced, hand-crafted, and homemade goods. Come shop and dine at these unparalleled local businesses and experience the quality and craftsmanship they are known for.
You may also enjoy: Why Shop Local: 7 Good Reasons, How to Extend Your Stay in Laramie, Spectacular Shopping in Laramie, 1-Day Shopping & Dining Itinerary, Top 5 Restaurants in Laramie, and Laramie Brewery Tour.